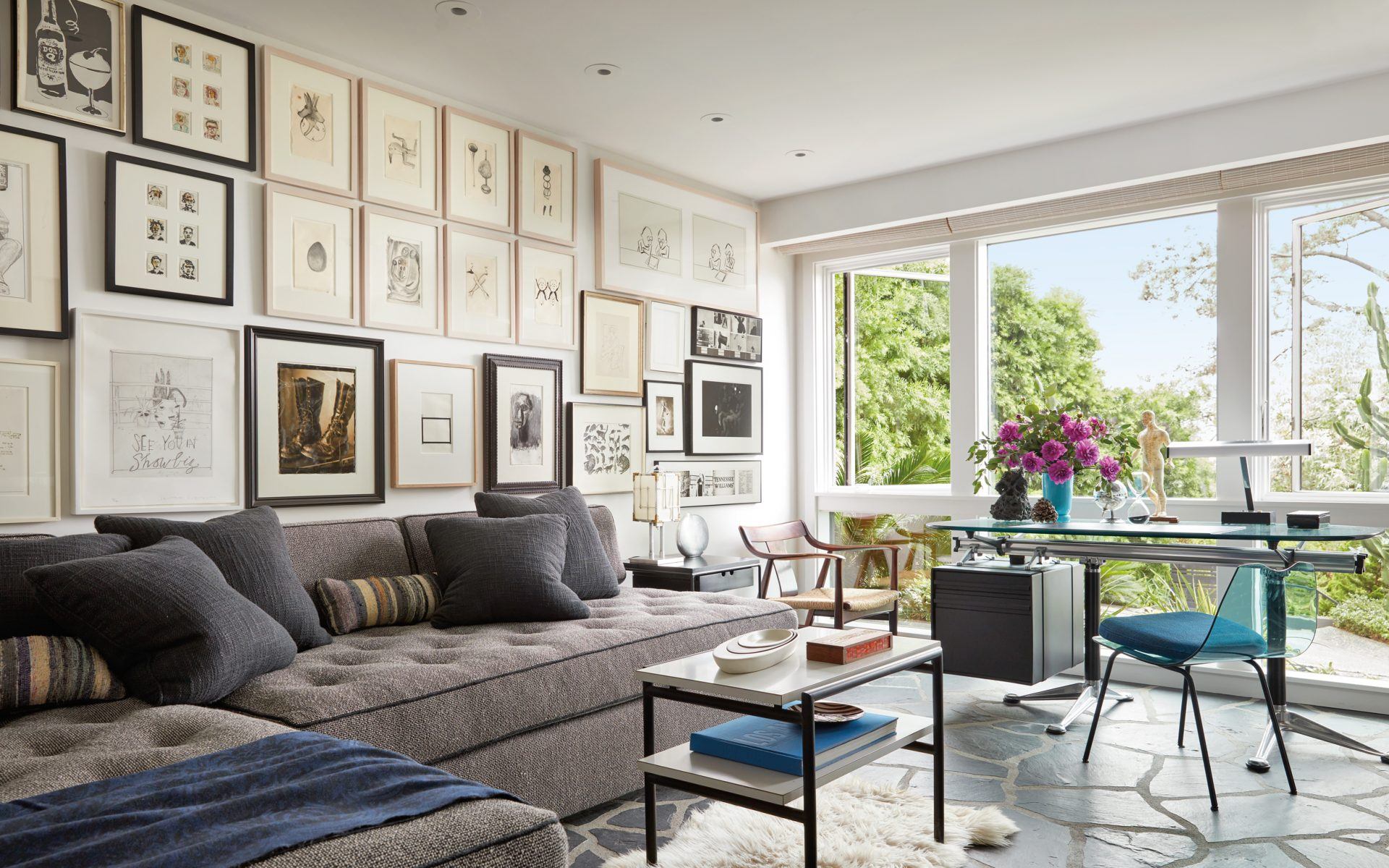 How Top Designers Have Mastered the Salon-Style Gallery Wall
See inspiring spaces conjured by William T. Georgis, Studio Peregalli, and Sara Story
When hung correctly, a salon-style gallery wall can add an inspiring air of elegance and personality to a space. Modeled after 17th-century French salons, in which artworks were "crowded" together on a single wall, it's an ideal way for showcasing a robust and eclectic collection.
To create one in your own home, there are a number of different factors to take into account. First and foremost is picking a cohesive theme. "You need to put together images in a way that they speak to each other," says architect William T. Georgis, who learned the delicate art of hanging walls from his late partner, Richard D. Marshall, a former curator at the Whitney Museum. "Normally I tell people to put all of the pieces on the floor to mock out the parameters before the hang," he tells Galerie. "It helps you find the right balance."
One such wall that Marshall created lives in the guest room of Georgis's La Jolla home and features a smattering of black-and-white works by the likes of Chuck Close, Jennifer Bartlett, and Jack Pierson interspersed with flea-market finds. "Richard was fearless about mixing high and low," recalls Georgis, pointing out that the wall is home to disparate mediums like watercolor and etching. Frames, meanwhile, should complement the individual artwork. "There are no set rules—just use your eye."
An alternate approach has been utilized by such legendary decorators as Mark Hampton, who was known for picking similar images that all related and hanging them salon style. Georgis utilized this more traditional method in a client's Southern California home after gifting them Marshall's trove of vintage Venus Paradise color-by-number paintings. "He was obsessed with the ones with birds and palm trees," says Georgis. Set against dark wooden walls, the collection of lush paintings give the room an undeniable exotic, vivacious quality. "They look spectacular."
Below, find ten inspiring salon-style hangs from the pages of Galerie: 
1. In a client's Switzerland villa, Milan-based designers Studio Peregalli used simple wood-plank paneling as a backdrop for a collector's salon-style installation of French, Italian, and Flemish Old Master paintings.
2. In William T. Georgis's home in La Jolla, a salon-style display in the guest room includes works by Chuck Close, Joel Shapiro, Jennifer Bartlett, Jack Pierson, and others; the tiered table is a midcentury William Haines design.
Recommended: Inside Architect William T. Georgis's Artful Residence in La Jolla
3. The main living room of designer Frédéric Méchiche's Marrakech riad features an 18th-century lantern from a Damascus mosque. Méchiche created the salon-style walls with an array of small artworks, including Orientalist subjects. The mirror, with intricate mother-of-pearl inlay, is 19th-century Syrian, and the large tray table is 18th-century Turkish.
4. In supermodel Eugenia Silva's TV room, a salon-style arrangement of art includes works by Alfred Eisenstadt, Donald Baechler, Cecily Brown, and Antoni Tàpies; Casa Muñoz designed the sofa and cocktail table, while the carpet is by the Rug Company.
5. Works by C. H. Michael and Craig Coleman hang along with a vintage engraving in the office off Georgis's master bedroom. The pair of Italian armchairs are upholstered in a silk velvet zebra print by Clarence House.
6. Lee Ledbetter designed the study in his brother's Louisiana home with his collection of baseball memorabilia, including a silkscreen of Pete Rose by Andy Warhol; a 1960s desk by Harvey Probber is paired with a T. H. Robsjohn-Gibbings armchair from the 1940s, upholstered in an embroidered snakeskin pattern by Osborne & Little. The lounge chair and ottoman are vintage Edward Wormley, and the rug is by Doris Leslie Blau.
Recommended: 9 Dreamy Bedrooms with Incredible Works of Art
7. In Sue Hostetler's Aspen living room, designed by Sara Story, midcentury Gianfranco Frattini chairs stand next to a 1980s cocktail table by Lova Creation. On the far wall are artworks by (clockwise from left) John Baldessari, Elizabeth Peyton, Tom Wesselmann, Lorna Simpson, and Tracey Emin.
8. The exuberant fireplace surround Studio Peregalli created for a home in Tangier, Morocco, is composed of 17th-century tiles from Fez and the Qallaline workshop in Tunisia. Framed antique Spanish tiles and a 17th-century English portrait of a lady grace the walls.
9. For a client's La Jolla estate, Georgis gave the cabana's guest bedroom a tropical boost through a custom-designed white oak and Madagascar cloth captain's bed, a 19th-century silk ikat throw, pillows in gold and fuchsia velvet by Élitis and Stark, and an array of vintage Venus Paradise color-by-number paintings that belonged to his late partner, Richard D. Marshall.
10. In the living room of artist Vik Muniz's Paris apartment, a Claude Lalanne mirror surmounts the mantel, and the collection of photographs includes fine artworks and flea-market finds; the sectional sofa is by Minotti, and the cocktail table is by Maxalto. The apartment was designed in collaboration with Basil Walter and Brenda Bello of BWArchitects.
Next Post