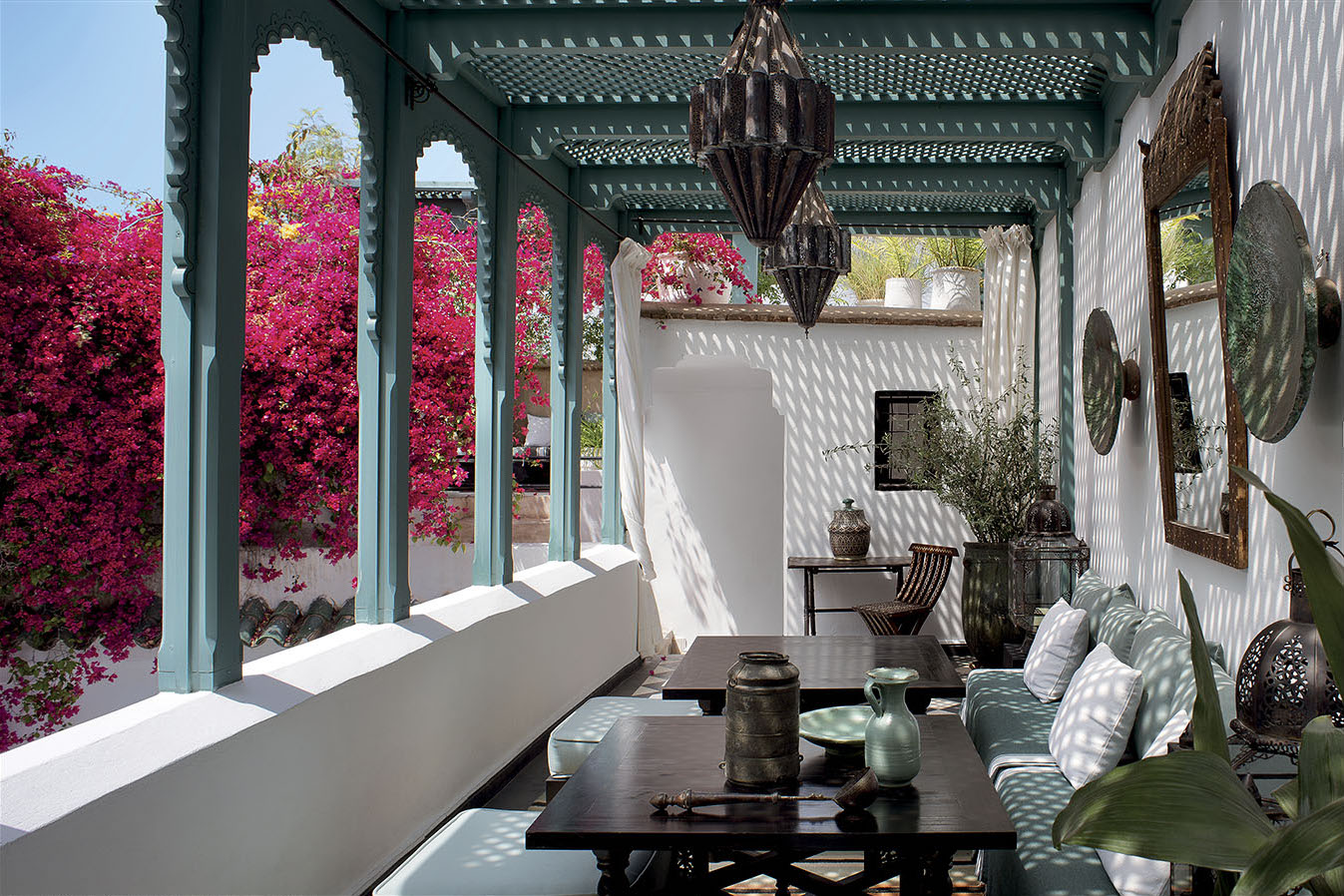 Inside a Magnificently Restored Riad in Marrakech
In Morocco, French designer Frédéric Méchiche creates his own exotic getaway
When Frédéric Méchiche first traveled to Marrakech, in the late 1970s and early '80s, the French designer fell in love with the sleepy vibe that reminded him of old European villages little changed by time. Back then, few people lived in the ancient walled medina, which was all but deserted at night after the merchants closed up shop. But the Algerian-born Méchiche, who has made a career of creating luxe, layered interiors for blue-chip art collectors and other savvy clients from Paris to New York, didn't return to the Moroccan city until four years ago, accompanying a friend who had never been there. "On the plane I was telling him that the airport was small and we would see camels and monkeys along the road," the decorator recalls. "Then we landed, and the airport was huge, like out of a James Bond movie, and there were houses and highways everywhere. I didn't recognize anything."
A different sort of shock greeted Méchiche upon visiting the medina. Despite the fact that more people now lived within its walls, the earth-tone district was virtually unchanged. Seeing it flooded him with memories of his Algerian childhood. "I recognized the blue sky, the perfume of roses and spices, the special colors and atmosphere," he says. "I knew then I had to have a house here to spend winters. I wanted to have a nice life."
Méchiche soon returned to Marrakech, this time to look at real estate. In the heart of the medina he found a riad dating from at least the 18th century that had potential. And problems. Originally owned by a prominent Marrakech family, the property had a charming courtyard with ficuses and rubber trees and vines of lush red bougainvillea that snaked up the walls and spilled onto the rooftop. The interiors retained ancient earthen walls, intricately carved plasterwork, and vivid ceramic tiles. The kitchen was spacious, and the second floor consisted of what Moroccans call a douiria, or reception apartment, which Méchiche envisioned as his private quarters. But there were also unfortunate remnants from the riad's recent life as a guesthouse, including a hot tub in the courtyard and "fake Moroccan furnishings like you find at Pier 1," says the designer. But he bought the place on the spot. "It was a coup de foudre," he recalls—love at first sight.
Méchiche quickly vanquished the house's 21st-century mistakes and amplified older elements, such as an 18th-century painted door whose rich shades of saffron and green inspired the ground-floor salon's color scheme. Boldly striped Moroccan kilims play off vibrant wall tiles with geometric sunburst patterns. Syrian pierced-copper lamps mingle with Venetian mirrors, elaborately inlaid chairs, Chinese trunks, and Indian textiles. "I was thinking of those 19th- and early-20th-century houses owned by Englishmen and filled with all kinds of collections—like Major Gayer-Anderson's mansion in Cairo," he explains. "I didn't want the atmosphere of a holiday house. I wanted a real home, with all my books and things."
When doing interiors for collector clients, Méchiche curates their art to create sophisticated, often striking juxtapositions. Here he's arranged works he loves with an eclectic, free-spirited approach, mixing 19th-century Orientalist paintings and European etchings throughout. He even introduced a bit of rock and roll to the kitchen, hanging Milton Glaser's iconic Bob Dylan poster and Richard Avedon's psychedelic portraits of the Beatles on a wall he painted petal-green for a bit of '60s nostalgia. "For serious collectors, I have a habit of doing a big 'exhibition' of their works," Méchiche says. "But I didn't want this to be so precious or perfect. I was looking for a little disorder."
Pierced-copper lanterns lend atmosphere to a sunny guest room. Having scaled his practice back to consulting on occasional projects for longtime clients, Méchiche and his partner, William Foussard, travel regularly between Paris, a home in southern France, and Marrakech—their beloved pugs, Lulu and Lola, in tow. The riad holds a special allure in winter, the desert climate's warm, sunny days and crisp nights providing a respite from Europe's damp and chill. When Méchiche isn't strolling in the medina, he can often be found in his kitchen, devising new recipes with his cook, Rashida. Meals are always alfresco—on the elegantly trellised second-story veranda or beneath the open skies on the rooftop terrace, which overlooks the Ben Youssef Mosque, believed to be Marrakech's oldest.
"I love to watch the sunset from up there, and look out on the palm trees and minarets—it's spectacular," Méchiche says. "And when we visit friends on their rooftops, I can always locate my own thanks to the red of my bougainvillea."
Next Post