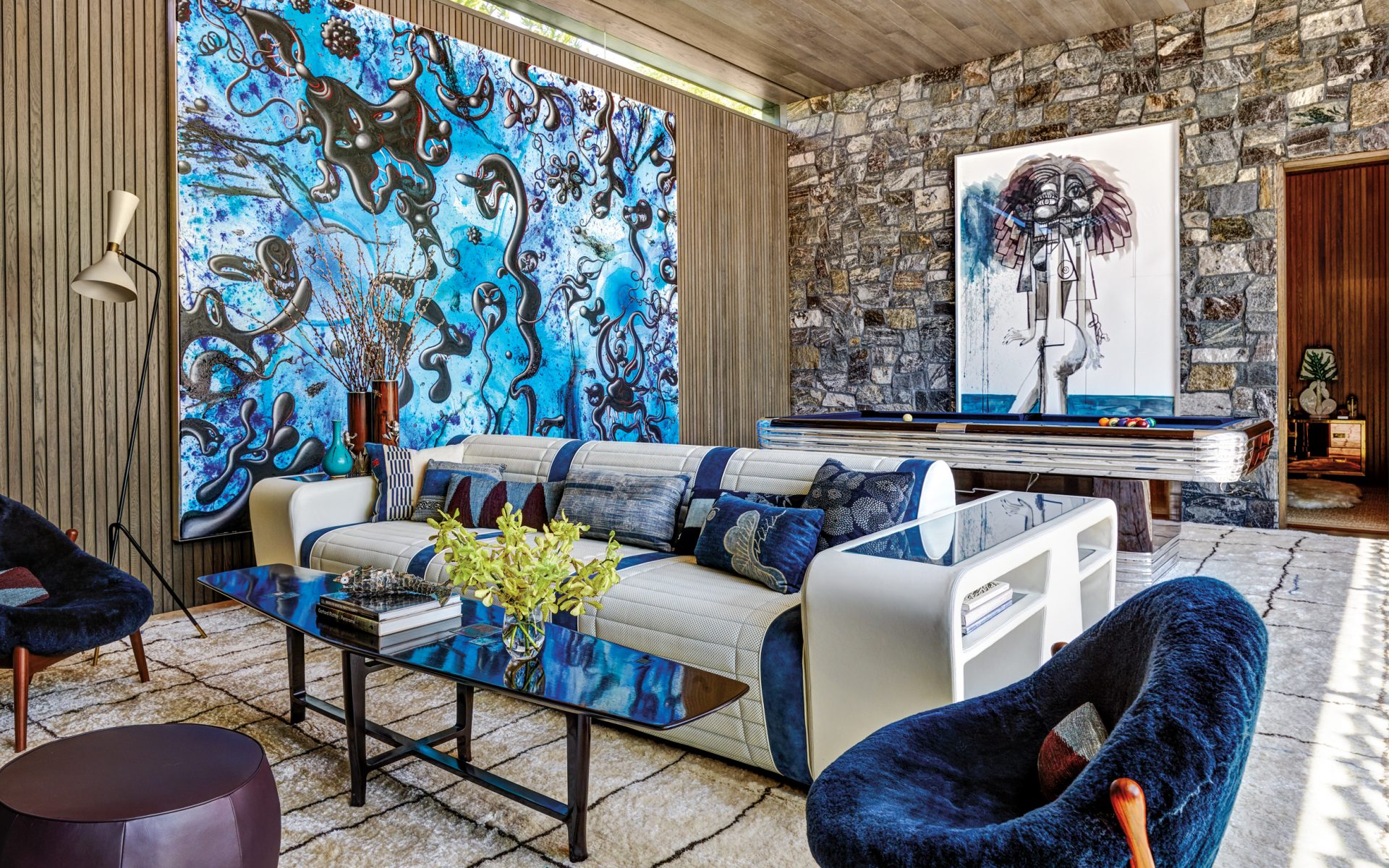 William T. Georgis Revamps a Midcentury Marvel in Southern California
Works by George Condo, Kenny Scharf, and Tom Sachs complement the home's sophisticated and powerful interiors
For nearly a decade, William T. Georgis has been leading something of a double life. Each month, the urbane New York architect shuttles between his gleaming Upper East Side townhouse—also the headquarters of his thriving firm, Georgis & Mirgorodsky—and a sun-drenched, leafy compound overlooking the Pacific in La Jolla, California.
Like his yin-yang lifestyle, Georgis's interiors deftly balance sophistication and connoisseurship with seductive comforts. This delightful duality clearly appealed to a New York financial titan and an actress who are longtime clients of Georgis and his studio partner, Ilya Mirgorodsky. Several years ago, when the couple spent a weekend at the beach with Georgis and his life partner, Richard Marshall, the curator and art adviser (who died in 2014), they decided they wanted a La Jolla home, too.
On a hike together up a steep hillside, they fortuitously stumbled upon a post-and-beam house built in 1963 by Homer Delawie, a venerated regional architect. This "modernist gem," as Georgis calls it, had seen far better days, however. "It was abandoned, in very bad shape, and the site was so overgrown it was like a jungle," he adds. "But they fell in love with it."
[See more photos of the William T. Georgis–designed home.]
Georgis and Mirgorodsky jointly conceived a plan for the property, with the former being largely responsible for the decor while the latter oversaw the architectural work. For the extensive landscaping that was required, they called on Judy Kameon, of Elysian Landscapes in Los Angeles.
In addition to a meticulous restoration of the original house, which included building a small addition, the designers created a new complex farther up the hill comprised of a swimming pool and cabana with a covered outdoor living room, spa, and guest bedroom. "The idea was that whatever was added would be respectful of context and look like it was part of the original ensemble—not look alien," says Mirgorodsky.
Recommended: Inside Bosco Sodi's Sprawling Red Hook Studio
As the clients are serious collectors of contemporary painting and sculpture, the entire property had to be welcoming for art. Indoors and out, there are major works by Tom Sachs, Joan Mitchell, Ed Ruscha, George Condo, Kenny Scharf, and David Salle, among others. "It's sophisticated but also extremely casual—someplace where you are comfortable with your shoes off and a martini in your hand," says Georgis.
Shortly after the couple purchased the property, it was added to the registry of local architectural landmarks—a proud distinction but also one that came with regulatory hurdles. "Bringing the house into the 21st century took two years of battles with the authorities," says the actress. "It ended up being like an origami project. That Bill and Ilya solved the problems was no mean feat.
[See more photos of the William T. Georgis–designed home.]
"In Bill's interiors, there literally isn't one wrong note," she continues. "He is steeped in every period of style, but he has an extraordinary sense of play and fun. Ilya is an incredibly skilled communicator, which is rare for a technical, nuts-and-bolts builder. He loves materials: wood, stone, even screws."
Kameon, for her part, honored the spirit of the property while completely reinventing it. "The place was like the most elegant tree house you can imagine," the landscape designer recalls. "That was an important through line for me—to keep a sense of being up among the trees, inside and out." Yet almost the entirety of the junglelike vegetation had to be scraped clean. After vast amounts of earthmoving and regrading of the property, she planted arrays of subtropical and Mediterranean flora.
Recommended: Designer Lillian Fernandez Creates Her Dream House in Palm Beach
As for Georgis, even though he respected the house's past, he wanted to avoid midcentury clichés. Instead, he looked to Asia, to 20th-century designs from around the world, and to custom furniture that didn't interrupt the spectacular views. He also commissioned a bevy of artists and artisans—including Michele Oka Doner and Nancy Lorenz—to create site-specific works.
At the same time, he wanted to "turbocharge" the interiors, in terms of quality of materials and architectural finishes. In the library, for example, he had the walls paneled with thick planks of redwood, with bronze mirror insets. "When Bill told me that he wanted to do that, I was a little scared. It sounded like it was going to be like an acid trip from the '70s," says the actress. "But he was beyond right. It's so good it's bananas. Just magic." 
A version of this article first appeared in print in our 2019 Spring Issue under the headline Above & Beyond. Subscribe to the magazine.
Next Post