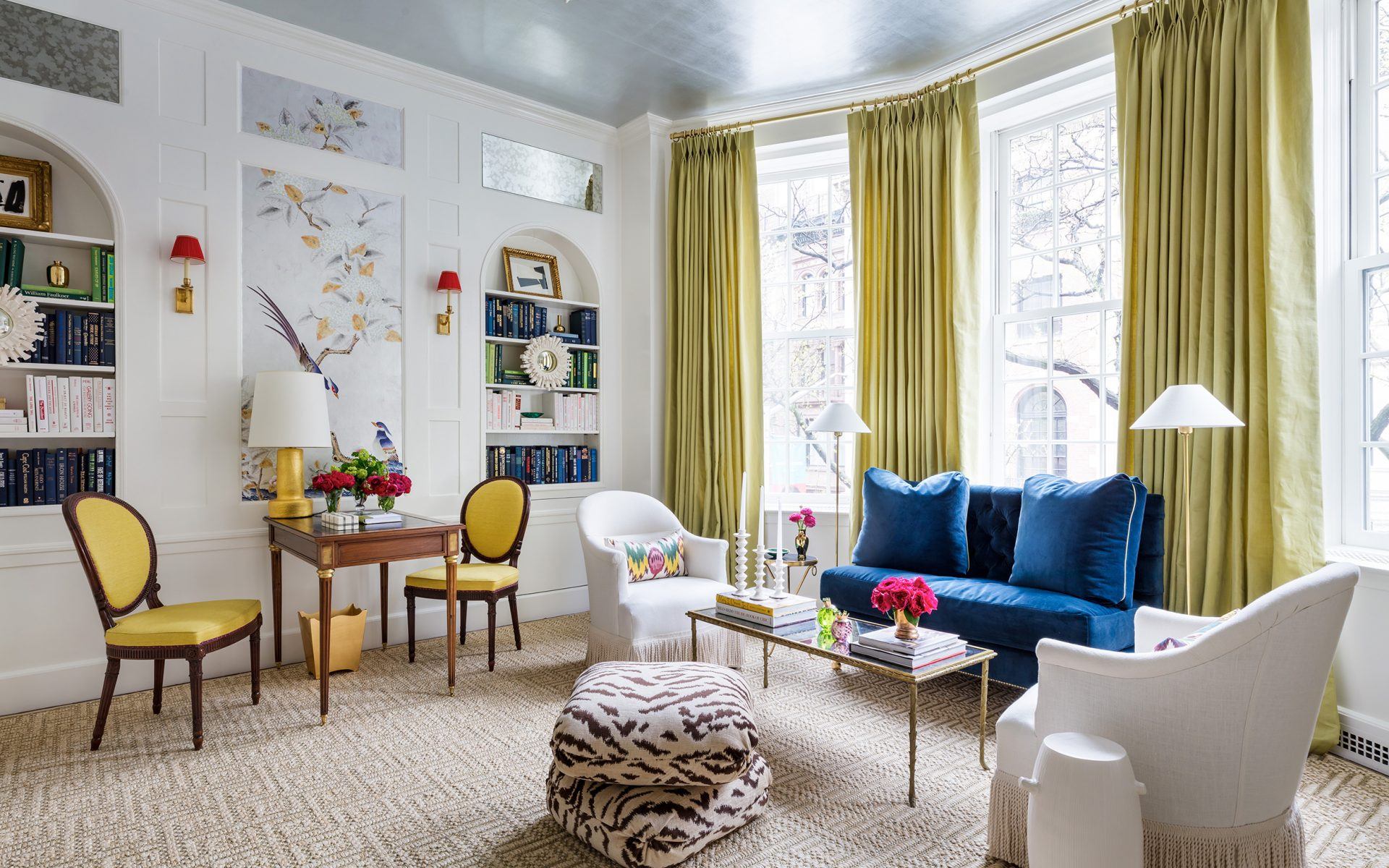 Tour the 2019 Kips Bay Decorator Show House
Galerie spoke to many of the 23 designers, including Christopher Peacock, Jeff Lincoln, Paloma Contreras, and Vicente Wolf
When the 47th Kips Bay Decorator Show House opens on May 2, visitors will have the opportunity to tour a 12,425-square-foot Upper East Side townhouse that has been exquisitely reimagined by 23 of the country's most innovative designers and architects. Each year, the event draws more than 15,000 guests, and to date it's raised more than $24 million for the Kips Bay Boys & Girls Club, an organization that provides after-school and education programs for kids in the Bronx.
The Show House is cochaired by esteemed designers Jamie Drake and Alexa Hampton; celebrated interior designer Bunny Williams, who designed a sophisticated living room sheathed in faux-bois walls at last year's edition, also serves as the honorary Show House chair.
Galerie spoke to many of the 23 designers who curated the mansion's artful spaces—from a cozy bar nook and a serene lady's lounge to a massive artist's loft—to hear about their inspiration and the carefully curated furnishings on display.
1. Charlotte Moss
The designer's inspiration began on Instagram, where Moss first spotted the Palamore fabric being used as a picnic blanket. From there, the palette of periwinkle—which the designer enthusiastically saw again in Lady Gaga's Golden Globes gown—was set. The color is reflected in a custom gingham, which was woven in England; Floor & Décor printed tiles (repeated in the wall stenciling); and a mural by decorative painter Anne Harris of morning on the Nile. "This is the bedroom of a couple who love to travel, who brought things back and always wanted to be reminded of their travels," says Moss. Wicker from Bonachina in Italy, a Chinese screen, a Miriam Ellner Eglomise mirror, a Dutch lantern, textiles from India, a Swedish table, a bed made in France, and all the Orientalist art (from Moss's own collection) enhance the international flair. "It's a very global room," Moss says over the tribal-like playlist she curated herself.
Recommended: How Kathryn M. Ireland Is Disrupting the Design Industry
2. Christopher Peacock
"This was a tough space," admits designer Christopher Peacock. "When we came in, it was a '70s kitchen with a range in the middle of the room." After a total demo, the area is now a chef's dream, with Monogram appliances, Cambria countertops, and Urban Electric lighting. "Given the low ceilings and size of the space, I didn't want to overpower it. It was really more about some lovely little details and keeping it quite simple." Peacock paid homage to his late parents by including custom cabinets in his mother's beloved shade of dark green, while his father's favorite saying, "It is what it is," is carved into drawer fronts. Adding a touch of elegance are brass hardware, faux shagreen drawer linings, and window treatments from the Shade Store, while an innovative backsplash made from sliced English flint provides drama.
3. Corey Damen Jenkins & Associates
"In the 21st century, women are running the world, from the house to Capitol Hill," says Jenkins. "So I wanted to flip this room from being a gentleman's study to a lady's library." Painted in Pink Swirl by Benjamin Moore, the walls contrast the botanical-covered ceiling, created with Cole and Son wallpaper the designer says harkens to the Hanging Gardens of Babylon, which is punctuated with a lotus-like 1940s chandelier. "Antique brass is really trending, but if you look at the work of the Egyptians, Assyrians, neo-Persians, the Romans, and Greeks from ancient times, brass and gold have always played a role and denoted royalty." Sophisticated Kravet furnishings and Phillip Jeffries grasscloth (used inside the bookshelves) balance the sexy snow leopard Stark carpet, Valentino-inspired window treatments by the Shade Store, and a photo of the original girl boss herself, Marilyn Monroe, dressed as Jackie Kennedy.
4. Cullman & Kravis Associates
This showstopping dining room centers around a vintage Fred Brouard table topped by a Sublime Living acrylic panel back-painted in gold. Custom Anthony Lawrence Befair curved benches are hand stenciled with gold silicone and set atop a round Stark carpet. The 24K-gold porcelain disks of Ebb & Flow by Los Angeles's Dougall Paulson are echoed in two chairs reupholstered in Kravitz fabric that offer a bit of sparkle and a dazzling chandelier from London's Charles Burnand. "It really amplifies the geometric shapes that are throughout the room and the silvered Murano glass," says design partner Lee Cavanaugh of the stunning fixture. The motif is repeated in Dedar curtains that are enhanced with Penn & Fletcher embroidery. Antique busts balance the contemporary design elements, including an Elizabeth Turk sculpture. "We really wanted to get the mix but to also have a more modern-feel dining room."
5. Delaney + Chin
Conceptual artist Topher Delaney cultivated a garden space complete with floral paintings on resin by Jessica Abbott Williams. Black-and-white Chilewich rugs line the porch, where heated chairs from Galanter & Jones provide a cozy nook under a painted Ikea PS 2014 pendant lamp. Manila rope balls create sculptural moments that double as alternative seating. Custom-made planters in green and chalkboard paint offer optical pops, while New York welder Julia Murray reimagined tank heads as outdoor fountains in the serene Tyvek-wrapped oasis.
6. Eve Robinson Associates
To create a space for a multifaceted woman, designer Eve Robinson employed soft curvilinear furniture, including KGBL side tables, and an Alpha Workshops wall covering that exudes femininity and sensuality. A custom desk creates a work space, while bespoke seating offers an area for entertaining. Artwork by Bing Wright from Paula Cooper Gallery and Kate Shepherd from Galerie Lelong dot the walls beneath a lighting fixture of handblown glass—a shape that's echoed in the waves of a Crosby Street Studios rug.
7. J Cohler Mason Design
To create an entertaining space for an art-collecting couple, designer Jennifer Cohler Mason used Karl Springer Soufflé ottomans, 1950s chairs in a new Holland & Sherry fabric, a Todd Merrill channel-tufted Racetrack sofa, and a Markus Haase Circlet brass-and-onyx chandelier. "I love to mix vintage and contemporary pieces together," she says. A massive bar area is custom made with a Cambria stone top, A.J. Madison appliances, cerused cabinets with brass inlay, and crystal pulls. One of Clifford Ross's wave photos surmounts the piece, while a Donald Sultan painting and a work from Robert Longo's "Men in the Cities" series complete the room. A gold-leaf drinks table made by Dune, Jensen Cobra candlesticks, and a Manolo Valdés sculpture from Opera Gallery offer a shimmering contrast to the soothing blue palette, echoing the hand-painted black-and-gold wall paneling and bee-paper ceiling. "I just wanted it to be about people socializing and dialoguing. We wanted it to feel like a cocoon and envelop you."
8. Jeff Lincoln Interiors
Inside the Show House's largest interior room, third-generation interior designer and dealer Jeff Lincoln curated three distinct sitting areas filled with artistic furnishings, including Dune sofas and chairs, a Nendo Cabbage chair, and objects. Themed "Fantastic Voyage," the space centers around a "gargantuan" rug from the Rug Company that Lincoln says "reminded me of the Mars rover, mapping the surface of Mars." To curate the rest of the "essay of collectible design," he pulled works by Mario Schifano and Campana Brothers to pair with up-and-coming talents like Alex Hagentorn, Carmen D'Apollonio (a student of Urs Fischer), Caleb Woodard, and John Pomp. A Jeff Zimmerman vine chandelier of celestial globes from R & Company is reflected in a gilded table by Richard Shemtov for Dune.
9. Jim Dove Design
To create a Champagne bar for fantasy clients Lee Radziwill and Truman Capote, the designer pictured the inside of a Fabergé egg and paired Miles Redd wallpaper with a curation of gleaming fixtures from Kohler. Pieces by Nest Studio, Schumacher, and Cambria mix with a Circa chandelier selected to give the impression of Champagne bubbles. The pièce de résistance? An illuminated collage made from original film strips by artist Alan Strack; seen here is Breakfast at Tiffany's, of course.
Recommended: Isabel López-Quesada Crafts a Magnificent Family Getaway in the Spanish Countryside
10. Matthew Monroe Bees Interior Decoration
The Charleston, South Carolina, designer based his room on the landmark Drayton Hall, which has been expertly preserved in 1880s style. Distressed wallpaper gives an aged-paint look, while students from the American College of the Building Arts in Charleston re-created a medallion of tobacco leaves, sunflower, and stars in the estate's front hall on the Show House ceiling. "Charleston, much like its English counterpart, sent its sons on grand tours, and they sent back lots of wonderful porcelain, art, sculpture, chinoiserie," says the designer, "so it was really important for me to use pieces like that in the space." Fabrics from Schumacher, Scalamandre, Lee Jofa, and Brunschwig & Fils are layered. "I wanted it to be well traveled."
11. Paloma Contreras Design
Designed for the lady of the house, this lounge is a study in contrasts—antiques from different eras mix with contemporary pieces, a white Stephen Antonson plaster chandelier and candlesticks give way to coral sconce shades and chartreuse draperies, sisal plays against silks. "I wanted it to be sort of fresh and feminine and a very modern take on classic style," says Houston designer Paloma Contreras. "I wanted it to feel as if this could have been here decades ago; it could be here decades from now but still feels fresh and appropriate for today with the use of color and the mix of pieces." The original millwork was preserved, while Liz O'Brien chairs, upholstered in a Schumacher silk velvet, add a touch of glamour. "To me those are the most interesting interiors," she says, "the ones that feel collected over time and really personal and layered."
12. Pappas Miron Design
"We were super excited when we were assigned the room because there happened to be terrazzo on the floor and the chimney breast," says firm cofounder Alexandra Pappas. "Tatyana [Miron] and I love a European sensibility, so the terrazzo sent us off in the direction of wanting to capture a cozy, eclectic European-feeling sitting room." Ressource-painted walls then upholstered in rich teal velvet from Claremont surround an antique rug from Avery & Dash and a classic Regency table. One-of-a-kind Cristobal-Morales mirrors from Fortuny and a Helen Frankenthaler print provide visual pops. A closet was transformed into a bar with bronze shelves and Voutsa's Russian Icons metallic gold paper. "We loved how it glowed and also is moody and the colors worked so beautifully with the room scheme." Miron's trip to Milan's Villa Necchi Campiglio inspired the adjoining bath with a custom stone sink coupled with modern Flos fixtures.
13. Peter Pennoyer Architects
"We really fell in love with the bones of the space and wanted to make it a cozy, really layered guest room," says Alice Engel, director of the firm's interior design department. Imagining a bibliophile house guest that comes in for the weekend from Paris, Engel and Pennoyer used a Schumacher fabric to upholster the walls, which are lined in Benjamin Moore's Newburyport Blue. "From there, we really had fun with the accessories and art." Tug Rice illustrations and Christina Burch canvases coupled with elements of citron used on the bed canopy and banquet add a touch of whimsy.
14. Richard Rabel Interiors + Art
"When I got this space I thought, what can I do from the past that can be a bit fresh for the present?" recalls designer Richard Rabel, who zeroed in on the Aesthetic movement, which took place in the U.K. over the 1870s and '80s, and was inspired by the Peacock Room by James McNeill Whistler and Lord Leighton's house in London. To create a dark, moody entry, Rabel covered the spiral staircase with a seamless wallpaper reminiscent of a peacock's train, hand-modeled in gesso with 23K-gold and white leaf applied, dotted with Siemon & Salazar iris sconces. Gold rivets adorn the staircase, while a curved dotted rug from the Rug Company mimics MJ Atelier wallpaper to create an overall starry vibe that's enhanced by Maison Gerard furnishings, Apparatus lighting, and art from Kasmin Gallery.
Recommended: Jacques Grange Designs a Fifth Avenue Apartment for Collector Stacey Bronfman
15. Robert Passal Interior Design, in collaboration with Daniel Kahan Architecture
A 1940s Parisian salon set the mood for this space that's enhanced with modern technology. "We tried to incorporate some of the materials that would have been used at that time," says Passal. Encased in hand-cast plaster, the room has a limed-oak herringbone floor, Newel lighting, and a built-on-site sofa that provides the ultimate place for relaxation. "It's timeless and elegant but approachable at the same time." To bring the prewar space into the 21st century, a mirrored TV by Séura is surrounded by hidden speakers, lights, and a fireplace that can be operated through a smartphone. "We tried to really use a lot of antiques and mix them with contemporary goods so it felt special."
16. Sarah Bartholomew Design
In what the designer is calling "A Room of Her Own," Bartholomew has created a feminine retreat with a Jean-Michel Frank–style daybed. "It started with the initial idea of Swedish painted floors and the fluted plaster moldings on the walls," she says. "It was a very bland room with nothing architectural going on, so we added all of this to create a sitting area." A lime wash bounces light around the intimate space that's reflected in a Cox London mirror. Wicker from an atelier in France and a neoclassical chest from Objets Plus coupled with layers of art give the impression of surrounding yourself with things you love.
17. Studio DB
The original maid's quarters were transformed into a boudoir with areas for sitting and soaking. Custom murals by De Gournay, inspired by an Elsie de Wolfe house where Marlene Dietrich lived, pop against walls painted in Veridian from Benjamin Moore's Century line, while the Rug Company's Climbing Leopard rug gives an exotic flair to the room. A purple Kohler tub with rose-gold Kohler fixtures plays off a violet marble fireplace surround from Chesneys while a 1970s Poltrana Frau vanity is reimagined as a fur-lined bar. "We liked the idea of making it masculine on the outside and feminine on the inside," says Studio DB's Britt Zunino of the eye-catching piece. Illuminated by a woven sconce from Colonel in Paris is adjoining blush-colored powder room where a graphic Artistic Tile floor mosaic plays off a ceiling covered in hand-painted paper from Flat Vernacular.
18. Vicente Wolf Associates
Rich aubergine walls contrast a high-gloss ceiling in designer Vicente Wolf's soothing Zen-like bath. "The reason I chose the color was the fact that it has a very modern quality, and it brings warmth to the space instead of the grays, blues, and browns," says Wolf. "We wanted the room to have a dreamlike, floating quality." Floor-level lighting adds to the space's ethereal atmosphere, which is reflected in a waved Canal Plastics mirrored lucite. A modern Kohler soaking tub juxtaposes an antique Chinese table and silver Indian wedding chair. "It's trying to not put in perimeters in the space, perimeters of period, or perimeters of reflection."
19. Young Huh Interiors
Inspired by the massive skylights on the oddly angled attic room, New York designer Young Huh created a bohemian Parisian artist grotto, complete with clipped unframed art, a sculptural gold John Lyle fire screen, Frances Palmer pottery, and a hidden closet coffee bar. The 17.5-foot ceilings provided ample space for a massive Ondine chandelier that pops against custom Braque wall coverings by Fromental and the Shade Store drapery. Modern living is represented in the adjoining bath, which is wrapped in Huh's tile collection for AKDO and features a farm sink by Kohler plus a digital rain shower.
Next Post