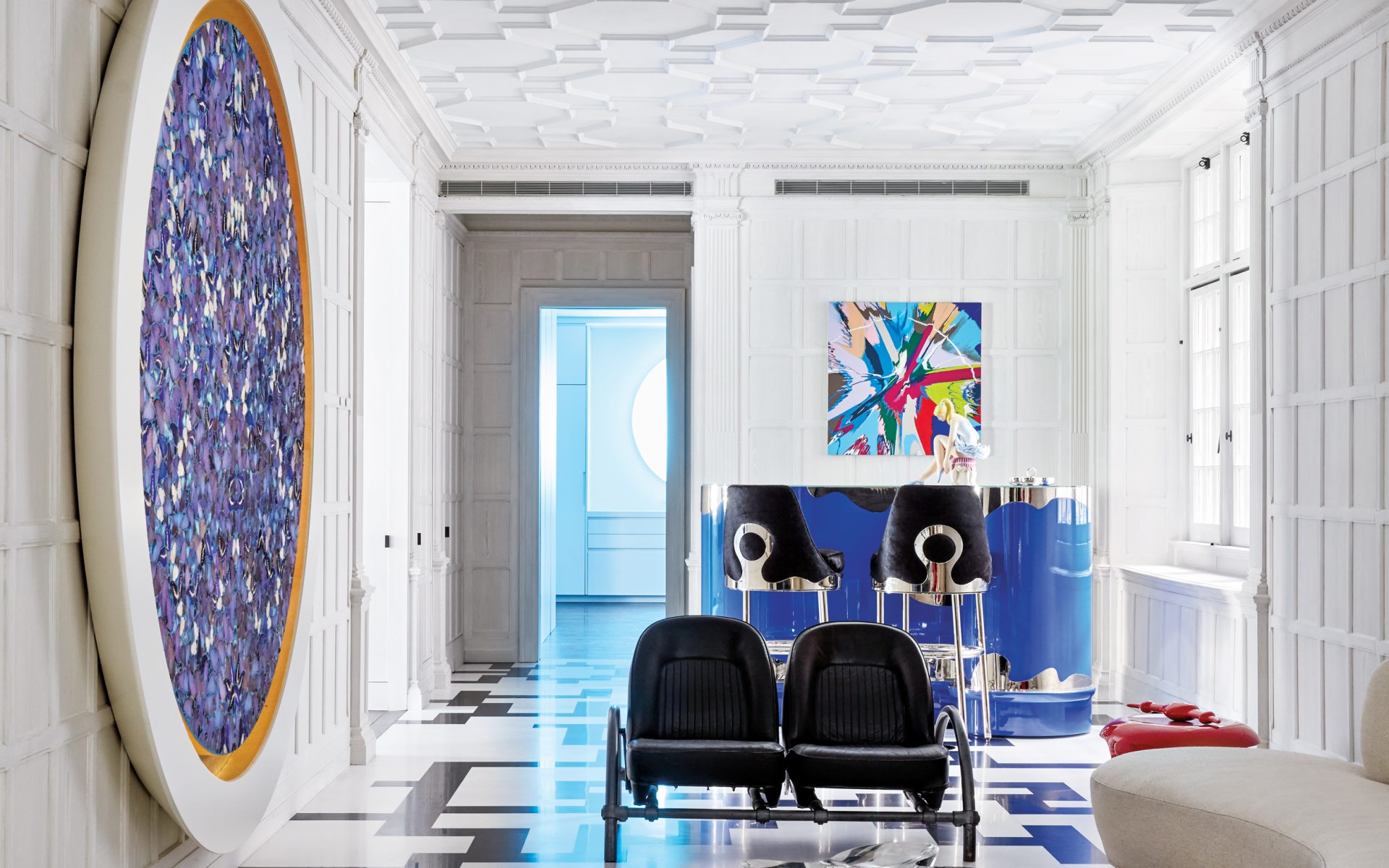 Jacques Grange Designs a Fifth Avenue Apartment for Collector Stacey Bronfman
The acclaimed designer conjures a "contemporary home with an artistic attitude"
Madeleine Castaing, the legendary 20th-century French decorator, famously proclaimed, "Be audacious but with taste." It was her modus operandi, as she crafted electrifying, supremely soigné interiors for Paris's art and fashion set. Chaim Soutine's famous 1928 portrait of her is in the collection of New York's Metropolitan Museum of Art, which happens to be directly across the street from an art-filled residence that exudes just the kind of fearless yet refined spirit that Madame Castaing championed. "I wanted an apartment where people would walk in and feel like they were in Paris—it's Gesamtkunstwerk, a total work of art," Stacey Bronfman says of the Fifth Avenue home, which she renovated with the help of another celebrated French designer, Jacques Grange.
When Bronfman and her then husband, Matthew, bought the five-bedroom apartment in a landmarked 1912 Renaissance-style building by McKim, Mead & White, the spaces retained much of their original condition. The previous resident, socialite Ann Slater, had lived there for six decades, hosting extravagant parties in the front of the home, even as she was forced to move from bath to bath in the back, thanks to plumbing failures and bursting showers. Bronfman, a passionate collector of contemporary art and high-design furnishings, sought to amplify the apartment's graceful proportions and its distinctive details, while updating yellowed floors and dreary finishes to evoke the feeling of a fresh, sophisticated loft for a modern family.
Ferguson & Shamamian Architects, renowned for its masterful approach to classical design with a contemporary sensibility, undertook a thoughtful, almost-gut renovation of the space. The Manhattan firm had previously worked on three other apartments in the building, so navigating its layouts and eccentricities was second nature. Entryways were heightened, walls came down to create more open rooms, and, of course, plumbing and electrical systems were updated for the 21st century.
[See more photos of Stacey Bronfman's home]
When it came to the decor, Bronfman considered handling it herself—that is, until she was introduced to Grange through relatives. Right from the start, homeowner and decorator hit it off. Bronfman's background in accounting and fashion merchandising belies an expertise in decorative arts and design that she began acquiring osmosis-like by studying auction catalogues, visiting galleries, and making the rounds on the international fair circuit. During the course of the apartment's four-year renovation, she became so obsessed with decorating that she earned a degree from the New York School of Interior Design.
Grange, who is frequently enlisted to craft luxury hotels, including Francis Ford Coppola's Palazzo Margherita in Italy and the newly reopened Cheval Blanc on St. Barts, takes on only a few select residential projects. "For the Bronfmans," he says, "I wanted to create a contemporary home with an artistic attitude."
Recommended: Architect Lee Ledbetter Reimagines a New Orleans Landmark in the French Quarter
Together they composed captivating, unconventional spaces that are surprisingly compatible with the historical setting. "I asked Stacey not only for her ideas but also her feelings," Grange recalls. "We developed a strategy where some rooms had great energy, others were calm. This apartment is a self-portrait of her."
Just inside the apartment's entrance, visitors are greeted by the dynamic gallery, where Grange created a labyrinth-like patterned floor out of chic matte-finish black and white marble—a graphic contemporary echo of the traditional ceiling moldings overhead. It's a compelling backdrop for an electric-blue bar custom made by Mattia Bonetti, a circular butterfly painting by Damien Hirst (so massive that it had to be craned in through a triple-casement window), and Ron Arad's voluptuous Blo-Void II chair, which was the Bronfmans' first purchase together a dozen years ago in Milan.
Bold artworks are deftly integrated throughout. A Leo Villareal target light sculpture casts a soft chromatic glow in the all-white kitchen, while a crumpled-metal assemblage by John Chamberlain animates the library. In the master bedroom, a neon wall sculpture by Tracey Emin that reads, "Her soft lips touched mine and every thing became hard," is given pride of place, directly above the bed. "Jacques is confident enough to work with someone who has their own taste," Bronfman says. "He's not a decorator—he's a visionary."
[See more photos of Stacey Bronfman's home]
The only hiccup in their harmonious collaboration was the space that contains the dining area and library. "I wanted a dark dining room, and Jacques was not in agreement," Bronfman recalls. "We were sitting in the gutted apartment, and I spied a piece of discarded copper tubing. 'I want that color,' I told him. His response: 'Magnifique!' " They settled on a high-gloss version of the distinctive hue, adding extra flair to a space that's arrayed with knockout vintage furnishings atop chevron floors based on measurements that Bronfman took—surreptitiously using a tape measure—at Balmain and Lanvin boutiques in Paris.
Now Bronfman is transitioning into a career in interior design, and she is already deep into her first solo Gesamtkunstwerk: a postdivorce apartment for herself. It's a calling that had long been there, even if it took some time to fully embrace. "Where other women might prefer jewelry as gifts, I'd want Line Vautrin mirrors," she says. "My mother always stressed the importance of buying well but not buying a lot." Madame Castaing would approve.
A version of this article first appeared in print in our 2019 Spring Issue under the headline Speaking Volumes. Subscribe to the magazine.
Next Post