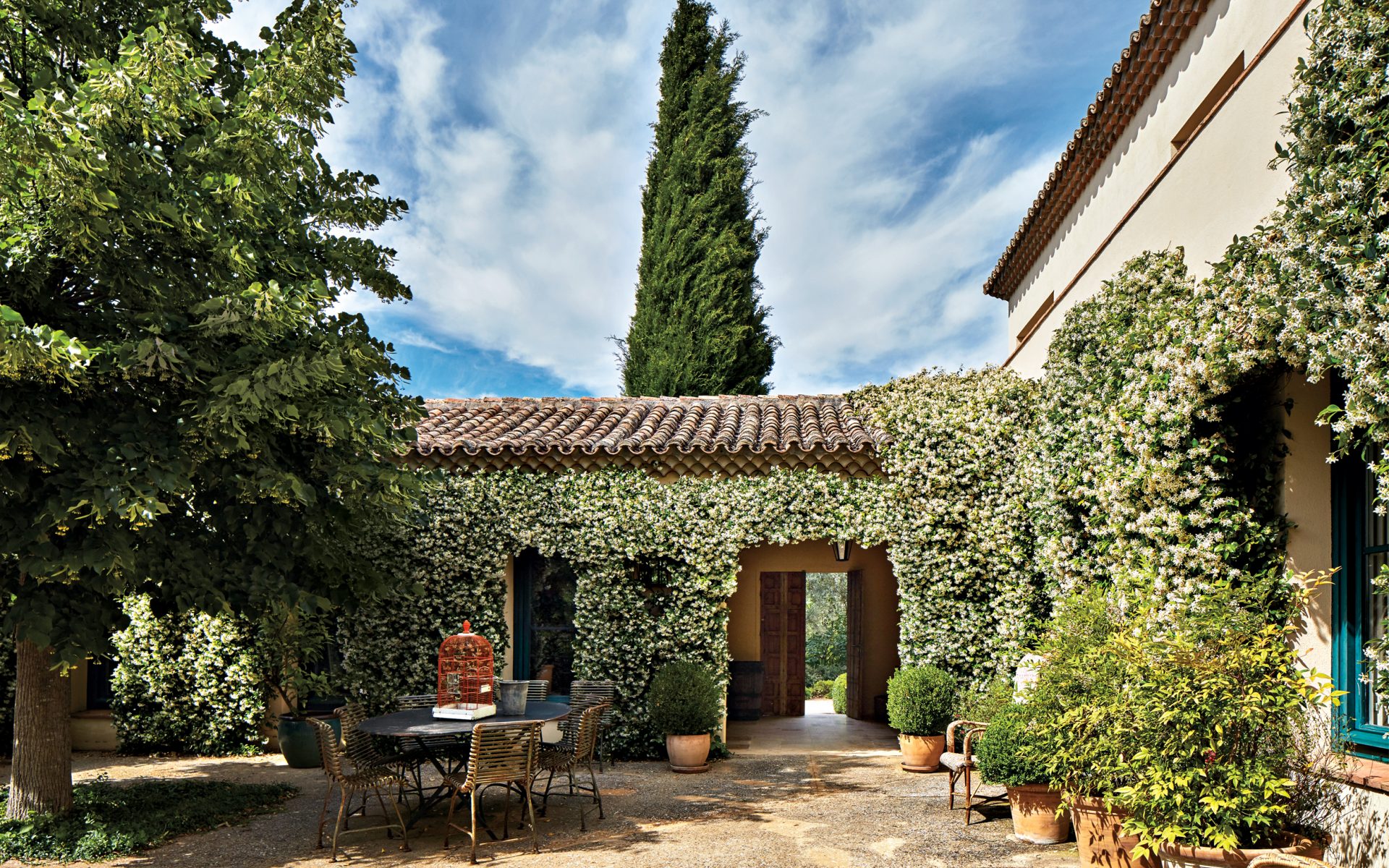 Isabel López-Quesada Crafts a Magnificent Family Getaway in the Spanish Countryside
The country retreat near Toledo is in perfect harmony with the picturesque landscape
Some people might spend years searching for the perfect plot of land on which to build their dream house. A lucky few come into the world already owning it. Such was the case for Manolo Falcó and his wife, Amparo Corsini, for whom Spanish designer Isabel López-Quesada created the ideal country getaway on a sprawling estate, near Toledo, Spain, that has been in Falcó's family for centuries. 
Falcó is the eldest son of the Marqués de Griñon, a title he'll one day inherit, and the estate is about 60 miles from Madrid, where the family produces their well-respected wines and olive oil. Tidy rows of grapevines and olive trees stretch as far as the eye can see, and the earliest buildings on the property date to the 12th century.
The family's new home sits next to a 17th-century chapel, so for the London-based couple and their three children, the question wasn't where to build but what to build. "About 40 years ago someone planted an informal stand of cypress trees behind the chapel," says López-Quesada. "The couple wanted their house to adapt to the space left in between, so the trees more or less designated the floor plan." 
After 35 years in the business, López-Quesada is supremely adroit at envisioning not only the most suitable setting for a home but also every whim of her blue-chip clientele. She's the go-to designer for style-savvy nobles and captains of industry looking for an elegant yet unfussy modern aesthetic, crafting interiors for everything from Madrid's august Puerta de Hierro Royal Country Club—the unofficial seat of Spanish social, political, and economic power brokers—to Spanish ambassadors' official residences in Japan, Qatar, and Senegal.
[See more photos of this home by Isabel López-Quesada]
A new book, Isabel López-Quesada: At Home, by Vendome Press, offers an intimate glimpse of her stylish life in her own gorgeous home in Madrid and a retreat in the French Basque countryside and vividly illustrates why clients are clamoring for her to create the same for them.
This was far from her first project with the Falcós—López-Quesada also designed their home in Madrid and house in London. "We've known each other for years and work really well together," says the designer, who understood her brief was to deliver a real family home, both elegant and comfortable. "Amparo is a true aesthete with an eye for many wonderful details."
Recommended: Architect Lee Ledbetter Reimagines a New Orleans Landmark in the French Quarter
On the outside, the five-bedroom house, which was designed in collaboration with architect Pablo Carvajal, blends nicely with its pedigreed centuries-older surroundings. The massive doors leading to the jasmine-scented courtyard are 17th century and the roof tiles are also vintage, to give the house a patina of age and permanence. "That roof detail using three rows of tile to create a cornice is completely Toledano," the designer says, further establishing the home's local authenticity.
Inside, many of her design choices go hand in hand with what López-Quesada describes as a carefully achieved "luminosity." The golden Spanish sunlight pours into many rooms, where it is either reflected or absorbed. In the dining area, walls are covered in a luxurious Bennison floral linen whose lemony accents play off flickering postprandial candlelight. In the TV room, meanwhile, a traditional Scottish tartan, more typically used for kilts, creates a cozy, enveloping backdrop for a rustic collection of framed dried herbs.
[See more photos of this home by Isabel López-Quesada]
For the furnishings, in addition to her selections from a stable of international antiques dealers and bespoke furnituremakers, López-Quesada had access to a warehouse full of Falcó family heirlooms salvaged from a palace in central Madrid that was demolished decades ago to make way for a modern office tower. Among the notable finds were the living room's chalky-white, 18th-century French boiserie panels and bookshelves. Treating them as beloved hand-me-downs, the designer discovered it was "fun to use these truly beautiful architectural and design elements without any sense of preciousness or fuss." 
Her ability to understand her clients' desires and optimize the particulars of each project is what keeps López-Quesada at the top of her game. "I love a challenge," she declares, "and there is no part of the design process I don't enjoy—finding the best distribution of space, the right materials. Even after three decades, I live for all of it." 
A version of this article first appeared in print in our 2019 Spring Issue under the headline Terra Firma. Subscribe to the magazine.
Next Post