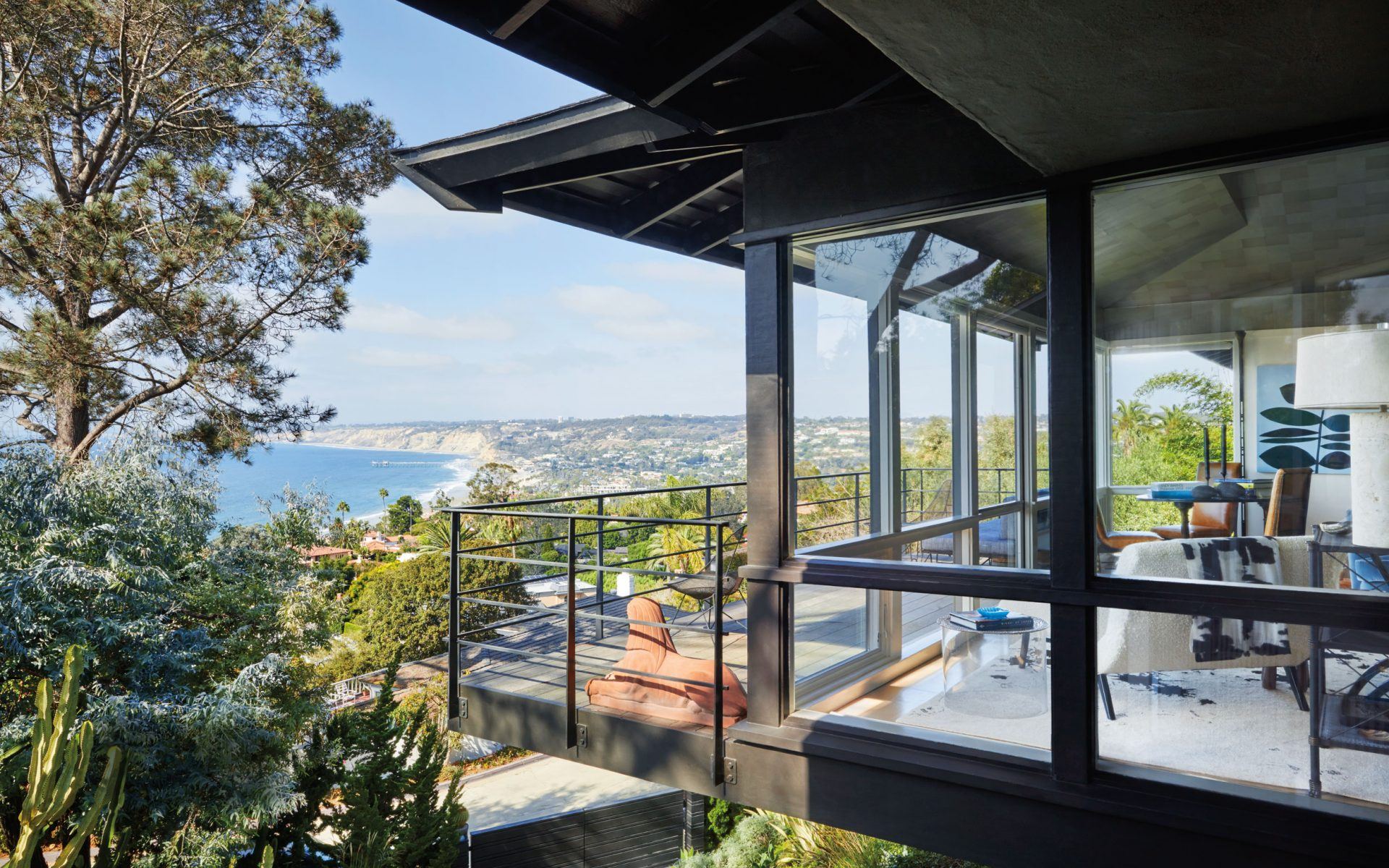 8 Spellbinding Homes That Boast Postcard-Perfect Views
Panoramic vistas of the Eiffel Tower and the Acropolis make these spaces that much more breathtaking
While the common refrain of "location, location, location" is most often touted when it comes to real estate, it's often a spectacular view that seals the deal. After scouring the Southern California real estate scene for years, architect William T. Georgis and his partner, the late curator Richard Marshall, fell for a modernist La Jolla residence designed by William Lumpkins. But it wasn't just the house's Japanese-inflected style that attracted the couple: Perched on a hillside, the villa boasted sweeping vistas from the Pacific all the way north to Orange County.
Urban views can also have their charms, as evidenced by the breathtaking Acropolis panorama as seen from an 11-story Athens manse or the Eiffel Tower vistas from Adriana Abascal's Paris apartment. Feats of engineering, such coveted sights more than hold their own when paired with an array of blue-chip art.
Below, see the most stunning views that Galerie has published throughout the years.
1. In La Jolla, California, designer Eddie Lee revamped the seaside home of art collectors Liz Anne and Phokion Potamianos. Appearing to float above the Pacific Ocean, the living room features a playful sculpture by Jeff Koons, a sofa by B&B Italia, a pair of Arne Jacobsen chairs by Fritz Hansen, and a three-part cocktail table by George Nakashima. The purple armchair is a vintage Nanna Ditzel design; the blue floor cushions are by Ligne Roset, and the wall cabinet is vintage Jean Prouvé.
2. Greek architect Dimitrios Tsigos's One Kleomenus residence is perched above the Athens cityscape in the hilly and historic Mount Lycabettus area. In addition to the marble-clad interiors, the 11-story dwelling features panoramic views of the city's ancient Acropolis, a UNESCO World Heritage Site built over 2,400 years ago.
Recommended: Tour a Surreal 11-Story Mansion in Athens
3. The bucolic Uruguayan countryside provides a serene backdrop for this rustic-chic getaway conjured by Estudio Obra Prima in the swanky resort town of Punta del Este. The minimalist refuge is clad in stacked brick and features a sparkling infinity pool that beckons from the open-plan living room.
4. Southern California's Santa Rosa Mountains loom large behind the modernist home of hotel developer Jim Lippman and his wife, Linda, near Palm Springs. Architect Steve Giannetti and designer Anna Busta collaborated on the 20,000-square-foot residence, which features sliding glass walls throughout in order to bring the outdoors in. The main living and dining area, for instance, opens up dramatically to the pool court, which boasts a spiraling Bruce Beasley sculpture. Busta installed an Alison Berger lighting fixture over the red-lacquered Liaigre table and chairs opposite a seating area where a Holly Hunt sofa and chairs surround a Liaigre cocktail table.
5. Surrounded by water and nestled within a protected landscape, the Hamptons residence designed by Leroy Street Studio and Victoria Hagan features major artworks by El Anatsui and Maya Lin. The exterior includes an infinity pool as well as breathtaking views of the Southampton coast.
Recommended: Victoria Hagan and Leroy Street Studio Create a Breathtaking Hamptons Home
6. Designer Alvise Orsini crafted a stunning art-filled penthouse that dazzles with sweeping views of Paris for the art collector Chad Leat. Blue-chip pieces punctuating the living area includes a Lawrence Weiner chair at far left, a Markus Lüpertz sculpture next to the window, and a Robert Barry painting above the Jean Prouvé table, which serves as a desk. The table lamp is by Hervé Van der Straeten, and the sofa's accent pillows were made with Pierre Frey fabrics.
7. Architect William T. Georgis gave this midcentury villa in La Jolla a striking makeover worthy of its spectacular views. By adding a steel superstructure to the 1950s house, which was originally masterminded by William Lumpkins, Georgis created a new front terrace overlooking the coastline all the way north to Orange County.
Recommended: Inside Architect William T. Georgis's Artful Residence in La Jolla
8. In Paris, designer Luis Laplace created an elegantly updated backdrop for supermodel Adriana Abascal's adventurous art collection. Perched in a Haussmann-era building in the 16th arrondissement, the refined apartment offers stellar views of the Eiffel Tower and Arc de Triomphe. A work by Gregor Hildebrandt overlooks the master bath's Volevatch tub and filler, which are accompanied by a vintage nickel table and a Jean-Claude Delépine for THG towel warmer.
Next Post