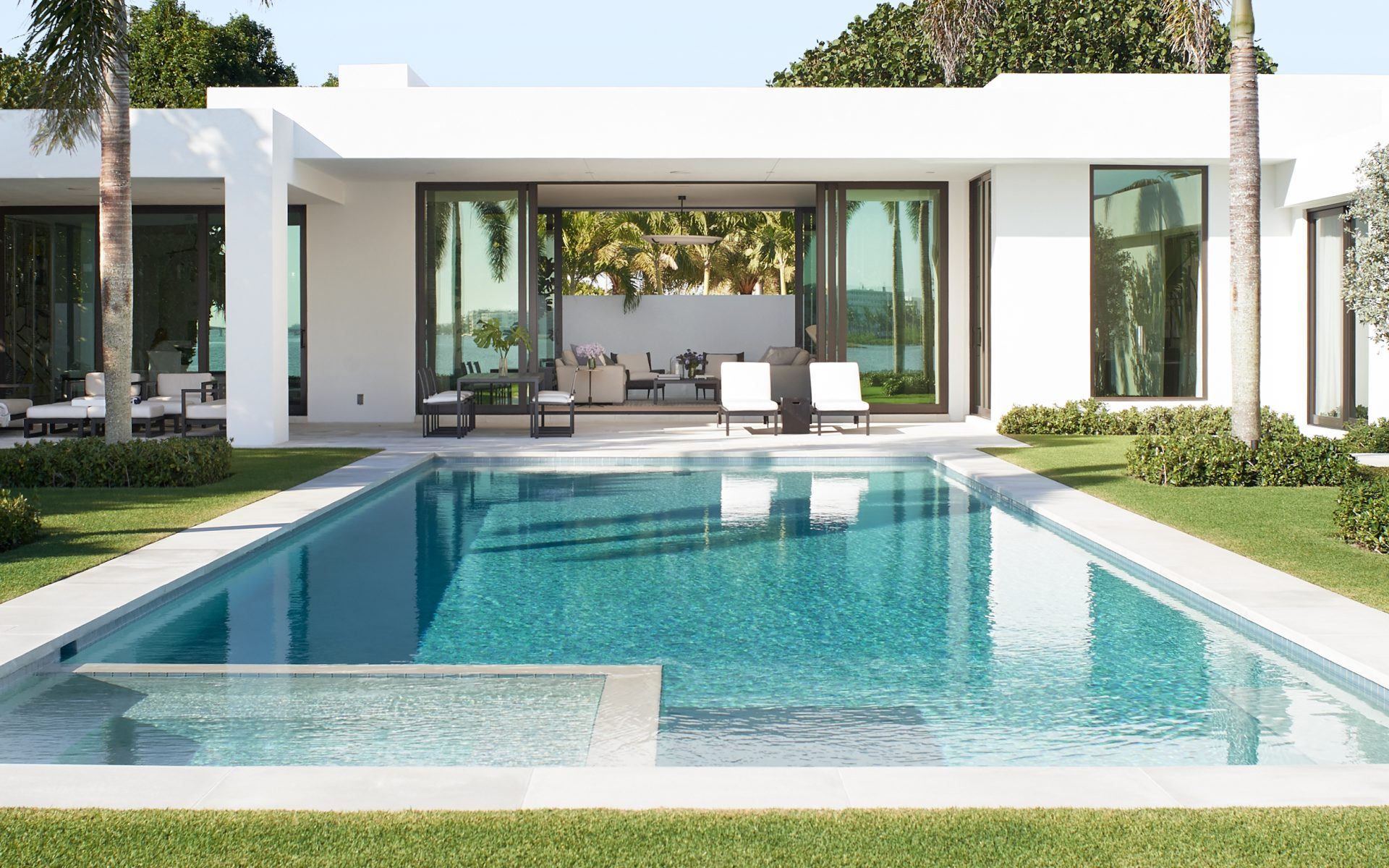 Love Letter to My Home: Victoria Hagan in Palm Beach
After hunkering down for over five weeks, the acclaimed designer shares insight on why the Florida getaway works so perfectly for her new stay-at-home lifestyle
After hunkering down in her Palm Beach retreat for over five weeks, designer Victoria Hagan shares new insight on what makes the home so special and why it works perfectly for her new stay-at-home lifestyle. Here, she tells Galerie how she originally designed the space and how she's been living in it with her family since the shelter-in-place orders have gone into effect.
When we built this house in Palm Beach, Florida, it was intended to be a little getaway. I always called it my cabana, although now it's more like my bunker. But this house I designed four years ago, with architect Peter Papadopoulos of Smith and Moore, is really doing a good job. I think I'm going to look back on this time and remember  how special it was. There are so many family dinners and time to work on projects. But I do plan on burning everything I've been wearing as soon as it's over.
From the beginning, I had a vision of how I wanted us to live here. We put together simple forms with 11-foot ceilings and lots of glass, which makes it feel very connected to the outdoors. When I design a home, I'm always sensitive to the light. It's the unexpected happiness that comes with beautiful light, especially since we're on the waterway and face south. It's relaxing and calming to live with nature and be so close to the water—watching the tides and seeing the sun move across the sky.
Our main living area was designed to spend a lot of time in and both sides open up, so it's like you're in a cabana. On one side, there's a garden and fountain and on the other the pool and the water. You get this breezy quality with everything revolving around the water.
For the last 20 years, I've been crazy-busy. When the house was ready to move into, I realized I hadn't begun to focus on the decorating. It all came together and is filled with things that I love that I could get quickly. That great round table from B&B Italia in the entry ordinarily has a 14-week lead time, so I went online to find one to buy off the floor. It's now part of my daily routine to find some foliage from the property for that table right after I take the dog for a walk. I have always loved Eric Schmitt's work, so I commissioned a plaster and iron fixture from him in the living room.
For that really long wall, I was antiques shopping and I noticed this really long table and checked measurements, and it fit perfectly. Then I'm flying back in the airport and put my bag on the conveyor to realize that table is actually an old conveyor belt. It's the perfect place to spread out food for buffets.
When I'm here I love to entertain, so it's funny to not invite people over for dinner and cocktails. In the five weeks straight of cooking dinner in this kitchen, the one thing I've come to really appreciate is the countertops. In my other kitchens I have real stone, but this composite is now my favorite. I spray it down with Clorox disinfectant, and it feels crystal clean with no stains or damages. I'm definitely going to start using it in more projects. In the dining area, I have little slipper chairs from Jangeorge in Sag Harbor, New York. They're small so you can squeeze a lot of people in, and you can wash the covers. Then there's that great Lichtenstein from his "Interiors" series that we bought while building the house.
As for the living at home and working at home, I'm really shocked how much gets done and what I can do virtually online or on the phone. The challenge is I miss my library of fabrics and materials. I'm pulling from the library in my head instead. The other challenge is that there are several of us working from here and all trying to stake out our own corner. Every morning, I try to beat my husband and sons to the best spot outside overlooking the pool. The outdoor furniture is from Harbour Outdoor and fits a lot of people. We do lots of outdoor spaces for clients, and it's so important to have enough seating for when you have parties so you can gather before or after lunch or dinner.
When I was a kid and bored, I would move around the furniture all the time for fun. Being down here for so long, I kept thinking, Why is the seating like this? So I swapped all the terrace furniture around and have also moved all the pillows from room to room. I always think change is good, and I like to mix things up.
The last thing I was supposed to do before we came down to Florida was to host a launch party in Dallas for my new collection with The Shade Store. I feel like window treatments enhance what's important in a space—softness, light, and scale. I designed fabrics that I feel are versatile. I included some east-west stripes, because I love the rhythm of the horizontal line and there are some great subtle textures. I find if you can soften the window it brings calm into the home.
This place has always been just a retreat for long weekends, and I never thought we would ever spend this much time here. But it now truly is the little house that could. I think that comes down to the fact that it's not about the decorating. It's about the living. I've been saying that for years to clients, but now we really are experiencing it.
Next Post