For Dior's first in-person show since the COVID-19 pandemic rocked the fashion world, Maria Grazia Chiuri made sure to leave her socially-distanced guests with an event to remember. While the creative director often champions female artists (her recent couture collection referenced Dora Maar and Leonora Carrington in its goddess-like garments), Chiuri's latest presentation uses collage art as its awe-inspiring backdrop.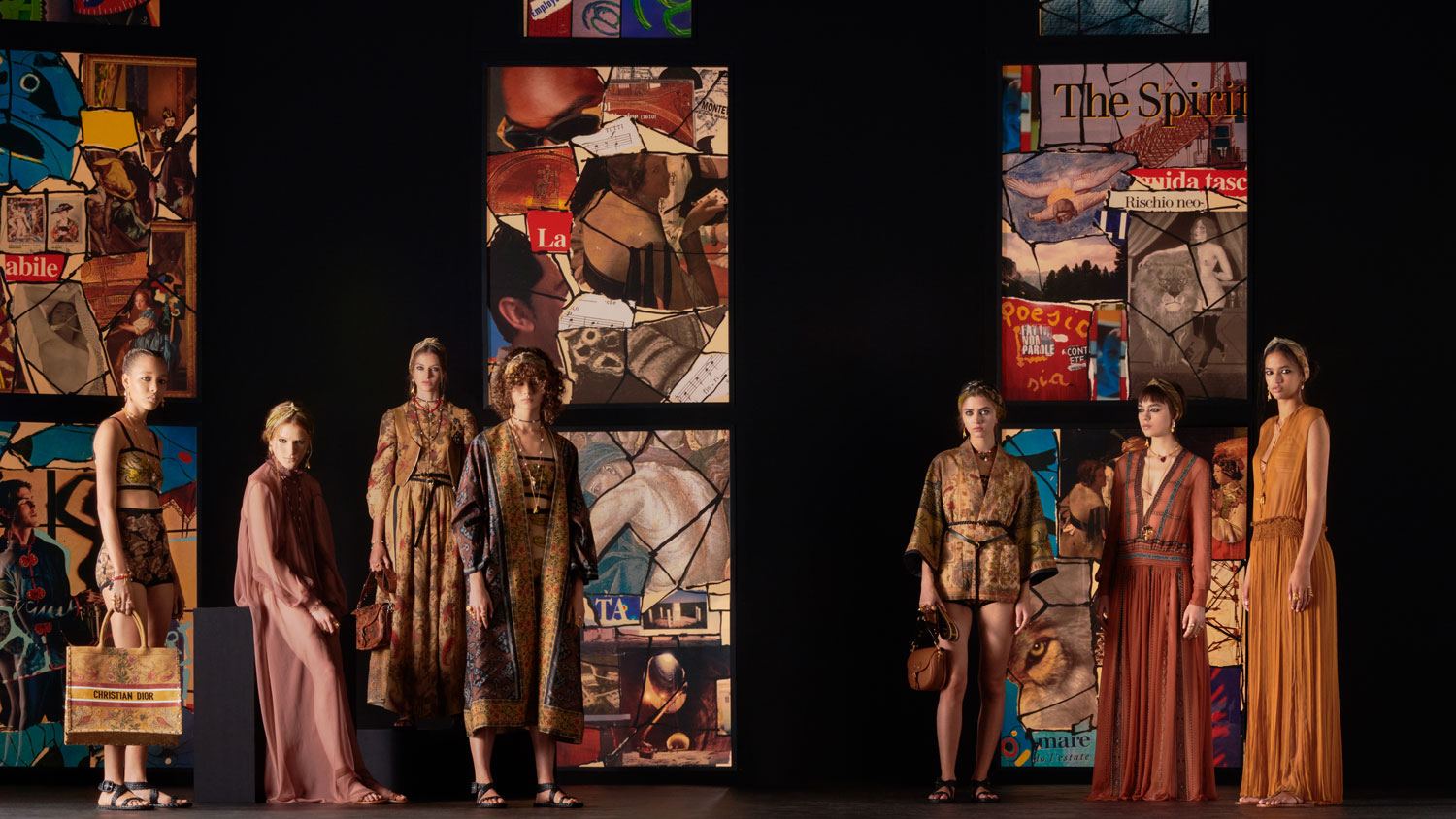 Dior's spring-summer 2021 ready-to-wear collection may have been staged at the Jardin des Tuileries as part of Paris Fashion Week, but the creative inspiration was pure Italian. Having recently shown her cruise 2021 collection in Lecce, Puglia, where her father grew up, Chiuri has connected with her heritage again by tapping several Italian talents for this new collection. First is Lucia Marcucci, a contemporary artist best known for her female-centric collages, which began drawing attention in the 1960s. Approaching her practice like avant-garde poetry, Marcucci not only combines newspaper cutouts and other two-dimensional media, but she also weaves various film clips together in poignant video works.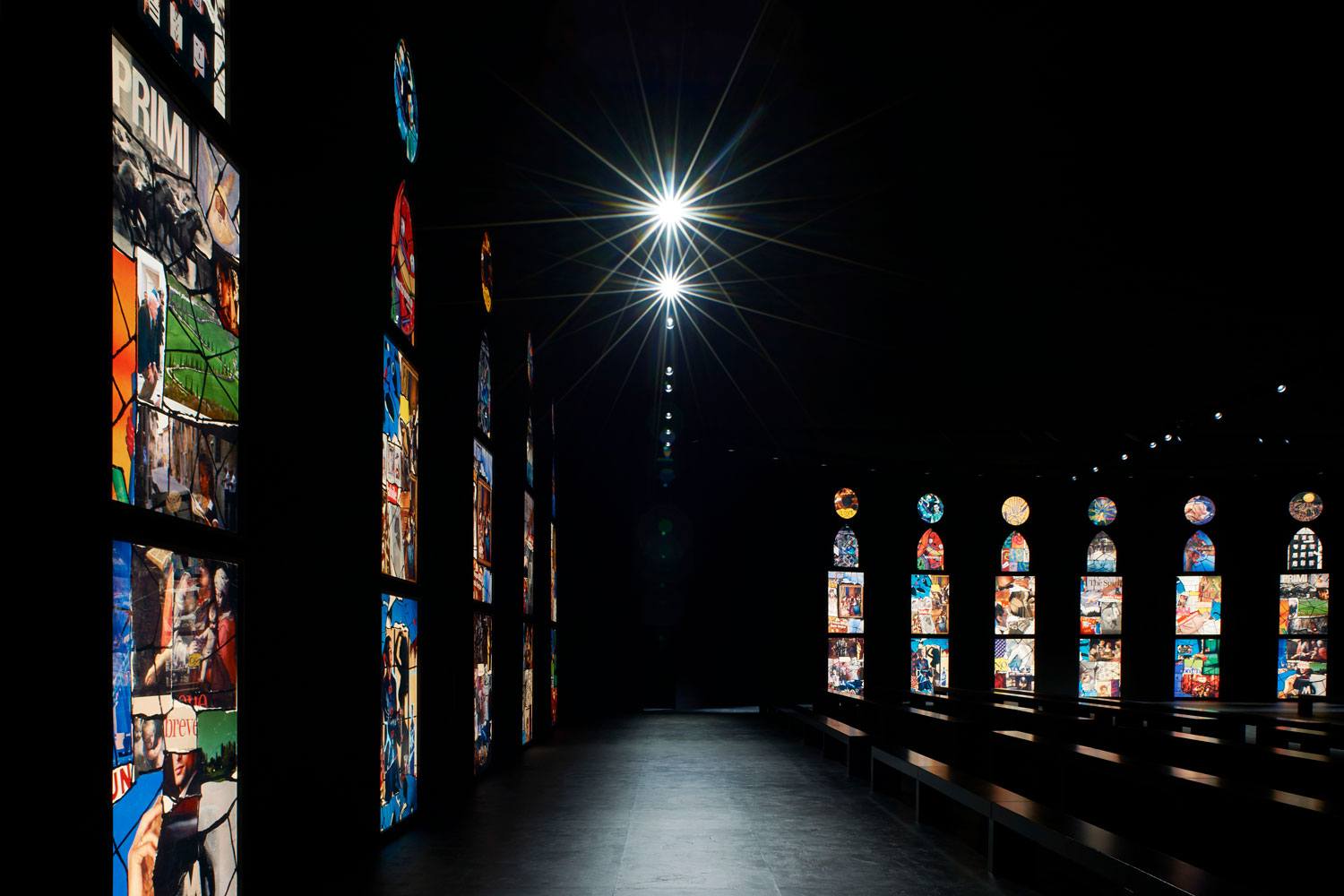 For the Dior collection's accompanying film, experimental Italian director Alina Marazzi had carte blanche to explore Marcucci's visual art archives. The artist herself makes an appearance in the video to explain how she would exploit the languages used by mass media to convey empowering messages through her oeuvre. It's this same sense of liberation that sets the tone for the spring-summer 2021 silhouettes, which are largely free flowing and ethereal, a departure from the fashion house's founding aesthetic.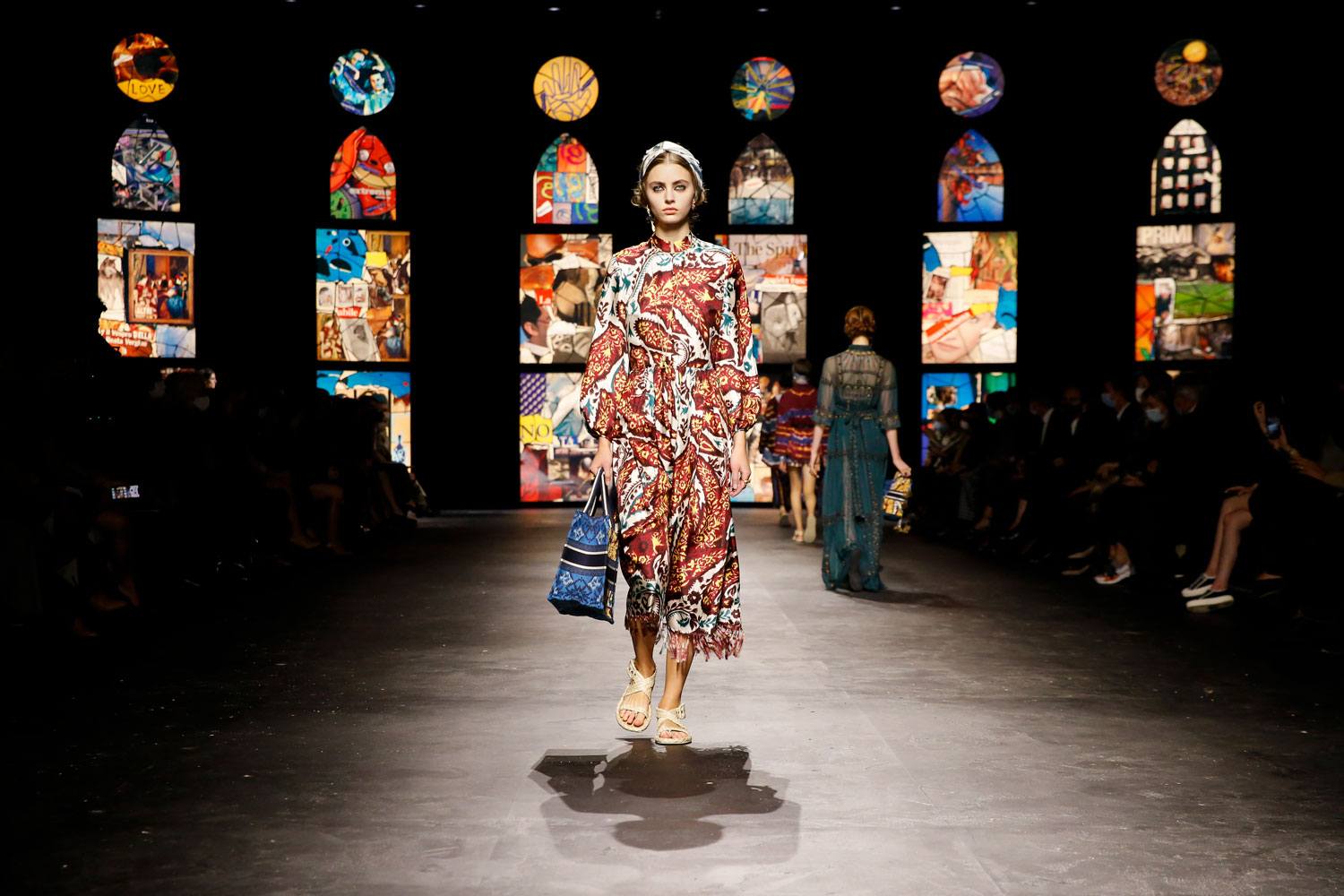 The runway presentation itself, however, is where all the feminist and artistic components combine to dramatic effect. Working with Bureau Betak, which has produced many of the industry's most memorable shows, Dior erected towering light-box installations of Marcucci's collages to emulate stained-glass windows, evoking those of the Parisian Gothic landmark Sainte-Chapelle. Titled, Vetrata di poesia visive, the artist's in-situ work pairs 20th-century magazine images with art history icons, such as those by Renaissance painter Giotto and Claude Monet.
Delivering a 360-degree, immersive experience, Chiuri worked with Italian musicians, who performed on stage, much like those in the designer's Puglia show this summer. Twelve women sang Italian composer Lucia Ronchetti's Sangu di rosa, a choral work that in its interpretation for Dior's collection could best be described as somewhere between haunting and holy. The work's texts were derived from classical musical repertories associated with funereal ceremonies and discuss women mourning the loss of their husbands and children. Reverberating throughout the gardens, their powerful voices elicited the expert control and emotion felt by both Chiuri's and Marcucci's creations.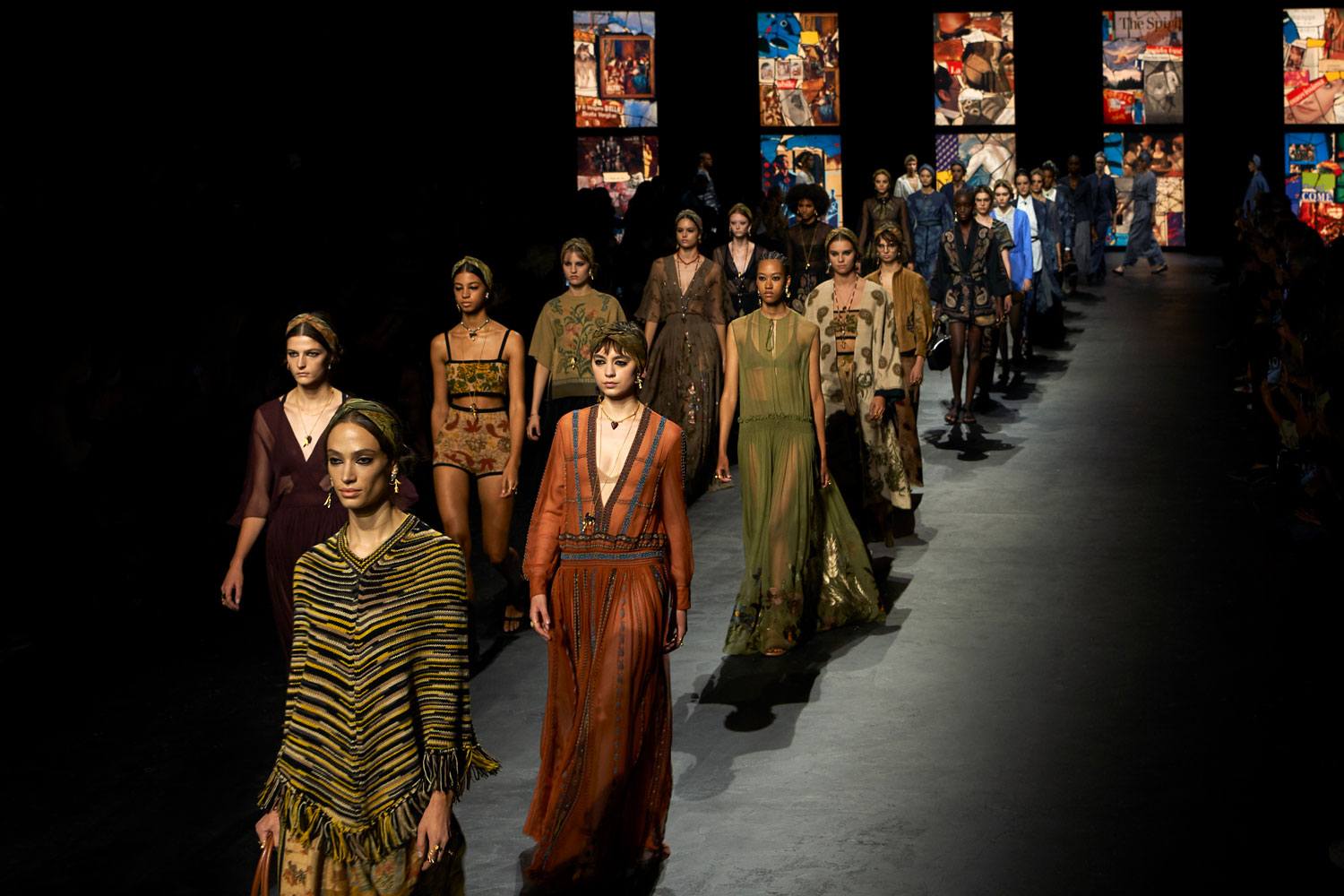 While stained glass and operatic choirs may feel quite formal, Chiuri's collection intentionally erred more on leisurewear, a decision directly inspired by the current global circumstances. "We are traversing a period of crisis that is radically transforming behaviors, habits and rituals," a statement in the collection's accompanying release reads. "Our spirits have changed, as have our bodily attitudes. The concept of fashion as we know it has been put into question."
Thus, rather than tailored pants, we see those of the palazzo variety, reflective of the collection's generally bohemian, relaxed feel. Perhaps evoking the transformational period in which Marcucci truly found her voice, the collection rifts on a hippie sensibility—sun-washed hues of mustard yellow, sand, indigo, coral, and sage are shown in diaphanous frocks, as well as other styles reminiscent of the time: shrunken vests, tapestry-like robes, peasant sleeves, tie-neck tunics, fringed ponchos, sandals, and headbands. Patchwork, ikat, and paisley add further layers and cross-cultural references.
The clashing patterns and colors produce a kaleidoscopic effect, much like Marcucci's stained-glass collages and the choir's fragmented verses. Somehow, it all works, perfectly encapsulating Chiuri's ongoing desire to charm and expand her audience's knowledge through some of the most innovative presentations, compelling narratives, and nuanced influences that the fashion industry has ever seen.
Next Post