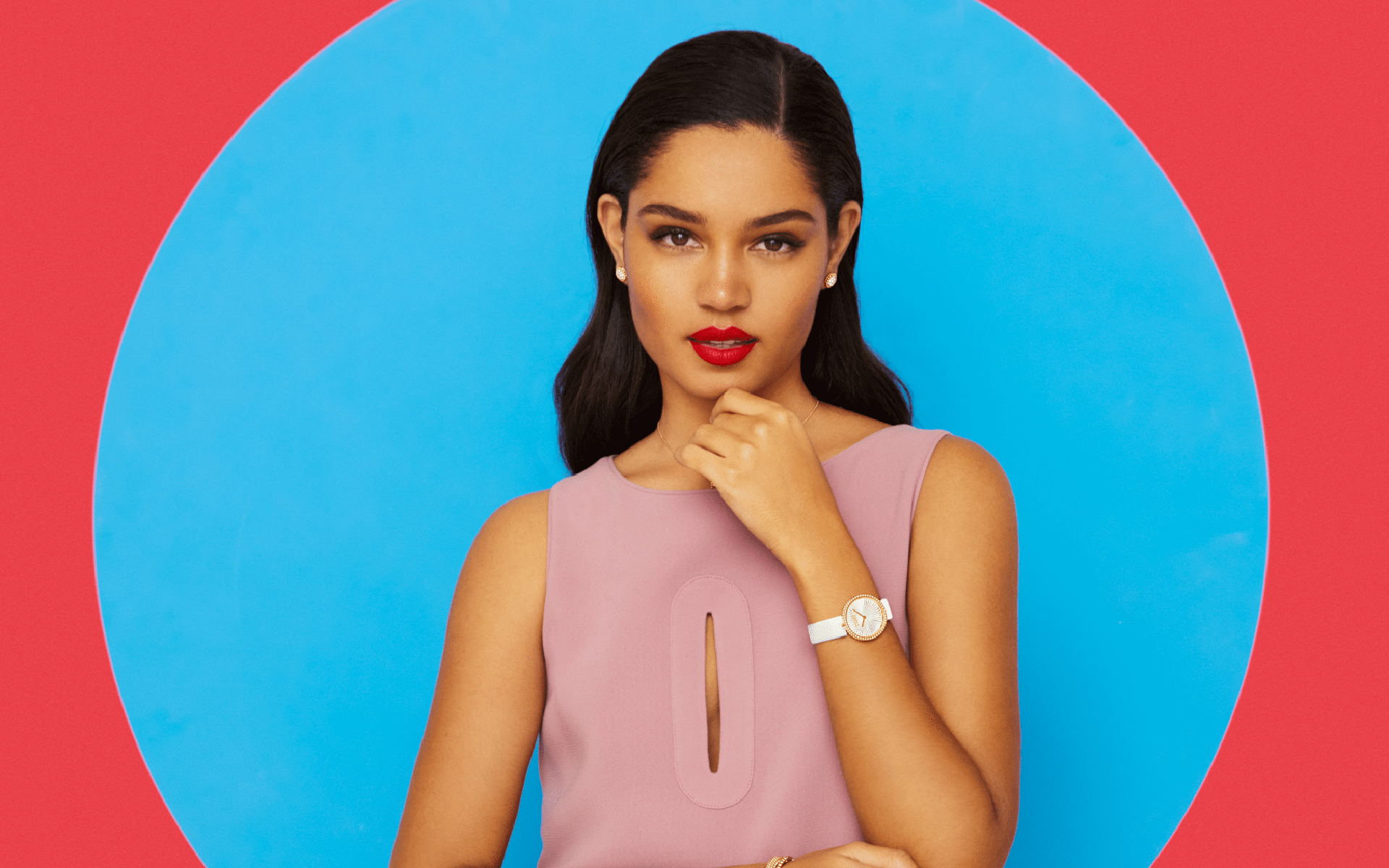 Why Van Cleef & Arpels Perlée Collection Is Causing a Stir This Season
The esteemed jewelry house announced the introduction of 18 new jewelry designs and eight watches where golden beads are the star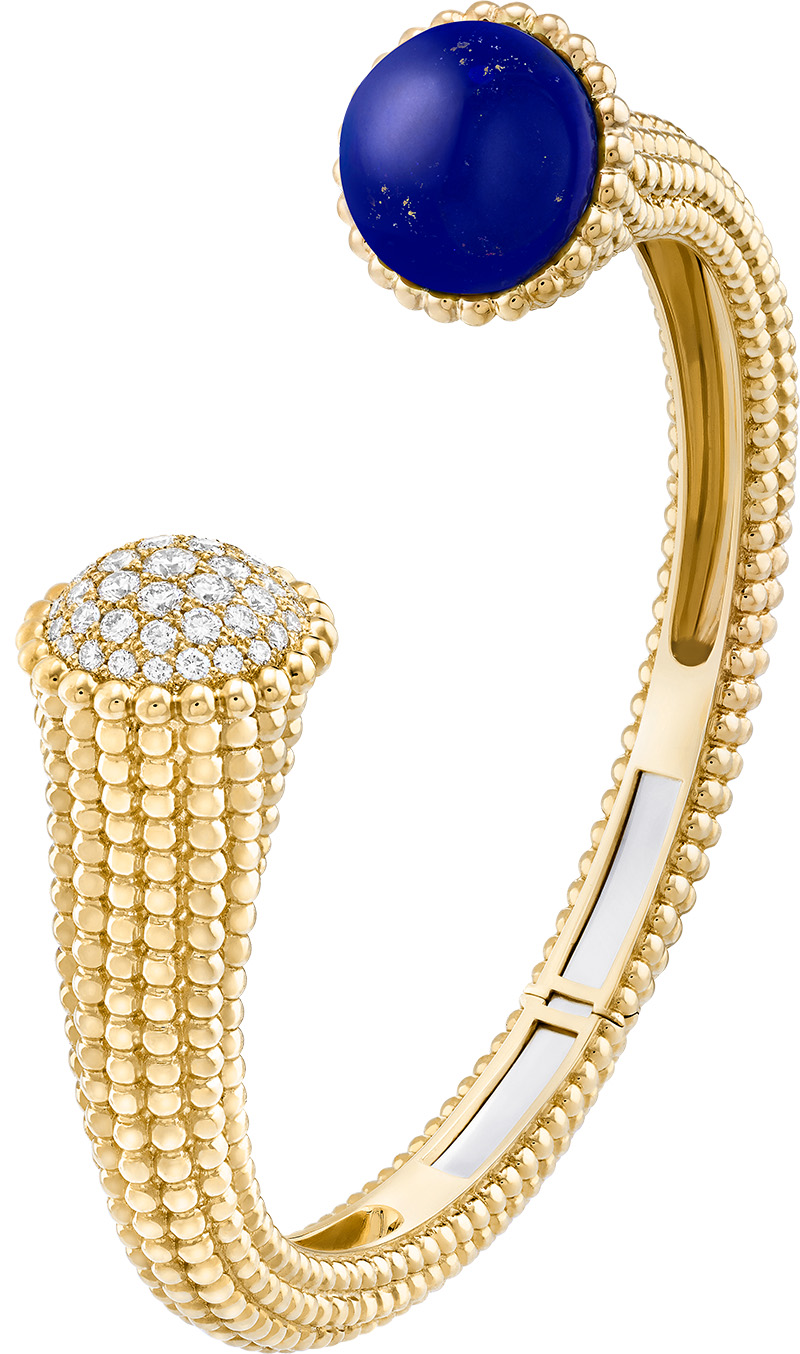 For centuries, gold beads have been an often used yet under celebrated element in jewelry design—the stylish yet quiet sibling to the bright sparkling stars of the sartorial show. A visionary at Van Cleef & Arpels recognized the innate power of this diminutive understudy over a century ago, pulled it out of the proverbial shadows and introduced luminous golden orbs of various sizes into the creation of legendary collections including Couscous, Bagatelle, Twist, and Alhambra. These were the wildly successful precursors to the creation, six years ago, of the Perlée ("bead") an official range of jewelry designs where golden beads are the star.
This season, the Maison announced a generous expansion of Perlée offerings with the introduction of 18 new jewelry designs and eight watches, which will be available September 1 both online and in boutiques. The collection harnesses the power of numbers, namely dozens of individually cast and meticulously hand-set gold beads combined with precious, semi-precious and ornamental stones to create an often tapestry-like textural effect. Perlée five-row rings, for example, feature diamonds, sapphires, rubies or emeralds set in an asymmetric stripe amongst a sea of shimmering gold orbs in white, yellow, or rose gold.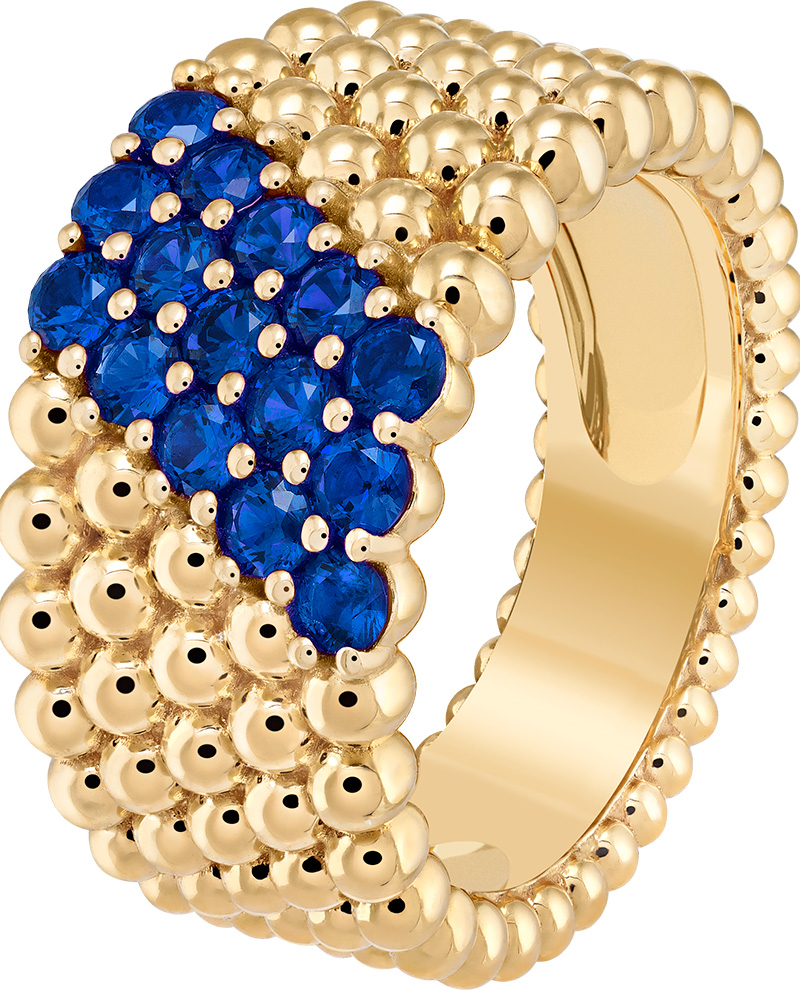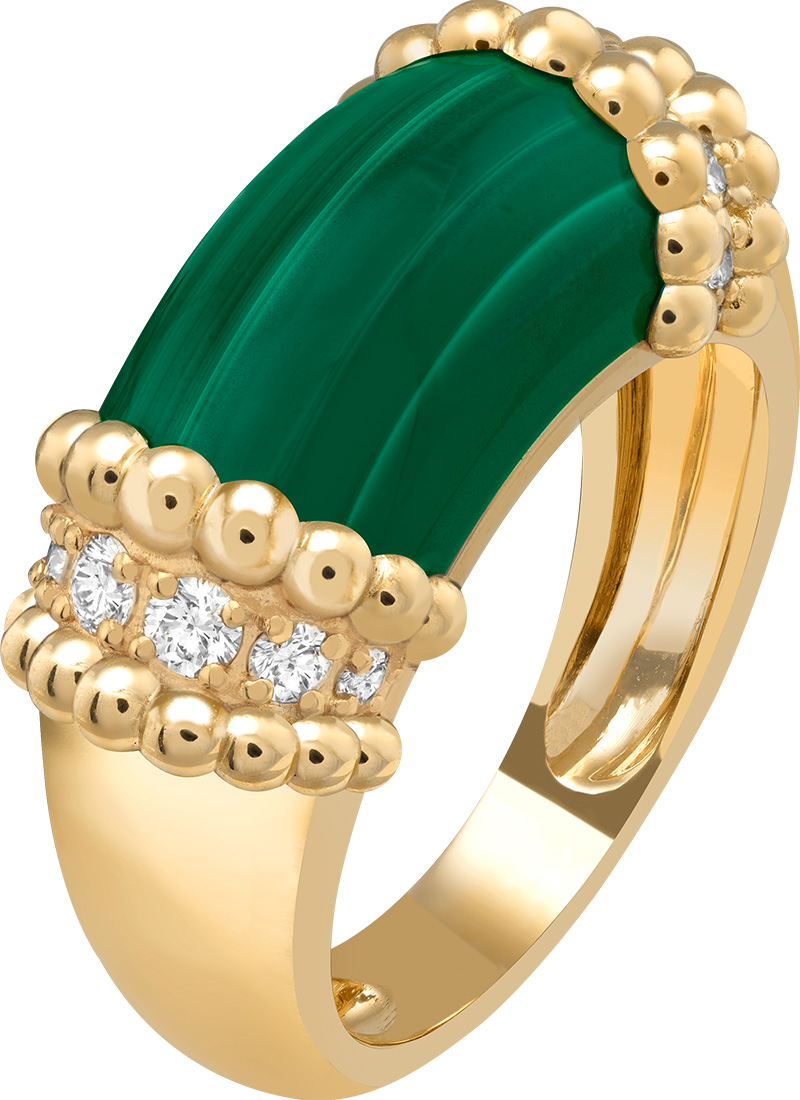 Perlée coleurs open bangle bracelets are similarly encrusted and cascade around the wrist, culminating in a colorful coral or lapis lazuli cabochon and a dome set with diamonds. These dramatic pieces are tempered by more diminutive designs—a pendant necklace and diamond earrings—that are light, airy, and ideal for layering without looking too matchy-matchy.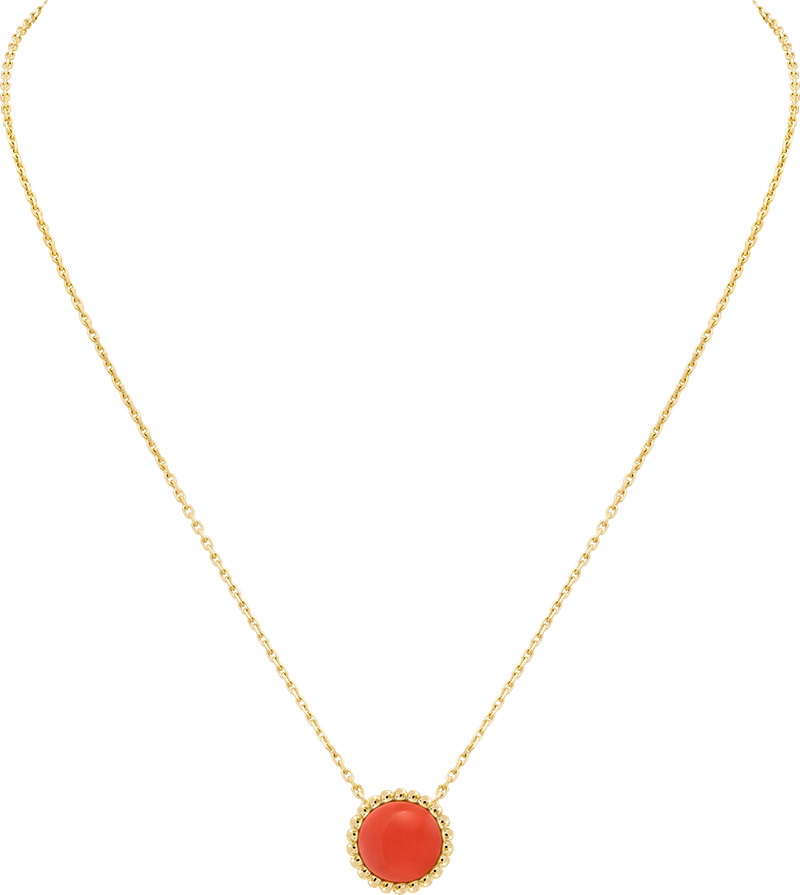 As are the timepieces. Eight new introductions, most with round faces of mother of pearl, onyx, and yellow gold, encircled with golden beads and adorned with a motif radiating tonal engraved stripes. Worth noting is the lack of visible crown—instead the time is set using a push-button on the back of the case—and that most are sold with interchangeable bands. The only exception is also the most dramatic design of the lot, the Perlée Toi & Moi "secret" watches, with faces that are covered by pivoting turquoise or coral dials.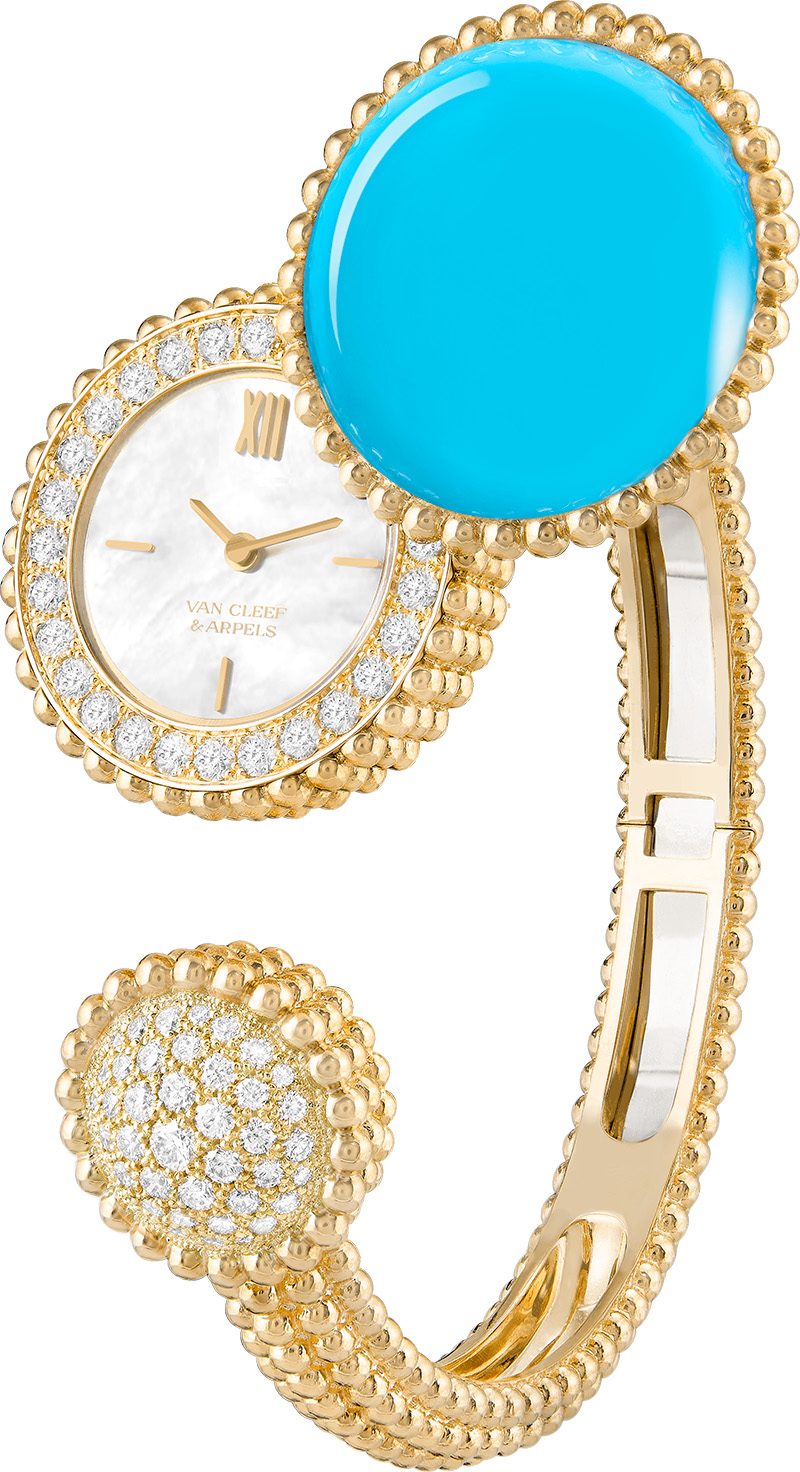 These open-bangle styles, which perfectly hug the wrist, are encrusted with shimmering orbs, painstakingly set by hand in the company's French workshops, while the dials and movements are assembled at its Watchmaking Workshops in Geneva. Quietly stunning and statement-making, these designs, like so many created by the maison over the years, have the multi-generational appeal that not only channels the zeitgeist of an era but endures for decades to come.
Next Post