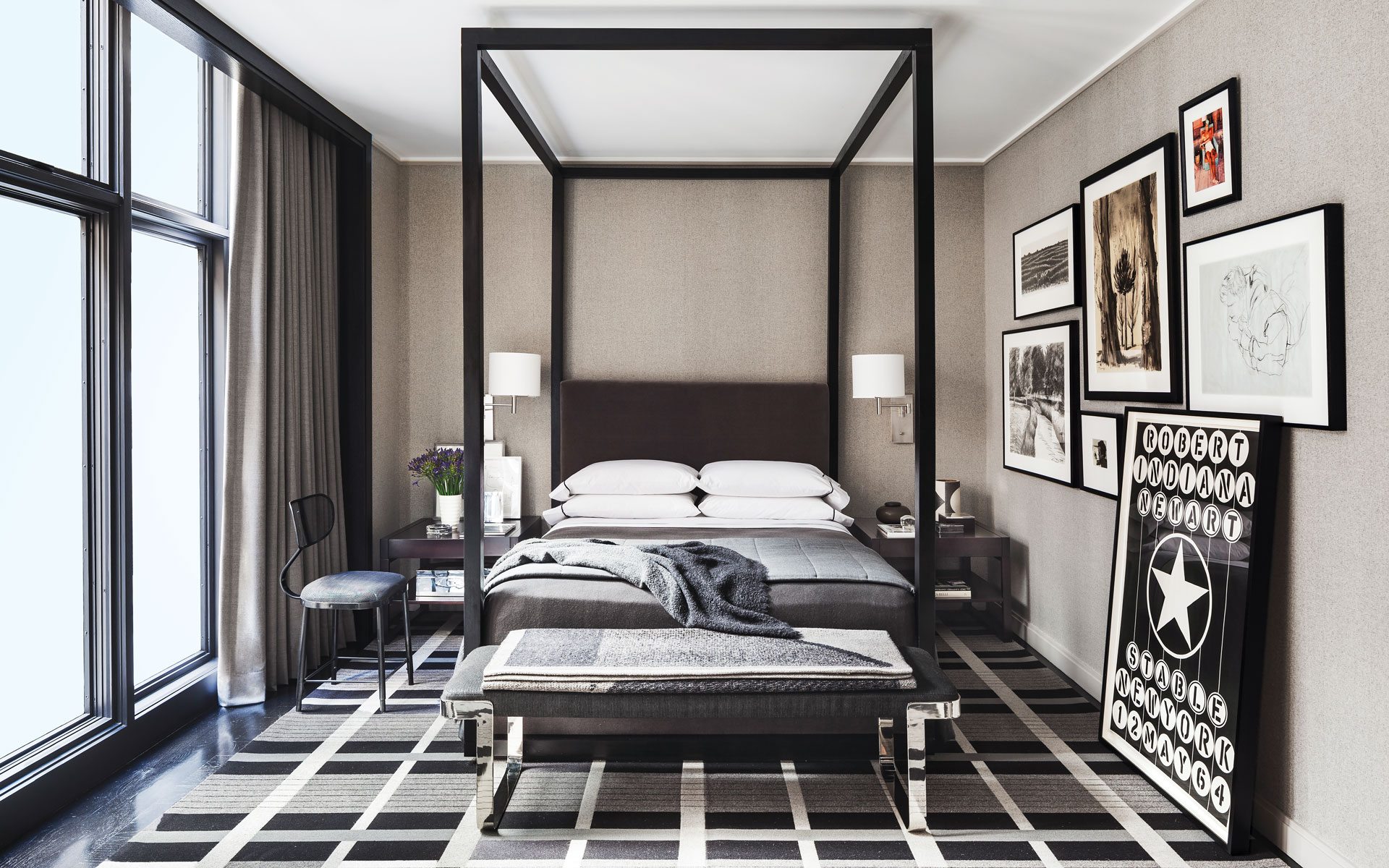 10 Designers Share How to Create the Perfect Bedroom Suite
Designing a bedroom sanctuary takes a carefully orchestrated mix of design pieces and day-to-night lighting
Entertaining spaces have traditionally received the greatest amount of design attention in the home, but now our private quarters are taking on a whole new level of importance. Bedrooms are being transformed into high-design home sanctuaries, with furnishings selected not only to offer a good night's sleep but also to serve as calming cocoons for escape.
Tucked away from prying eyes, primary suites naturally allow for the ultimate freedom of self-expression. "Bedrooms are inherently very intimate and autobiographical," says designer Jeffrey Bilhuber, who is known for his imaginatively layered interiors adored by an equally confident client list. "They tell you very much about who's at home." Designers may vary considerably on what truly belongs in a bedroom, but virtually everyone agrees that this is the one place you can savor every last detail.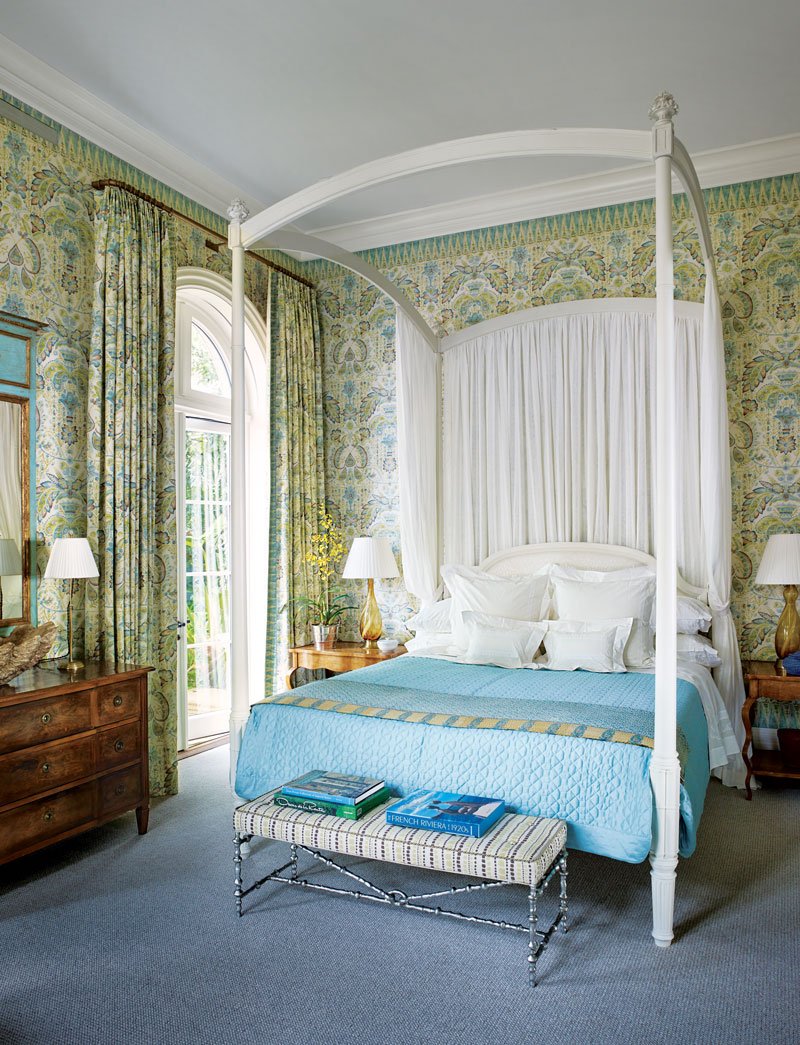 Furniture
A bed is obviously the defining piece of furniture in a bedroom, but the shape and style are open to interpretation. Choosing a canopy or four-poster frame can add architecture, says designer Bunny Williams. "It's really a scale thing for me, and that's why I love them," she says. "The accentuation of height is wonderful. And the more you drape the bed, the more traditional it becomes."
Other designers find appeal in an upholstered headboard, which can be customized in infinite shapes and fabric styles. "I love the diversity and flexibility," says Sig Bergamin, who released his latest book, Art Life (Assouline), in November. "They add visual interest and they also bring comfort, which is essential for any bedroom." Andre Mellone, founder of Studio Mellone, also favors an upholstered headboard but with a modern twist. "We will do an entire wall that's covered in upholstery," he says. "Then this de facto headboard acts as an architectural feature." Where the bed is situated is just as critical as its design. "I often ask my clients to sit on a chair or the floor to decide what view or angle is most appealing to them in the day and at night," says New York designer Julie Hillman.
"I want the biggest bedside table I can have because half my life is there."

Bunny Williams
Bedside tables also provide a necessary function for the accoutrements of life, whether that's a clock and a phone charger, or reading lamps and the latest bestseller. "I want the biggest bedside table I can have because half my life is there, but if you don't have the wall space, then you need something that has tiered shelves," suggests Williams. "All bedside tables should have drawers."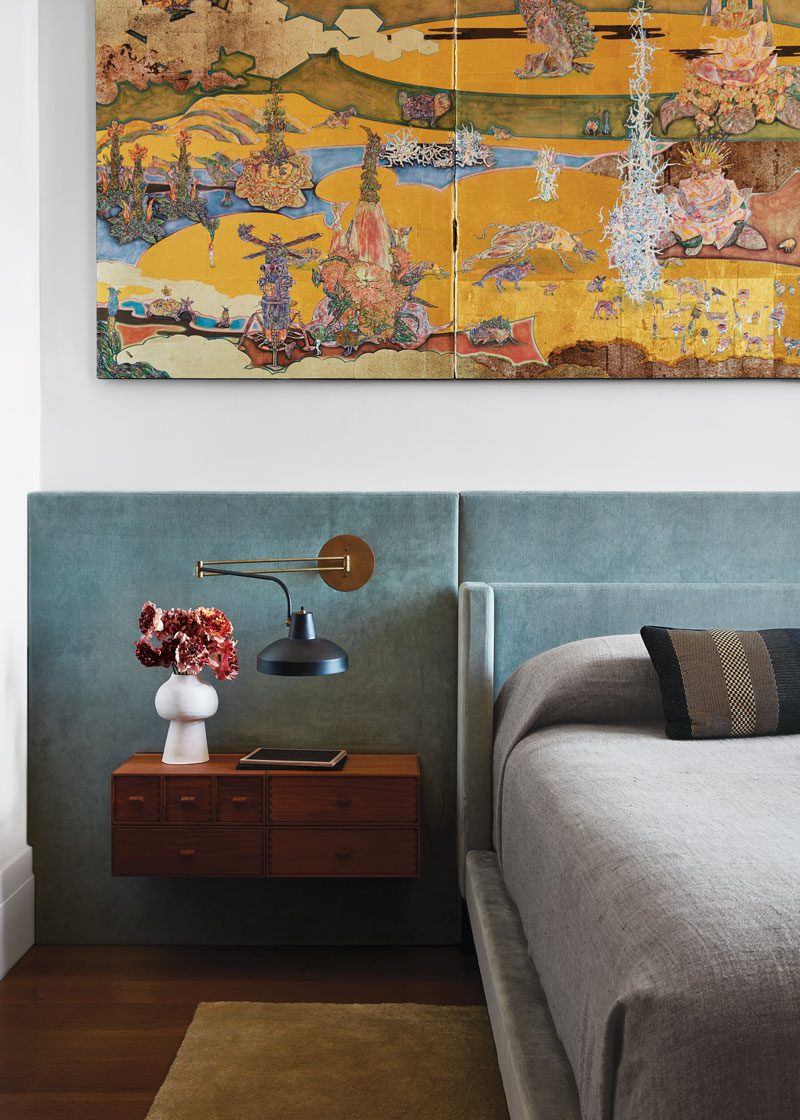 Textiles
No room in the home is as tactile as the bedroom, and the mix of textiles, including rugs, curtains, and bedding, is of utmost importance. "Having a calm, safe space is key for a room that you sleep in," says London-based Beata Heuman, "but we also like adding surreal elements or dreamlike color combinations to create the feeling of being in another world." Architect William T. Georgis pays special attention to rugs, favoring silk or wool-silk blends. "People are often barefoot and want all of the materials to have a fine hand, and that extends down to the carpet," says the designer, who then adds textural contrast with accessories like rough woven-cashmere throws.
"Having a calm, safe space is key for a room that you sleep in"

Beata Heuman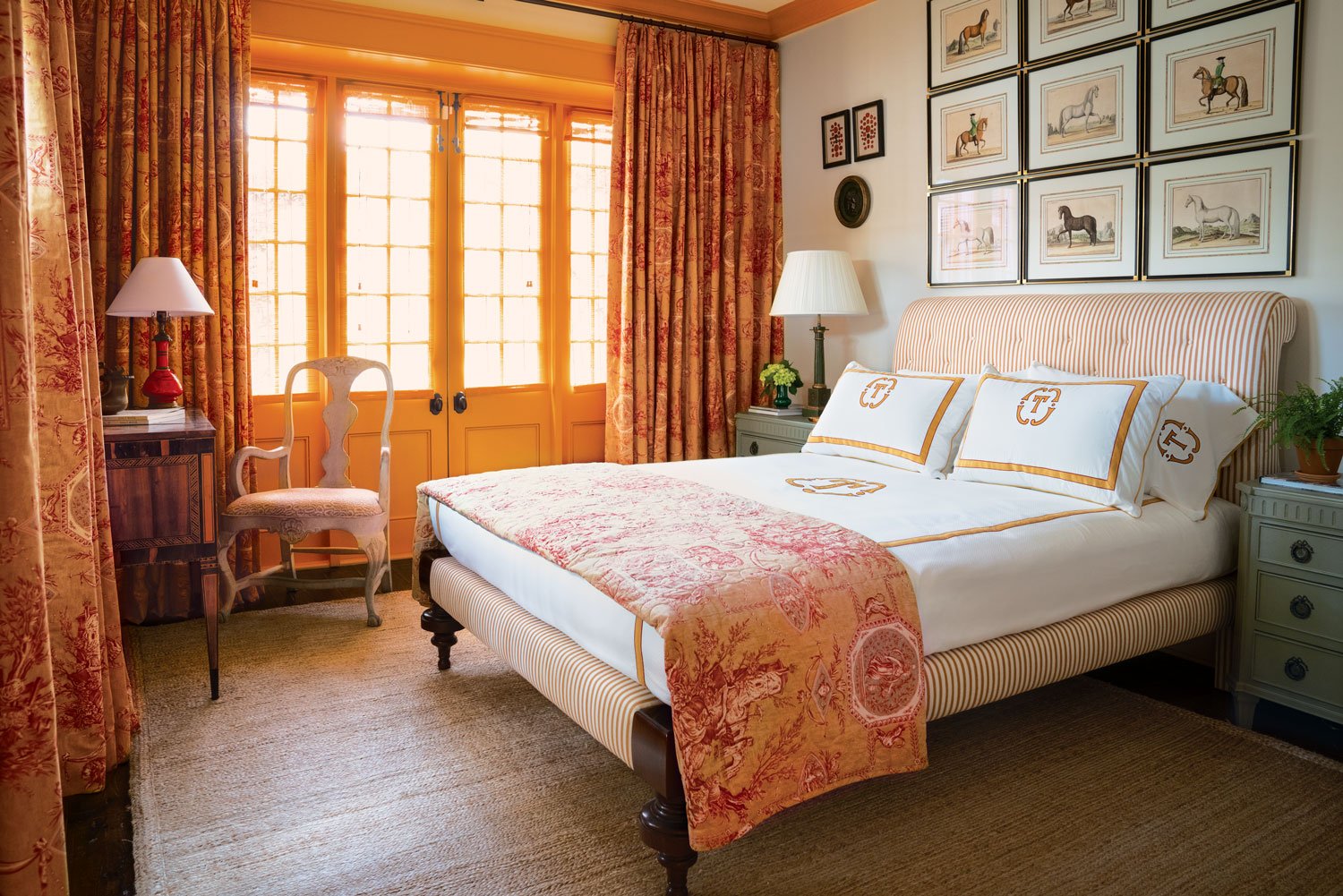 Fabric wall coverings can also remarkably transform a home. In a New Orleans carriage house, Bill Brockschmidt and Courtney Coleman created custom upholstered panels to cover a room's exposed brick walls. "People want to be surrounded by these beautiful fabrics," says Coleman. "It's gratifying to know they love it as much as we do." And, of course, bedding offers a world of textile possibilities. Bilhuber adores Julia B. sheets atop a Saatva mattress, and Hillman suggests a Hästens bed with pieces from E. Braun & Co., while Brockschmidt and Coleman find customizing styles from Leontine Linens with a color-matching monogram to be an elegant touch.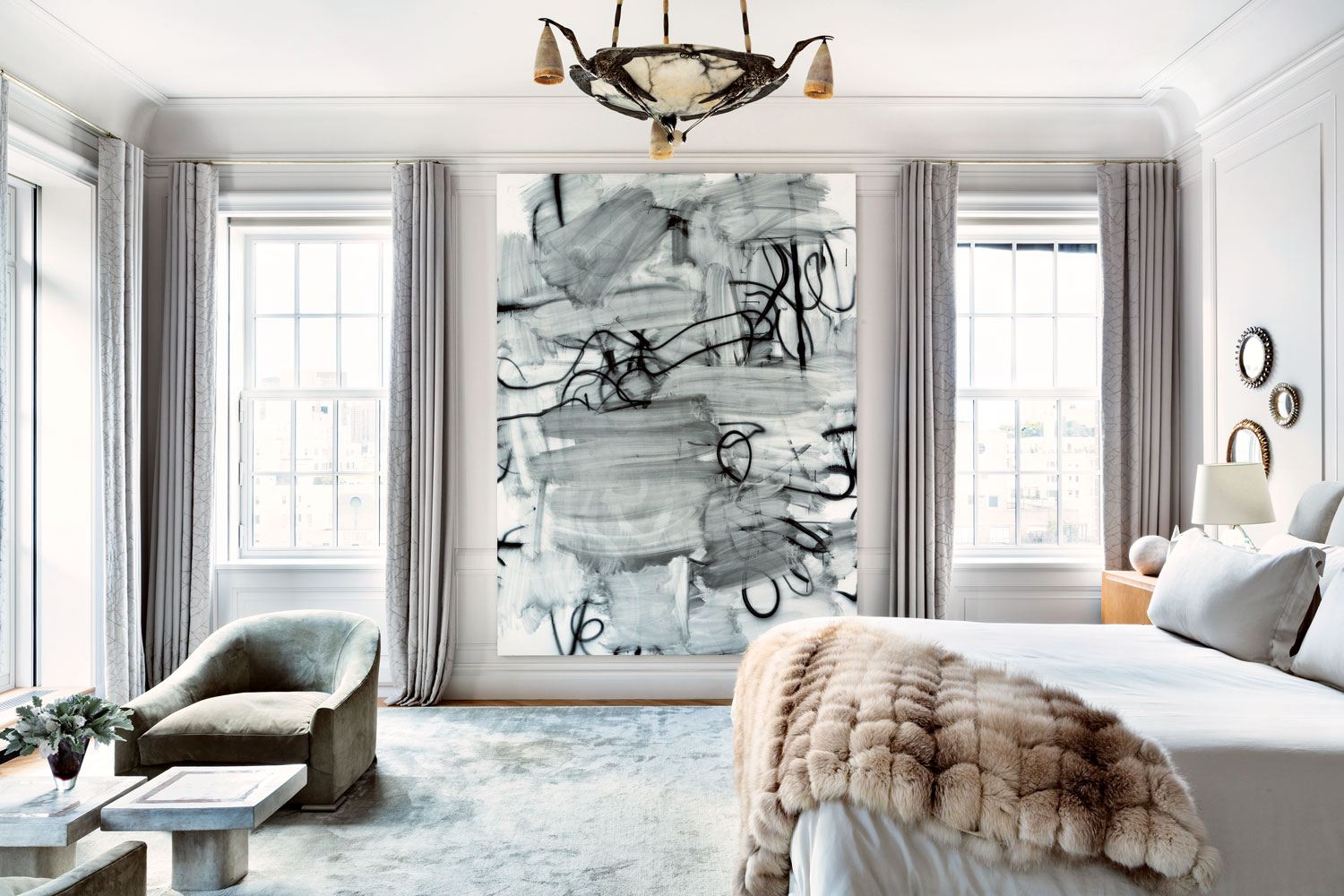 Lighting
A bedroom functions differently depending on the time of day, and a carefully orchestrated lighting design enhances the space's many uses. Window treatments create another moment for texture and pattern, but there's a significant functionality that needs to be considered. Some clients can't sleep without blackout curtains; sheers offer privacy while letting sunlight stream into a space. "There's nothing better than natural light in a home," says Hillman. "I personally love to wake up to sunlight."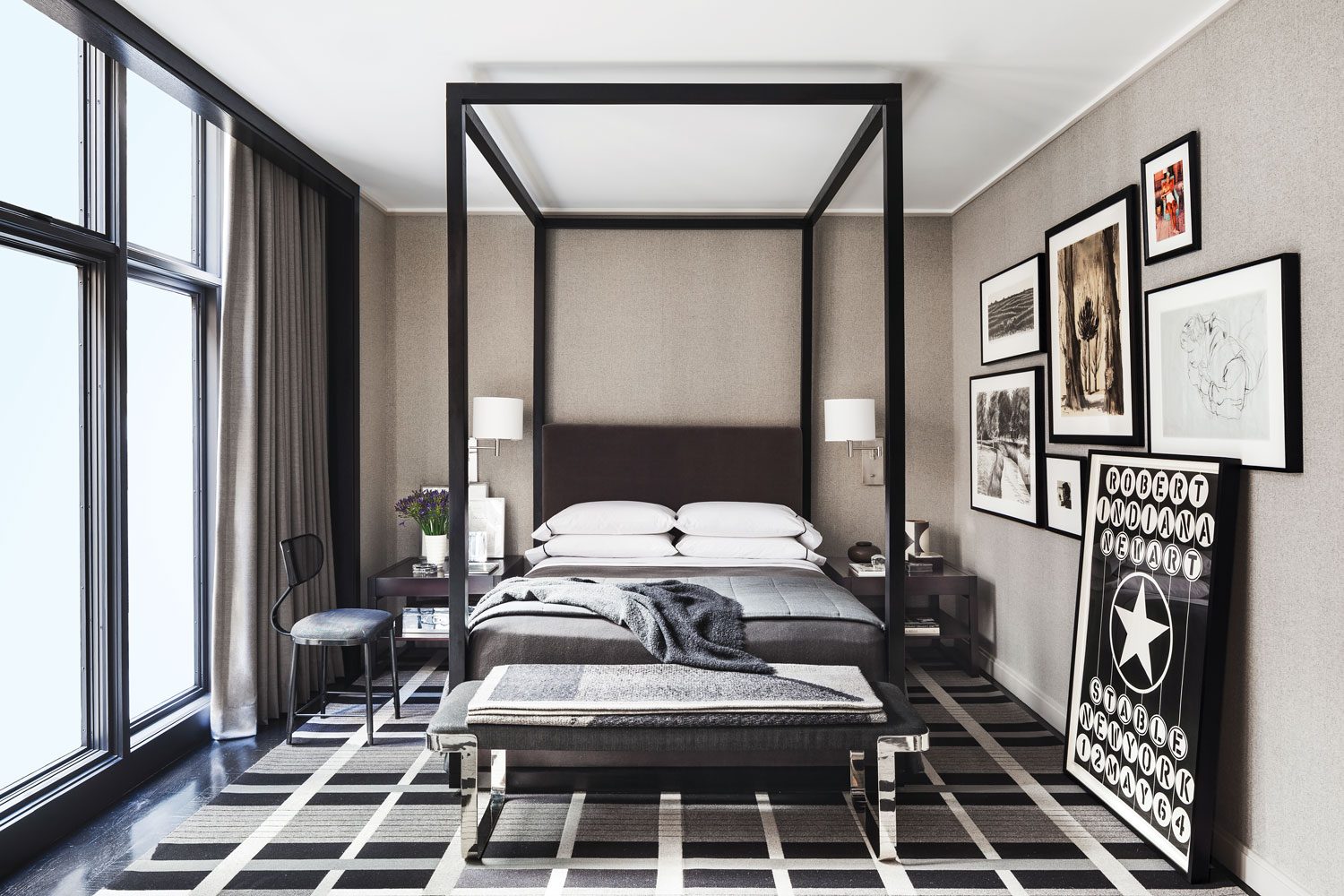 Overhead lighting, such as a sculptural chandelier, can add a dynamic element, but designer Mark Cunningham relies on multiple sources. In a New York duplex apartment, for example, he balanced the daylight from floor-to-ceiling windows with floor and table lamps for nighttime illumination. "There's a number of low lamps so it continues the warmth as opposed to a big, bright overhead," he says. Williams carefully measures bed height to be sure bedside lighting is higher than the mattress, while Brockschmidt and Coleman are seeing more clients asking for a luxury commonly found in hotel suites and first-class airline seating—the LED reading light on an extendible arm. And with that perfect mix of function and design comes the sweetest dreams.
A version of this article first appeared in print in our 2020 Winter issue under the headline "Bedtime Stories." Subscribe to the magazine.
Next Post