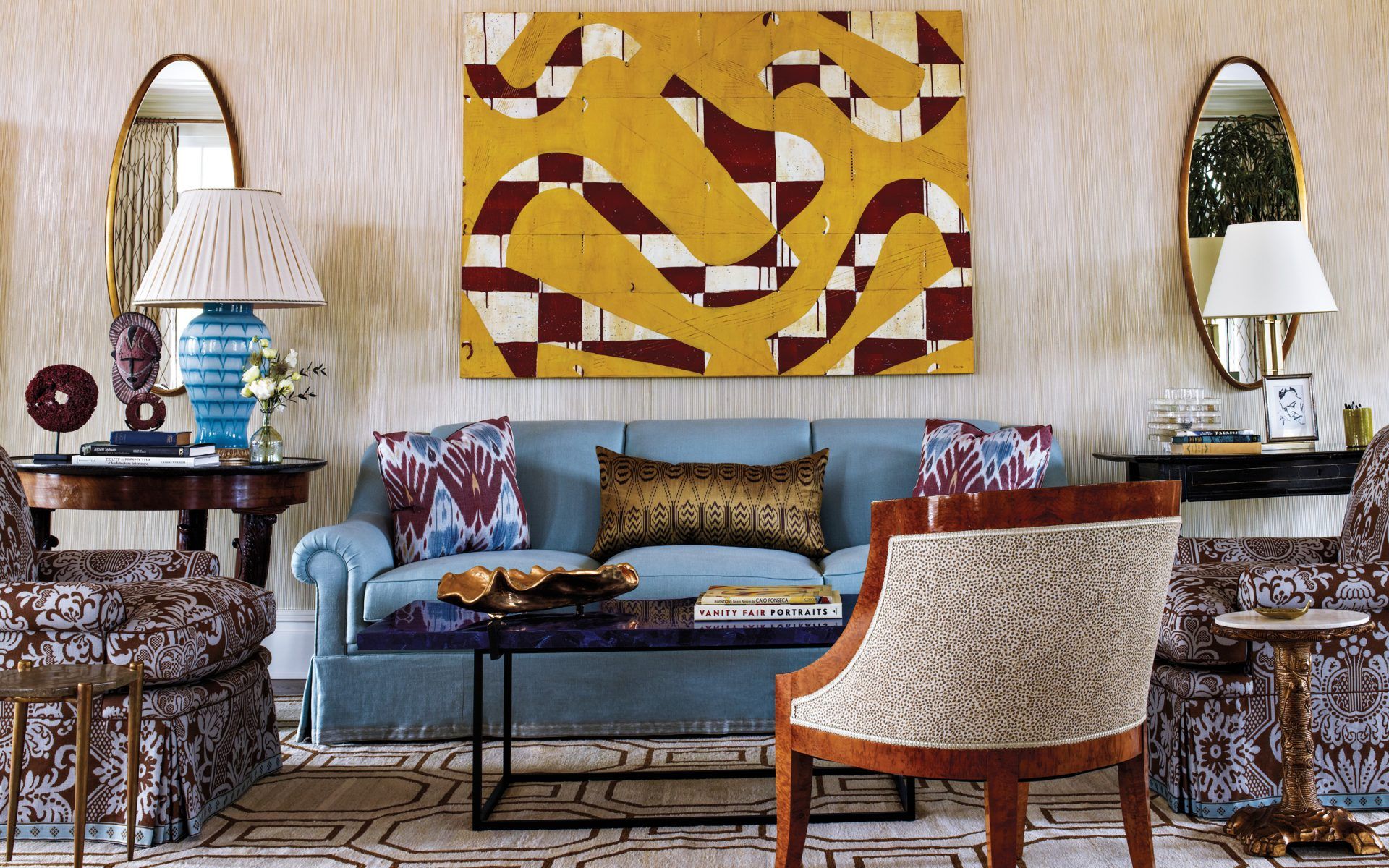 Bunny Williams Beautifully Updates a Dutch Colonial in the Hamptons
The design world's leading doyenne combines antiques and art to masterful effect
A natural-born observer, legendary American designer Bunny Williams finds inspiration everywhere. One of her most recent muses was a beautiful Dutch Colonial–style home on Long Island's East End that she was tasked with renovating by one of the owners, whose sartorial tastes tended toward bold palettes and patterns. "Her style was classic, but there was a little edge and a lot of color," says Williams. "I knew that this client wouldn't want anything boring." A master at creating interiors that achieve equal measures of curatorial grace and exuberant fantasy, Williams composed a series of deftly layered, multichromatic rooms, all reflecting her consummate sense of balance.
For starters, Williams and her design partner, Elizabeth Lawrence, collaborated with architect Douglas C. Wright on some tweaks to the home's layout. The biggest alterations entailed opening up the kitchen to make it more conducive to a modern lifestyle, while enhancing flow between the living and dining areas, as well as updating an airy conservatory that's used for breakfast and casual dinners.
Setting to work on the decor, Williams and Lawrence began with an unflinching opening statement, adding fresh energy to the double-height entrance hall, which runs from the front of the house to the back. A classic brass chandelier and an oversize, richly carved William Kent console convey a sense of traditional grandeur, while the geometric-pattern stenciled floor provides an unconventional rhythmic twist. The challenge throughout the house was how to best showcase the owners' contemporary art without resorting to ordinary white backdrops, and here Williams and Lawrence hung vibrant works by James Nares and Vik Muniz against bright, energetic yellow walls that are offset by the soothing blue ceiling above.
[See more photos of this Long Island retreat]
"To me, it's more exciting to see a work of art on colorful walls—that way you feel you're in a home, not a museum," remarks Williams, whose latest monograph, Love Affairs with Houses, was released by Abrams in April. "Of course, art of this caliber should be the strongest element, so it was our job to be sure the design didn't become confusing."
In the living room, traditional summer chintzes and overscale-print linens complement the contemporary geometric rug underfoot. A compelling mix of English Regency, Art Deco, and neoclassical antiques was the result of a whirlwind buying trip with the clients to Belgium and France. Creamy strié wallpaper in neutral gray with metallic accents displays artwork by Scott Olson and Caio Fonseca. The flexible seating areas can accommodate additional chairs when entertaining guests or hosting three generations of family, but they also feel just right when the owners are by themselves. "You want a house that allows for spontaneity—it needs to work in different situations," says Williams.
Recommended: Lee Skolnick and Robert Stilin Create a Modern Hamptons Escape
In the nearby dining room, the designer commissioned Ron Genereux, a decorative-finishes specialist and the founder of the firm Artgroove, to create a spectacular wraparound mural based on landscapes by the 18th-century French artist Hubert Robert. Working from digital images, Genereux and his team scaled up the scenes and printed them on wallpaper to precisely fit the layout of the room.
Williams's unwavering attention to detail and penchant for making an impression are always accompanied by an emphasis on comfort and function. Perhaps nowhere is that more true than in the blue-paneled living room, where an overstuffed sofa and generous club chairs are draped with cozy cashmere blankets and a tufted leather ottoman doubles as a cocktail table and footrest. "Houses have to be warm. When designing, I always imagine how people will live in them," she says.
Outdoors, landscape designer Edmund Hollander repositioned an expansive pool so it's now just off the living room, and he created a plan to unify disparate outbuildings that had been added over the years. An existing poolhouse received a refresh to its changing rooms, its sitting area, and an outdoor shower climbing with roses. The wife's favorite spot is a cutting garden, where, depending on the time of year, she clips peonies, irises, lady's mantles, lavender, delphiniums, lilies, and cosmos.
Naturally, Williams, the consummate observer, made sure to stock the house with an assortment of containers and cachepots ready to display the latest blooms. "These are the things," she says, "that make a house come alive."
A version of this article first appeared in print in our 2019 Summer Issue under the headline Tradition With a Twist. Subscribe to the magazine.
Next Post