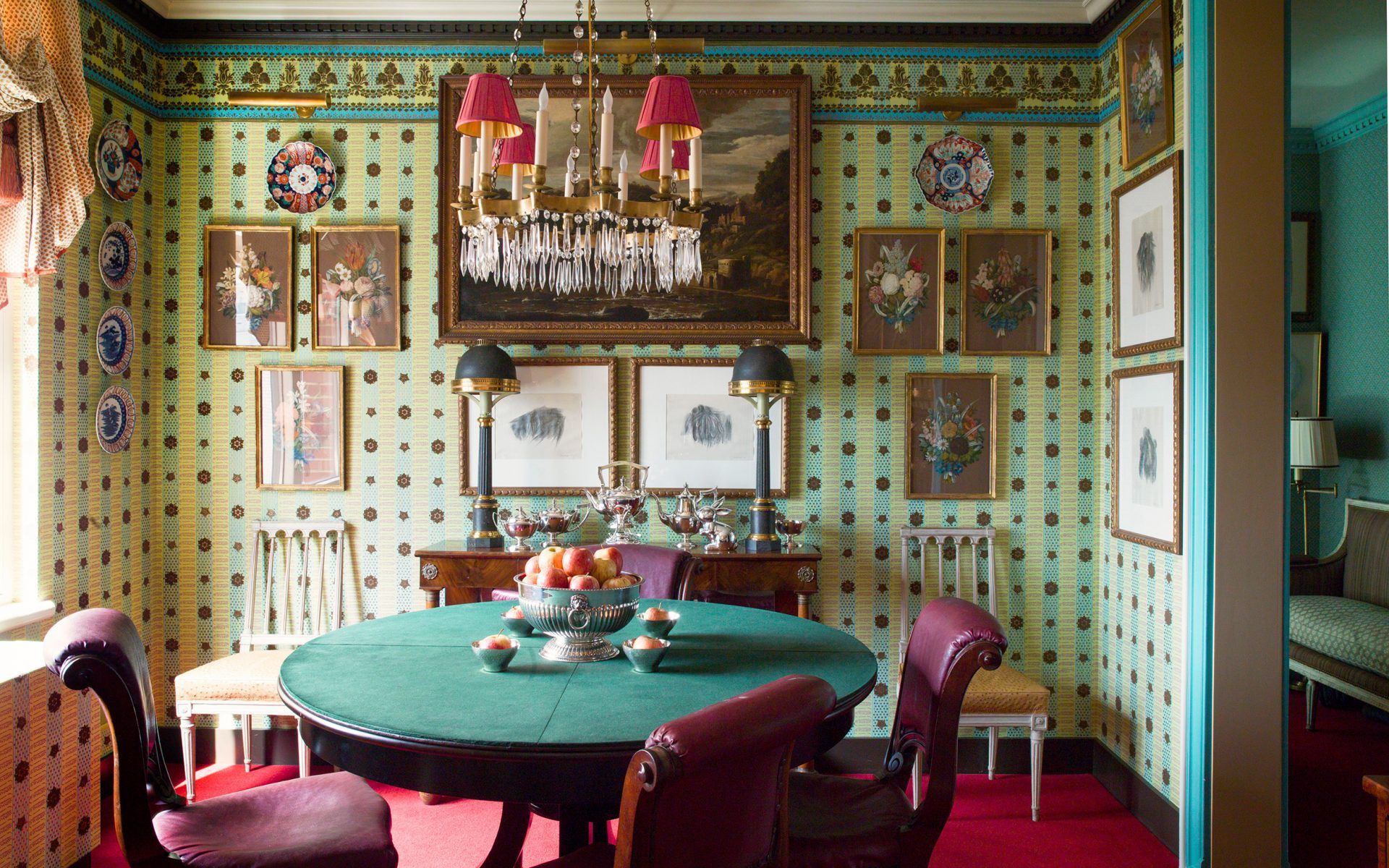 Office Hours: Jeffrey Bilhuber Shares His Work-from-Home Dining Room in Manhattan
The astute interior designer knows precisely why this layered space makes him most productive
Revered for his layered interiors and expansive knowledge of design history, Jeffrey Bilhuber is an unstoppable force in the world of interiors. His A-list roster of clients has included the likes of Anna Wintour, Iman, Mariska Hargitay, and Elsa Peretti. In his 30 years of decorating, he's published five books, including most recently Everyday Decorating (which I cowrote with him) and has created products with Stark, de Gournay, and the Lacquer Company. Next up is Le Gracieux.
Given that Bilhuber never slows down, it's interesting to hear how he's transitioned to working from his apartment on New York's Upper East Side. "I'm not alone in letting everyone know how discombobulating it is to work remotely, whether in your apartment or your country house," says Bilhuber. "It's never as easy as having direct access to clients, employees, and resources. The emails and DM's pile up, but I find picking up the phone makes the biggest difference."
He's been making all those calls from his incredibly layered and inviting dining room. Here, he explains why this is the perfect choice for a work-from-home space.
DOUBLE DUTY
"I'm taking the everyman approach. The truth of the matter is that many of the clients or business associates I know don't have the luxury of a proper home office. Since there's not a designated room, it's what you make of it and what you create. In my New York apartment, I work from the dining table, but it's still also where I have my eggs in the morning, sandwich at lunch, and cocktail at night."
LIGHT BRIGHT
"The advantage of the space is that I'm on the 20th floor with windows that face west with smooth light over the course of the morning and this soft sunset mode light through the day. I keep my back to the window because I want to focus on the task at hand. There's also a chandelier over the table I use by default, but then I start to get mesmerized by the crystal drops."
DRIVER'S SEAT
"I use an Edwardian upholstered dining chair. Frankly, a good dining chair is really more comfortable than a desk chair, even the ones with all those lumbar bells and whistles. Technically, they're designed to keep you in place, vertical, and productive for three hours. Mine are in a reassuring, burnished, dark red leather so there's an office vibe like a big CEO's chair. I never fidget at the dining table ever, but in my Eames chair back at the office I sometimes swirl into oblivion."
Recommended: Former White House Designer Michael S. Smith's Home Work Space
SET THE TABLE
"Dining tables are built to function and are meant to be an ergonomic 29.5 inches high at standard height. This one is an ebonized mahogany pedestal table, which gives you the freedom to move your legs around. I took the tablecloth off the table and just have a thick green felt down. It's quite convenient, because things don't roll all around on your desk. Also, the cushion makes things a little quieter."
IN PLAIN SIGHT
"With my back at the window, I can see the kitchen, which is quite the temptation all day. But I can see the bar too, which gives me a goal to work toward. As soon as I check off my tasks for the day, it's time for the Maker's Mark."
SWEET AND SOUR
"In general, these days are long, complicated, and challenging. We knock off a little earlier, so the upside is you can turn off sooner. That's when I make my whiskey sour. I still squeeze fresh lemons and have a little pitcher of homemade simple syrup in the refrigerator. I love the ceremony of preparing one. I serve in a garnet crystal double old-fashioned glass, and it's the right size because I like a lot of ice. And absolutely with a crisp linen cocktail napkin! That is a different experience than just pouring a glass of wine. There's process, sequence, ceremony."
Recommended: Bobby McAlpine's Home Work Space
PAINTERLY TOUCH
"There's a wonderful dark amber European landscape on the primary wall. I have it installed about sight line high and find it to be so mesmerizingly beautiful because it's a look into another world and a bucolic landscape. I think I bought it from Neil Auction House in New Orleans. It has a classic Southern feel, although the place has a mythical European feel with rivers, castles, and babbling brooks."
NO WALLFLOWER
"The room has a flocked wallpaper with a copper leaf underlay. As the light comes in from the west, it bounces off the flecks and illuminates the room. It's classic hallway and dining paper that's hand-produced by Mauny called Robespierre. We're so much more conscious of what surrounds us by working at home, and the difference is amazing with craftsman-made products like this. That distinction is why I collaborated with de Gournay on a line of hand-painted china and Le Gracieux on fabric."
PATTERN AFTER
"For the patterns I created for Le Gracieux, I started by doing research into Wiener Werkstatt. The movement created by that workshop was fully immersive, centered on a lifestyle driven by color and pattern, which all worked together. Wallpapers, curtains, dresses, shoes, everything! The patterns had all the dimensionality and layers needed to build a whole world, and that's exactly my lifestyle and projects. I deliver whole worlds, not just sofas and chairs. For my fabrics, there's such an abundance of color and pattern, and they're all interchangeable. My clients want more dimension and animation to what surrounds them. That's the new elevated experience—whether dining or working from home, and these new fabrics, available in May at John Rosselli in New York, Mimi London in Los Angeles, and David Sutherland in Houston, are exactly that."
Next Post