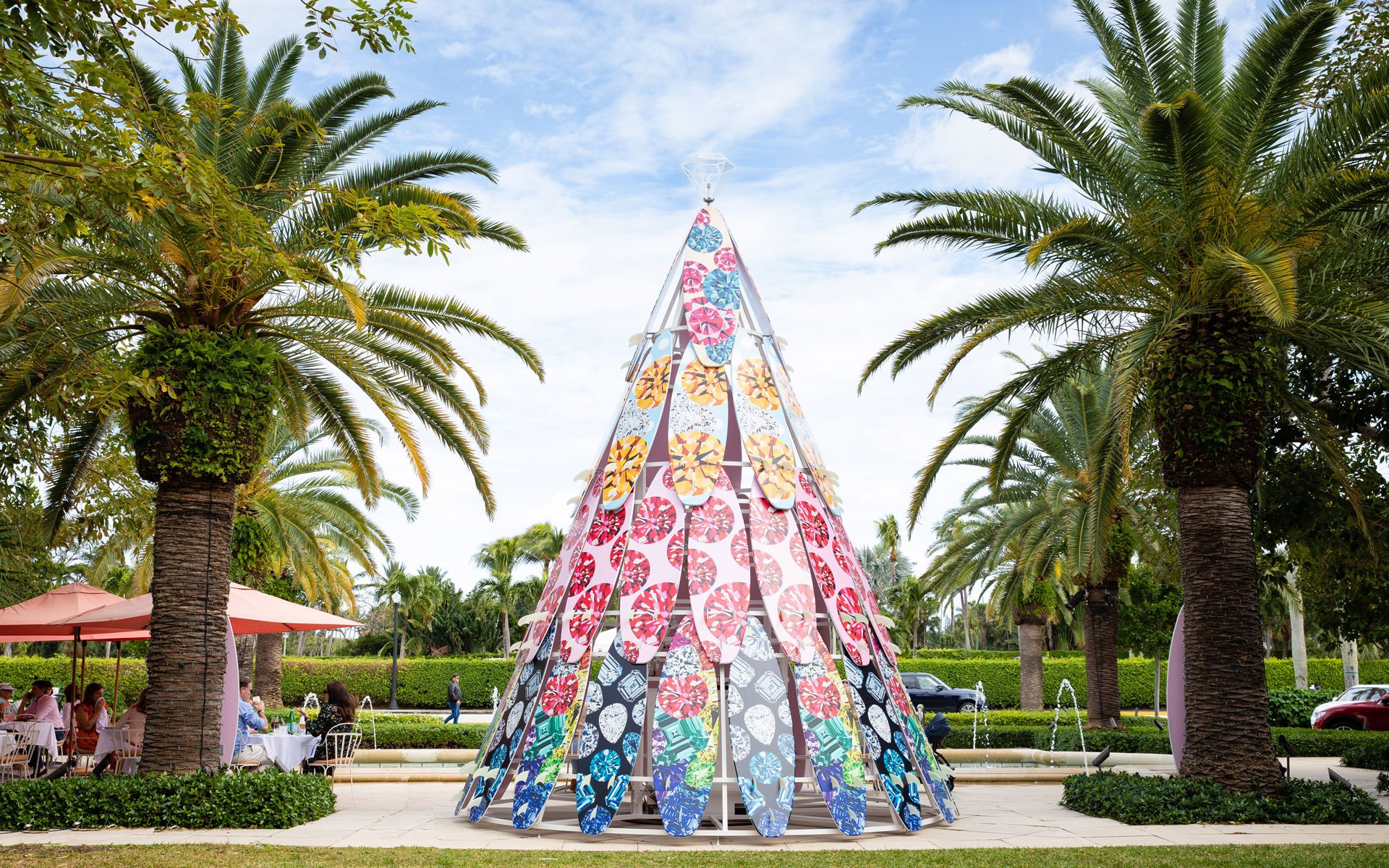 Discover the Most Artful Christmas Installations of the Year
From the Connaught's annual tree to fanciful window displays at Louis Vuitton, Tiffany & Co., and Le Bon Marché, these festive decorations are sure to get you in the holiday spirit
With holiday parties scaled back and annual events like the Rockefeller Center tree lighting limited to ticket holders only, getting into the Christmas spirit is harder to come by this year. But a number of public spaces have rolled out all the silver bells and whistles, creating festive displays with fancifully decorated trees, garlands galore, and so many boughs of holly. A few have even recruited top art-world talents to design a joyous display. Here, a look at some of the most wondrous installations around the globe.
1. The Royal Poinciana Plaza Surfboard Tree by Artist Ashley Longshore
This popular Palm Beach destination is already on every art lover's must-visit list now that a number of big-name galleries have set up shop in the area. Adding to the allure is this beach-chic holiday installation by New Orleans artist Ashley Longshore, whose fanciful collaborations have included Diane von Furstenberg and Bergdorf Goodman. Filled with Instagram-worthy moments, the display is on view through January 10.
2. Le Bon Marché Rive Gauche
The first department store in the world and one of Paris's most popular shopping destinations, Le Bon Marché Rive Gauche regularly plays host to exciting art installations, including past exhibitions by Joana Vasconcelos, Chiharu Shiota, and Ai Weiwei. For this year's holiday season, its the setting for a regal winter wonderland filled with frost-covered trees, each adorned with their own Basquiat-like gleaming crown.
3. Bergdorf Goodman
The New York department store Bergdorf Goodman is a spirited playground 365 days a year with creative dining spaces and artful installations throughout. However, during the holidays the merriment is kicked up several notches with overflowing displays, like this year's #BergdorfGoodness windows that capture the spirit of love, hope, harmony, joy, peace, equality, kindness, and unity in vibrant detail.
4. Dior
Stylesetters' holiday wish lists frequently include a number of items found within Dior's spectacular Peter Marino–designed boutiques, including the latest artist-imagined Lady Dior handbags. During the holidays, the store façades become just as enchanting as the fashionable pieces within as dazzling light displays recreate shining luminaire motifs.
5. The Connaught
London's famed Connaught hotel regularly recruits blue-chip talents to create its annual Christmas tree. Leading artists like Sean Scully and Tracey Emin have decorated a towering conifer, which stands gleaming next to the Tadao Ando fountain Silence. This year's installation may not have a famous designer attached, but it still shines brightly as a gleaming beacon of holiday spirit.
6. Tiffany & Co.
The windows at Tiffany & Co.'s 57th Street flagship have a history of being so remarkable they warranted their own coffee-table book. This year's presentation is once again spectacularly filled with diamonds, sapphires, gold, and other sparkling bijoux for those on the ultra-nice list.
7. Louis Vuitton
Louis Vuitton's multi-story corner location often features a larger-than-life mural, including last year's rainbow-colored piece by Virgil Abloh. This season, the space is dominated by a snow-covered Christmas tree ornamented by the fashion house's iconic monogram and symbols.
8. G
aleries Lafayette
Galeries Lafayette's Paris flagship on Boulevard Haussmann has created a transportive holiday display centered on a fearless explorer who visits playful polar bears and mischievous monkeys in an aircraft inspired by one belonging to French aviator Jules Védrine, who landed a plane on the store's roof a hundred years ago. The installation's showstopper is a magical present-covered tree that's encircled by streams of twinkling lights.
9. Hudson Yards
More than two million lights decorate New York's Hudson Yards, where everything from Thomas Heatherwick's sculptural Vessel to the property's multiple levels of luxury retail shine brightly with holiday cheer. All throughout December, Broadway performers and Juilliard students will take turns at one of the eight pianos that have been transformed by a local artist.
10. Saks Fifth Avenue
Travel around Manhattan in just a few steps with Saks Fifth Avenue's "only in New York" tribute, "This is How We Celebrate." Windows capture iconic city experiences, from Broadway to Radio City, in vibrant, fashionable detail.
11. Annabel's Mayfair
The facade of this London landmark is often covered in over-the-top splendor, from gigantic parrots for a recent charity event to top-to-bottom red and pink blooms for the 2019 Chelsea Flower Show. For Christmas, the private club has been transformed inside and out with seasonal Nutcrackers, including towering figures that stand sentry to garlands, trees, and other displays featuring this traditional holiday figure.
Next Post