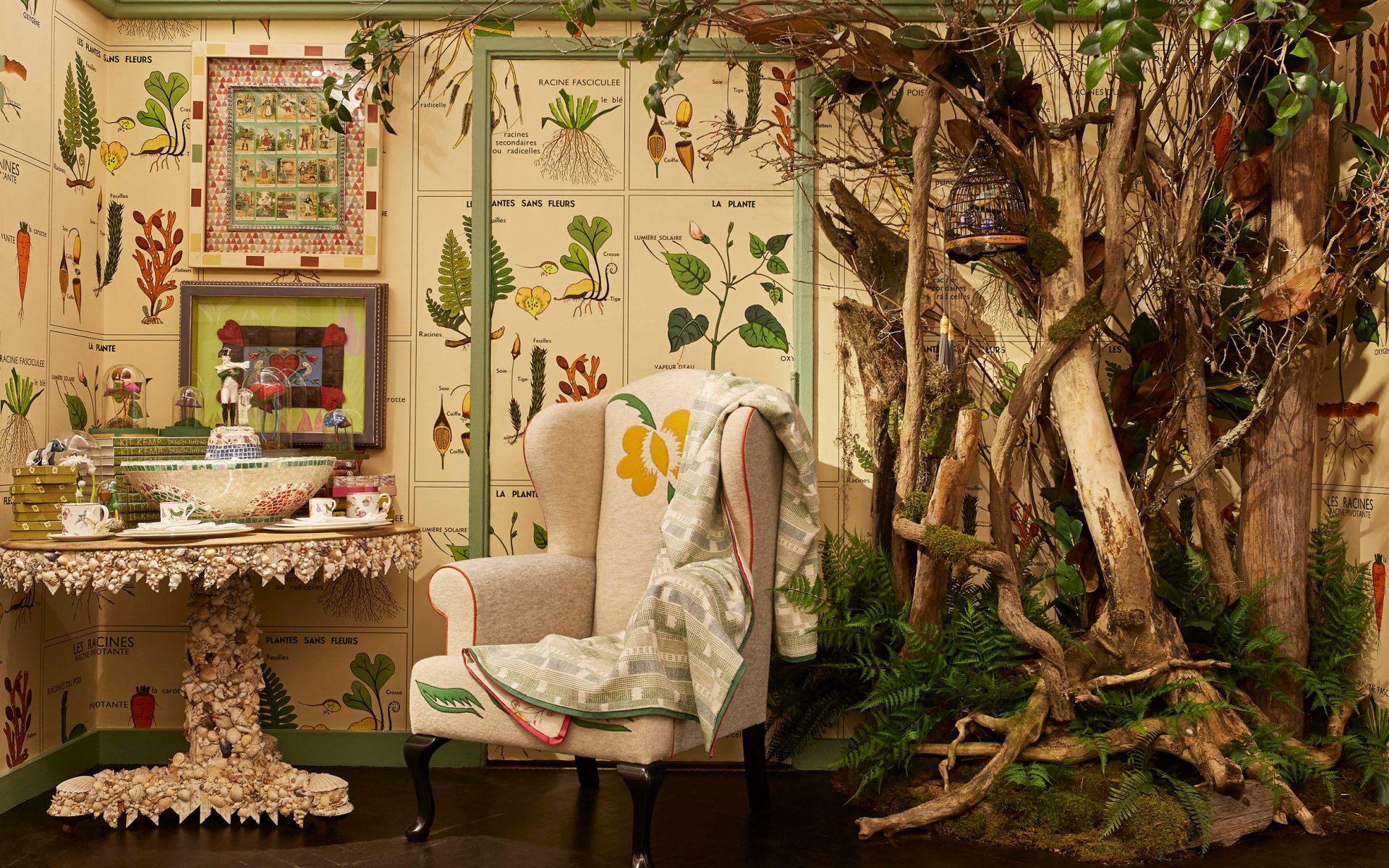 Kit Kemp Conjures a Secret Garden in Bergdorf Goodman
The British interior designer and co-owner of Firmdale Hotels continues her partnership with Bergdorf Goodman this fall
Kit Kemp's "world of Kit Kemp" pop-up earlier this spring in Bergdorf Goodman was a runaway success. Now the celebrated interior designer and co-owner of Firmdale Hotels has continued her partnership with the department store by creating an enchanted immersive environment.
Kemp has crafted "Secret Garden," a vignette on the seventh floor as part of Bergdorf Goodman's English country manor installation. Kemp not only filled the space with home accessories, new products, and one-of-a-kind artwork, she also enlisted the expertise of New York florist Lewis Miller (one of Galerie's Creative Minds) to add natural greenery and live trees. "Lewis is fabulous to work with," Kemp tells Galerie. "Flowers and plants bring life to any space. They are the ultimate luxury."
Les Racines—a wallpaper by Kemp inspired by 1950s botanical posters—adds to the immersive natural environment, as do a variety of whimsical bird houses. "They look like an art installation. I do hope they are bought together to create an original atmosphere to a room."
Recommended: Bette Midler Lists Stunning Penthouse for $50 Million
This latest installation was certainly a challenge. It's no small feat transforming the seventh floor of a department store into an English garden with natural wooded details. Kemp, however, pulled it off gloriously. "There is nothing more intriguing than a secret garden. The biggest challenge is what to leave out. We always have so many ideas that we have to limit to the space." A dining room, a trophy room, and a pantry are among the other vignettes within the space.
Some of Kemp's favorite pieces are the bird boxes, Yaruba lamps, mosaic plant pots, the Victorian plant stand, and, of course, the garland-wearing stone dogs that greet visitors.
Furniture and accessories from the collection will be available online and in store at Bergdorf Goodman through October 21.
Next Post