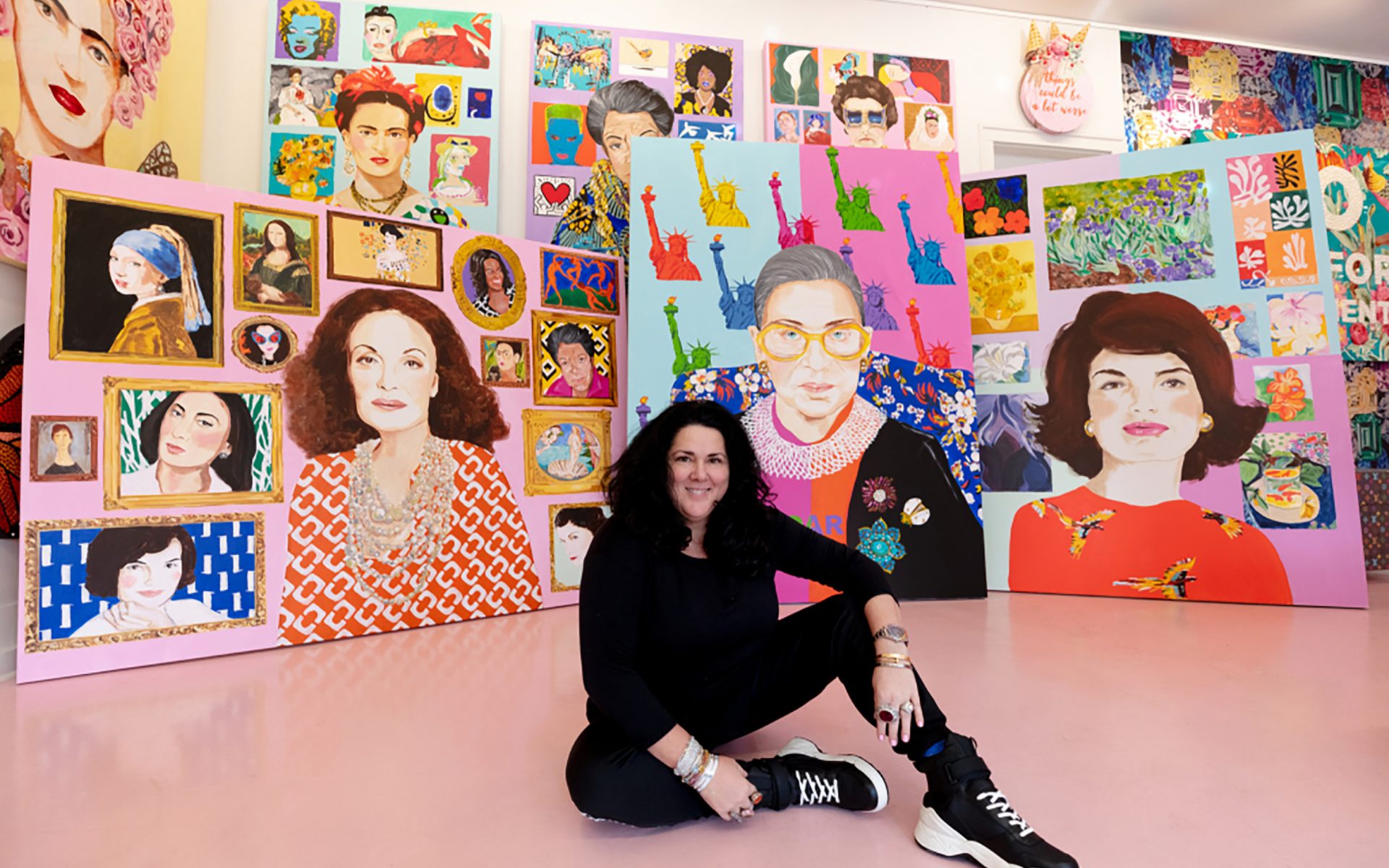 Diane von Furstenberg Enlists Ashley Longshore to Create Feminist Portrait Series
The legendary fashion designer tapped the mixed-media artist to conceive 37 works to celebrate International Women's Day
Fashion titan Diane von Furstenberg and New Orleans artist Ashley Longshore are curating an art collection of extraordinary women for International Women's Month, WWD reports.
The pair initially met in London in December, and Von Furstenberg had the idea to collaborate. She gave the artist a list of women who inspire her as a starting point.
"I was immediately impressed by Ashley's contagious enthusiasm and vibrant talent," Von Furstenberg told WWD. "I knew she was a 'woman in charge,' and I felt she would be perfect to curate our next inspiration room, especially with International Women's Month approaching. The collaboration felt seamless."
Longshore, who The New York Times dubbed "Fashion's Latest Art Darling," painted 37 portraits of women, including Ruth Bader Ginsberg, Jackie Kennedy, Cleopatra, Marlene Dietrich, Oprah Winfrey, Gloria Steinem, Michelle Obama, Elizabeth Taylor, Maya Angelou, Whitney Wolfe Herd, and Rosa Parks. Fittingly, many of them are clad in iconic Furstenberg ensembles.
"The one thing they have in common is they're absolutely fearless women, being exactly who they are and doing exactly what they love and were born to do," Longshore told WWD. "It's really been such a great journey for me to create all those pieces knowing I wasn't adding glitter or shine. They're just so magnificent together. The colors are so powerful. You can imagine how inspired I feel standing back and looking at all these incredible faces of these extremely accomplished women."
Recommended: Thierry Mugler Is Back in the Spotlight with Provocative New Show
Longshore said she completed the works, some of which are as large as nine by six feet, in just two weeks. "I was painting with an ice pack on my shoulder and taking lots of Advil and icing my wrist at night. It was totally worth it. This is what I was born to do. You get an opportunity from an iconic, incredible woman like Diane von Furstenberg, and you paint until your fingers bleed," she said.
The artwork will also be available for purchase, with pieces ranging from $7,000 to $46,000, depending on size. The curated art collection will debut this Thursday during Von Furstenberg's International Women's Day activities and will live in her label's flagship at 874 Washington Street in New York through May.
Next Post