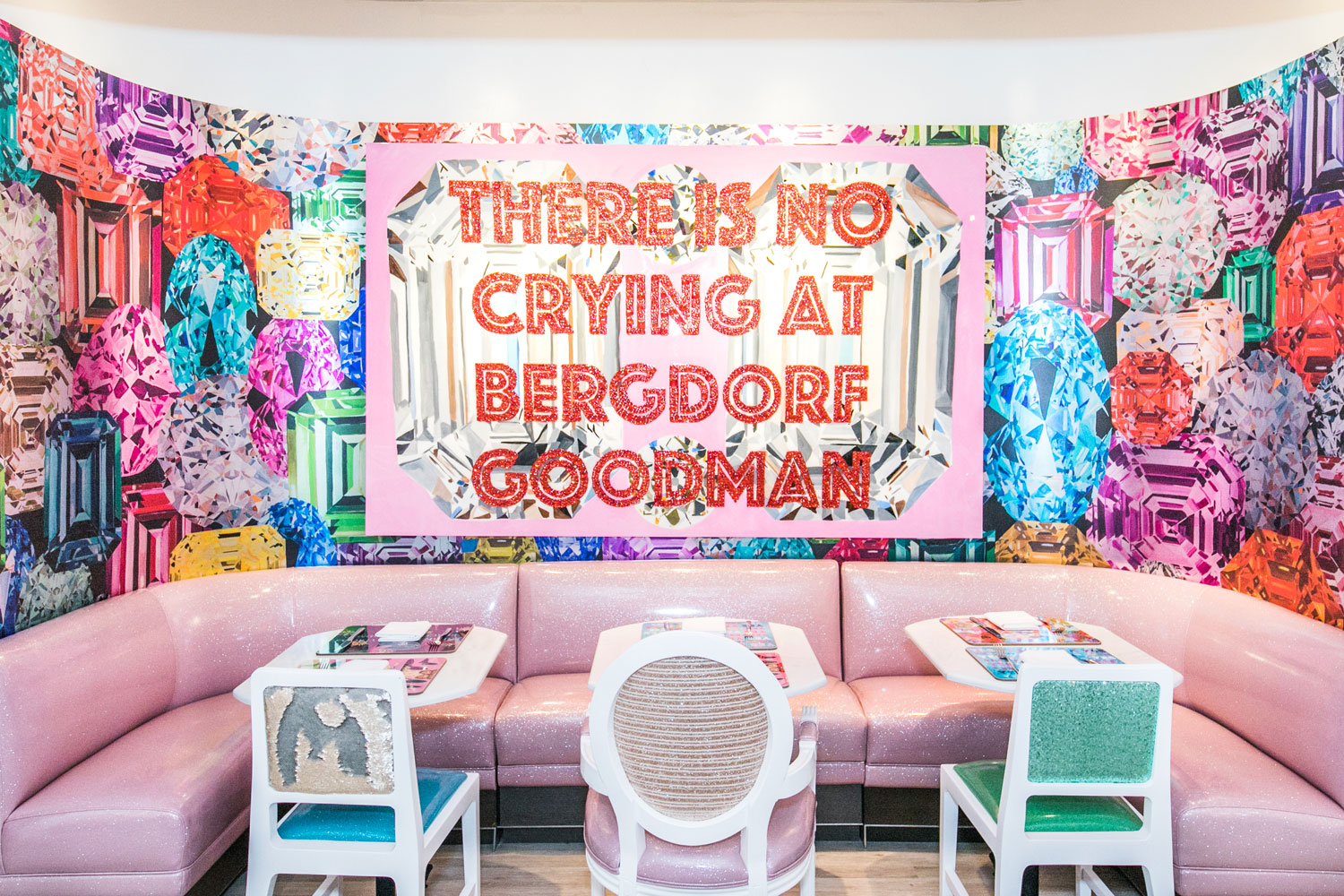 Tips from Bergdorf Goodman's 'Outrageous' New Café
Ashley Longshore's Palette café is already an Instagram sensation
New Orleans-based artist Ashley Longshore is known for her bold, colorful, and pop-culture influenced works of art that have not only transformed the windows of Bergdorf Goodman but have now inspired the design of the department store's newest art-inspired café, aptly named Palette. Longshore worked together with Bergdorf's fashion director, Linda Fargo, on the design of the café, which is an exercise in trippy maximalism. According to Fargo, the decision to collaborate with Longshore was based on a combination of her personality and artwork.
"People couldn't get enough of her no-holds-barred, beautifully outrageous work," Fargo told Business of Home in a recent interview. "I think what's so appealing about Ashley's voice and imagery is that it's outspoken, humorous and glamorous all at the same time."
Recommended: Gucci Garden in Florence Combines Art, Food, and Fashion
Featuring jeweled wallpaper, embellished candy-colored chairs, butterflies suspended from the ceiling, and Longshore's works on the walls, it's a space—as a quick glance at Instagram will reveal—that has beckoned selfie-takers in droves. Taking cues from its design, here are some artful tips to making your cafe more Instagrammable.
1. Deck the walls with painted pictures of pop icons
One of the more eye-catching features of Longshore's design is the series of painted portraits she did of actress and style icon Audrey Hepburn based on the famed image by Cecil Beaton. The elegant portrait of Hepburn is given a twist by Longshore with the addition of flowers and peacocks. She has also lent her touch to other fashion icons including Kate Moss and Coco Chanel.
2. We are living in a material world so why not make fun of it?

Longshore's work also gives a playful nod to conspicuous consumption. Her paintings feature bottles of Veuve Clicquot champagne and Hermes Birkin bags along with playful witticisms like "Bottle Fed" and "#Sorry I Am Not Sorry."
3. Use punchy, over-the-top wallpaper to inject classic design with contemporary flair 
Designer wallpaper has seen a major resurgence in the past few years with companies like Schumacher and Cole & Son being featured in spreads from Vogue to Architectural Digest. While in the past, patterned wallpaper may have been considered old and dated, it's now fresh and modern, when done right. Palette's wallpaper design by Brooklyn's Flavor Paper includes images of jewels and baubles, which gives the space a little extra glamour.
4. Plates, chairs, placemats: nothing is off limits
Every piece of decor in the cafe has a touch of Longshore's creativity including plates and placemats with patterned works and quotes as well as the chairs, which are colorfully embellished. Along with these designs in the cafe, Bergdorf's is also selling homeware based on items featured in the cafe.
SaveSave
SaveSave
SaveSave
SaveSave
SaveSave
Next Post