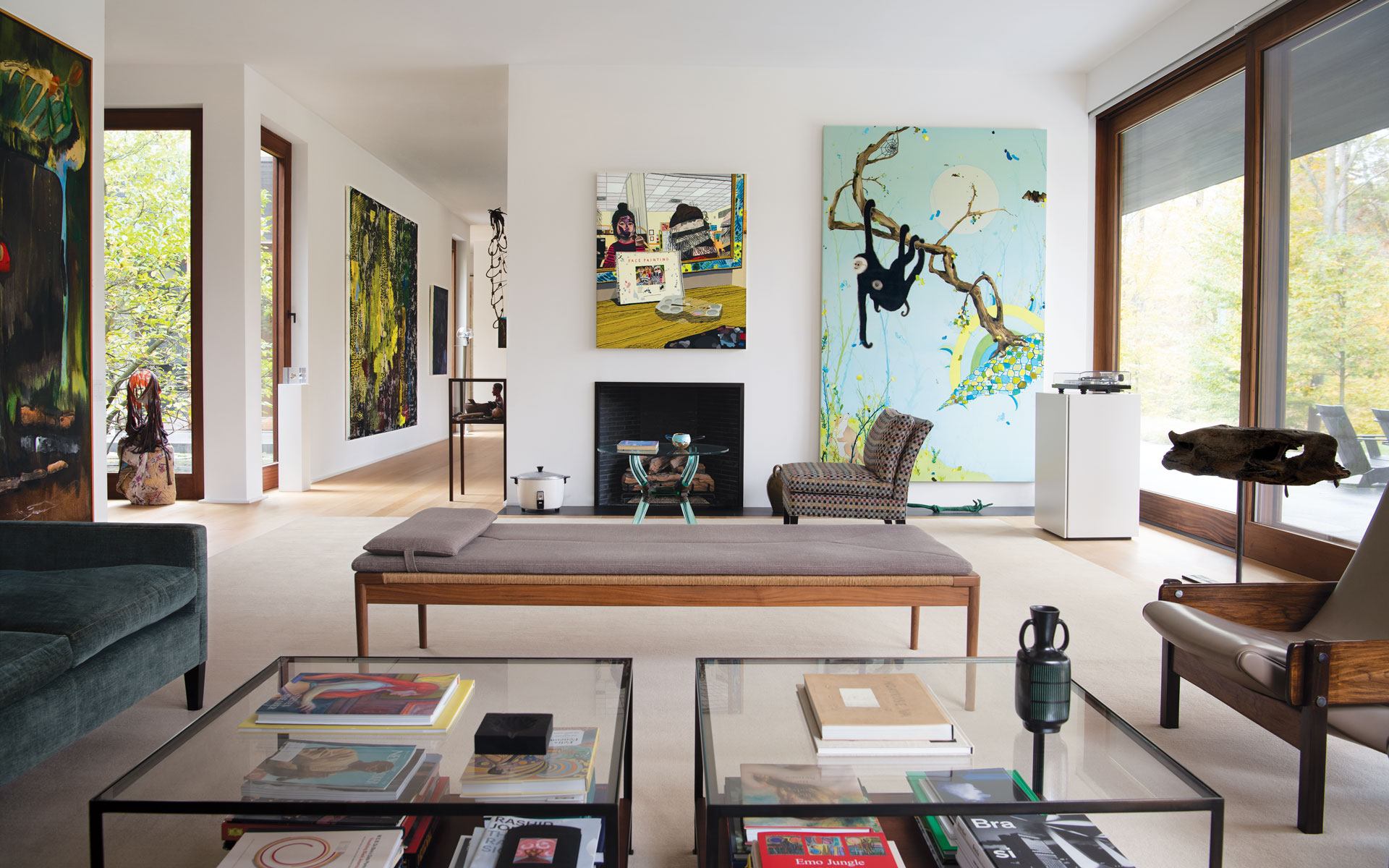 Tour an Annabelle Selldorf-Conceived Modern Masterpiece Just Outside New York City
The revered art-world architect designed this spectacular residence around a couple's vast collection of bold contemporary works
For the past three decades, Annabelle Selldorf has created memorably refined architecture for cultural spaces around the world. Earlier in her career, she transformed a historic Manhattan mansion into the Neue Galerie, a jewel-box museum of German and Austrian modern art and design. Spectacularly austere commercial galleries followed for such powerhouse dealers as David Zwirner, Gladstone Gallery, and Hauser & Wirth. In Arles, France, Selldorf converted a derelict industrial site into a gleaming art complex for the Luma Foundation. Recently, she was tasked with overseeing expansions at the Museum of Contemporary Art San Diego and New York's Frick Collection—projects that promise to reinvigorate both institutions.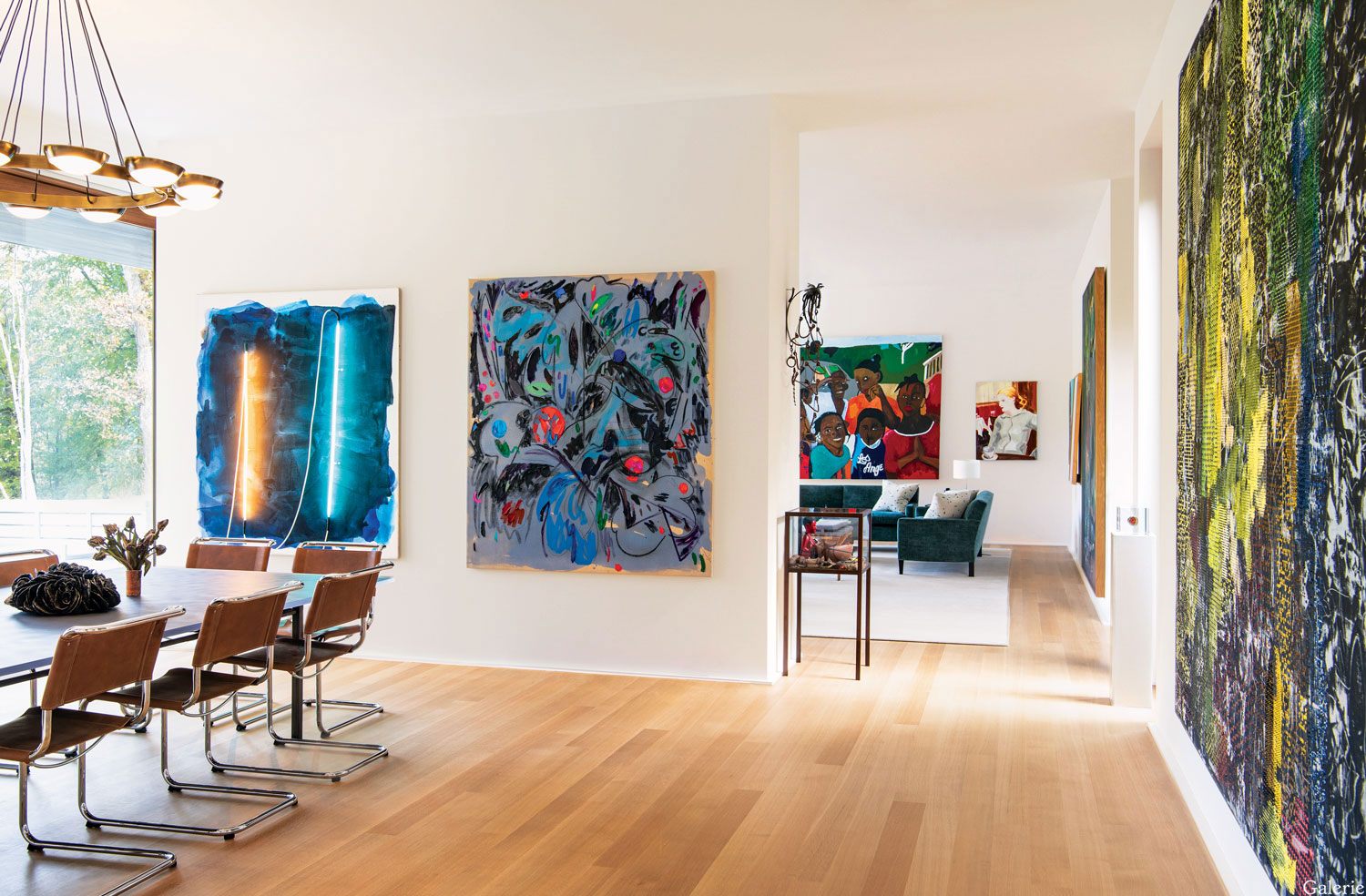 The German-born, New York City–based architect is equally in demand as a designer of private residences, often for collectors who admire her vision of elegant restraint, in which perfectly proportioned, calm-inducing interiors let the art make all the noise. "I'm not showy," Selldorf says in her typically precise and understated manner.
Six years ago, a couple who loved the renovation Selldorf had previously done on their Manhattan apartment approached her to design a new house on a wooded, 13-acre property in Westchester County, north of the city. Passionate collectors of contemporary art, the couple had raised three children in a nearby 1930s home packed with works hung salon-style on every wall. Now they desired a residence with dedicated spaces for displaying their voluminous and diverse collection, including sculptures, ceramics, and paintings by such luminaries as Carol Bove, Mark Grotjahn, Laura Owens, and Elizabeth Peyton. "We wanted to live with it," the wife explains. "We basically designed galleries for the home."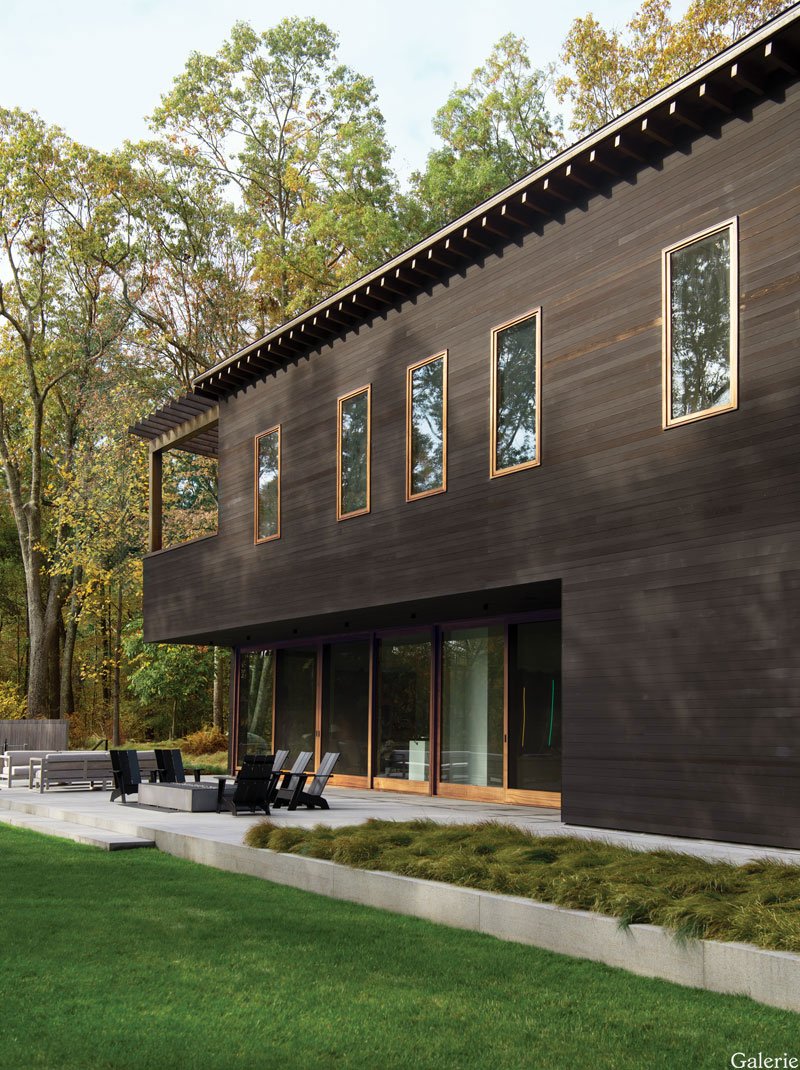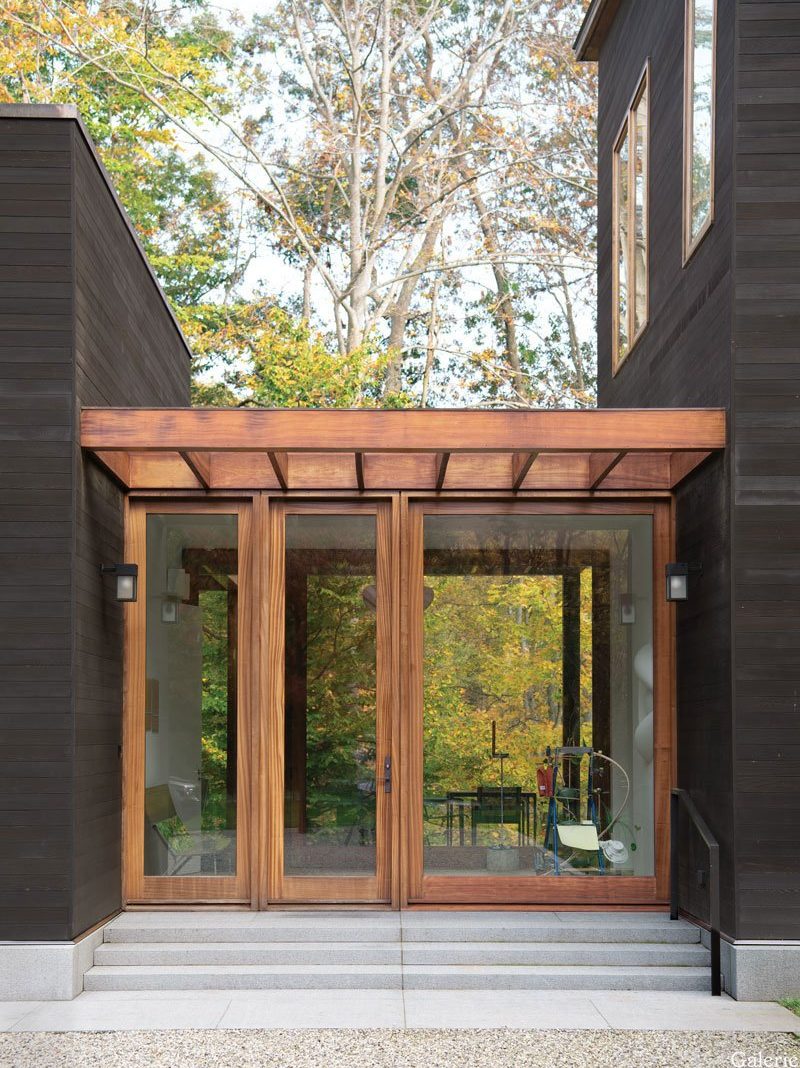 The exterior of the 12,000-square-foot house sets a composed tone. Selldorf clad the rectilinear structure in cedar planks charred using the Japanese shou sugi ban technique, giving the wood a distinctive dusky hue. "There's something in that char that makes the house feel more compact and tactile," Selldorf notes. The wife concurs: "It melts into the landscape." Her husband, however, needed convincing. "I was hesitant about black. I thought it was going to be severe," he recalls. "Because of the burnt technique you see the wood grain coming through. It's not harsh. I've learned to love it."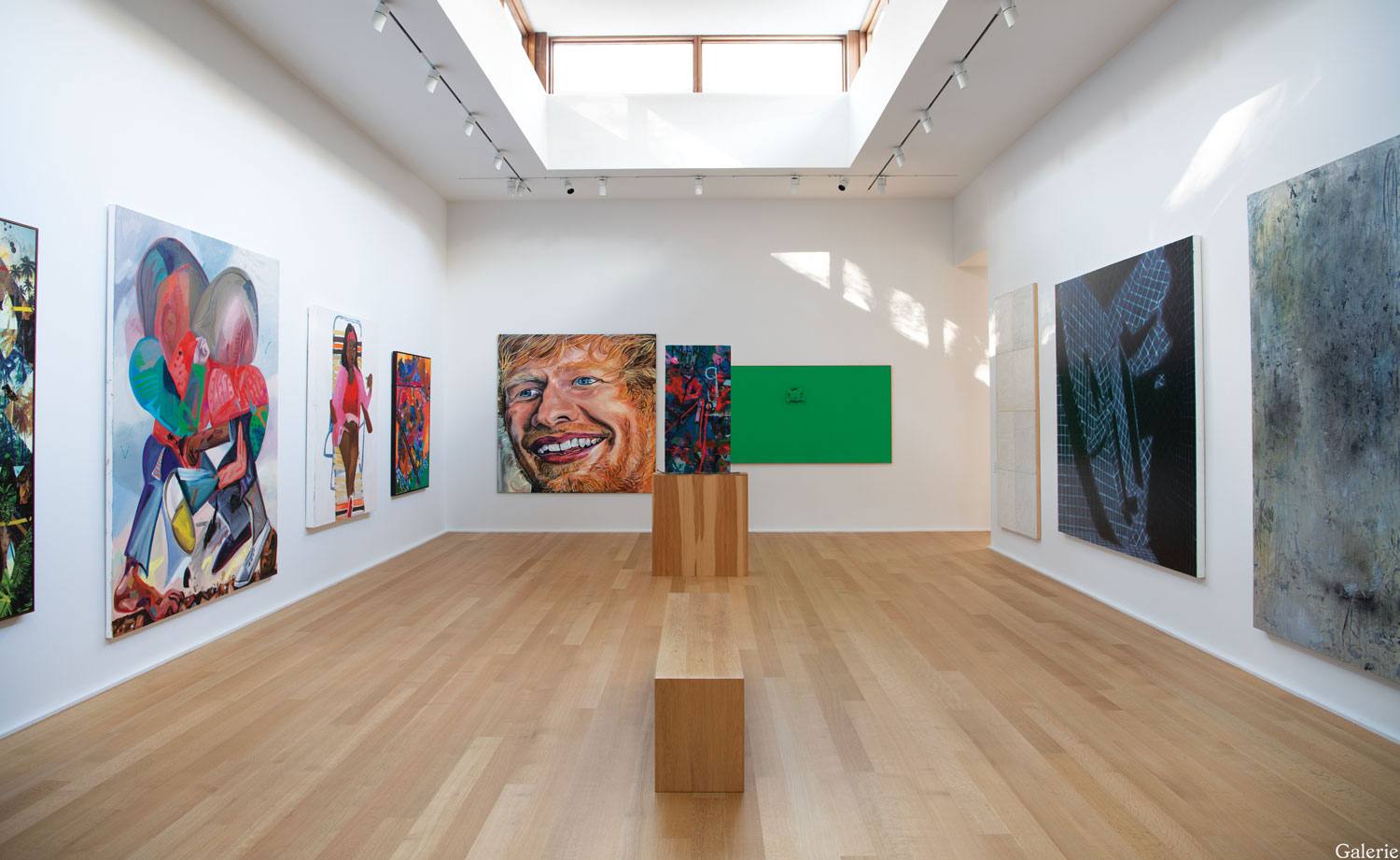 "Calm, tranquil, organized spaces become a background for all that boisterous life epitomized in the art"

Annabelle Selldorf
Selldorf's design scheme features a light-filled, open-air central courtyard from which the main living spaces flow. There are also three distinct galleries (not counting the foyer and corridors brimming with art), the largest of which is illuminated by a skylight. "It's our version of 'the grand gallery,' " says the husband.
The primary bedroom, occupying one corner of the ground floor, overlooks a moss garden and pond. The architect situated three other bedrooms, as well as a gym, upstairs. Even when the couple is alone, they use the entire house, which functions equally well when their children visit, as all of them did during the onset of the COVID-19 pandemic last spring. "We had a real WeWork situation," jokes the wife. "Seven people in all, five working from computers. But everyone found their space. We have doors, which is good."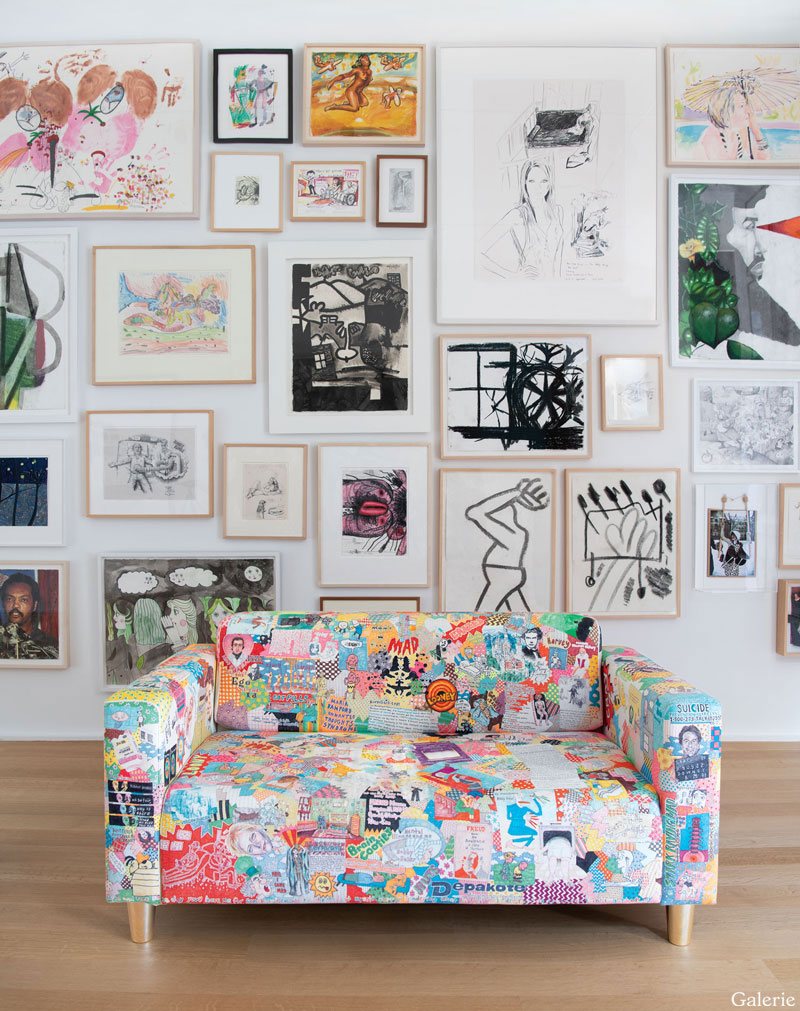 Like the clean-lined rooms, the furnishings—a mix of vintage and contemporary pieces—perform quietly. The living room, for example, is outfitted with velvet-upholstered sofas from Selldorf's European-inspired Vica collection, which she paired with vintage armchairs by the modernist Brazilian designer Sergio Rodrigues. Mart Stam tubular metal chairs reproduced by Thonet and a 1950s Italian circular chandelier add subtle curves to the dining room. "Calm, tranquil, organized spaces do not translate into boredom," Selldorf says, "but instead become a background for all that boisterous life epitomized in the art."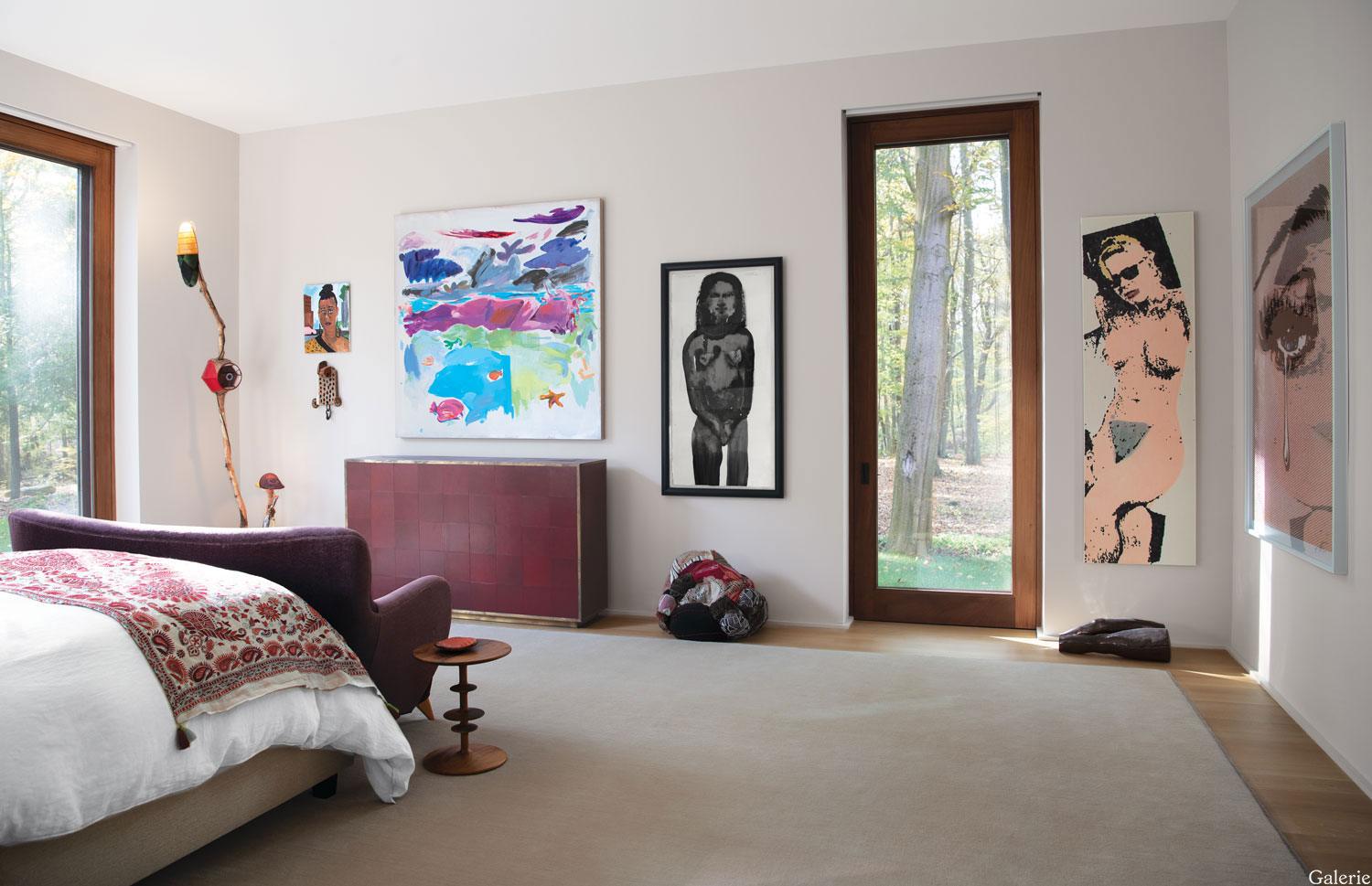 "The clients are courageous with art. They let themselves be provoked, shaken, rattled"

Annabelle Selldorf
Amassed over decades, the couple's collection holds surprises in every room. The main gallery displays a dozen or so paintings—including works by Dana Schutz, Jana Euler, and Avery Singer—that find harmony in their disparateness. Vivid portraits by Henry Taylor energize the living room and the couple's bedroom, where the adventurous mix features nudes by Marlene Dumas and Nate Lowman. "The clients are courageous with art," Selldorf says. "They let themselves be provoked, shaken, rattled. It's part of their understanding of the here and now. I've always admired how curious they are. It's very contagious."
The screened porch, with serene views of the surrounding woods as a backdrop, plays host to a powerful sculpture created with found objects by the young Uganda-born artist Leilah Babirye. "We made a very peaceful house," Selldorf says, summing up the project, "where not-so-peaceful art can do its thing."
A version of this article first appeared in print in our 2021 Spring Issue under the headline "Boom Box." Subscribe to the magazine.
Next Post