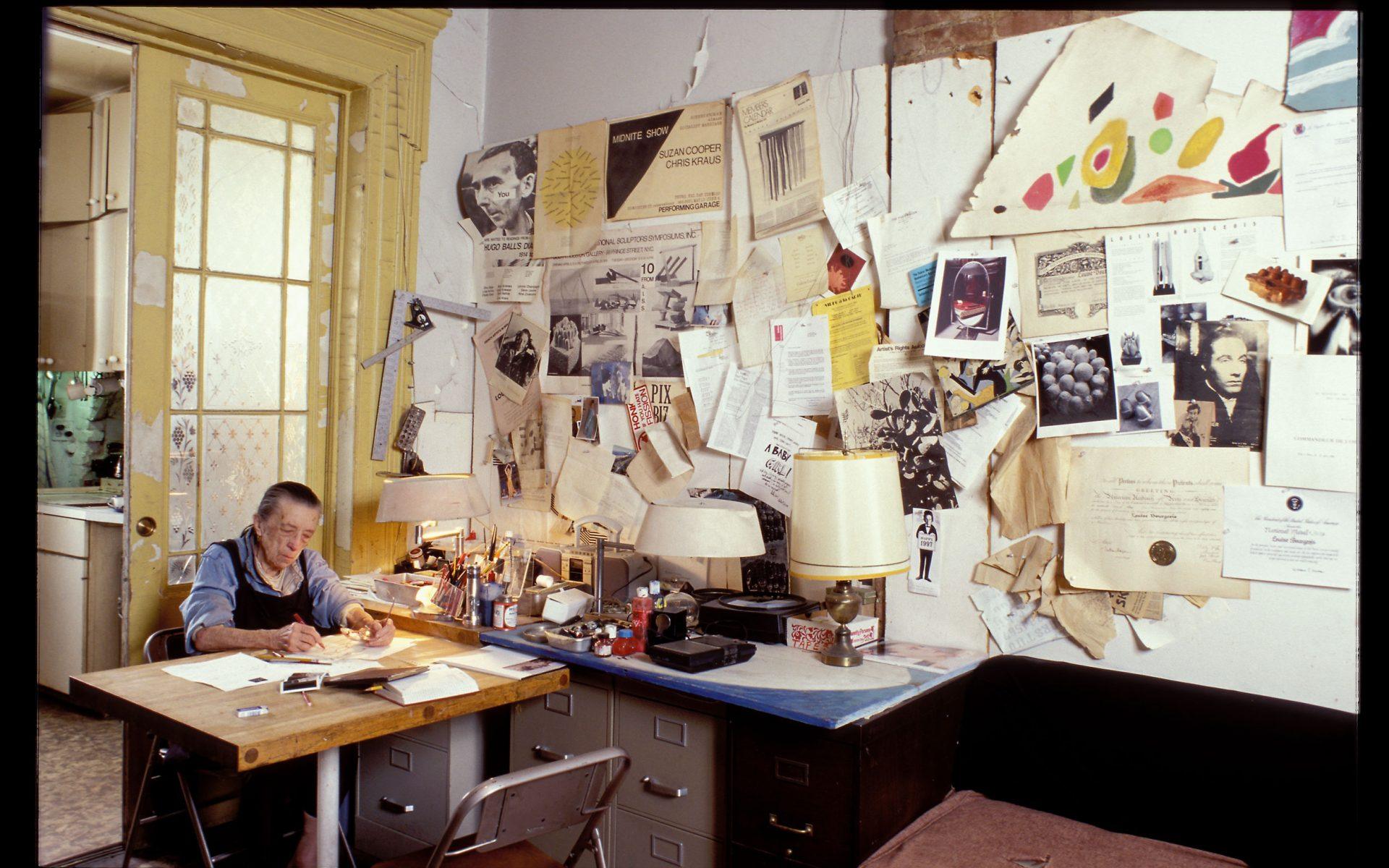 Hauser & Wirth Brings the Inner World of Louise Bourgeois Online
The gallery's inaugural online exhibition showcases how the celebrated artist used the medium of drawing as therapy
"It is not conscious motivation, it is unconscious motivation," Louise Bourgeois once said of the driving force behind her work, noting how the unknown recesses of her mind had a tendency of coming to light in her art. "After a work is finished, then you say 'Oh, my God! This is what I meant!'"
Her words are featured in a video in the newly launched Hauser & Wirth online exhibition, "Louise Bourgeois Drawings: 1947–2007," the first offering in the gallery's new "Dispatches" series, which will roll out on its website as its physical spaces remain closed.
"Drawing was a constant," says the gallery's president, Marc Payot, of Bourgeois's knowing, daily practice of self-psychoanalysis. The late French artist began drawing during her childhood in the early 20th century, having worked in her family's textile business from a young age.
The exhibition's 14 featured drawings, spanning emotions of love, fear, anguish, and joy, are deeply rooted in this period, at times manifesting themselves sometimes as a menacing spiral or a pair of disembodied eyes, at others as childlike drawings in brilliant colors. Two pairs of scissors, one large and blue, and another small and red, float above a barren landscape in the 1986 watercolor Spit or Star, suggesting a mother—specifically a seamstress—and child.
One untitled 1970 work of pencil and ink appears to be a turquoise and magenta sky presiding over a procession of rolling hills, but "when you look closer and it could also be a city, or it is also like breasts," Peyot tells Galerie. Although Bourgeois's drawings were a totally separate practice, "that oscillation between figuration and abstraction, between body and landscape, is what you find in her sculptures over and over again."
Photographs of her workspace in her former Chelsea townhouse match critic Gary Indiana's description as having had "a take-it-or-leave-it decrepitude." The walls were pinned floor-to-ceiling with drawings and newspaper clippings, and the assemblage of mirrors and deteriorating vintage bring to mind the enclosed domestic spaces of her "Cells" series. During her life, while Bourgeois's studio was reserved for the construction of large sculptural works, her daily ritual drawings took place there. It was a cocoon, a visual motif that intermittently reappears in her work.
Recomended: This English Countryside Estate Has a Remarkable Array of Outdoor Art—and a Working Farm
"Her work is so much about the inner world, and she used drawing to overcome that," Peyot says. "I think it's quite beautiful during these times for art to overcome the very tough context we are in."
This multimedia portrait of an artist who spent her lifetime funneling her inner turmoils and joys onto paper rounds itself out with a link to an essay by Indiana on his uneasy but luminous friendship with Bourgeois that began in the mid-'80s. "We were both intellectually combative, anxiety-ridden, insecure, depressive, and wretchedly insomniac," he wrote, all qualities that bore themselves out in her work. "She knew that conflicts stemming from her childhood," he added, "were both the primary cause of her neuroses and the vital catalyst of her work. . . . It wouldn't be flippant to say that Louise Bourgeois devoted a lifetime to excavating her unconscious."
"Louise Bourgeois Drawings: 1947–2007" is available to view online at vip-hauserwirth.com 
Next Post