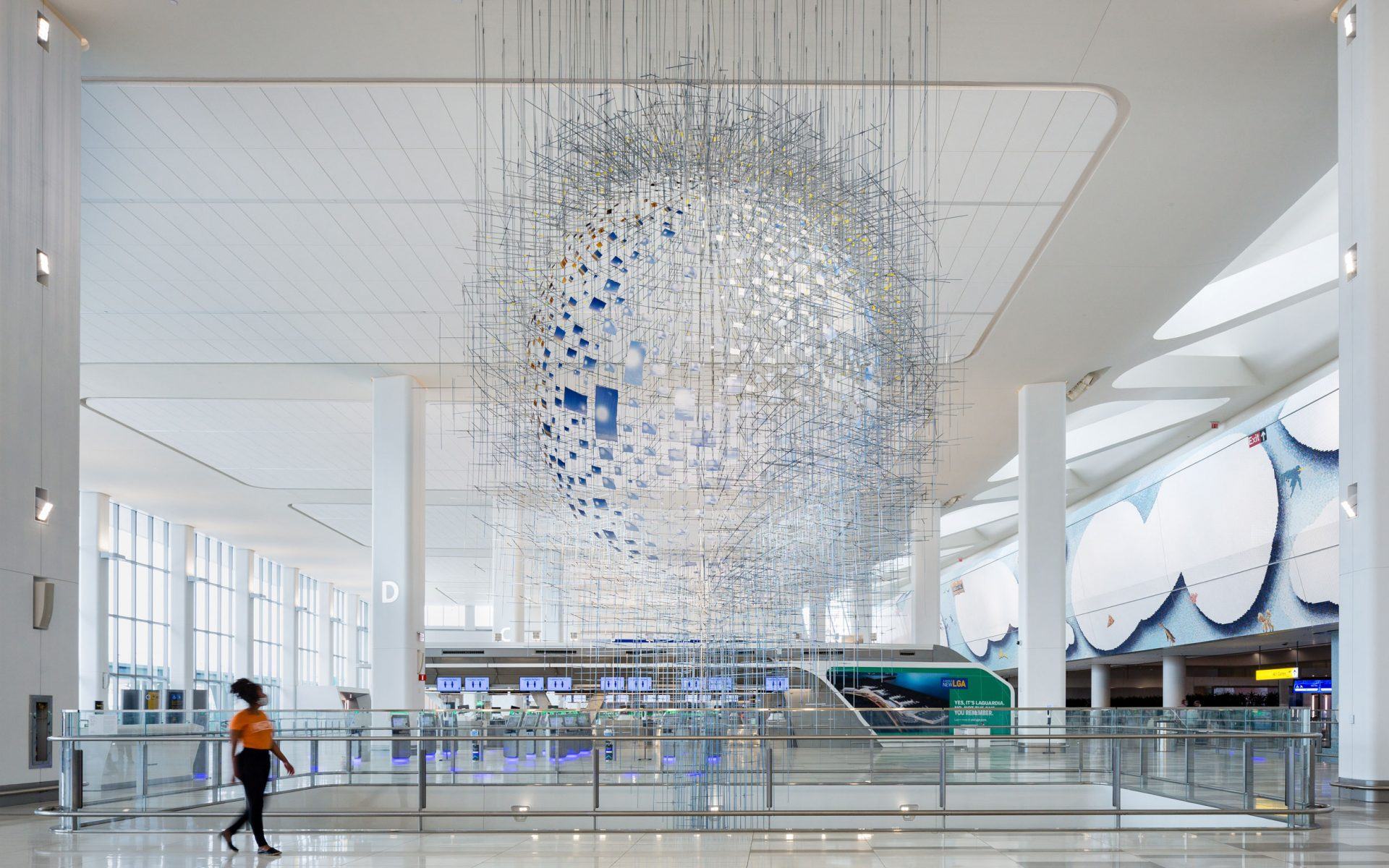 4 Striking Art Installations Transform LaGuardia Airport
Jeppe Hein, Laura Owens, Sabine Hornig, and Sarah Sze helped inject new energy into the once-maligned airport
After months of lockdown, travelers the world over are looking forward to once again heading for the airport and jetting off somewhere glamorous and inspiring. Soon, there will be even more reason to get excited, thanks to four newly commissioned artworks by major international artists Jeppe Hein, Sabine Hornig, Laura Owens, and Sarah Sze that have just been unveiled to the press at LaGuardia Airport. The art project is part of an $8 billion renovation of the formerly deteriorating airport—long thought of as one of America's worst—in the massive, Terminal B arrivals and departures hall, set to reopen on June 13.
New York's Public Art Fund teamed with LaGuardia Gateway Partners in 2017 to commission an art program that would capture the energy of the city. The initial group presented by Public Art Fund included 25 artists from 11 countries, which was then narrowed down by a committee. 
Recommended: Francesco Clemente's New Watercolors Offer a Seaside Escape During Quarantine
"These four site-specific works of public art will provide focal points of beauty that reflect the creativity, energy, culture, and spirit of the Empire State," said Governor Andrew M. Cuomo in a press statement. "Public art is a key medium to show the world who we are and to say when you come to New York you will be amazed and inspired."
New York artist Sarah Sze, who represented the U.S. at the Venice Biennale in 2013, is widely acclaimed for her eye-catching installations of everyday materials. Suspended from the ceiling of the departures hall at La Guardia, her new work Shorter Than the Day (titled after an Emily Dickinson poem) is visible from baggage claim. The kaleidoscopic constellation of metal rods features hundreds of photographs of the sky in New York in a powerful mediation on the passage of time and the perception of space and movement.
Using the time-honored technique of mosaic for the first time, the Los Angeles painter Laura Owens has created a monumental 25,000-square-foot mural that stretches across the entirety of the Terminal B departures hall. 625,000 tiles have been hand laid to depict a cloud-covered sky. (It is considered one of the largest mosaic artworks in the world.) Floating across it are historical monuments and iconic symbols. Visitors waiting for a flight can while away the time looking for cultural institutions such as the Apollo Theater, historic locations such as the Stonewall Inn, and even famous public artworks such as Keith Haring's Woodhull Memorial Hospital Mural. 
Danish artist Jeppe Hein, who is known for transforming spaces with his experimental, interactive sculptures that sit at the intersection of art, architecture, and technical invention, has crafted 70 brightly colored stainless-steel balloons for his commission. Invoking a childlike sense of wonder, the balloons seem to have floated up into the air and are dotted throughout the passageways, shops, and restaurants. For the central court, the artist has also made three sculptural red benches, which he calls "Modified Social Benches."
Berlin artist Sabine Hornig, meanwhile, has erected a dazzling large-scale intervention on the glass façade along the passageway to the parking garage. Measuring 42 feet high and 268 feet wide, the collage, titled La Guardia Vistas, merges over 1,100 photographs of New York City taken by the artist from Queens and Manhattan last fall. The images are printed as transparencies, allowing the viewer's perspective to change as they walk along.
"Among the most complex and ambitious permanent art programs ever commissioned, the works reflect a richly layered global city defined by its creative energy, diversity, and democratic spirit," said Nicholas Baume, director and chief curator of Public Art Fund.
With New York in phase one of reopening, and art galleries and museums still closed across the city,  Terminal B is looking like the best spot to get a contemporary art fix for the time being.
Next Post