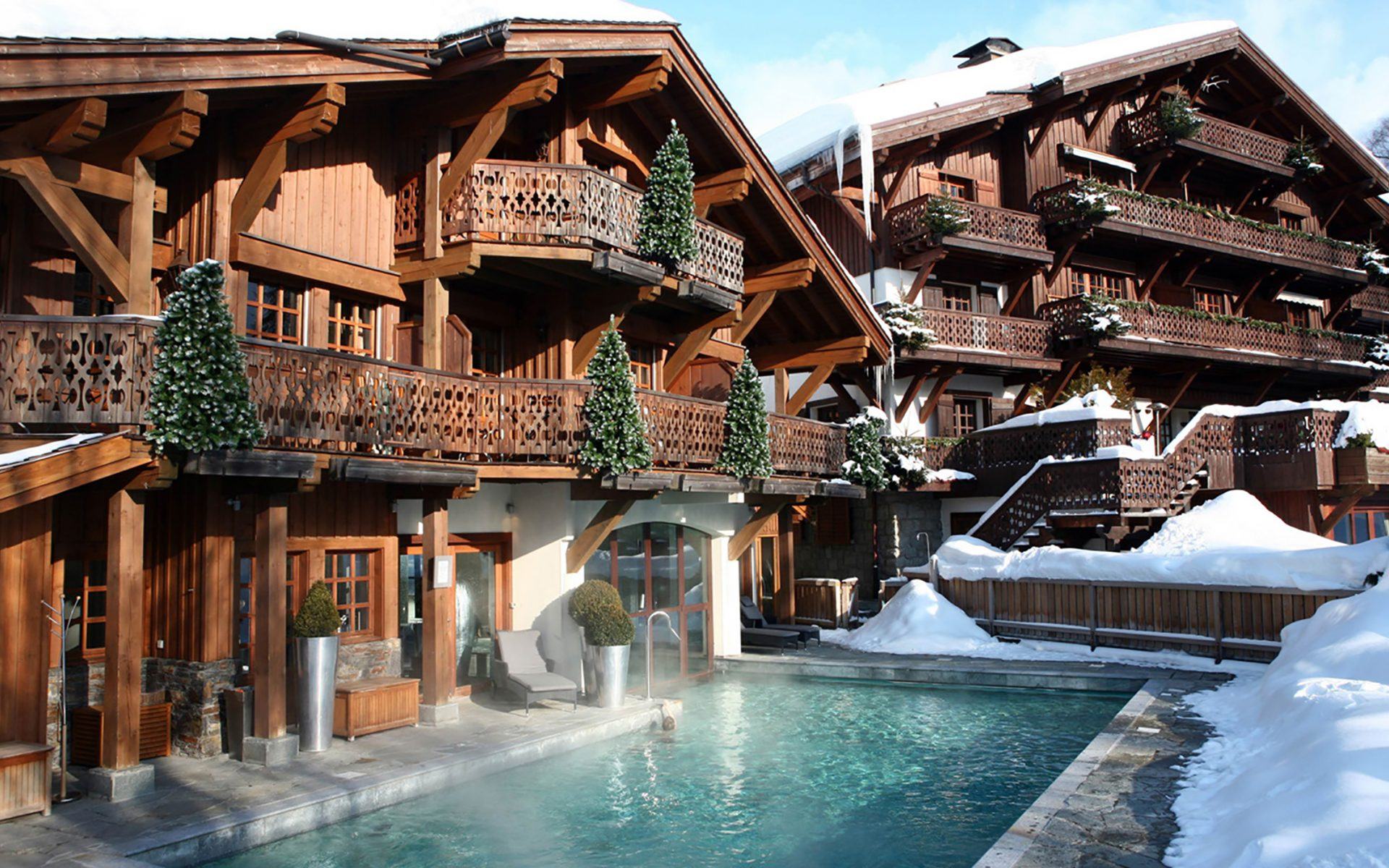 6 Exceptional Winter Getaways with Design in Mind
From Aspen's first new luxury hotel in 25 years to an almost 200-year-old Alpine retreat, Galerie rounds up six of the most notably designed winter escapes
From Aspen's first new luxury hotel in 25 years to an almost 200-year-old Alpine retreat, Galerie rounds up six of the most notably designed winter escapes across two continents.
Nestled in Colorado's Rocky Mountains, Aspen is every bit as famous as its most famous guests, so it makes sense that its resorts are nothing short of impressive. Opening this year is the W Aspen, the first new luxury hotel to open in the high-altitude resort town in 25 years.
Completed by New York City–based interior design firm Nemaworkshop in partnership with Aspen-based architects Rowland + Broughton, the W Aspen is one of only two W Mountain Escape properties worldwide (following the first that debuted in Verbier, in the Swiss Alps). Perhaps the property's greatest selling point is its prime ski-in/ski-out location at the base of Aspen Mountain, with stunning 360-degree views from the top-level WET Deck. In addition to what are arguably the best panoramic mountain views in town, the WET Deck is Aspen's only year-round, all-weather, public rooftop bar (complete with a pool and hot tub).
The Living Room—today's answer to a traditional ski lodge's communal gathering point—incorporates design touches that tie into the local landscape. Light fixtures were inspired by the look of a miner's headlamp, and Herbert Beyer's art-inspired carpeting was patterned off of the rings of a topographical map of Aspen. In keeping with the silver-seeking vibe of the 19th century, hallways have been wallpapered to look like you're heading down the mines yourself. There is also plenty of original art to go around, from the check-in area's mural by artist Gaia, which depicts a classic Rocky Mountain landscape painting in contemporary form, to the after-hours grotto-style lounge, 39˚, which features a mural by Gabriel Alcala that interprets the Aspen landscape through a lens of "excess."
Additionally, the hotel has partnered with local snowboard institution High Society Freeride to debut an exclusive, first-edition series (20 for women, 20 for men) of W Aspen x High Society Freeride Custom Snowboards, with design elements inspired by the historical, cultural, and social aspects of Aspen's history. Guests have the option of renting a stylish board to enjoy on the slopes during their stay or purchasing one for keeps. Plus, the property's dedicated W Insider, Coley Cook, is on hand to provide exclusive access to sporting, social excursions, spa experiences—even a private skiing expedition followed by a personalized W Wine & Food Experience at an off-site private cabin.
Located just across the mountain from Telluride, Colorado, Dunton Hot Springs is a romantic 1800s ghost town that has been restored as an exclusive resort. Established in 1885, Dunton was originally a mining camp, but later operated as a dude ranch for tourists in the 1970s and the '80s until it finally closed in the '90s. The property was resold, then reimagined as the comfy and charming Relais & Châteaux property that exists to this day.
Winter is definitely one of the most magical times to visit, especially with Dunton's new Winter Activities Program. Highlights include snowshoeing through the serene San Juan Mountains, climbing into the property's very own snowcat and scaling to 10,000 feet, cross-country skiing on a trail that was forged by former Olympic Nordic skier Wendy Wegner, or taking a horse-drawn sleigh ride followed by a fireside afternoon in the River Camp's Farm House.
The greatest draw at Dunton remains its namesake natural pools. The calcium bicarbonate springs are said to assist in improving circulation to the body's extremities, while magnesium, an element found in the thermal baths, is touted for boosting energy and promoting healthy skin. At Dunton, there are five unique ways to experience the natural waters: inside the restored 19th-century Bathhouse, under the stars at the source, in the pool outside the Bathhouse, in the pool behind the Dunton Store cabin, and inside Well House cabin.
All of Dunton's authentically restored log cabins are full of period charm and details, like wood-burning stoves. Each was built by hand—some by the original miners themselves. They've been restored to luxurious comfort levels and each maintains its own character, though rustic artifacts and furnishings are a common thread. Every window affords magnificent views of the mountains and the surrounding meadow, and they're all just steps away from the Bathhouse—unless you're staying in the king-size Well House, which comes with a private hot spring and cold plunge of its own.
Nestled in a valley between the Teton Mountain Range and Idaho's Gros Ventre Range, Wyoming's Jackson Hole is one of this country's most beloved natural wonders and a natural draw for five-star hoteliers like Four Seasons and Aman Resorts. Just a year and a half ago, yet another luxury property—perhaps the area's most exclusive to date—popped up in tony Teton Village: Caldera House. The brainchild of billionaire Wes Edens, Caldera House, a "suites only" resort, took six years and an estimated $100 million to build.
The hotel's interiors are the work of L.A.-based Commune and local Wyoming studio CLB; the design firms harmonized their visions for a modern chalet around the golden age of European Alpine skiing and the traditions of the American west, creating a warm and elegant retreat that highlights American craftsmanship and artistry from the past and present. The goal in both the public spaces and guest rooms was to give the sense of a luxurious residential feel. To that end, Commune worked with Michael Boyd, George Smith, and BDDW on creating custom furniture, and acquired signature pieces from Nakashima Studio, Espasso, Thomas Hayes, and Axel Vervoordt, among others.
The custom lighting fixtures are by Lindsey Adelman, Stephen White, Roll and Hill, and Remains Lighting, while the custom rugs are by Edward Fields, Christopher Farr, Hechizoo, and Grand Splendid. The Chapas textiles and fabrics were sourced from BDDW, Ralph Lauren, Loro Piana, Pierre Frey, and Zak + Fox. Lisa Eisner's large-format photographs of Wyoming landscapes illuminate the public spaces, and Terry Winchell from Fighting Bear Antiques sourced a selection of vintage photographs and prints to complete the pictorial history of the state.
The generously sized suites are meant to be modern takes on a private cabin and feature open kitchen plans with state-of-the-art appliances and Boffi cabinetry, both gas and wood-burning fireplaces, and private balconies with snowmelt exterior patios and Solus fire pits. Some of the plush elements include Talamo beds from B&B Italia, steam showers, Victoria + Albert soaking tubs, and heated floors.
Options for winter experiences range from dogsledding and snowmobiling to a National Elk Refuge sleigh ride or Yellowstone snow coach tour. This winter, Caldera House is also offering the opportunity to hit the slopes with Olympic and World Championship gold medalist Bode Miller.
Situated on a peninsula that stretches into New York's Upper Saranac Lake, Adirondacks escape The Point was originally built over a century ago by architect William G. Distin as William Avery Rockefeller II's Camp Wonundra retreat in the woods. The Point has been preserved in time as a portal to a bygone era, when Gilded Age magnates, from Vanderbilts to Astors, Guggenheims to Roosevelts, erected these indulgent "camps" as escapes from crowded cities.
Under the direction of new owners Laurie and Pierre Lapeyre, The Point underwent a multimillion-dollar renovation in 2018 that preserved a mostly untouched footprint and returned many design elements to the Rockefeller taste. Today, 11 guest rooms are spread among four original log buildings, each with a broad lake view, wood-burning stone fireplaces, private baths (some with original chrome fixtures), fine antiques, 19th-century oil paintings, and rustic furnishings.
Interior designer Paige Hammond, who, along with architect Andrew Chary, was enlisted for the latest round of renovations, focused on fabrics that would lend it a distinctly Adirondack feel, from the sofas covered in red and black wool buffalo checks by Gretchen Bellinger in the Great Hall to the day covers in Brunschwig & Fils' red, black, and white tapestry. Some of Almira Goodsell Rockefeller's original furniture was incorporated, including a hand-painted low chest, high chest, and mirror in the Morningside guest room. The original Rockefeller pool table, with its intricately painted scenes, was also restored and is now a focal point in The Pub. The freestanding Boathouse—the most requested and spacious of accommodations—was also fully winterized during the renovation, making it a top choice for larger parties trekking up now in the snow.
Dining is an art at The Point, and a social one at that, marked by communal meals most often taken in the Great Hall. Wednesday and Saturday evenings are still black-tie, and most guests do partake—especially in winter, when a fire roars and candles burn from Rockefeller candelabra. Saturday afternoons are marked by traditional outdoor snow barbecues held on the tip of the peninsula under the snowcapped pines.
Les Chalets du Mont d'Arbois, Megève, a Four Seasons Hotel
Just after World War I, Baroness Noémie de Rothschild, inspired by Switzerland's Saint Moritz, had the vision to establish a new ski resort in the French Alps. She fell in love with the panoramic views from the Mont d'Arbois plateau, set above the 13th-century village of Megève. It was here, in 1926, that she built the family's first hotel, and it is here that—as of just last month—travelers can now experience a soupçon of Rothschild style for themselves, at the newly unveiled Les Chalets du Mont d'Arbois, Megève, a Four Seasons Hotel.
Opened as a winter-only retreat, this exclusive cluster of three traditional wooden chalets sits at the foot of the Mont d'Arbois slopes, just a short distance from the ski lifts and a mere five minutes from the heart of horse-and-carriage-dotted Megève. Following extensive renovations and an investment of over 10 million euros, the property represents a collaborative effort between Four Seasons Hotels and Resorts and Edmond de Rothschild Heritage, the entrepreneurial side of the Rothschild business managed by Benjamin and Ariane de Rothschild that fosters innovation in the fields of luxury hotels, winemaking, gastronomy, and agriculture. Ariane de Rothschild enlisted Thierry Curty, under the artistic direction of Pierre-Yves Rochon, to revamp and reimagine the 41-room complex. A fully renovated Spa by Bamford is set to open later this winter. There are five restaurants to choose from, each of which belongs to the Rothschild Heritage group.
With three unique buildings named after the oldest daughters of Benjamin and Ariane de Rothschild, guests can enjoy a stay that suits their personal style, be it in the classic luxury and refined atmosphere of Chalet Noémie, the bohemian chic of Chalet Alice, or the more traditional Chalet Ève. (The Ève was purchased in 1960 by the Baron Edmond de Rothschild in order to host a now-famous 100-hour party celebrating the renovation of the family's first hotel, Palace des Neiges.) Each chalet is steeped in timeless codes of Alpine style, with timber window frames, ancient beams, old spruce and fir wood, uncut stonework, and mountain motifs.
Plans are now under way for the launch next season of the Suite Idéal, a private accommodation located higher up in the wilderness yet fully serviced by Four Seasons. As for this season, the offerings back at the Mont d'Arbois base include Michelin-starred dining at Prima to a bevy of outdoor fun. Guests have access to an exceptional Ski Safari, which offers helicopter hopping to the most beautiful Alpine ski areas; dogsleds (the resort has its own pack of canines, and you're welcome to help with the feeding during mealtimes); light-tracked chenilettes (or mini-tanks); pony-drawn skijoring; carriage rides into the village; torchlight processions come nightfall; ice skating on the property's own rink; or placid walks in the snow with the adorable house mascot, Némo, a young Bernese mountain dog.
Of course, this being the Alps, there's a not-to-be-missed carnotzet menu of typical Savoyard produce in the property's on-site yurt; it features Swiss fondue, croûte du Beaufortain, croziflette, and that time-honored Alpine herbal liqueur known as génépi.
The so-called birthplace of winter tourism, Switzerland's Engadine Valley has been drawing visitors for nearly two centuries. When Switzerland first hosted the Olympics in 1928, then again in 1948, the games were staged on the grounds of Saint Moritz's first lodging, the famous Kulm Hotel.
Sister property to the Kulm, the Grand Hotel Kronenhof in the town of Pontresina offers the feel of a more secluded and picturesque mountain village escape. Since 2016, this Belle Époque grande dame—one of the region's other five-star hotels—has been unveiling a steady rollout of refurbishments, including the creation of 13 new rooms and suites, with plans for 15 more to be renovated by Pierre-Yves Rochon at the close of this winter's season. Just this past year, Rochon also worked on a newly minted cigar lounge and billiards room in the historic part of the hotel. "With every new project, I look at the existing architecture, the environmental characteristics, the local people's way of life, the typical materials," Rochon tells Galerie. "I respect the village's history and its traditions. The design has to be committed to the needs of the guests and should not reflect the ego of an interior architect."
The Kronenhof first opened in 1848 as the Rössli guesthouse, where a Veltliner wine shop was set up in the cellars, along with stabling for horses that carried the wines over the Bernina Pass. As the guesthouse flourished, its owner expanded and in 1898 debuted the main current section of the hotel—a neo-Baroque historic landmark—as the Grand Hotel Kronenhof & Bellavista. Two world wars almost brought tourism to an end, and the hotel would have shuttered except for the wine trade below, which kept it afloat. When the Olympics returned to Saint Moritz in 1948, so did the guests, and by 2004 the Kronenhof was in new hands. By 2007, it was also in new shape, following a 35-million-Swiss-franc renovation, which witnessed the addition of an extensive spa complex with a dramatic Nouveau conservatory-like glass structure held up by legs made of red stone. Just beyond the now signature fronting glass pod is the indoor swimming pool.
Breakfast and dinner are served in the Grand Restaurant, with its monumental ceiling frescoes by Otto Haberer, glimmering chandeliers, and a minstrels' gallery. Another restaurant, Kronenstübli, features original Engadine furniture and Swiss-pine paneling, and remains a piece of living history. The Kronenhof Bar is known for its selection of gins, while the bowling alley—a bonus treat for visitors—serves up Swiss fondue and raclette.
With 112 rooms and suites, Grand Hotel Kronenhof blends modern comfort with old-world elegance and atmosphere. Pontresina is known for the ice climbing in its gorge, snowshoe-hiking along 90 miles of paths, tobogganing down the Muottas Muragl slope, and cross-country skiing—not to mention skating on the Kronenhof's very own natural ice rink. No stay would be complete without a romantic horse-drawn sleigh ride into the Val Roseg, tucked in with woolen blankets and a mug of glühwein in hand. It's a dreamlike vision of winter for all the senses. As Rochon, the designer helping to forge the Kronenhof's next chapter, observes: "Creativity does not exist without dreams. The capacity to dream about our projects enables us to create hotels that stimulate, surround, and soothe all the senses."
Next Post