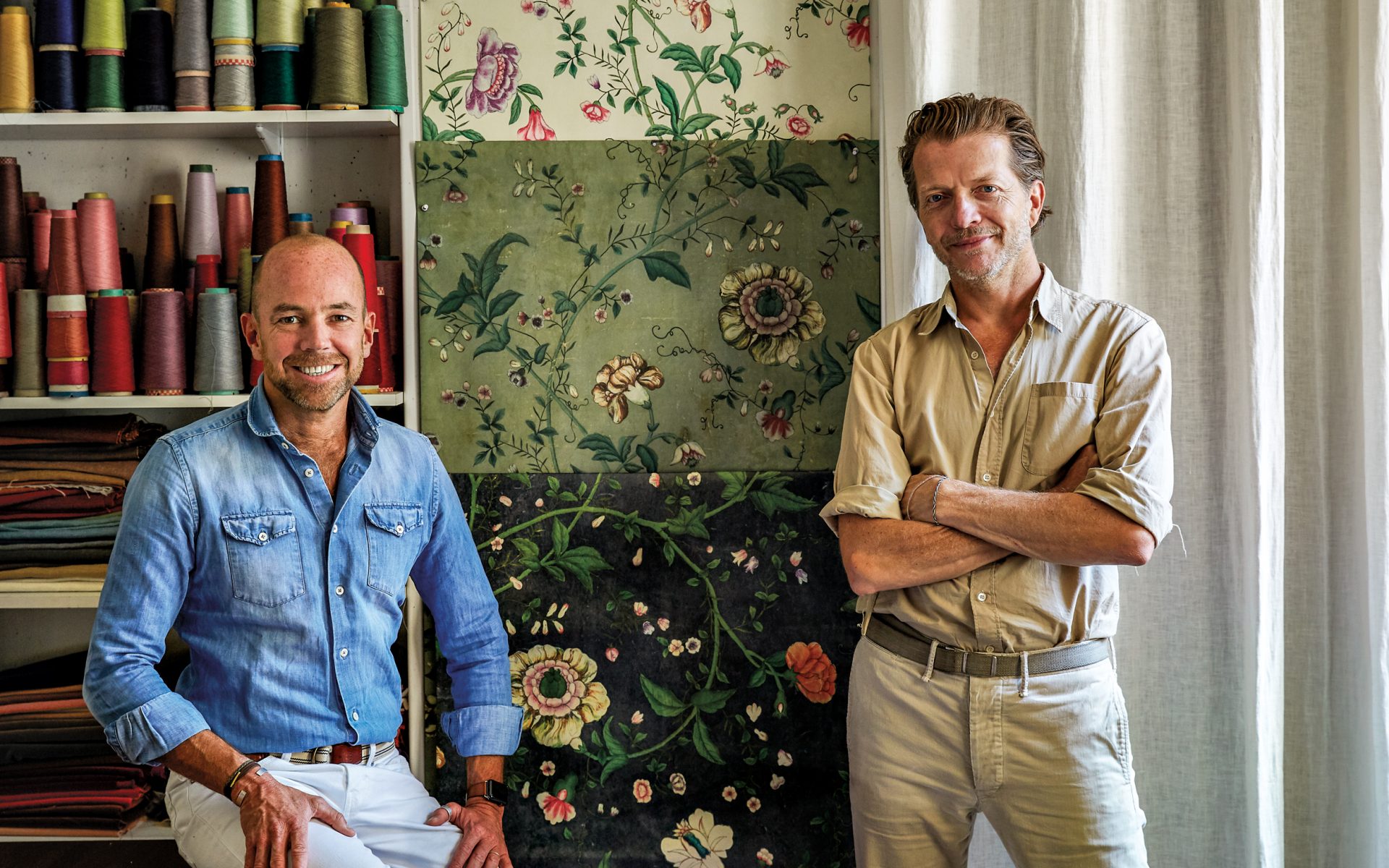 John Derian and Pierre Frey Join Forces to Create a Dreamy Vintage-Inspired Wallpaper
The recreation of an 18th-century panel in the decoupage artist's personal collection is available in three rich colorways.
John Derian perfectly recalls the moment more than a decade ago when he found a jade-colored panel of 18th-century, hand-painted wallpaper in a tiny shop in upstate New York. "I absolutely splurged," admits the New York decoupage artist. "I had to have it. Not only do I love that period, but I was enamored by how naïve the flowers were."
Initially, the ephemera-obsessed Derian displayed the four-by-six-foot piece, with its edges frayed and colors still rich albeit worn, like a work of art in various apartments—above a chest of drawers, then over a little stove. Years later, with the hopes of having it reproduced for himself personally, he showed it to Patrick Frey and his son, Pierre, the chairman and the director of communications, respectively, of Pierre Frey, which is renowned for its traditional French wall coverings, textiles, and other home goods.
Recommended: A Costume Designer's Surprisingly Modern Approach to 'Mary Queen of Scots'
When Derian asked about re-creating the wallpaper, "it was like he was giving me the best idea ever," says Pierre, who is taking on a more creative role at the family-owned maison. "We have a lot of friends and clients in common, so I dreamed for years of collaborating," recalls Pierre, a frequent visitor to Derian's East Village boutique and a fan of its collection of Astier de Villatte ceramics.
Advancements in wallpaper-printing techniques allowed the artists at Pierre Frey to duplicate Derian's one sheet in all its vintage glory, capturing the luster and texture of the original. Available in three colorways—Derian's original green; Chantilly, a creamy white; and Irise, an inky black—the design, named Le Paravent Chinois, is now part of Pierre Frey's Braquenié collection. "We left the image so it appears a little worn in areas, which perfectly suits my tastes," says Derian. "I prefer things to look old."
Derian will envelop the back wall of his cozy West Village shop, which opened in March, with the Irise version. "When it's put together it's going to look like vines growing around the room," he says. "I like when an image creates an environment, like a garden that's growing." 
A version of this article first appeared in print in our 2018 Winter Issue under the headline Paper Chase. Subscribe to the magazine.
Next Post