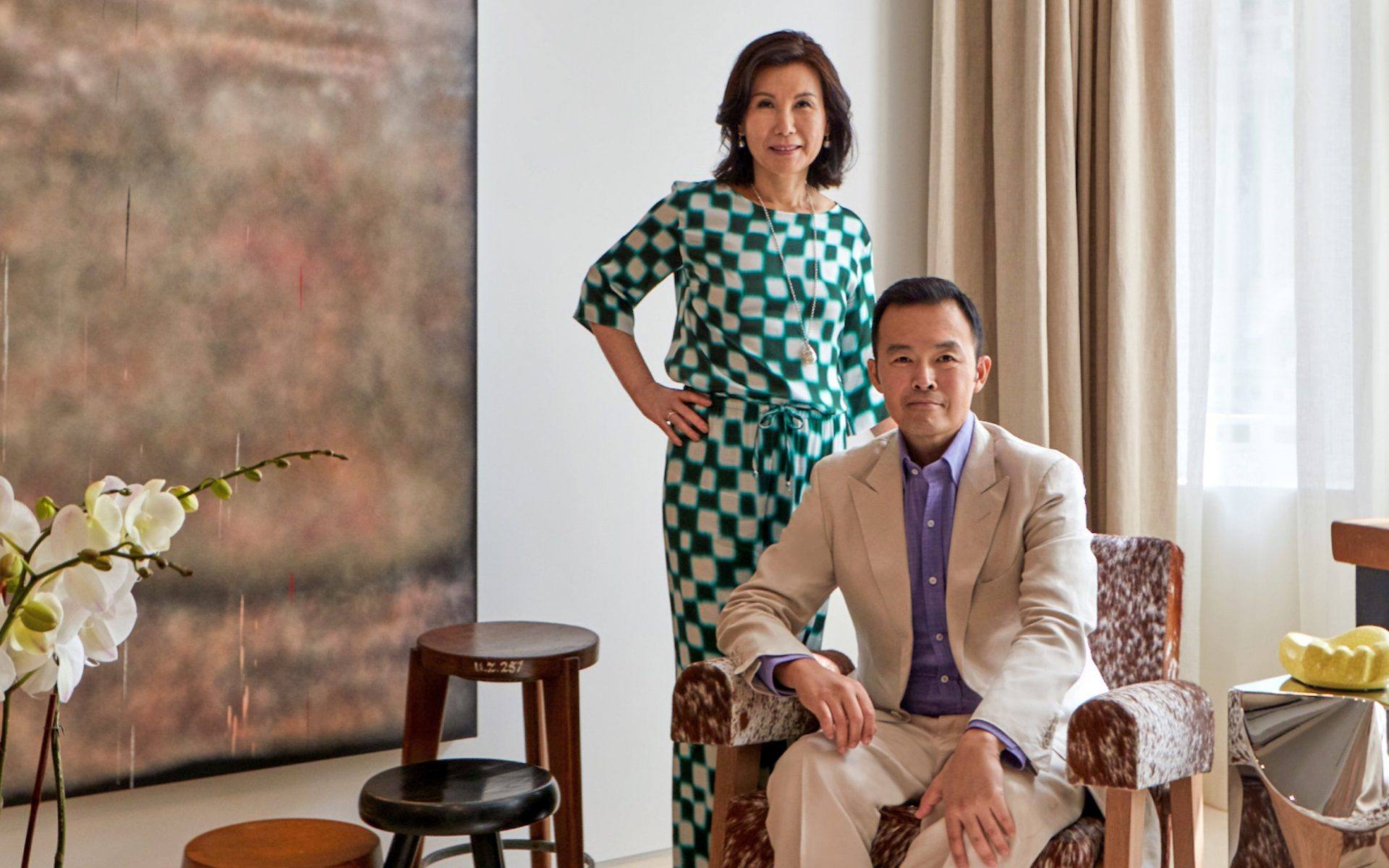 Inside Gallerist Tina Kim and Jaewoong Chung's Masterfully Curated Townhouse
Architect Adam Charlap Hyman helped seamlessly blend the family's collection of vintage furniture and blue-chip art
From the street, it looks like a typical Victorian-era brick townhouse on Manhattan's Upper West Side. One hint that something special might lie behind its curtained bay windows is the home's distinctive exterior ironwork, which is both totally in keeping with the traditional blackened railings of its neighbors and quietly striking in its refined, minimalist design. Welcome to the carefully considered, artful world of Tina Kim.
Kim is a Korean-born Chelsea gallerist who is well-known for introducing American collectors to established and emerging Korean artists like Suh Seung-Won (whom she currently represents) and Haegue Yang, the creator of shimmering conceptual sculptures now animating the atrium of the newly reopened Museum of Modern Art. Kim's husband, Jaewoong Chung, founder of the design firm Vintage20, is an authority on midcentury furniture and decorative arts by such icons as Jean Prouvé and Charlotte Perriand. When the couple—college sweethearts who met while they were students at Pepperdine University—purchased the five-story townhouse a handful of years ago, they initially had ambitions to gut and expand the residence. They wanted additional space to better accommodate their family of four as well as to display their standout collections of contemporary art and vintage furnishings.
[Slideshow: See more photos of Tina Kim's Manhattan townhouse]
But they decided to first test-drive the home by living in it for a couple of years while plans were drawn up for the renovation, which was to include another story and a rear addition. "The more we lived in it, however, the more we liked the way the interiors were," recounts Kim. "We wanted to keep the integrity of the original." Luckily, their trusted interior designer, Adam Charlap Hyman—a principal of the red-hot firm Charlap Hyman & Herrero—is something of an old hand, even though he's still in his 20s, at interpreting and adapting to their needs.
Kim was his very first client after he graduated from the Rhode Island School of Design in 2011, when she tasked him with remodeling and staging her previous apartment. Since then, they have also collaborated on her namesake West 21st Street gallery (the noted firm SO-IL did the architectural work) and a renovation of the family's Long Island beach house.
Working within the confines of the 1890s townhouse, however, had its challenges. For one thing, the narrow living spaces weren't exactly conducive to flexible seating arrangements or large-scale artworks. "We gave Tina three options for everything, representing different stylistic approaches, and she just chose," Charlap Hyman recalls. "She is extremely communicative and clear, with a very distinct vision."
The parlor floor, a continuous, open space from front to back, is delineated with groups of choice furnishings and objects that seem to float within the pristine white envelope. Spare, modern sofas and chairs by Pierre Jeanneret—all clad in graphic hide upholstery—are joined by a colorful collection of Georges Jouve ceramics displayed inside the minimalist fireplace, while rare Perriand consoles are installed beneath a mesmerizing video work by Bill Viola.
Recommended: Deborah Berke Partners Crafts a Refined Penthouse for a Major Collector
On the garden level below, Charlap Hyman covered portions of the kitchen walls in wainscoting for a more traditional look and created a cozy banquette in the bay window. Family meals are in the adjacent Red Room, an intimate space named for the color of its slender Prouvé table and crimson-hued accents. A second, more formal dining area is notable for the massive Haegue Yang lighting installation—crafted from window blinds and LED tubes—that fills the double-height atrium above a Jeanneret teak table and Prouvé chairs. Partially enclosing the space on one side is a pair of prized corrugated-steel brise-soleil screens designed by Prouvé in the 1960s for a school in the Congo.
Art, of course, is everywhere. Abstract paintings by Anselm Kiefer and Sterling Ruby are two of the many works by blue-chip Western artists that were purchased from Kukje Gallery, the legendary Seoul art space that Kim's mother, Hyun-Sook Lee, launched in 1983. "She was a pioneer, opening the first gallery to show Western art," Kim says. "Whenever my mom had a show, she would let me have the first pick, and I was able to buy some great pieces this way. When my husband and I were young, we couldn't afford some artworks so we would pay in stipends."
Since opening her own gallery in New York in 2001, Kim has regularly collaborated with Kukje Gallery on shows, and the two galleries have previously shared a booth at major art fairs, although Tina Kim Gallery shows independently at many international events. In the past, Kim and her husband never had enough space to collectively display their art and design gems—until, that is, they chose a quintessential New York brownstone with an old soul, and Charlap Hyman, a young designer who had the imagination to make it all work.
[Slideshow: See more photos of Tina Kim's Manhattan townhouse]
A version of this article first appeared in print in our 2019 Winter Issue under the headline "Calm, Cool, and Collected." Subscribe to the magazine.
Next Post