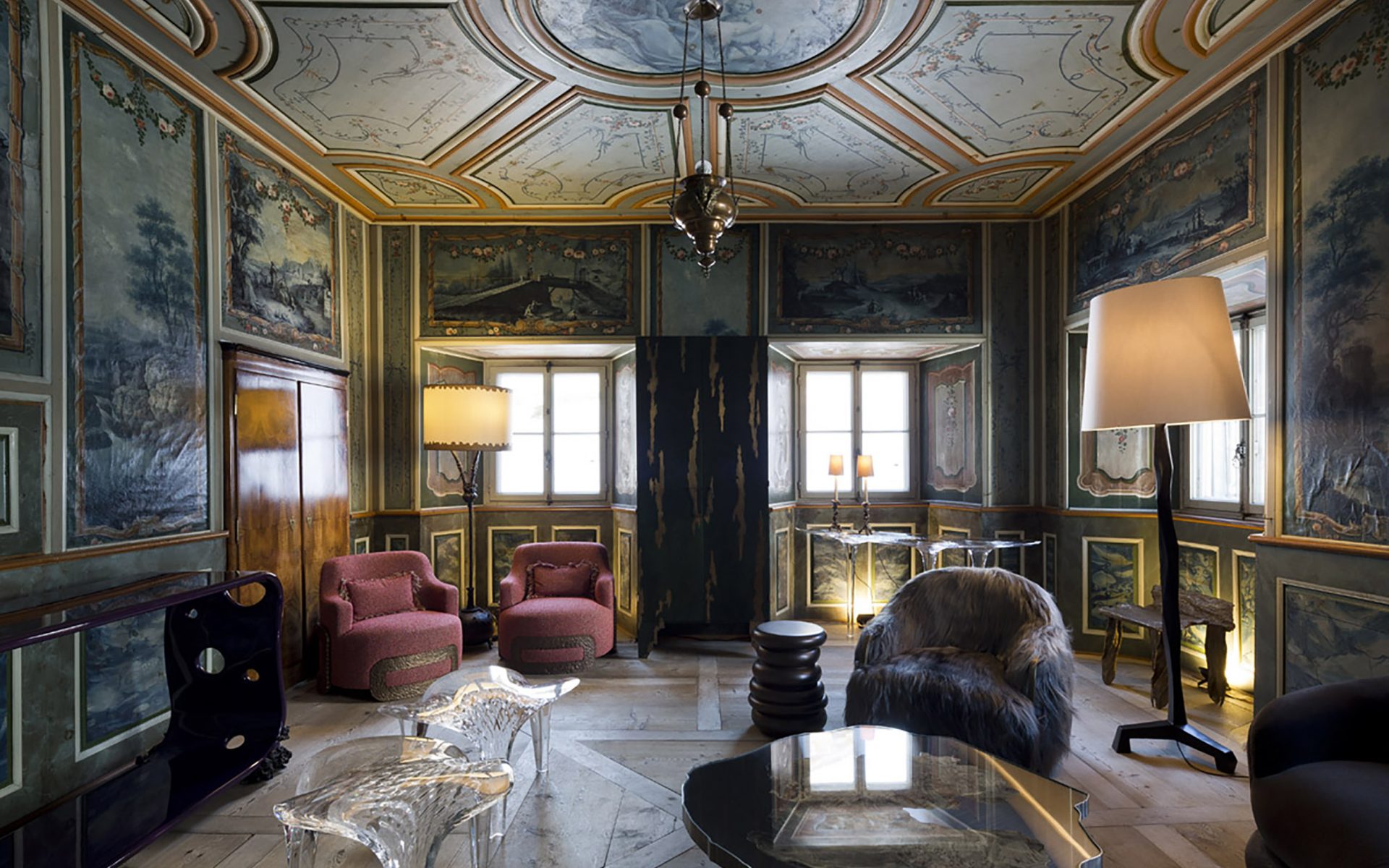 At NOMAD St. Moritz, Contemporary Art Mingles with Design in the Swiss Alps
NOMAD, the invite-only peripatetic design fair, seeks to create unique experiences for its visitors 
Nomad, the boutique fair that brings art and design to luxe architectural locations, kicked off its second edition in St. Moritz on February 7 with presentations by 25 leading international art and design galleries.
The peripatetic design fair, which is invite-only and seeks to create unique experiences for its visitors, takes up residence in historic spaces in St. Moritz, and Monaco and next up, Venice, in September. With each location meticulously chosen, the fair is tailored to the site and the presentations are selected ahead of time giving the fair a genuinely luxurious feel. Needless to say, it has raised the bar for boutique fairs everywhere.
The fair takes place in Chesa Planta, a stately home featuring baroque architecture in the local style whose history dates back to the 16th Century. Decorated with ornate stoves, painted wooden panels, and printed wallpaper and fabric, it's the perfect backdrop for an opulent fair in the Swiss Alps, which this time around favors sleek modernism with a touch of maximalism.
Visitors are in for a treat this weekend. But if you can't make it there, here are a few of the highlights.
1. Almine Rech
The blue-chip art gallery with branches in London, New York, Paris and Brussels brought stunning ceramic works by Countess Setsuko Klossowska de Rola. These ornate, organic, functional forms, which were complemented by the text works John Giono, combine both the detail associated with ceramic works and their functions as vases and incense burners. Also on view are two candlesticks, which comprise the Countess's first works in bronze.
2. Etage Projects
This Copenhagen-based gallery is known for showcasing works that merge art and design. Their booths are always creative. This time around, they're showcasing a stunning pale green resin desk by Sabine Marcelis alongside works by the French architect-designer and artist duo Superpoly. Their humorous pastel-colored, functional furniture is a wonder to behold. Also on display is a selection of unique single earrings made from gold and natural pearl by Danish jewelery designer Jo Riis-Hansen and a stripped back industrial coffee table by Bahraini-Danish.
3. Hunter-Harrison
This young London gallery brought a variety of fine art and design items from cutting edge to Modern and contemporary art. A standout at the booth were the vases by the young artist and ceramicist Clementine Keith Roach, which featured elements resembling parts of her body (that were taken from molds. The works have the finish of an archaeological find, this with the surreal and sexual language of the work makes for an exciting combination. Also on view are two early drawings by David Hockney, an early 1980s work by Bridget Riley and silk works by Soojin Kang.
4. Angela Weber Möbel
Italy vs Scandinavia was the theme of this Zurich gallery's booth. Angela Weber combines the Italian designer Paolo Buffa's wave motif of 1940s with the gentle simplicity of Axel Einar Hjorth's works. The playful wave motif Buffa's table and desk compliment Hjorth's chair beautifully. Making a spirited addition to the booth were Weber's own marble tiles that are shaped like tessellating puzzle pieces.
5. Massimo De Carlo
One work that captured people's attention at the preview was Mushroom Carpet, 2018 by Carsten Höller, at Massimo De Carlo, the Milanese gallery specializing in contemporary art. Also on view at their booth is a mirror work by Viennese collective Gelatin and two works by Rob Pruitt, Suicide 11, 2018 and Pandas and Parenting, 2018.
6. Rob Pruitt at YOOX
Internet retail site YOOX's display appears a little utilitarian among all of the curated rooms. But Rob Pruitt's Migration Moving Blanket, 2018, available as a series of editions online, are a surefire hit. An extension of his American Quilts series, these quilts by the Canadian artist provide a refreshing response to some of the politics surrounding migration in the United States. Each industrially produced blanket comes with a certificate of authenticity signed by Pruitt himself.
Next Post