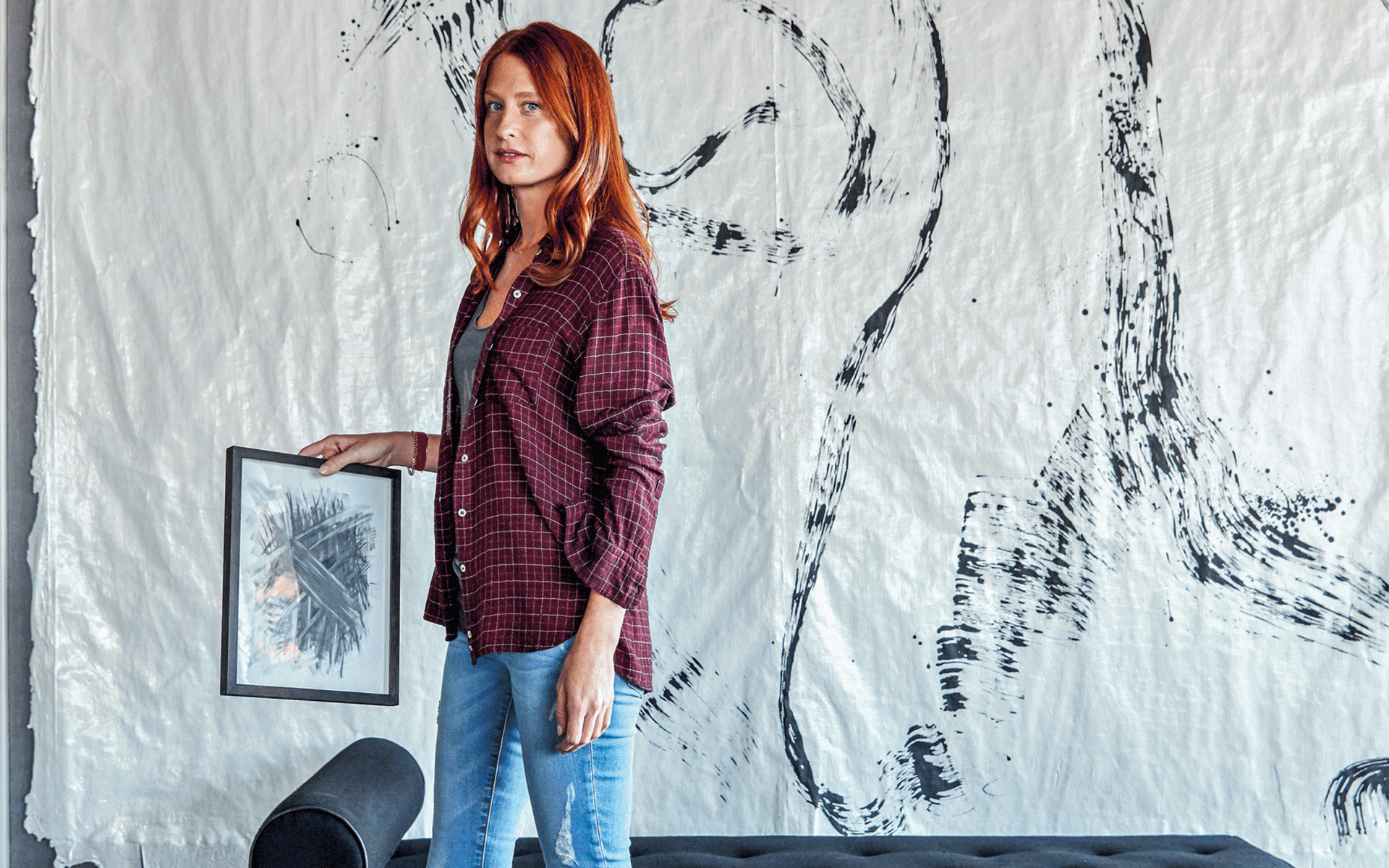 Art Fair Director Zélika García Opens the Doors to Her Mexico City Home
The Zona MACO founder worked with designer Luis Bustamante to create the art-packed aerie
In the never-ending tour that is the global art-fair circuit, Mexico City's Zona MACO has established itself as an essential stop. The most recent edition, in February, attracted 170 exhibitors, including heavyweights like Gagosian, Marian Goodman, and David Zwirner, while two successful offshoot shows, Zona MACO Foto and Salón, take place in August. A fourth, Zona MACO Desaño, coincides with the original.
The fairs have been buoyed by Mexico City's increasingly dynamic art scene as well as a new wave of world-class restaurants, hotels, and shops, but much of their success can be attributed to the leadership of Zélika García, who founded Zona MACO, short for México Arte Contemporáneo, 15 years ago. "I've never thought, I need to bring this or that gallery to Mexico, but it happens when you are doing things right," says García, adding, "Why would you want to go to a fair in Mexico if it's exactly like shows in London or Switzerland?"
A similar spirit of individuality defines García's apartment in the Del Bosque towers, twin 30-story high-rises overlooking the Bosque de Chapultepec—Mexico City's analogue to Central Park—in the upscale Polanco District. Designed by architect César Pelli and completed in 1997, the roughly cylindrical structures were originally built to house executives working in the adjacent Coca-Cola headquarters.
When García acquired her 5,000-square-foot, three-bedroom perch in 2014, it was a dark, paneled warren of rooms with dropped ceilings. "There were a lot of squares and closets and doors and not a lot of light," she says.
To transform the residence into an inviting showcase for her highly personal collection, García brought in Spanish designer Luis Bustamante, whom she met through a mutual friend. "We were both on the same page regarding the importance of art in the space," says Bustamante, who is known for designing palatial residences for Mexican VIPs like Eugenio López, the influential collector behind the Museo Jumex (his Mexico City home was featured in Galerie's Spring 2017 issue). As García recalls, "I told Luis, 'I want it to be my home, not a home by Luis Bustamante.' "
Recommended: Edgy Art Meets High Design at This Francis Sultana–Designed Home
With García busy overseeing the four Zona MACO fairs, her apartment is as much a retreat from her job as it is a reflection of it. Bustamante demolished walls and raised the ceilings to enhance the natural light, including in the trapezoidal living room, which has the feel of a luxurious airship deck with its sprawling half-moon Vladimir Kagan sofa and open views over the park.
Arrayed about the room are iconic vintage furnishings by Pierre Jeanneret, Jean Prouvé, and Charlotte Perriand from García's collection, combined with lamps, benches, and sofas designed by Bustamante. "Creating custom pieces," he says, "seemed like the best option to adapt to the fact that there were hardly any straight angles in the house."
The overall vibe could be described as decadently moody. Though the walls are white, ceilings are black lacquer and many floors are dark wood. Metallic finishes—notably in the shimmering kitchen, accented by a Gaetano Sciolari light fixture and Christian Dior barstools—are balanced with plush carpets and sumptuous upholstery.
Eye-catching artworks provide animation, including statement pieces García didn't have space for in her previous apartment. A two-panel geometric abstraction by Sarah Crowner presides over the foyer, while a wall-size monkey painting by Abraham Cruzvillegas hangs prominently in the living room.
Quite a few works in García's trove were made specifically for her by artist friends. Perusing the living room's floor-to-ceiling bookshelves, she points out drawings created for her by Anish Kapoor and Michelangelo Pistoletto, with whom she traveled to Cuba for the artist's 2016 exhibition at the Museo Nacional de Bellas Artes in Havana.
Recommended: Wilbert Das Designs Zen Brazilian Retreat for Art Dealer Ivor Braka and Kristen McMenamy
"Collecting is not about hoarding objects but about participating in artists' lives and how you relate to an artist's practice," says artist Mario García Torres, a longtime friend whose work is found throughout the apartment. "As a collector and fair organizer, Zélika is looking into the concerns of artists more than dealers, and her collection is not just about names—it's quite sophisticated."
Zona MACO's success has given rise to a thriving scene of concurrent satellite fairs and other events, helping to shine a spotlight on Mexico City's galleries, museums, and artists. With her own son now in college, García has become a den mother of sorts to artists, curators, and dealers working in or visiting the city. "I like to have stories behind the work I acquire because it makes it more fun," she says. "I'm buying a memory of an experience I had. All the stories make a collection more interesting."
A version of this article first appeared in print in our 2018 Winter Issue under the headline Creator, Connector, Catalyst, Collector. Subscribe to the magazine.
Next Post