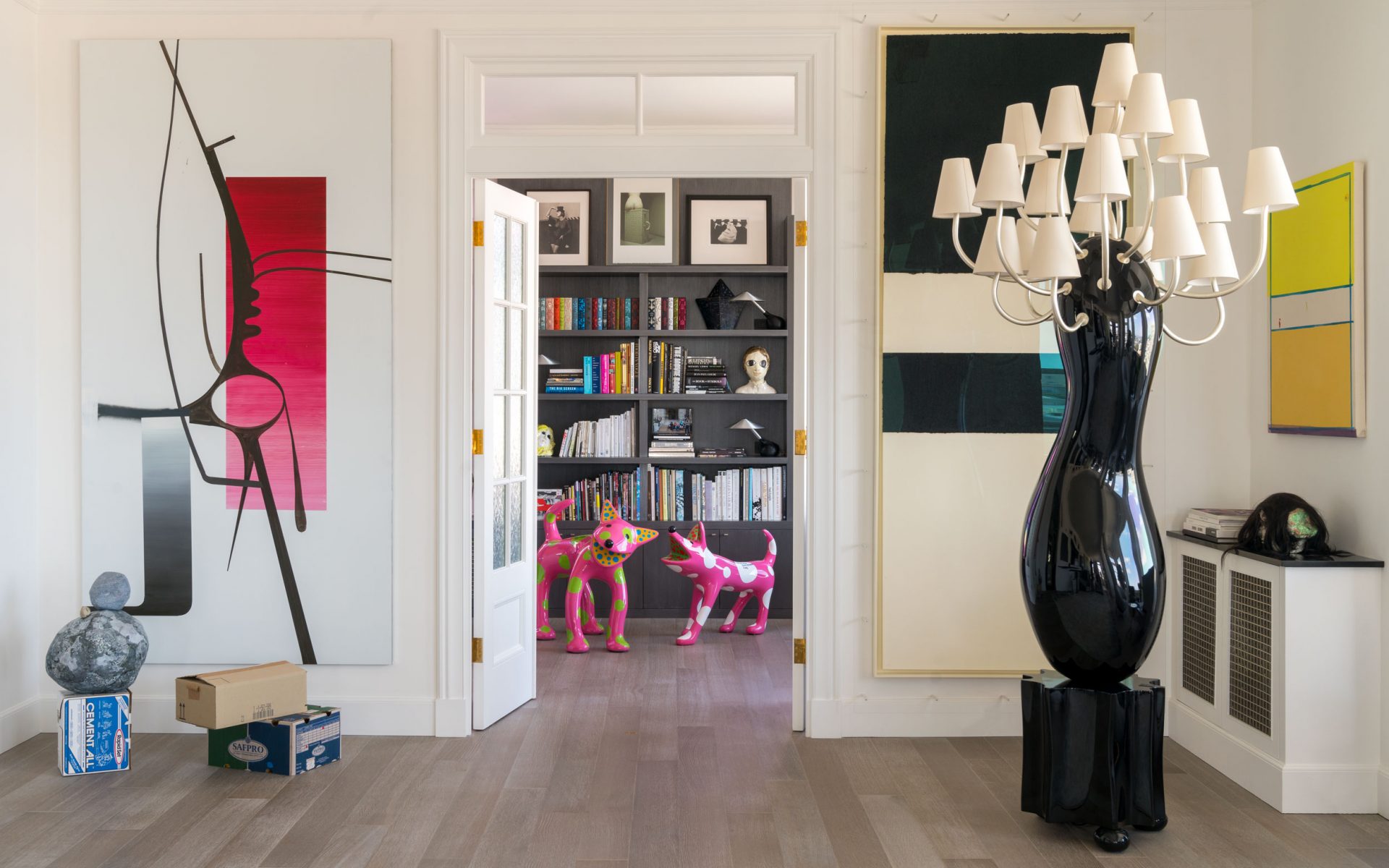 Edgy Art Meets High Design at This Francis Sultana–Designed Home
Works by Zaha Hadid, Yayoi Kusama, Urs Fischer, and more create a major impact
Living with cutting-edge art can have its challenges. Dynamic pieces that stand out against the pristine backdrop of a white-walled gallery can lose their punch in a domestic setting. How do you create interiors that accentuate bold, brash works of art without having to live in a cold white box? To solve that problem, one San Francisco collector turned to a kindred spirit to help her design an inviting, deeply personal home that is as exhilarating as her art.
Six years ago, when Shaari Ergas bought a new apartment in a classic 1920s building in Pacifi­c Heights, she was ready for a change. Having gifted her collection of modern Latin American art to the NSU Art Museum in Fort Lauderdale, Florida, where she had previously lived and worked as a real-estate developer, Ergas, now an entrepreneurial investor, turned her focus to contemporary works. She wanted her home to reflect that shift, with open rooms that flow together and where nothing is too precious for the rambunctious play of her two grandsons. "I was looking for the scale and proportion and aesthetics of European design," she recalls, albeit infused with a low-key California sensibility. And she knew exactly whom to enlist for the job: her friend Francis Sultana.
If any designer has fi­gured out the recipe for living harmoniously with art, it's Sultana, a master tastemaker who's made a career of devising superstylish homes for serious connoisseurs. The London decorator is a passionate collector himself. He shares his life with David Gill, the prominent dealer of contemporary design, and also serves as his gallery's artistic director. Naturally, Sultana's eclectic projects tend to incorporate at least a few pieces by designers from the gallery's celebrated roster, which includes Mattia Bonetti, Zaha Hadid, and the Campana brothers, alongside his own polished furnishings—all of which more than stand up to powerful contemporary art.
Recommended: Designer Lillian Fernandez Creates Her Dream House in Palm Beach
While his interiors typically feature clean, neutral backdrops (better for pumping up the volume of colorful art like Ergas's), they are anything but sterile. "Good collectors have strong, inspiring visions. These are people who buy art because it's in their DNA," Sultana says. "Shaari had a very clear idea of what she wanted: an apartment for collecting, not decorating. She needed an editor. For me, it was about the editing of a collection, almost like being a curator."
A two-year renovation of Ergas's apartment involved removing walls to create the open, loftlike layout she coveted, raising interior doorways to the full ten-foot ceiling height and stripping a central structural column in the main living area of its bulky drywall to reveal its original concrete, which in turn inspired the pale shade of smoked-wood flooring used throughout. Then it was time for Sultana to practice his magic.
[Slideshow: See more photos of Shaari Ergas's San Francisco apartment]
To take advantage of the living room's spectacular views of Alcatraz and the Golden Gate Bridge, he designed a low-slung, three-part, serpentine sofa whose sections swivel easily, thanks to wheels hidden in the bronze legs. Ergas can choose to sit facing the windows or turn the sections around and push them together in a semicircle to watch movies with friends on a screen that is mounted among works by Richard Prince and Yayoi Kusama. (It is also used to show video art.) Sumptuous velvet upholstery and silken rugs underfoot add warmth and comfort—the kind of welcoming, so­ touches that offset edgy art. "There's something very casual yet sophisticated about how Shaari likes things," Sultana explains. "It looks very natural, not making any one thing into a trophy."
Despite the undeniable elegance of the spaces, a sense of humor and wit prevail, in both the art and the furnishings. Adam McEwen's sculpture of a pair of legs stepping into buckets protrudes surreally from high up on a kitchen wall. Kusama's polka-dot dog sculptures frolic in the library, which is outfitted with a silver-footed Garouste and Bonetti ottoman covered in emerald-green kidassia goat fur.
Recommended: 12 Art and Design Heavyweights Share Their Stunning Collections
A towering Jacin Giordano sculpture made of stacked cloth toilet-seat covers brings a rainbow of colors to the dressing area off the master bedroom. "For me, the art has to reflect who I am," says Ergas, noting that such decorative covers were common in the Florida apartments she renovated. In the living room, meanwhile, Sultana paired paintings by Ugo Rondinone and John Giorno—a wink to the fact that the artists are partners in life.
[Slideshow: See more photos of Shaari Ergas's San Francisco apartment]
It's the kind of insider touch that seasoned collectors appreciate. "I live with art, and my clients know I understand it," Sultana says. "I get how they want to live. I get what they have and that they need homes that function and are flexible." Most important, he adds, is "putting something together that captures the character and personality of the homeowner. When you get it right, it's a joy to the eye."
A version of this article first appeared in print in our 2018 Winter Issue under the headline Forward Focus. Subscribe to the magazine.
Next Post