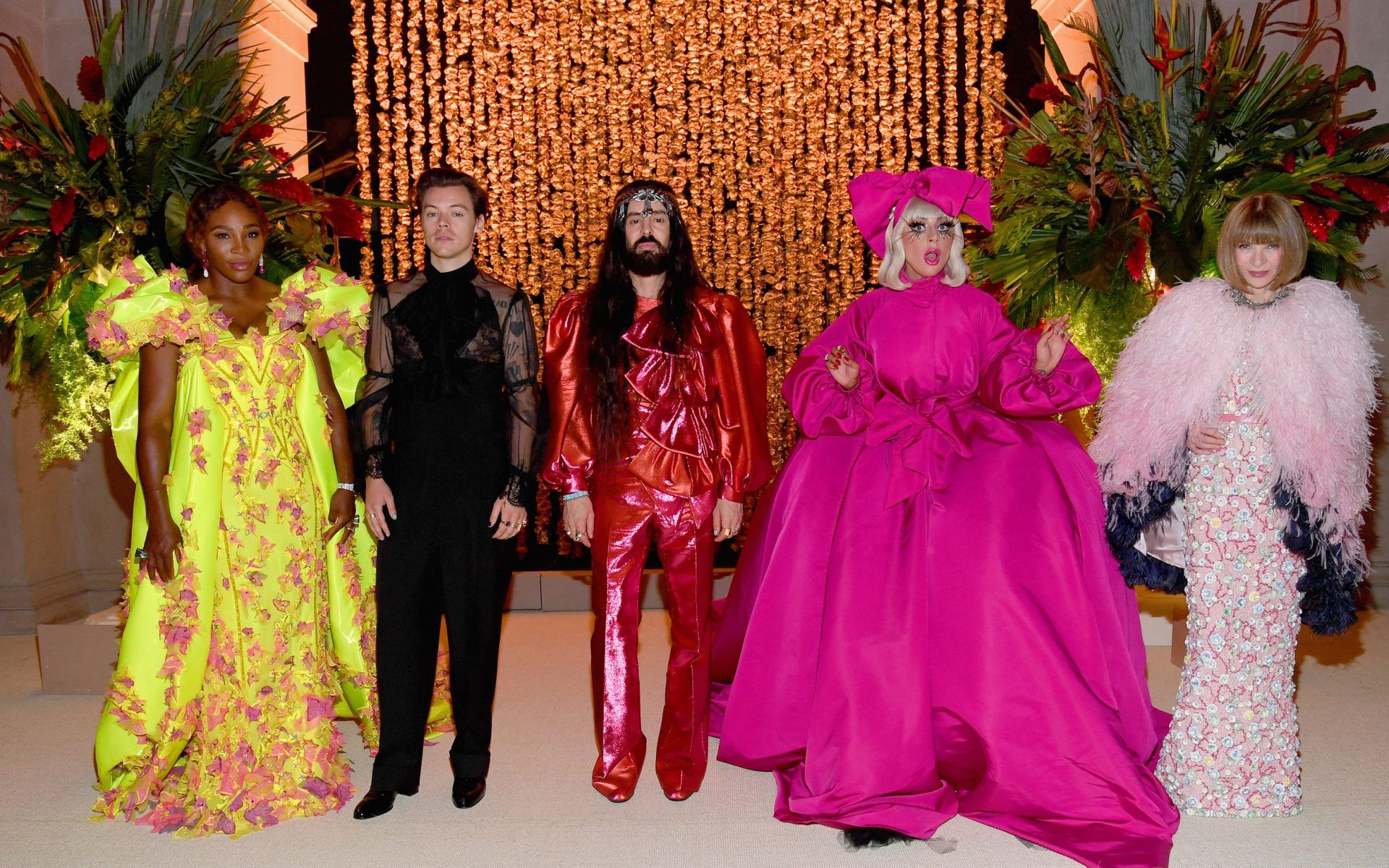 The Most Artful Looks from the Met Gala
Revelers at the Met Gala took Susan Sontag's words to heart for their walk down the red carpet
"The essence of Camp is its love of the unnatural: of artifice and exaggeration," wrote Susan Sontag in her famed 1964 essay, "Notes on Camp." In defining the term, she codified an aesthetic sensibility that was "one of the hardest things to talk about."
Yet, with the kickoff of the Met Gala on Monday night, which tends to be the campiest stage in regular years, the term may be at the height of its talked-about-ness. There was Katy Perry masquerading as a crystal chandelier, Jared Leto carrying a copy of his own head, and the Kardashians and Vogue editor in chief Anna Wintour decked out in plush, colorful plumage.
And the choices were nothing if not artful. Here are our top picks of the most artfully inspired outfits of the night.
Recommended: A First Look at Camp: Notes on Fashion at the Metropolitan Museum of Art
Janelle Monae channeled Pablo Picasso and Salvador Dalì for her Met Gala turn, which was styled by Alexandra Mandelkorn and designed by Christian Siriano. "We looked to campy surreal art for our inspiration," Mandelkorn told Variety. "Janelle is a huge fan of Picasso and Dalì, and we really wanted the surreal nature of their works to come through in the look."
We'd like to think that Katy Perry's chandelier number was inspired by artist Danh Vo, whose 2018 Guggenheim show, "Take My Breath Away," featured three chandeliers acquired from the Hotel Majestic. Likely not, but Perry's Moschino dress was among the few that left us speechless.
Recommended: A First Look at 'Camp: Notes on Fashion' at the Metropolitan Museum of Art
We know that Billy Porter's ensemble, designed by the Blonds (Phillipe Blond and David Blond) and called "Sun God," was inspired in part by Elizabeth Taylor's Cleopatra and Cher's Bob Mackie outfits, but we can't help but see in this look Gustav Klimt's iconic silver-and-gold-leaf Portrait of Adele Bloch-Bauer, also known as The Woman in Gold.
Lady Gaga cycled through four different outfits by Brandon Maxwell and $2 million in Tiffany diamonds on her outing. But with her initial voluminous dress and her entrance accessorized by a team of umbrella-wielding men, we couldn't help but feel this was an exaggerated take on George Seurat's pointillist masterpiece A Sunday Afternoon on the Island of La Grande Jatte.
Cara Delevingne's candy-striped Dior jumpsuit (which reportedly took 600 hours to make) and her surreal headdress replete with sculptural fingers and windup teeth is a campy modern take on Frida Kahlo's self-portraits in floral headdresses and odd jewelry like severed hands for earrings, as seen in this self-portrait. Delevingne's rumored homage to Pride also seems in line with Kahlo's exploration of questions of gender and identity.
Recommended: Explore Grace Kelly's Most Iconic Looks at the Christian Dior Museum
Ezra Miller walked in wearing a Burberry suit and rhinestone corset and carried a mask of his own face. But when he lowered the mask, his face was painted with five eyeballs surrounding his actual eyes. This seeming homage to the surreal photography of Man Ray and the paintings of René Magritte caused us to look twice.
Next Post