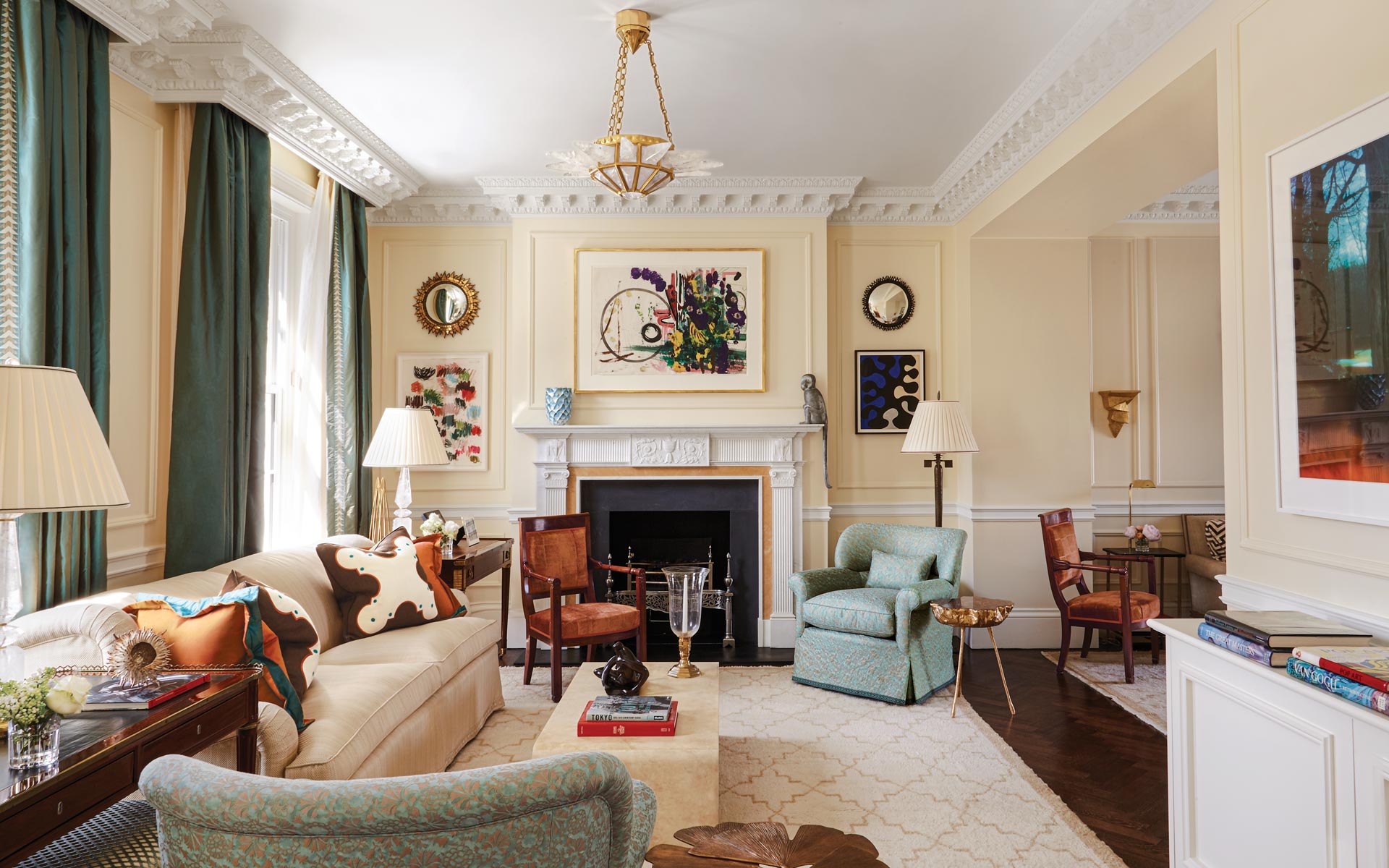 Stewart Manger Adds a Modern Touch to a Historic London Townhouse
It's all about distinctive details and a spirited mix of contemporary and traditional in the designer's artful update of a U.K. residence filled with blue-chip artwork and collectible design treasures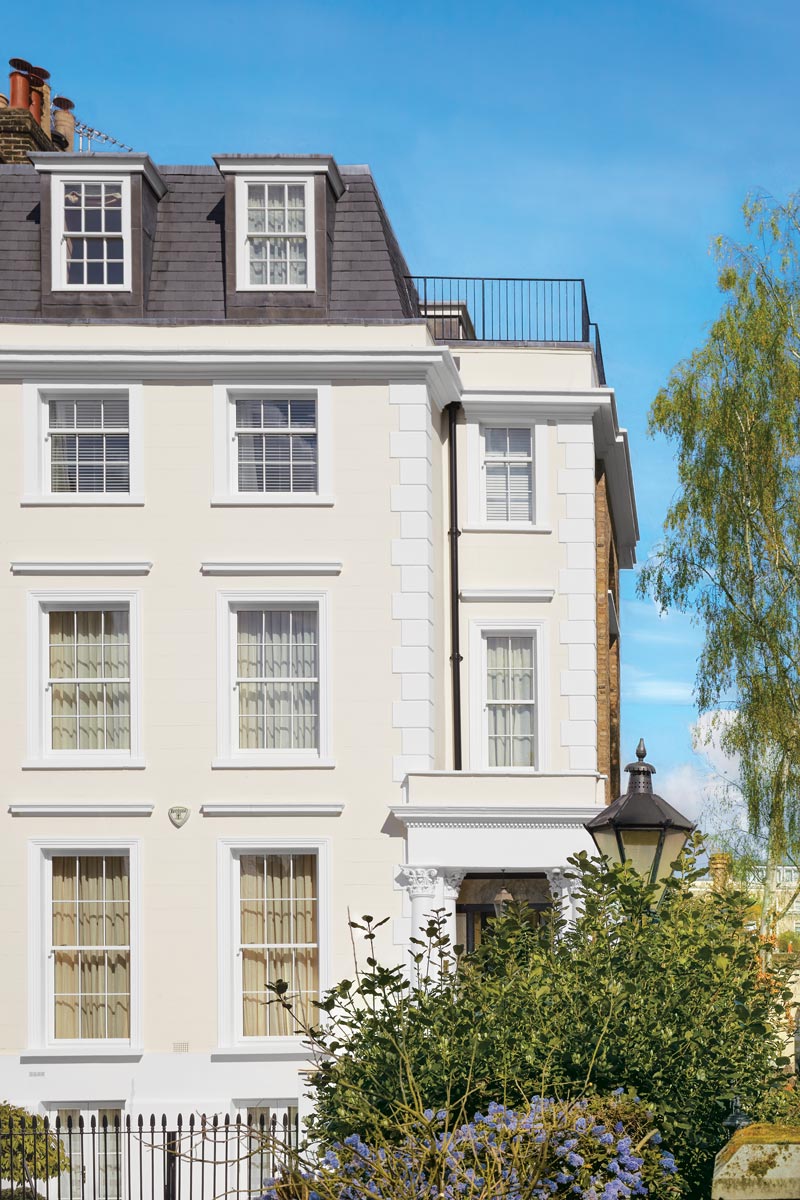 Dorothy Parker's definition of creativity as "a wild mind and a disciplined eye" describes Stewart Manger's approach to interior design to a T. Manger has spent the past 20 years honing his personal aesthetic on visits to historic houses, museums, and galleries throughout the Far East, India, Europe, and Africa, and accumulating whole heaps of ideas to draw upon to create edited but vibrant rooms that always offer hits of the unexpected.
For one of his most recent projects, Manger was enlisted by longtime clients to transform a prim 19th-century townhouse in Kensington, London, into a luminous family home. The five-story, stucco-clad residence has all the hallmarks of classically inspired Georgian architecture, with its columned portico, symmetrical windows, and minimal ornamentation.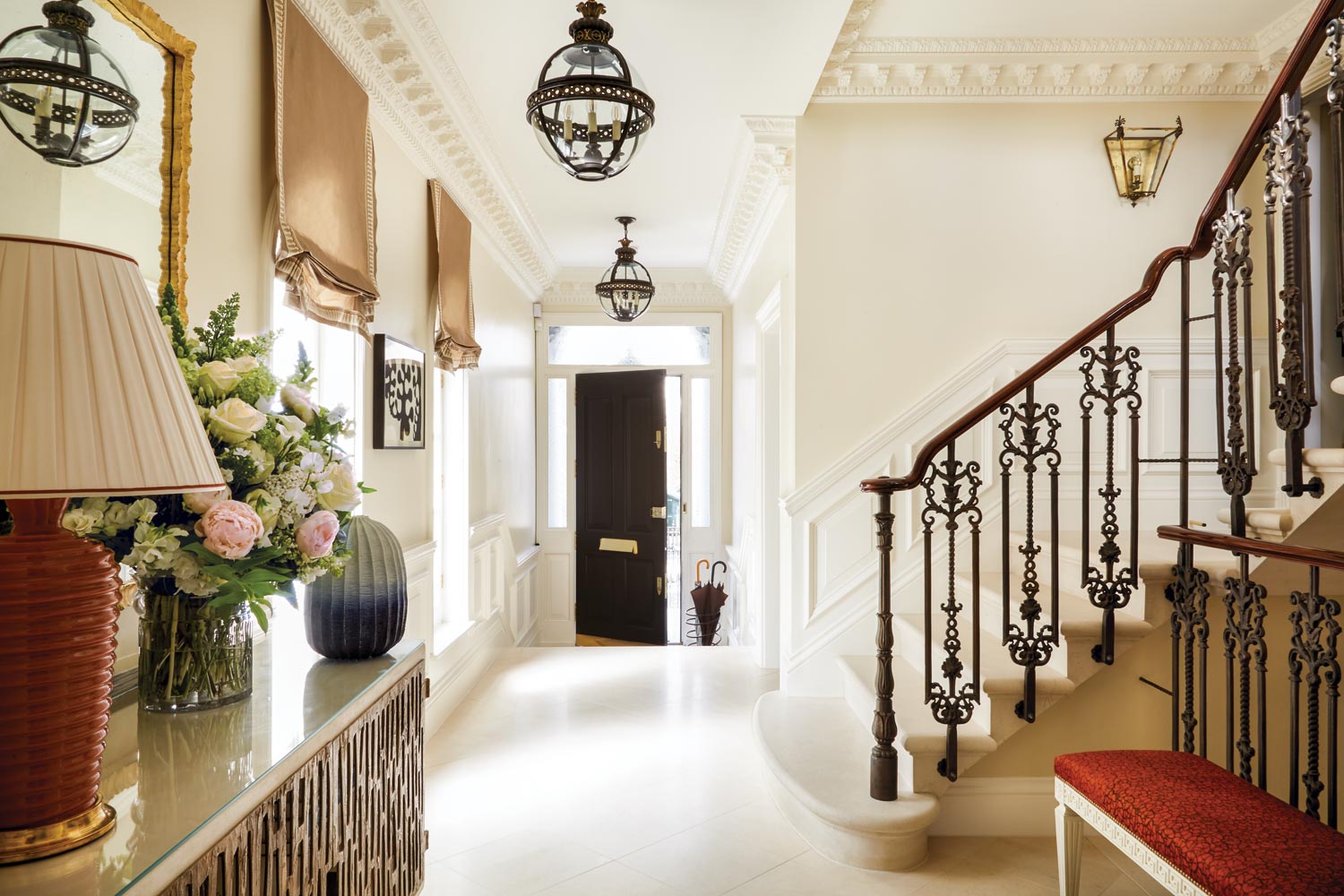 Previous owners had undertaken an extensive refurbishment, updating floors, paneling, crown moldings, and other architectural details, enabling Manger to dive right into the decor. From the outset, his guiding principle was to artfully balance his clients' growing passion for 20th-century design with the historic setting. "You have to be sympathetic both to the strength of the architecture and to your client's taste," says Manger, who interspersed furnishings that project a modern—often Art Deco—vibe with more traditional pieces throughout.
The house's typically Georgian entrance hall features a limestone floor and a staircase with a graceful iron railing. Manger enhanced the entry's pleasing proportions and quiet restraint with one of W. P. Sullivan's gilded mirrors installed above a plaster cabinet custom crafted by Patrice Dangel with perforated iron doors. An abstract work by Leon Polk Smith, one of the founders of the hard-edged school of Minimalism, hangs above a trim Louis XVI side chair nearby.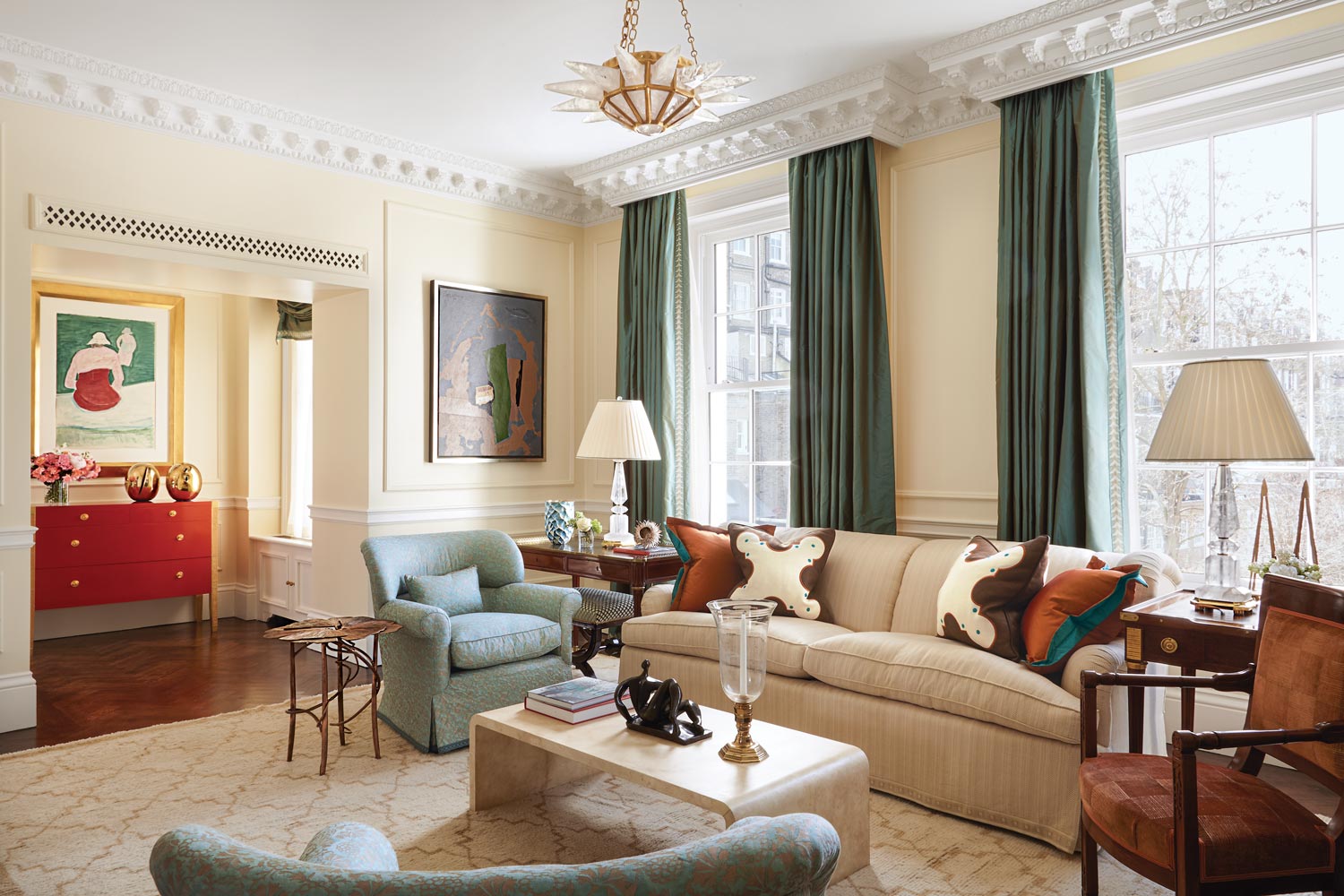 For Manger, a space often begins with a rug. In the case of the L-shaped living room, Moroccan trellis-pattern carpets provide a neutral, subtly spirited background for a zesty palette of turquoise, cinnamon, and gold. Artworks by Günther Förg, Sigmar Polke, and Robert Motherwell add complementary chromatic splashes. "While designing the house, we took the opportunity to create a collection that the owners could continue to grow," Manger says.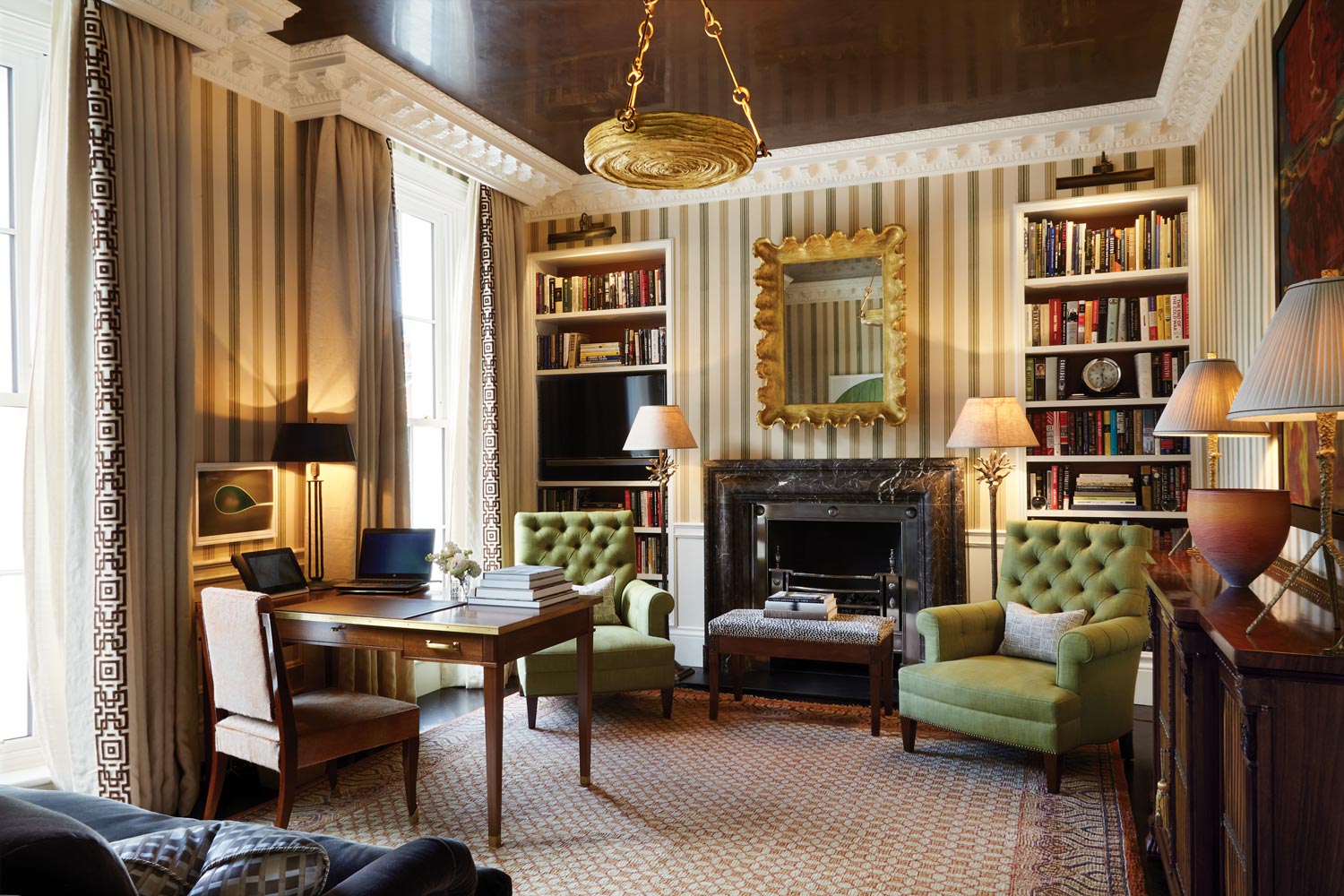 That includes important design pieces, too. In the living room's main seating area, beneath an eye-catching Alexandre Vossion rock crystal chandelier, Manger arranged the sofa and Fortuny upholstered armchairs around an elegantly unadorned parchment cocktail table designed in the style of Jean-Michel Frank. Animating the mix are sculptural side tables by Claude Lalanne and Hélène de Saint Lager, sunburst mirrors by Line Vautrin, and a François-Xavier Lalanne monkey perched on the mantel. Making the most of an alcove at one end of the room, Manger hung a vibrant Milton Avery painting above a red-lacquered commode commissioned from Louis Cane that hosts a couple of bronze sculptures by Lucio Fontana.
"I like to take every opportunity to do something special"

Stewart Manger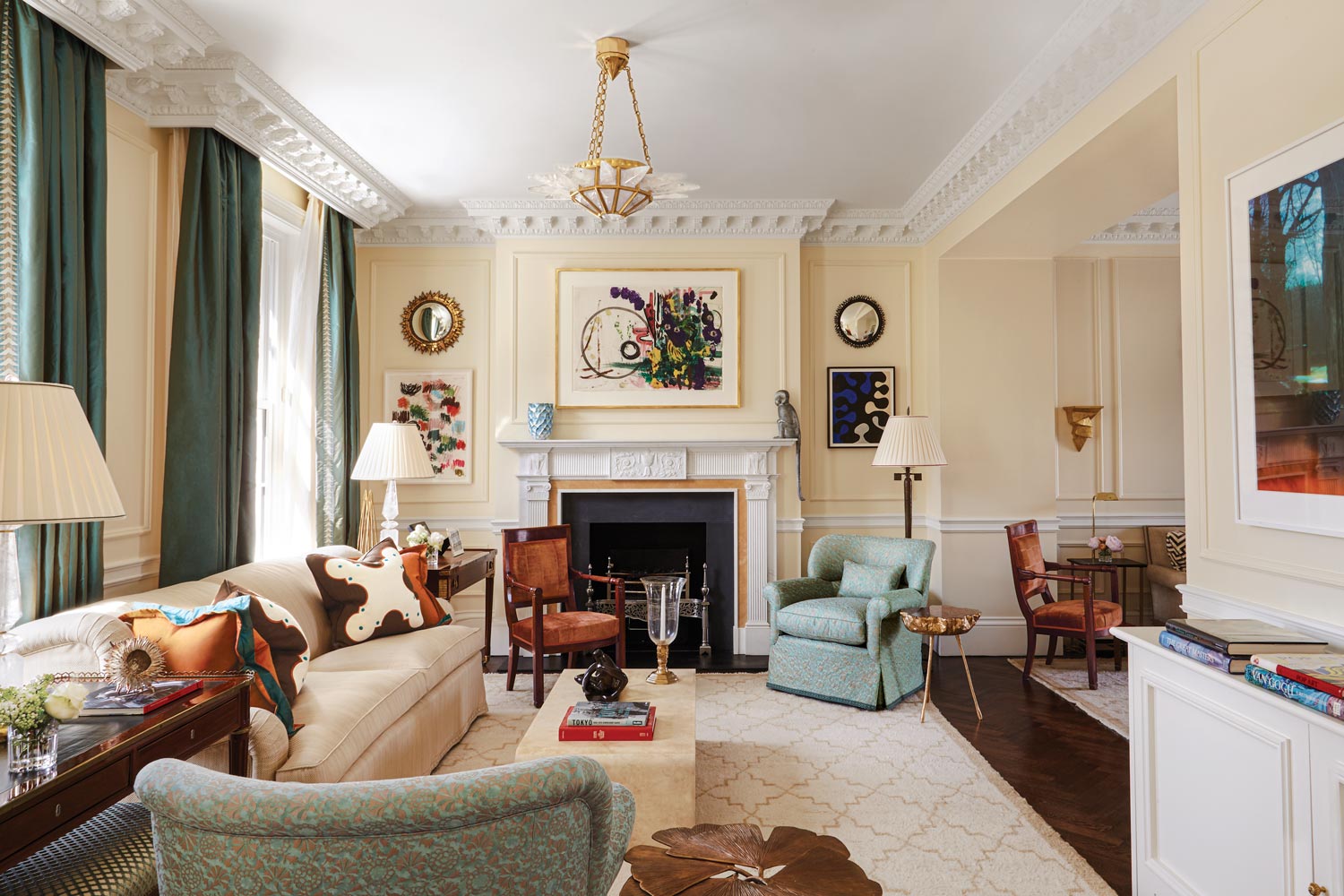 In the cozy office, a Patrice Dangel gilded-plaster dish light reflects an ambient glow off the glossy brown Venetian-plastered ceiling, while floor lamps by Paolo Moschino for Nicholas Haslam—among Manger's first purchases for the home—join tufted armchairs on either side of the fireplace. A small Wolfgang Tillmans photograph overlooks the Atelier Viollet desk and its attendant chair by Art Deco master Jules Leleu, and a Per Kirkeby abstract painting is mounted above an antique cabinet opposite. "It's all about the mix," says Manger, who papered the room's walls in custom hand-blocked green and beige stripes and trimmed the curtains with a richly patterned embroidery.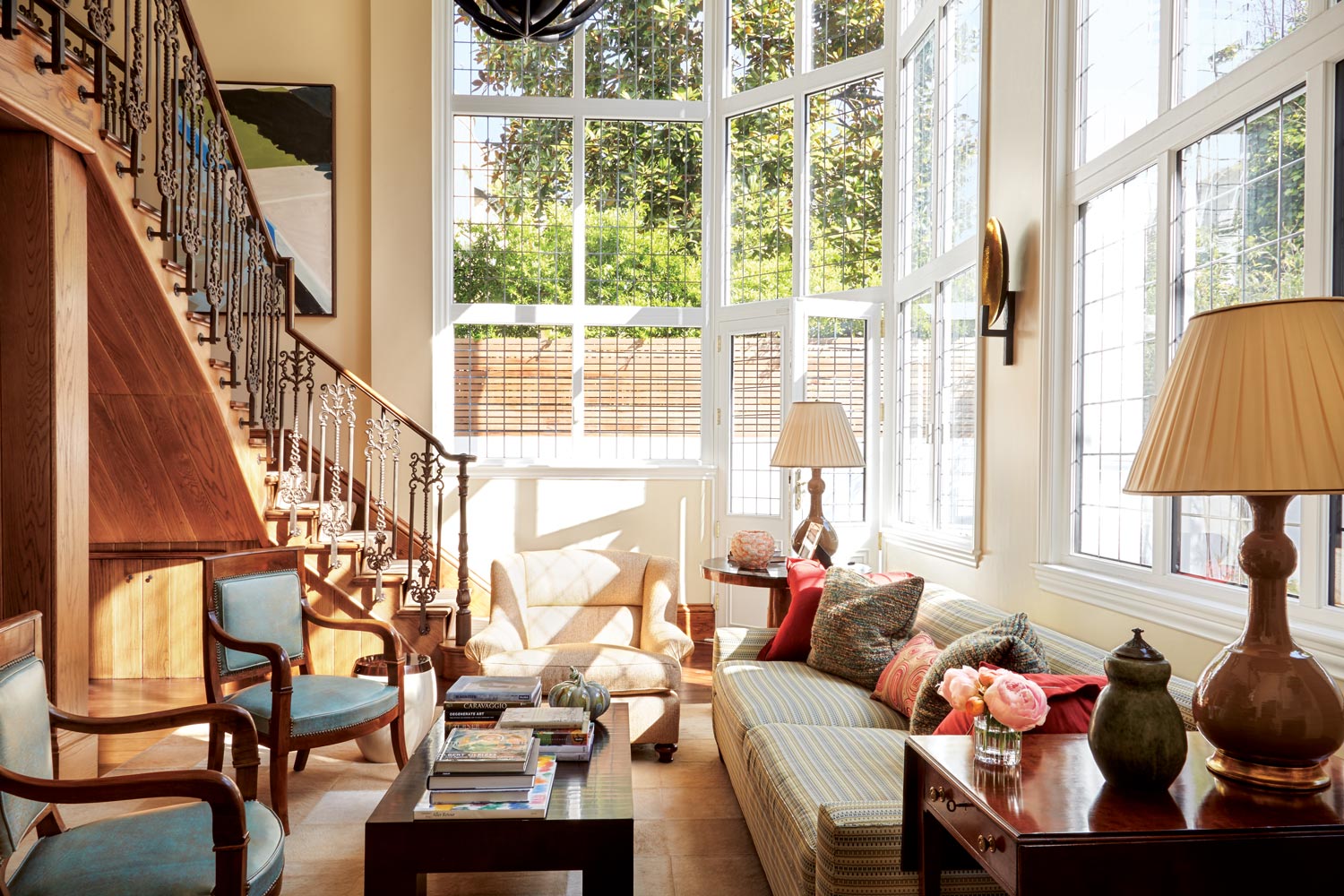 "I like to take every opportunity to do something special," the designer says. "It makes such a difference." Bespoke touches appear throughout the house—many of them collaborations between Manger and the artisans he works with—whether mixing the primary bedroom's pale-blue paint on-site to get it exactly right or commissioning Hubert Le Gall to create a cabinet in straw marquetry and black lacquer for the room. "The work of these artisans is what makes a house special," says Manger.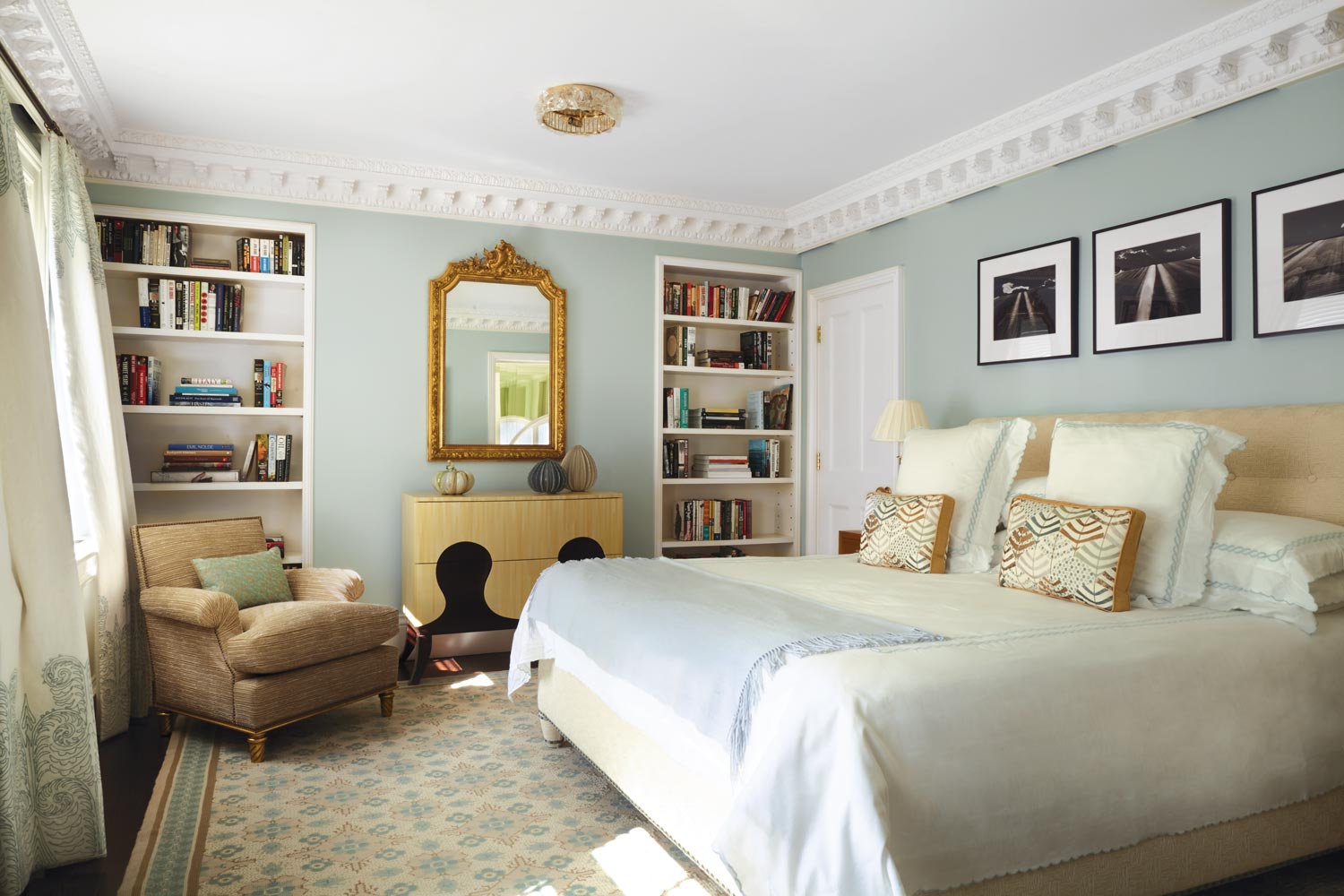 When asked if anything didn't go according to plan, Manger—who is famously organized—considers the question. "Well, right after we purchased a Frank Bowling painting for the family room, the Tate announced a retrospective of his work. Does that count? I mean, how lucky is that?" Perhaps you can craft your own luck with a savvy designer, especially one who's got a keen respect for history but also has his finger firmly on the pulse.
A version of this article first appeared in print in our 2021 Fall Issue under the headline "Wit & Polish." Subscribe to the magazine.
Next Post