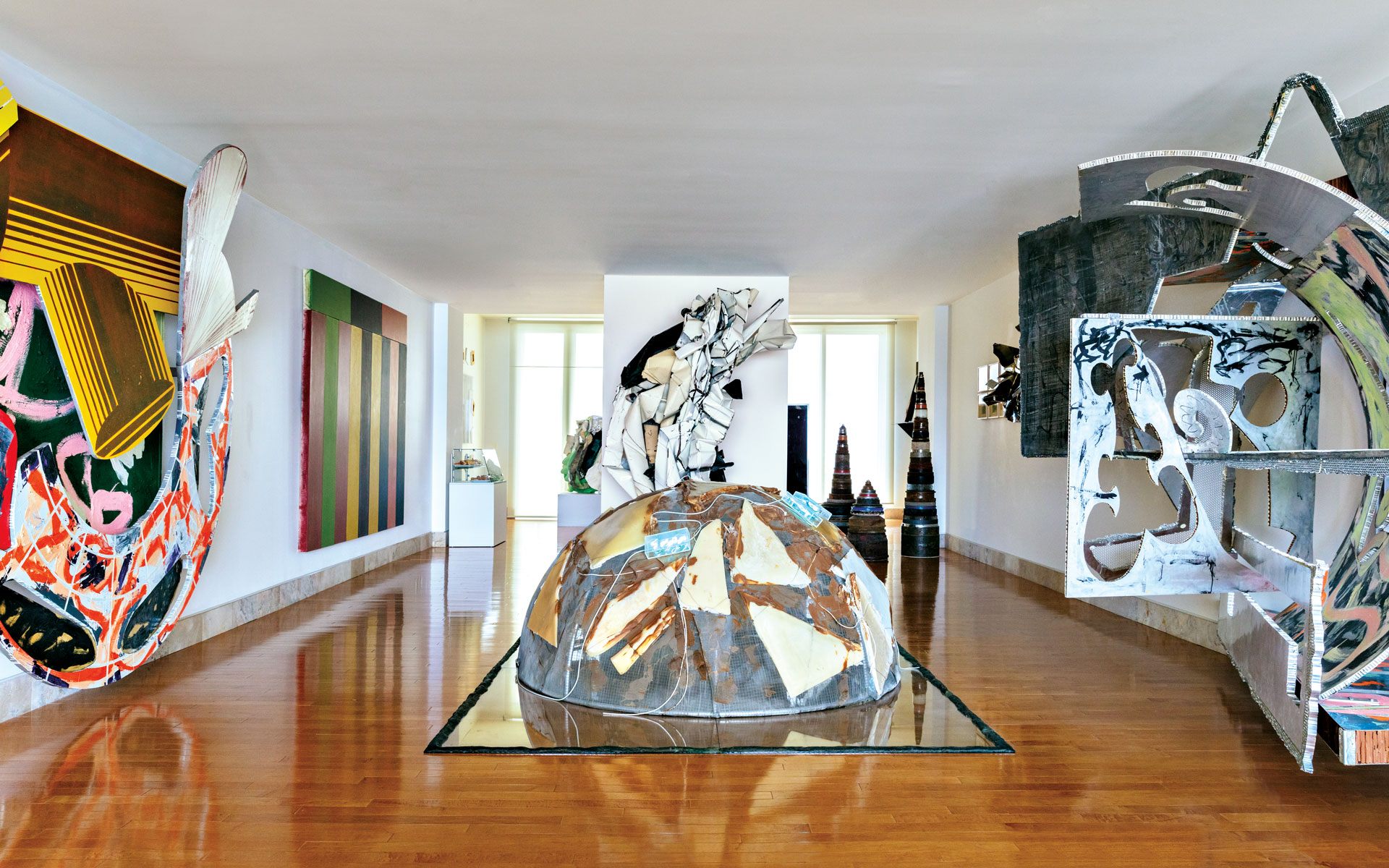 Interiors Where John Chamberlain's Arresting Assemblages Take Center Stage
Whether tabletop or monumental, the American artist's crumpled-car sculptures pack a punch
For blue-chip art collectors, garages are far from the only place to display cars. Indeed, when they have been crushed under the hand of eminent sculptor John Chamberlain, automobiles and their assorted parts make mesmerizing additions to one's library, dining room, or living area. While the Indiana-born artist experimented with other mediums, including paper and foam, it was his use of metal that rendered him one of America's most important postwar sculptors.
Rising to fame in the 1950s and '60s, Chamberlain created an oeuvre all his own by drawing on Abstract Expressionist painters, such as Franz Kline and Willem de Kooning, who were also his mentors, as well as the readymade creations of Marcel Duchamp. While Chamberlain's sculptures' crushed nature imbues each with ambiguity, their glorification of painted-steel cars makes them distinctly American. Below, discover homes from Galerie's archives that feature Chamberlain's crumpled-metal assemblages in a variety of colors and sizes.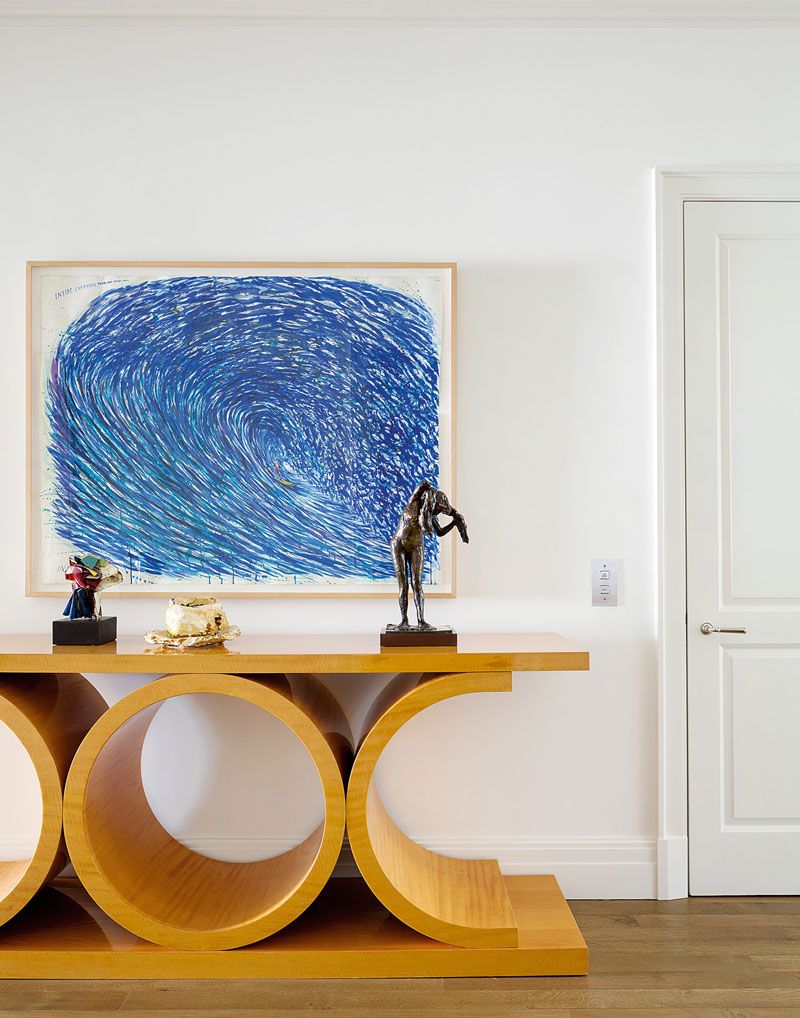 1. Thanks to designer Madeline Stuart and architect Marc Appleton, every part of this Los Angeles home offers high-impact, artful focal points. The stately two-story, white-brick Georgian exterior gives way to a contemporary-gallery-like interior with artworks by Frank Stella, Yayoi Kusama, Chamberlain, and more.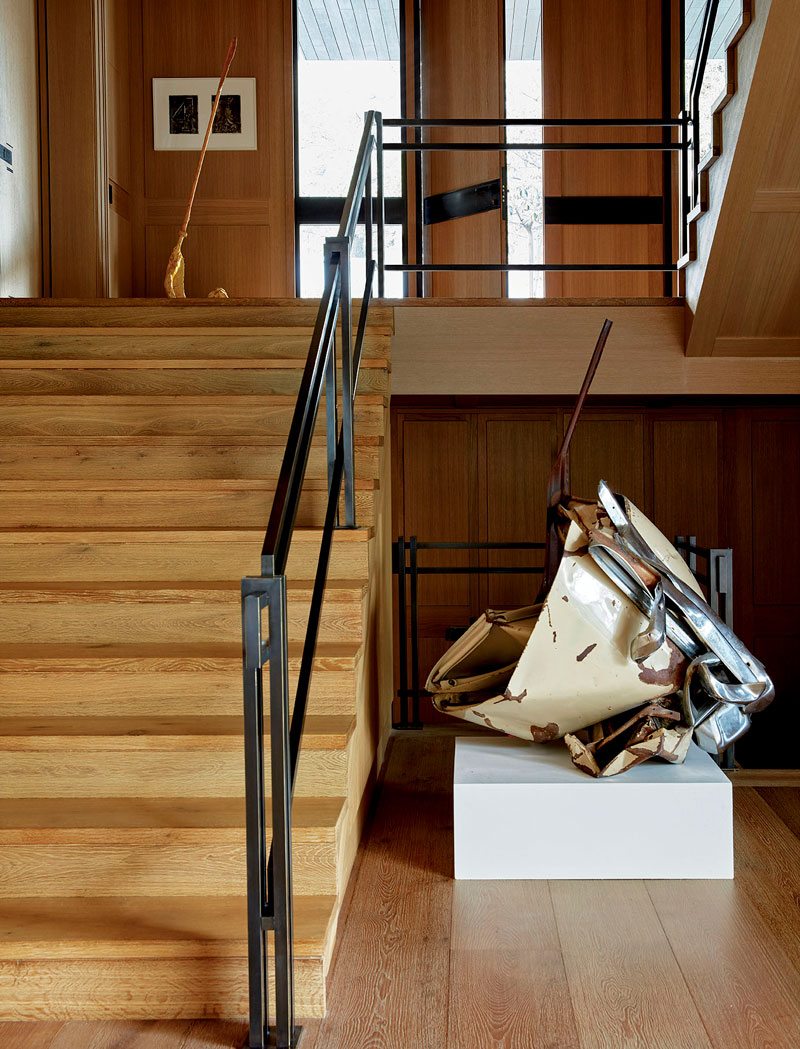 2. When it came to renovating his modernist 1970s home in Mexico City, Museo Jumex founder Eugenio López tapped Madrid designer Luis Bustamante. The resulting 16,000-square-foot house offers plenty of space to display López's collection of 3,300-plus modern and contemporary works. Art can be found at each of the property's three levels, including here, where a Chamberlain sculpture flanks a wooden staircase.
3. Stacey Bronfman, a passionate collector of contemporary art and high-design furnishings, turned to French designer Jacques Grange to complete her art-filled Fifth Avenue residence. In the library, pieces from various times and period—including the corner's colorful Chamberlain sculpture—punctuate the warm-toned space.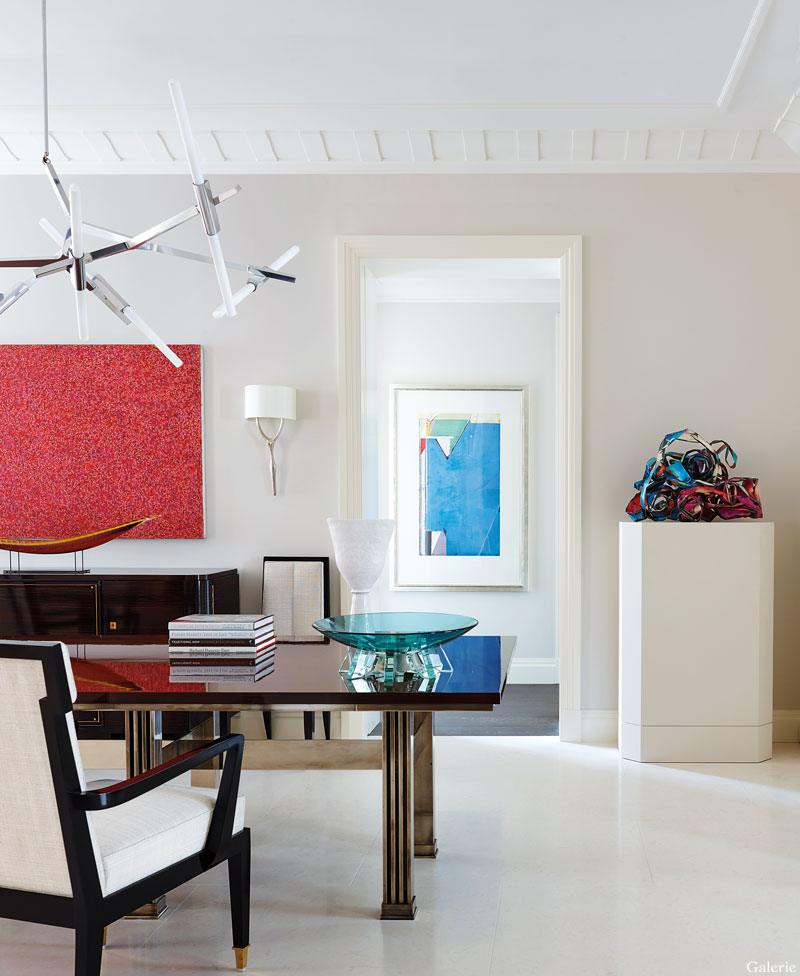 4. Jane and Budd Goldman's Park Avenue apartment was designed by David Kleinberg Design Associates (DKDA) and architect John B. Murray; Matthew Bemis of DKDA served as the project designer. In their dining area, a multicolored Chamberlain sculpture complements works by Richard Pousette-Dart and Richard Diebenkorn.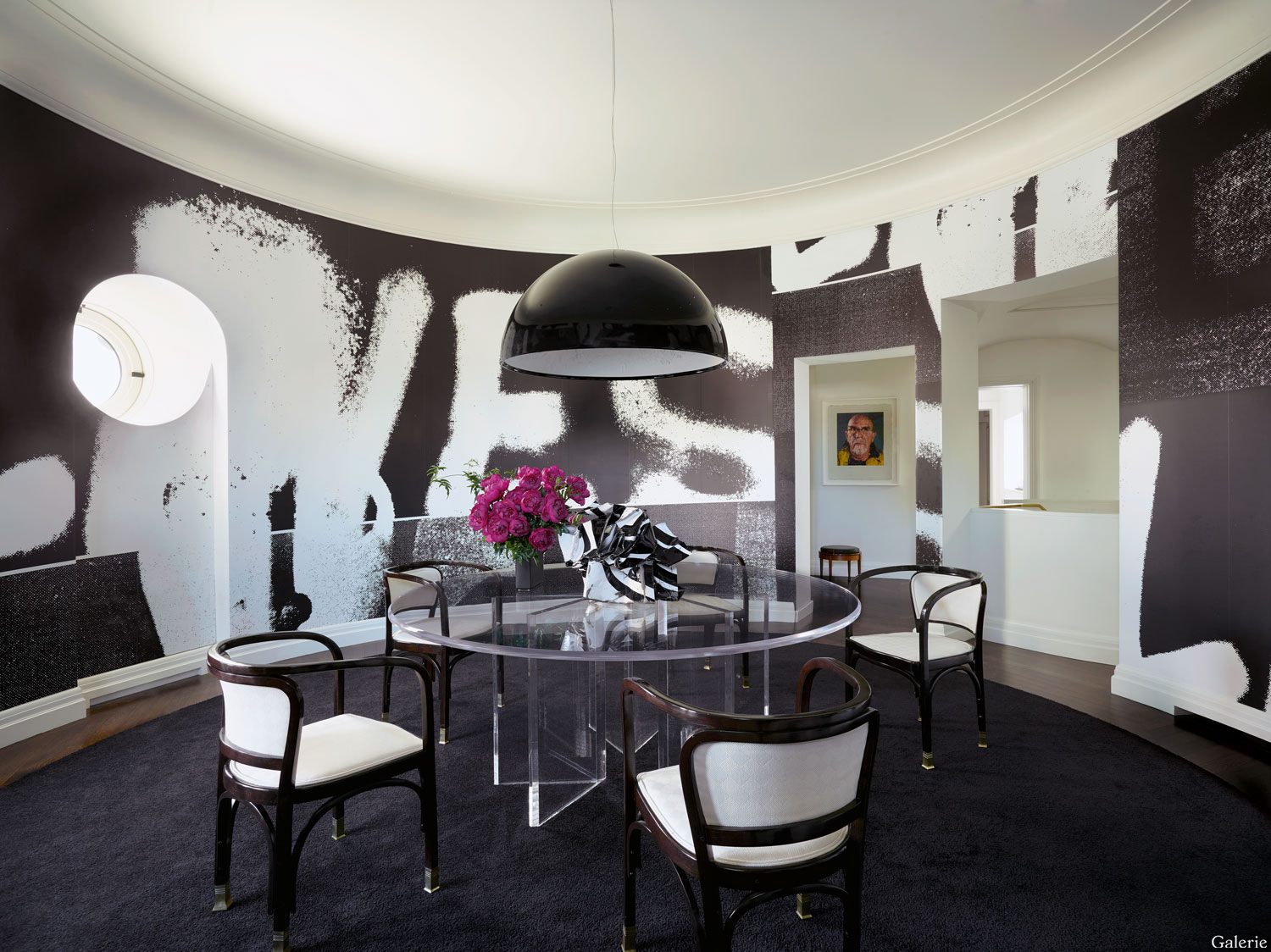 5. Architect Alan Wanzenberg helped art advisor Andrea Glimcher craft the perfect setting for a world-class art collection at the famed Ansonia Building on Manhattan's Upper West Side. Several works by Chamberlain are featured, including a crumpled-metal sculpture that the artist gave Glimcher as a baby gift. In the dining room, a tabletop Chamberlain sculpture is surrounded by an immersive wall work that artist and friend Adam Pendleton created uniquely for the space.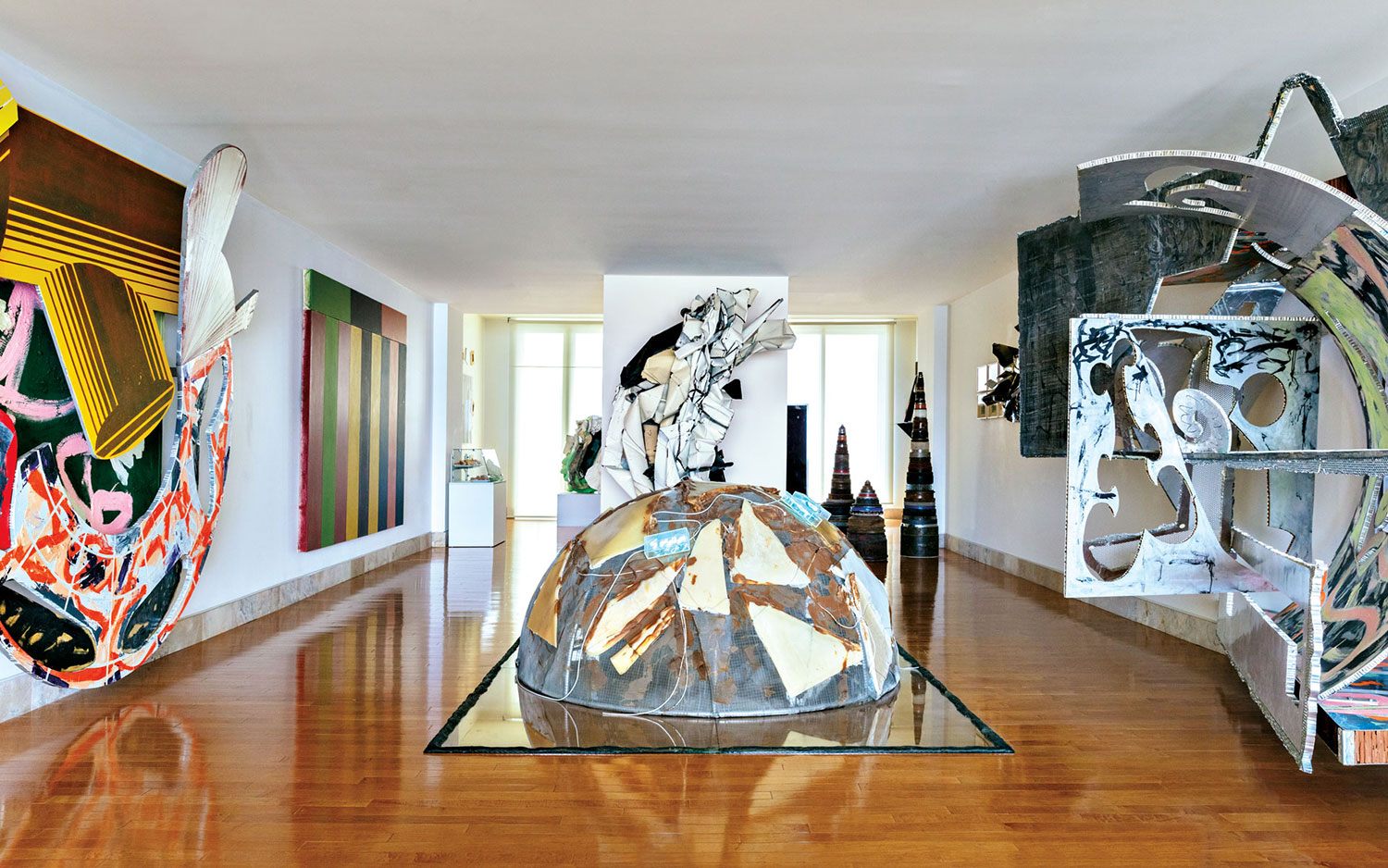 6. Whether at the Margulies Collection at the Warehouse or his Miami home, megacollector Martin Margulies truly lives surrounded by art. His residence, shared with his art adviser daughter, Elizabeth, is a museum in itself, as illustrated by this airy gallery filled with large sculptural works by Chamberlain, Frank Stella, and Mario Merz.
Next Post