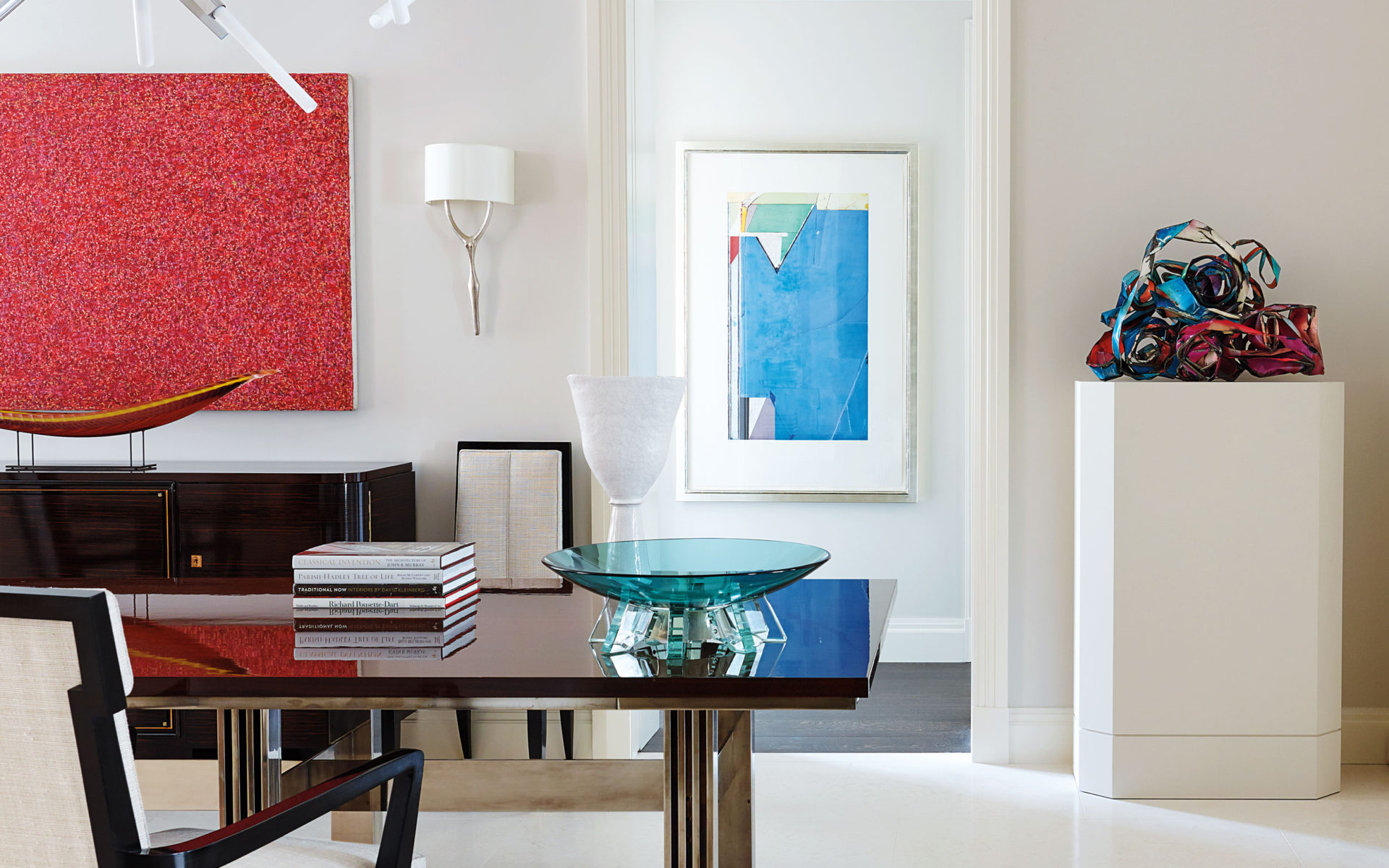 David Kleinberg Revamps a Classic Park Avenue Apartment
Art collectors Jane and Budd Goldman tap the celebrated designer to help with their high-octane trove
Creating a new home for yourself is one of those challenges in life—and there are many—when you can either hold fast to the taste and vision you already have or spread your style wings and fly somewhere new. When Jane and Budd Goldman found what they considered their dream apartment in a beautiful prewar Park Avenue building, they were pretty certain they knew exactly what to do with the place. So after hiring designer David Kleinberg and architect John B. Murray to oversee the renovations, Jane handed them a list with two columns: things the couple liked and things they didn't. (Among the no-no's: blond wood, mixed metals, and anything midcentury modern.)
"My husband and I have decorated a number of places, and we never trusted anyone to get it right," says Jane, a former university educator who serves on the board of a charter school in the South Bronx (her husband is a private investor). "I often felt I had to monitor every aesthetic decision, from paint colors to throw pillows. We especially didn't want an apartment that was going to date itself or look like it came straight from a showroom—sterile and devoid of character. We wanted something timeless."
The Goldmans had chosen Kleinberg because of his well-earned reputation for preserving the graceful bones of traditional spaces while infusing them with a modern sense of ease and luxury. It turned out to be an ideal match. "We clicked with David instantly," Jane recalls. "He is so disarming and warm and unaffected and sincere. And we quickly saw that his sense of style was much better than our own, so a strong trust developed fast."
That doesn't mean the Goldmans handed him the keys to the kingdom overnight. Take Kleinberg's core idea for a new layout—which was literally a core idea. As in many old Park Avenue residences, the dining room was off to the side. The designer proposed moving it to the center of the apartment and making it a kind of gallery, almost a courtyardlike space, that would open onto the entry hall, living room, and kitchen and also serve as the corridor to the bedroom, den, and library. In the middle of this novel space, Kleinberg ultimately installed a ten-foot-long custom-crafted table with a polished sapele-wood top on a nickel-plated base. During the day, the table (inspired by one Kleinberg loved by the French designer Marc du Plantier) functions like a library table or entry table—a surface that can pinch-hit in any way needed. Then at night, with the addition of a suite of dining chairs that are used in various spots throughout the apartment, the space turns magically into a seriously elegant formal dining room.
"That idea took some convincing," says Jane. "I had never seen anything like it, so it was a bit disconcerting." As Kleinberg explained, the change opens up the entire apartment and ensures that what is one of the least-used spaces in many homes becomes a focal point here. Plus, when the Goldmans entertain, as they often do, guests will be more inclined to move freely about. "There's always a lot of dancing and laughter in our house," says Jane, "and these open spaces really encourage that."
Another item on the Goldmans' checklist that required a little finessing from Kleinberg: the couple's preference for a neutral color scheme. In their view, the splashes of color should come from their art collection, a carefully edited group that includes works by John Chamberlain, Richard Diebenkorn, David Hockney, Vik Muniz, and Cy Twombly. Safe as that approach might be, executing it beautifully is not such a simple task. As Kleinberg puts it, "Van Day Truex once said that working with neutrals can make you feel like you fell into a big bowl of porridge."
In order to give the rooms a sense of depth and richness, Kleinberg deployed a fantastic variety of materials, from cool, lustrous marble to sumptuous mohair and buttery-leather upholstery to textured wall coverings and carpets. The more you look around, even the quietest surfaces catch your notice. Such as the powder room's beautiful glass sink: Reverse-painted with silver leaf, it has a mesmerizing, mysterious depth that pulls you in.
"Nothing here shouts," says Kleinberg. To him, the most striking thing in the apartment is the expansive dining table. Even more audible gestures, such as the living room's eye-catching curtains in wide, graphic stripes of gray, white, and bronze, don't stray from the designer's formula of discreet sophistication. Neutral has never looked so forward.
"If we ever have another apartment to renovate," says Jane, "I would simply hand David a check, and I wouldn't even participate!" So long to that list of dos and don'ts. 
Click here to view more photos of the home.
Next Post