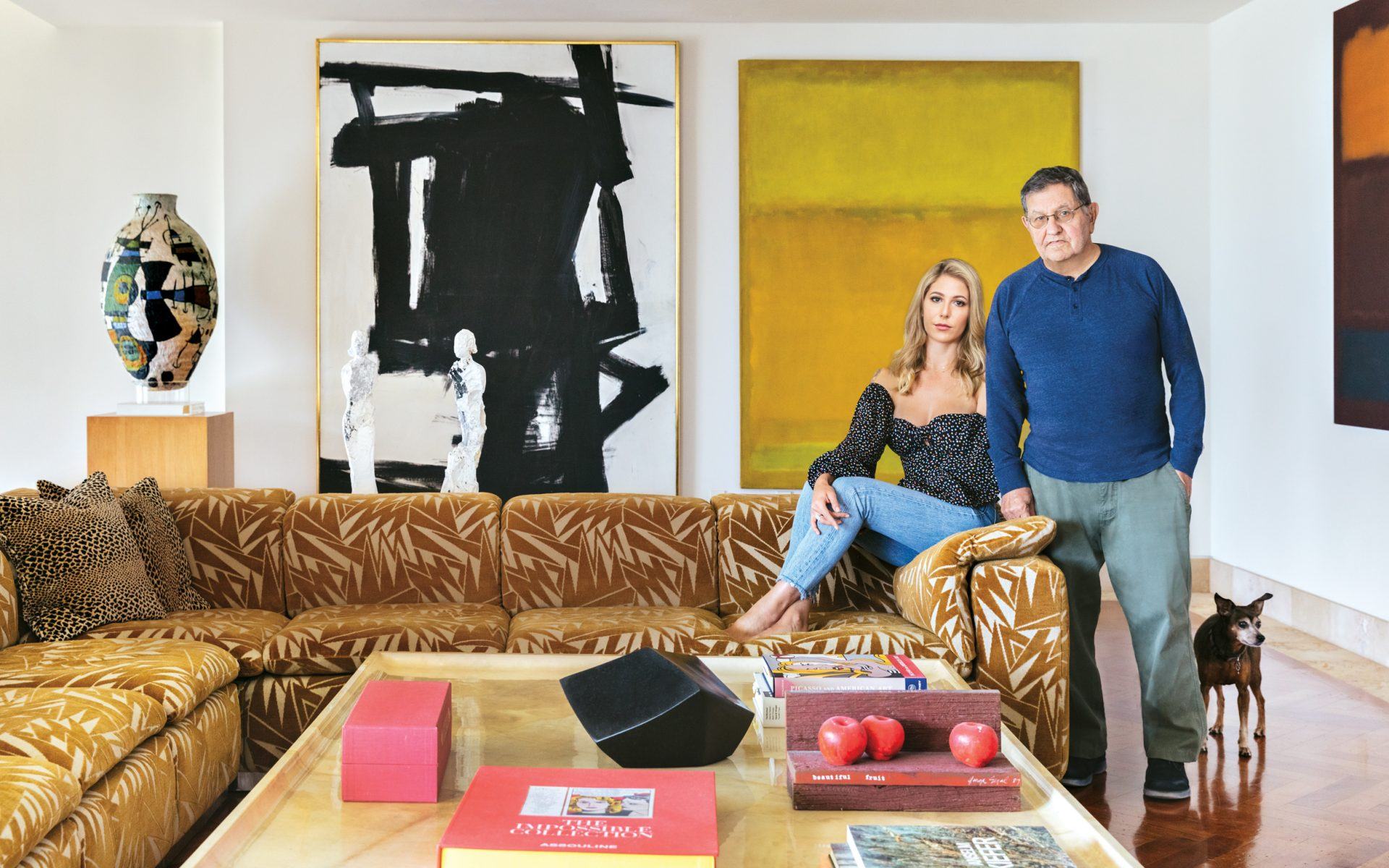 Martin Margulies and His Daughter, Elizabeth, Open Up Their Miami Home
The powerhouse collector shares a passion for art with his daughter, who is blazing her own path as a New York adviser
In their distinct spheres, Martin Margulies and his daughter, Elizabeth Margulies, quietly but powerfully exert a serious influence over two generations of art collectors. As the founder of the Margulies Collection at the Warehouse, one of a handful of Miami private art spaces that helped elevate the city into a premier destination for collectors, Martin presides over a major cache of blue-chip modern and contemporary works.
"We have a tremendous amount of work," says Martin of his holdings, which run the gamut from paintings and sculptures by Roy Lichtenstein and Frank Stella to photography by Walker Evans and installations by Barry McGee and Ernesto Neto. "It's a big collection put together with love and with scholarly enterprise."
Martin was raised in the New York neighborhood of Washington Heights. After moving to Miami and getting in on the ground floor of the burgeoning city's real estate market, he started collecting in the 1970s. From there, things moved fast—both his net worth and his collection soared. He set up his private museum in 1998, expanding it several times, and today the 50,000-square-foot space includes a portion of the family's 4,000 works by some of the most important talents of the 20th and 21st centuries, such as Willem de Kooning and Olafur Eliasson. Photography is a longtime interest and a major element of the collection, with recent shows of Helen Levitt and Stephen Shore drawing an appreciative audience.
"We have a lot of Noguchi, a lot of Lichtenstein, a lot of Motherwell. We have a strong abstract collection and a strong Pop collection," says Martin, who is regularly rediscovering pieces he owns. "All of a sudden something comes to light and you say, 'Oh, I want to see this work again,' and you recall your fondness for it."
Recommended:Lisa Fayne Cohen and Elizabeth Margulies Host Festive Evening to Kick Off Art Basel
Helping keep it all sorted, Damiani published a book of his holdings in September 2018; a second volume spotlighting the collection was released in November. And Martin is still acquiring. "I'm focused on certain things that would fit into the collection," he says. "Last night, I went to David Zwirner and I bought a couple of Anni Albers prints. They fit well with my Bauhaus collection."
Martin finds his relationship with gallerists, such as David Leiber at David Zwirner, adds not only to his holdings but also to his understanding of contemporary art. "You get knowledge from people like that," he says. "It's not just about acquiring; it's about learning."
It's a curiosity that Martin has passed on to Elizabeth, who is blazing her own trail in New York as an art adviser, working with young collectors and up-and-coming artists. Recently she assembled a collection for the Hudson Yards offices of Stonepeak Infrastructure Partners, a private-equity firm. In the company's 30,000-square-foot space, she mixed pieces by known quantities like Sue Williams and Ugo Rondinone with a sculpture by the emerging Bushwick-based talent Kennedy Yanko. "It was important to me to feature both female and male artists, as well as works by artists from all backgrounds and walks of life, from many different parts of the world," says Elizabeth.
Inside her Manhattan loft, Elizabeth has assembled her own collection of largely lush and colorful abstract paintings, consisting of pieces by Federico de Francesco, Abby Leigh, and Stefan Hirsig, as well as a representational work by Ivy Haldeman. "Obviously my aesthetic and what I know about art is because of my dad and growing up around art," she says. "We like a lot of the same things, though not everything."
In her work as an adviser, Elizabeth collaborates with a range of galleries, including smaller, newer spaces like Downs & Ross and Spencer Brownstone, but for an emerging talent that she absolutely loves, like painter Angel Otero, she's happy to connect with his powerhouse dealer, Lehmann Maupin. Putting quality over resale value is something she witnessed firsthand during visits to art fairs and galleries alongside her father, and growing up in a house with modern and contemporary masters on the walls influenced her eye. "I think it gave me a pure appreciation for art."
Recommended: How Art Advisor Elizabeth Margulies Is Blazing Her Own Trail
Today, father and daughter enjoy visiting many of the same collections, such as the Hudson Valley's Magazzino Italian Art Foundation, founded by Nancy Olnick and Giorgio Spanu. Paris-based Surrealist expert Sylvio Perlstein, and Irma and Norman Braman, who possess notable modern and contemporary pieces, also receive rave reviews for their holdings. When they see a top-notch collection, they instantly sense what's special about the selection, says Martin. "It has a rhythm to it. You don't need to analyze it—it just comes to you immediately."
Recently, the pair traveled together to Japan to see a number of different art collections. "It's a fun thing we do as a family," says Elizabeth. "What it all comes down to is that we're passionate about art."
A version of this article first appeared in print in our 2019 Winter Issue under the headline "Family Matters." Subscribe to the magazine.
Next Post