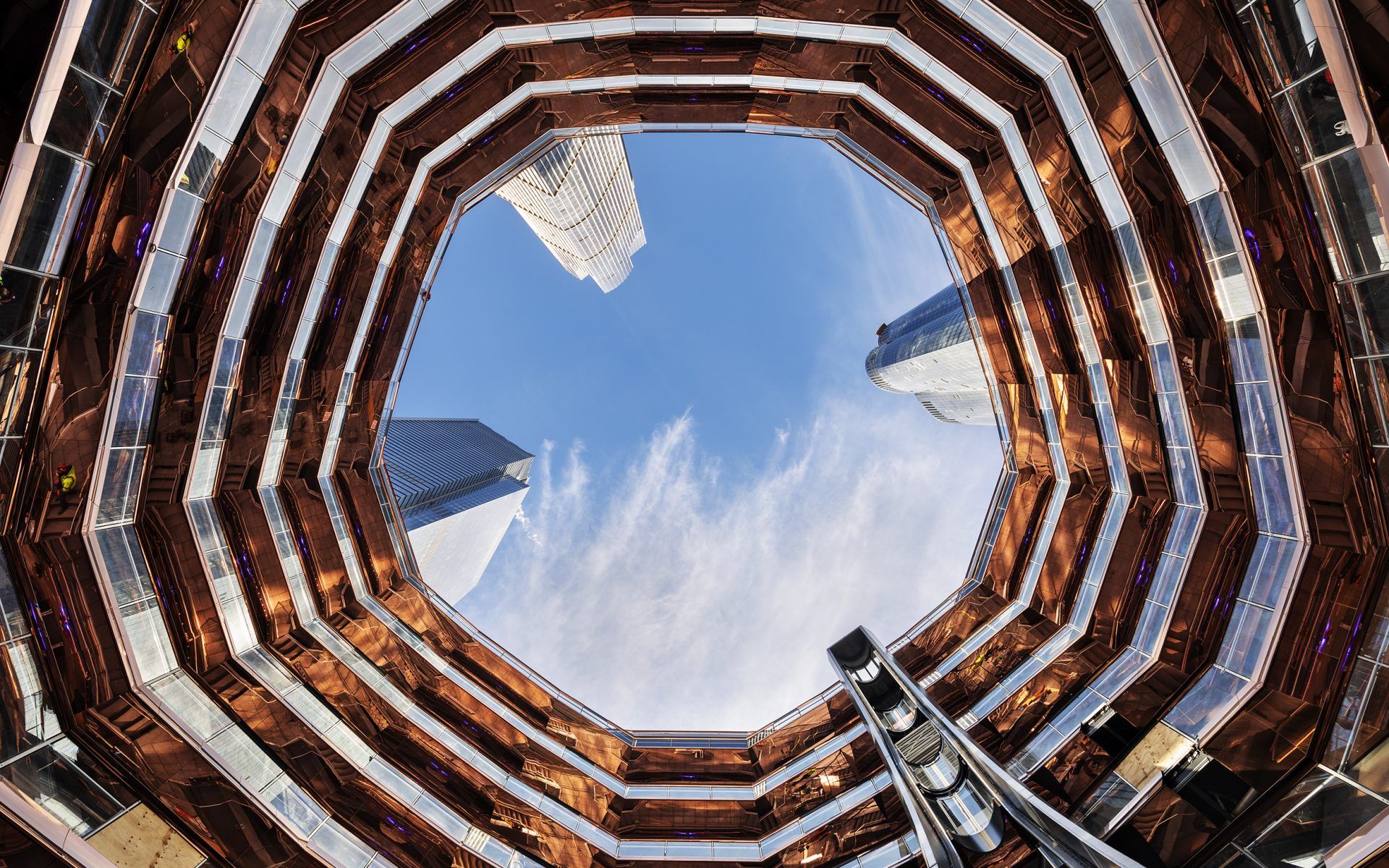 Hudson Yards Makes Dazzling Debut, Transforming Manhattan's West Side
The 28-acre complex is the biggest development New York has seen since Rockefeller Center opened in the 1930s
All eyes are on Hudson Yards, the Oz-like cluster of skyscrapers on Manhattan's far west side that have been under construction for the last half dozen years. With a price tag of $25 billion, the 28-acre complex, which hosted a star-studded opening party Thursday night, is the largest private real estate project in the country—and the biggest development New York has seen since the construction of Rockefeller Center in the 1930s.
"The plan in the beginning was to be very commercial," says Jay Cross, president of Related Companies, which conceived of the project along with Oxford Properties Group. With over one million square feet of dedicated retail space, the project has lured scores of upscale tenants, including Neiman Marcus, which anchors the seven-level mall, as well as some of the city's top restauranteurs like Thomas Keller, José Andrés, and David Chang. (Overall, there are over 100 stores and restaurants, as well as a permanent art space masterminded by Snarkitecture.)
The project's architectural credentials—bolstered by designs from Diller Scofidio + Renfro, KPF, Rockwell Group, and Norman Foster—were also crucial for the developers. "Our chairman, Steven Ross, wanted the buildings to have a very significant presence on the skyline," says Cross. Of the nine structures that comprise the first phase of the development, a pair of sloping office towers, one of which reaches 1,268 feet into the sky, makes the biggest visual impact.
Recommended: Reservations Are Open for Hudson Yards' 100th-Floor Observation Deck
"These towers are required to be the most efficient office buildings in New York," says architect Bill Pederson of KPF, which designed 10 and 30 Hudson Yards. To that end, the whole complex, which sits directly on the Hudson River, has been stormproofed and is equipped with innovative air distribution generated from an energy-efficient central plant. (Rainwater from the roofs is also utilized to help cool the buildings.)
Prestigious landscape architecture firm Nelson Byrd Woltz won a bid to sculpt the grounds, which now feature 28,000 plants, including winterberry, spicebush, and echinacea. But because the campus was built atop an active rail yard, which emits massive amounts of heat, intense engineering was required to ensure the survival of the greenery. "The heroes of this project are the engineers who made all of our designs stand, thrive, live, and create this space for the public," says Thomas Woltz, principal and owner of NBW. "They made a seven-foot-thick structural sandwich beneath our feet and above 28 rail lines."
Recommended: Snarkitecture's Permanent Exhibition Space Opens at Hudson Yards
The centerpiece of the complex is the highly anticipated Vessel, a massive copper-tinted honeycomb designed by pioneering British architect Thomas Heatherwick of Heatherwick Studio. The interactive 15-story sculpture has arguably attracted more attention than any other piece of the Hudson Yards puzzle. (Ross, after all, made clear his desire to conjure New York's version of the Eiffel Tower.)
"We've never designed anything like this," says Stuart Wood, group leader at Heatherwick Studio. "It does the opposite of what a building would normally do, which is be broader at the base and thinner at the top—we didn't want to jam up the plaza with something that had a huge footprint." Tickets for the Vessel are free but must be reserved in advance, either online or at 9 a.m. each morning.
Recommended: New Details Emerge About Hudson Yards' Second Residential Tower
"Our hope is that its use will evolve quite naturally, and there are ways in which it will become used that we can't imagine and don't want to prescribe right now," says Wood. "That's the fun of designing a public space—hopefully you can create a platform, but beyond that point you release it to everyone and hand it over to the city."
Coming up on April 5 is the debut of The Shed, an innovative concert hall and cultural hub conceived by Diller Scofidio + Renfro with the Rockwell Group, which also designed the adjacent 15 Hudson Yards, a residential building containing 285 apartments. The Shed's artistic director and CEO, Alex Poots, has revealed that Björk will help inaugurate the space with a new concert production directed by Tony Award winner John Tiffany.
Once the hoopla dies down, Related will turn its attention to phase two of the project, set to be built atop the neighboring rail yard across 11th Avenue. If you think the scale of Hudson Yards is massive today, this next stage will add over six million square feet to what has already been built. New Yorkers, buckle up.
Additional reporting by Lucy Rees.
Next Post