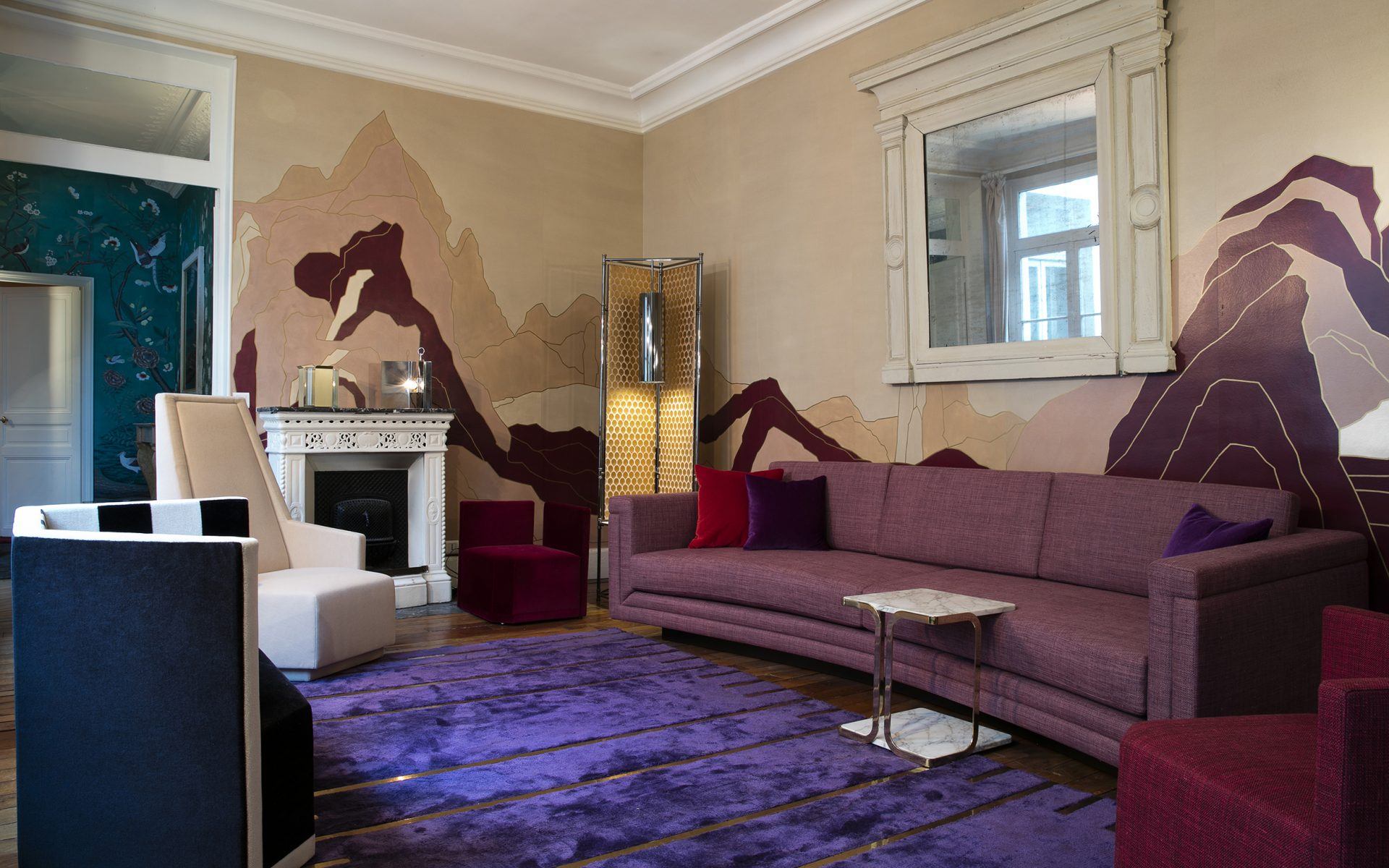 Discover the Top Design Trends from This Year's Maison & Objet and Deco Off
The annual design fairs debut artful new decorative pieces, infusing Paris's most unique spaces with sculptural furnishings, creative lighting, and colorful textiles
Now in its 25th year, Maison & Objet brought the best in home decor, interior design, architecture, and lifestyle trends to Paris's Parc de Expositions de Villepinte, January 17 through 21. On both banks, showrooms were bustling with interior designers, journalists, and retailers who came to peruse furnishings and textiles as part of the annual Deco Off. Installations in galleries and private homes emphasized old-world charm mixed with artisan techniques, while fusing tradition and nouveau craft. Pink and green were everywhere, and fabrics were presented in exciting textures as well as tropical and vivid floral prints. Elaborate tassels and trim harkened back to the origins of 16th–century passementerie. There was so much to see and do—here, a look at some of the highlights.
January 2020 Designer of the Year
Cypriot-born Michael Anastassiades was honored as the January 2020 Designer of the Year. The Londoner received a master's degree in industrial design from the Royal College of Art before launching his namesake firm in 1994, and has since developed lighting and furniture products for a roster of global brands, including Flos, Herman Miller, Cassina, Puiforcat, Lobmeyr, and Nilufar. Since first exhibiting at the 2007 edition of the Parisian fair, he has become internationally recognized for his sculptural lighting designs, including the Mobile chandelier series, showcased in minimalist splendor in a dark blue and white booth at the fair.
Wall to Wall
Luxurious embroidery techniques were incorporated into handcrafted wall coverings, including de Gournay's collaboration with Parisian interior designer India Mahdavi. Her intricate handpainted "Abbāsi in the Sky" on baby-blue-dyed silk was installed upstairs in the Left Bank showroom, where a suite of rooms were upholstered and layered with velvet floor cushions, and embroidered sofas etched in gold channeled a Persian boudoir.
In a nearby courtyard apartment, the British designers Lizzie Deshayes and Tim Butcher—partners in life and in work—showcased Fromental, the wall covering brand they founded in 2005. The pair partnered with Milanese furniture company Marta Sala Editions on a series of room vignettes in Sala's Parisian home. Fromental's Hayward on Goldoni, an embroidered green velvet layered with gold metallic, made a striking statement coupled with Sala's Eugenia bed.
Spotted at London-based Cole & Sons were a number of panoramic scenes, including Orange Blossom, a series of citrus trees; and Alfaro, facades of buildings—all included in its Sevilla range of Spanish-inspired patterns.
Kiki Smith's Debut Solo Retrospective
Featured in New York artist Kiki Smith's first solo retrospective in France are iconic works from 1983 to 2019. Included are 94 pieces that encompass sculpture, painting, printmaking, drawing, and textiles, each highlighting the artist's concentration on mythology, the human figure, and fairy tales. On display is Sky, an ongoing suite of 12 cotton jacquard tapestries produced by the California-based Magnolia Editions and offered in editions of ten. The show is on view through February 9 at the 11 Conti, Monnaie de Paris, a series of workshops and exhibition spaces that opened in 2017 in the sixth arrondissement.
Trends in Tableware
During the week, there were no shortage of soirees, including a masquerade ball at Versailles and a chic cocktail party at the American Embassy organized by Timothy Corrigan for fabric company Perennials. Galerie partnered with French interior architecture firm Rinck on a multicourse deconstructed dinner by Milanese chef and author Tommaso Melilli at Gallery Thomé to celebrated Rinck's new furniture collection, Félicité.
Spicing up tabletops all around town were a number of new collections featuring animals and tropical motifs. Hermès debuted Passifolia, an homage to foliage designed by Nathalie Rolland-Huckel, while Spanish company Lladró created the Toucan collection of accessories. (A decorative ice bucket made of crystal and red-painted porcelain with a gold beak was a standout.) L'Objet reimagined fashion's most popular pattern in Leopard, a collection of porcelain plates, cups and saucers, and serving ware, all detailed in 24K gold. Pierre Frey's Le Jardin du Palais, a new wallpaper and fabric introduced as part of the Reveries Oriental collection, was adapted into a range of porcelain dishes manufactured by Faiencerie de Gien.
Return of the Pink Palette
The color pink reappeared on upholstery fabrics, paints, and fashionable pillows and throws in a range of shades, from blush to peony and dusty rose. At the fair, Italian ceramicist Paola Paronetto displayed her signature vessels made from a proprietary recipe that mixes paper with clay. For the fair, she crafted a range of works in earthy colors, like petal pink, mulberry, and a soft strawberry red that gave new depth to the trendy colorway.
Mod Modular
Modular furniture in '60's styles is having a renaissance. French furniture brand Ligne Roset relaunched Bernard Govin's Asmara sectional sofa, originally designed in 1966 for the company. Today, it's available in four mix-and-match forms.
Rug Art
Large patterns were scaled up and woven into rugs and tapestries, including Cristina Celestino's latest carpet, Plissé, for Italian maker CC-Tapis. French manufacturer Cogolin tapped into the archives of French furniture designer and decorator André Arbus for a collection of wool rugs and new patterns inspired by Art Deco; its Jazz Age collection pays homage to that spirited moment in France.
Next Post