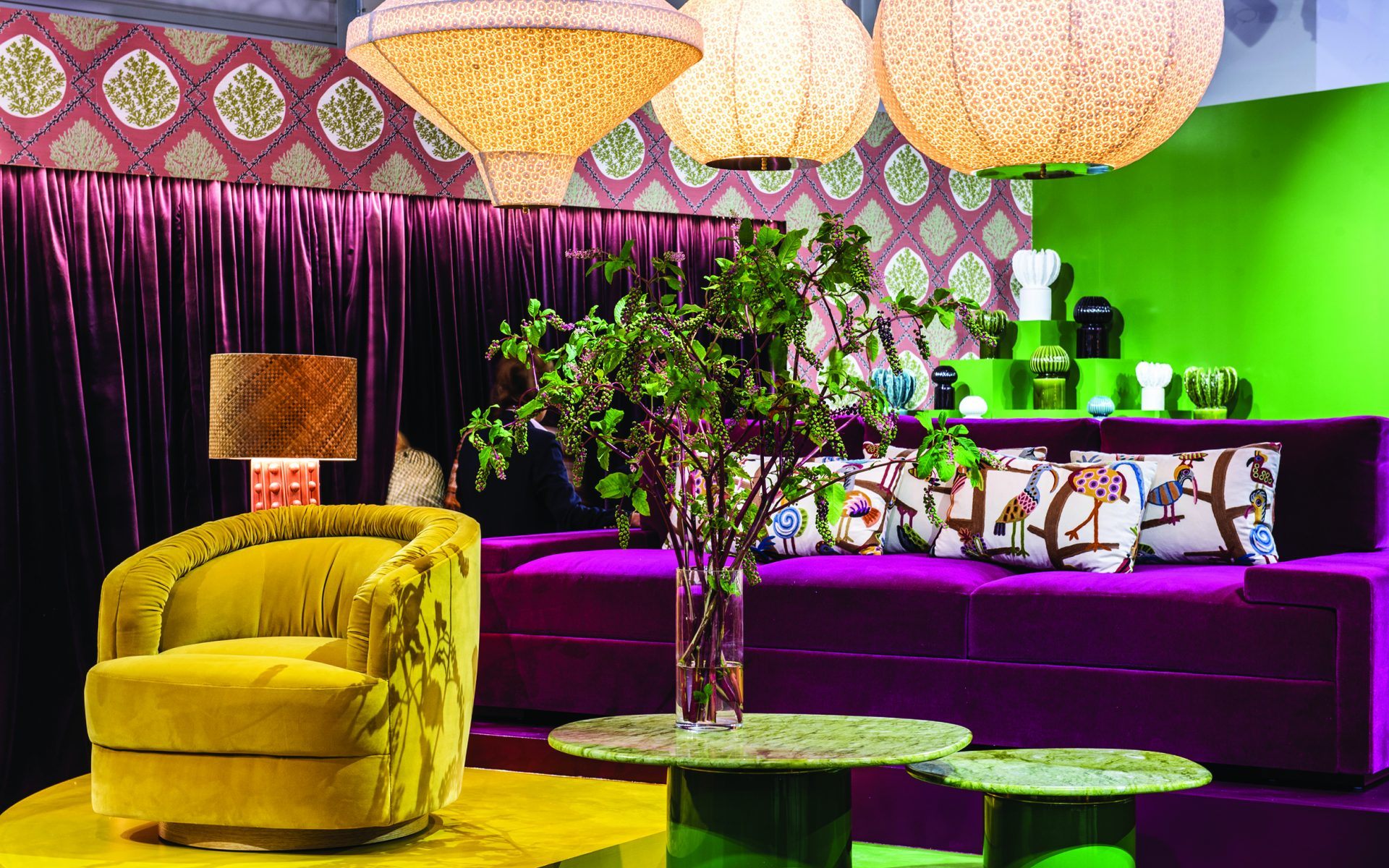 Highlights From This Year's Maison & Objet and Paris Design Week
From glass objets to Bauhaus-inspired design, patterned presentations, and painterly porcelain, these are the standout design trends in Paris
Already one of the most beautiful cities in the world, Paris is currently overflowing with added allure as Maison & Objet gets under way at Parc des Expositions de Villepinte. Kicking off at the same time is Paris Design Week, during which hundreds of exhibitions showcasing a variety of artisans are being mounted at venues on both sides of the Seine. Among the displays are glass objets in enticing shades of yellow, black, pink, and terra-cotta; Bauhaus-inspired design; patterned presentations; and painterly porcelain.
Here, a look at some of the highlights of this year's events.
Designer of the Year Laura Gonzalez 
Named Maison & Objet's Designer of the Year, 37-year-old Parisian architect Laura Gonzalez launched her firm in 2008 and has since worked on multiple residential and hospitality projects, including the recently opened Relais Christine, Brasserie La Lorraine, La Gare, and L'Alcazar. Her vivid oeuvre—including furniture, accessories, and gorgeous fabrics and wallpapers—was on display at the fair.
Patterned Presentations at Lelièvre, Pierre Frey, and Pierre Marie
The brilliant poet, playwright, novelist, filmmaker, critic, visual artist, and designer was known for a quirky, surrealist eye and his artistic oeuvre helped shape 20th-century French culture. New wallpapers produced with the Jean Cocteau Committee and the Madeline Jolly workshop were introduced by fabric house Lelièvre, including 11 patterns depicting figures, faces, and pottery in multiple colorways.
French designer Christian Astuguevieille is known primarily for furniture made from rope and cord, as well as his creative role with Comme des Garçons Parfums. The talent teamed up with French fabric house Pierre Frey on Les Coquecigrues, a new wallpaper and fabric collection featuring traditional florals, prints, and toiles that Astuguevieille superimposed with his style of symbolic writing or graffiti.
Parisian artist Pierre Marie, whose patterned pajamas were on offer at Diptyque, created a pop-up gallery in the ninth arrondissement. The French maker's second exhibition, "Olu Nelum" (Sri Lankan for lotus flower), showcased works created for 2018's Design Parade, an exhibition in Toulon that brought together work by Marie and French interior designer Pierre Yovanovitch. Redesigned to fit into Marie's Parisian gallery space, the colorful tableau incorporated stained-glass windows by Ateliers Duchemin, a rug manufactured by Robert Four, glassware from Atelier Gamil, and enamelware designed with Émaux de Longwy and Poterie Ravel.
Recommended: John Derian and Pierre Frey Join Forces to Create a Dreamy Vintage-Inspired Wallpaper
Le Bazar de Diptyque
Following a Milan debut, French candle company Diptyque continued to expand its universe by showcasing home decor as part of its pop-up series, Le Bazar de Diptyque. Located on rue Saint-Roch, the shop will be open through December, selling stylish products ranging from candleholders and ceramics to pillows, plates, textiles, and objects designed by Atelier Vime, Arpin, Enza Fasano, Natalia Criado, Laboratorio Paravicini, and Jean Baptiste Mayet.
Hella Jongerius's Interlace Installation at Lafayette Anticipations
Opened in the Marais in 2018 as a gallery and exhibition space, Lafayette Anticipations is housed in a former 1891 industrial building that was reimagined by OMA architect Rem Koolhaas and is overseen by Parisian department store Galerie Lafayette. Dutch designer Hella Jongerius recently took over the atrium space with the multifloor installation Interlace, which incorporates the moving platforms of the building into the infrastructure of the loom.
Dirk Vander Kooij's Sustainable Design 
Sustainability is finally getting chic. Dutch designer Dirk Vander Kooij is recognized for his range of furniture made from recycled plastics. His Melting Pot table is comprised of reclaimed synthetics, including CD cases, discarded garden furniture, refrigerators, and tubing, which are then synthesized using a process that melts, molds, and highlights.
Bethan Laura Wood's nod to Bauhaus at Rosenthal 
British designer Bethan Laura Wood produced an homage to Bauhaus founder and architect Walter Gropius and his classic TAC 1 tea set from German porcelain manufacturer Rosenthal. Wood's contemporary iteration, dubbed the Tongue tea service, employs a more playful approach and is offered in an unusual range of limited-edition colors such as Pelican (a mix of peach, hot coral, and peacock) and Peacock (mild turquoise with peacock and clay).
Abstract Painting Motifs at Vitra and Molecot
Painting drips were the inspiration for Israeli designers Shay Alkalay and Yael Mer, the duo behind London-based studio Raw Edges. Known for colorful, experimental work, the pair have created furniture for Established & Sons, Cappellini, and Louis Vuitton. Now Vitra has introduced their new accessory collection, Herringbone Vessels, which includes ceramic bowls and vases dipped in a colorful glaze, as well as Herringbone pillows, which are adorned with geometric patterns in overlapping colorful stripes.
Launched in Madrid by three designing women, the Spanish tabletop brand Molecot debuted a new collection called Brush, which is offered in negro, azul, and rosa, and adorned with thick, painterly strokes.
Fashionable Porcelain and Glass
Belgian fashion designer Ann Demeulemeester has moved into the home space. Her new tabletop range encompasses cutlery as well as six glass collections—including the mouth-blown, lead-free crystal collection Lee—and Dé, hand-painted porcelain plates that are a mix of chiaroscuro-inspired patterns in six variations of black and a selection in red. The collection was manufactured by Serax, a Belgian company known for tableware as well as furnishings. Optical illusion was also a theme of Belgian designer Sylvain Willenz's series of Silex glass vases—not quite cylinders, nor squares but a study in form.
Recommended: A New Exhibition Explores the Revolutionary Glass Art of Maurice Marinot
Americans in Paris
Twice a year, a selection of work by international designers is celebrated, and this September, Maison & Objet chose to spotlight American design, which was on view as part of the 2019 Rising Talent Awards. Six firms were selected to present their work at the fair while group exhibitions cosponsored by Maison & Objet, Wanted Design, and Triode Design, also showcasing American artists, were spread throughout the city. Glass was highlighted at Galerie Joseph as part of a transatlantic exchange between French and American designers, such as Elyse Graham of Los Angeles, and Washington, D.C.'s Jonah Takagi, and manufacturers, including the International Glass Art Center (CIAV), CIRVA, and the Corning Museum of Glass.
Next Post