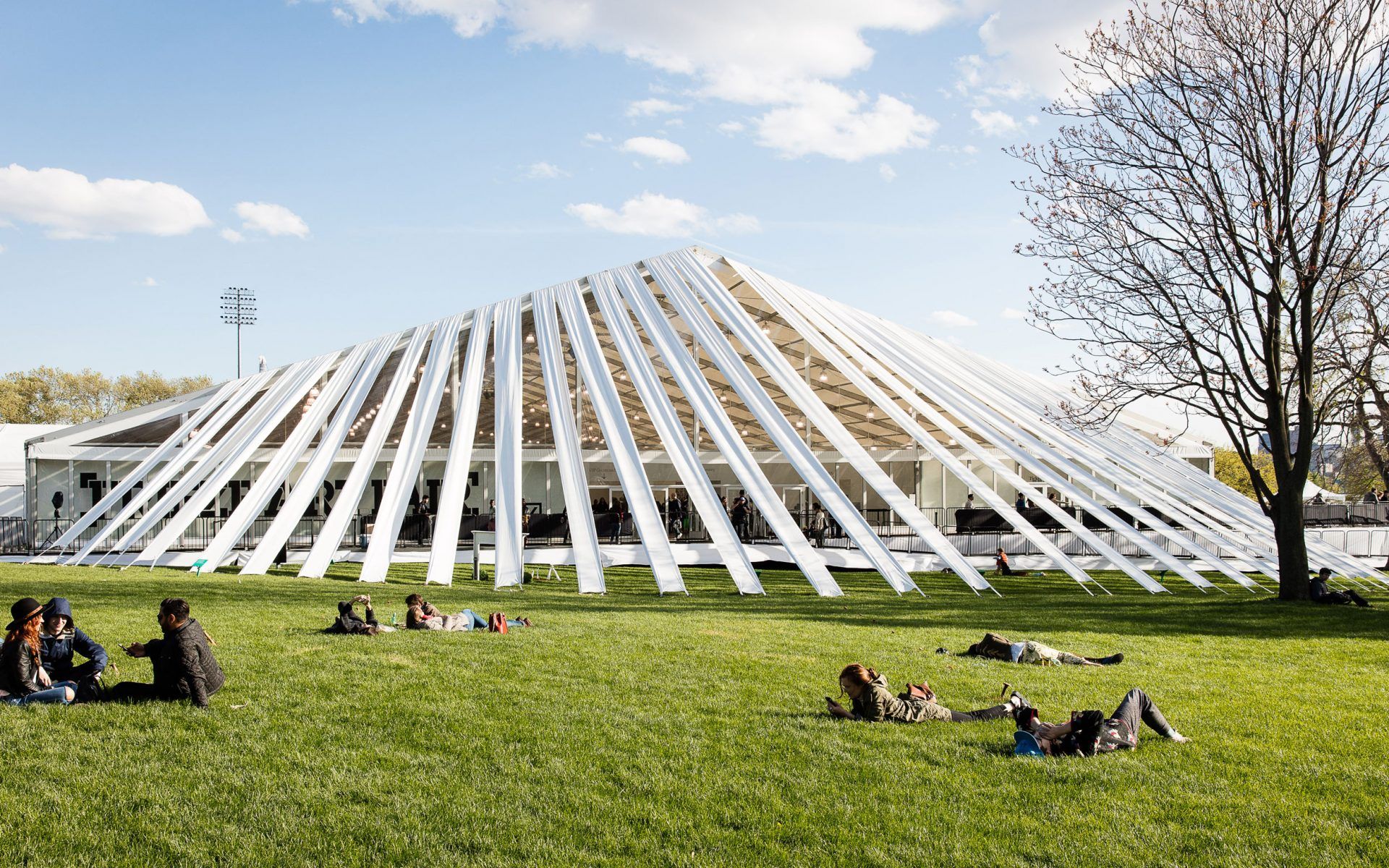 Galerie's Guide to All the Art Fairs to See During Frieze Week
From 1-54 to the new Object & Thing, here's what you need to know about this week's events
It's spring in New York, which means Frieze Week is approaching and with that comes a flurry of fairs, satellite projects, exhibitions, and projects taking place across the island. From contemporary African art at 1-54 to a new sculpture program at Rockefeller, there's a lot to see. Read on for our guide to help you navigate the top five fairs.
1. Frieze New York
What: The art world will descend on Randall's Island this week for Frieze New York. Expect the usual array of big-name galleries. This year, the director of Pérez Art Museum Miami, Franklin Sirmans, will curate a special section dedicated to the pioneering New York gallery Just Above Midtown. The gallery was founded by Linda Goode Bryant—who, at the time, was the director of education at the Studio Museum in Harlem while still only in her 20s—in response to the lack of gallery representation for African-American artists. Among the artists included here are Lorna Simpson at Hauser & Wirth and Senga Nengudi with Thomas Erben Gallery, Lévy Gorvy, and Sprüth Magers. The edition also features a Latinx and Latin American thematic section, with presentations by 13 noteworthy artists such as Firelei Báez, Luis Flores, and Ana Mendieta. Don't miss the inaugural Frieze Sculpture at Rockefeller Plaza, curated by Brett Littman with 14 works by top talents such as Jaume Plensa and Kiki Smith.
Where: Regent's Park, near Park Square West
When: May 2–5
Recommended: Joel Mesler Will Hold Live Portrait Sessions on the Ferry to Frieze
 2. TEFAF New York
What: The prestigious TEFAF New York Spring returns with its presentation of modern and contemporary art and design at the Park Avenue Armory. This year sees pieces from 92 galleries with an eclectic array to suit all tastes, including Brazilian furniture by Joaquim Tenreiro at Nilufar Gallery; ceramics by Michael Eden at Adrian Sassoon; a 3,400-year-old Egyptian "offering table" at Charles Ede Gallery; a solo presentation of museum-quality pieces by Wendell Castle at Friedman Benda; a stunning masterpiece by Natalia Goncharova created for the Diaghilev's Ballets Russes at Galerie Gmurzynska; and rare works from the estate of Paul Klee at David Zwirner and new cutting-edge designs by the Munich jewelry house Hemmerle.
Where: Park Avenue Armory, 643 Park Avenue, New York
When: May 2–5
3. Object & Thing
What: There's a cool new fair in town. Upending the traditional fair model, with its separate booths, the boutique art and design fair spearheaded by former artistic director of Frieze Art Fairs for the Americas and Asia, Abby Bangser, and visionary architect Rafael de Cárdenas will present some 200 objects from the worlds of contemporary art and 20th-century art and design in one single installation. Some highlights include vibrant bowls by Italian master Gaetano Pesce; artist-made seating by Donald Judd, Lucy Dodd, and Friedman Benda; ceramics by Ann Agee and Ettore Sottsass; and stunning textile pieces by Sonia Gomes and Liz Collins. Some of the participating galleries include Friedman Benda, Matthew Marks Gallery, The Modern Institute, Hauser & Wirth, and Salon 94 Design. The price range is also more accessible than most fairs, with objects ranging from $1,000 to $50,000.
Where: 99 Scott Avenue, Brooklyn
When: May 3–5
4. 1-54 Contemporary African Art Fair
What: The contemporary African art fair 1-54 (named for the number of countries on the African continent) returns to New York for its fifth anniversary edition. After years at Brooklyn's Pioneer Works, the fair relocates to Manhattan's West Village, the epicenter of New York City's commercial art scene, at Industria, a repurposed former garage and photo studio, just a few steps away from the Whitney Museum, Hudson River Park, and the High Line. There are 24 international galleries showcasing the works of over 70 African and diasporic artists, alongside a program of special projects, including a pop-up bookshop presented by Aperture Foundation and an installation by Ethiopian artist Ezra Wube presented by Pioneer Works' Visual Arts Residency 2019.
Where: Industria, 775 Washington Street, New York
When: May 2–5
Recommended: NADA Announces Invitational Art Fair in Chicago
5. NADA "House"
What: A change from the maddening pace of Frieze, NADA House takes place across 34 rooms in three historic houses on the 170-acre Governers Island, located just south of Manhattan. It is the second off-site exhibition by the buzzy fair known for spotlighting emerging artists and features 45 artists from NADA member galleries and nonprofits. Many respond to the unique colonial and military histories of Governors Island and the specific character of these houses. Highlights include Sara Rahbar's "War" series, which incorporates military materials and iconography, and reimagined portraits of first ladies of the U.S. by Yanique Norman.
Where: Governors Island
When: Friday through Sunday, May 2–August 4
Next Post