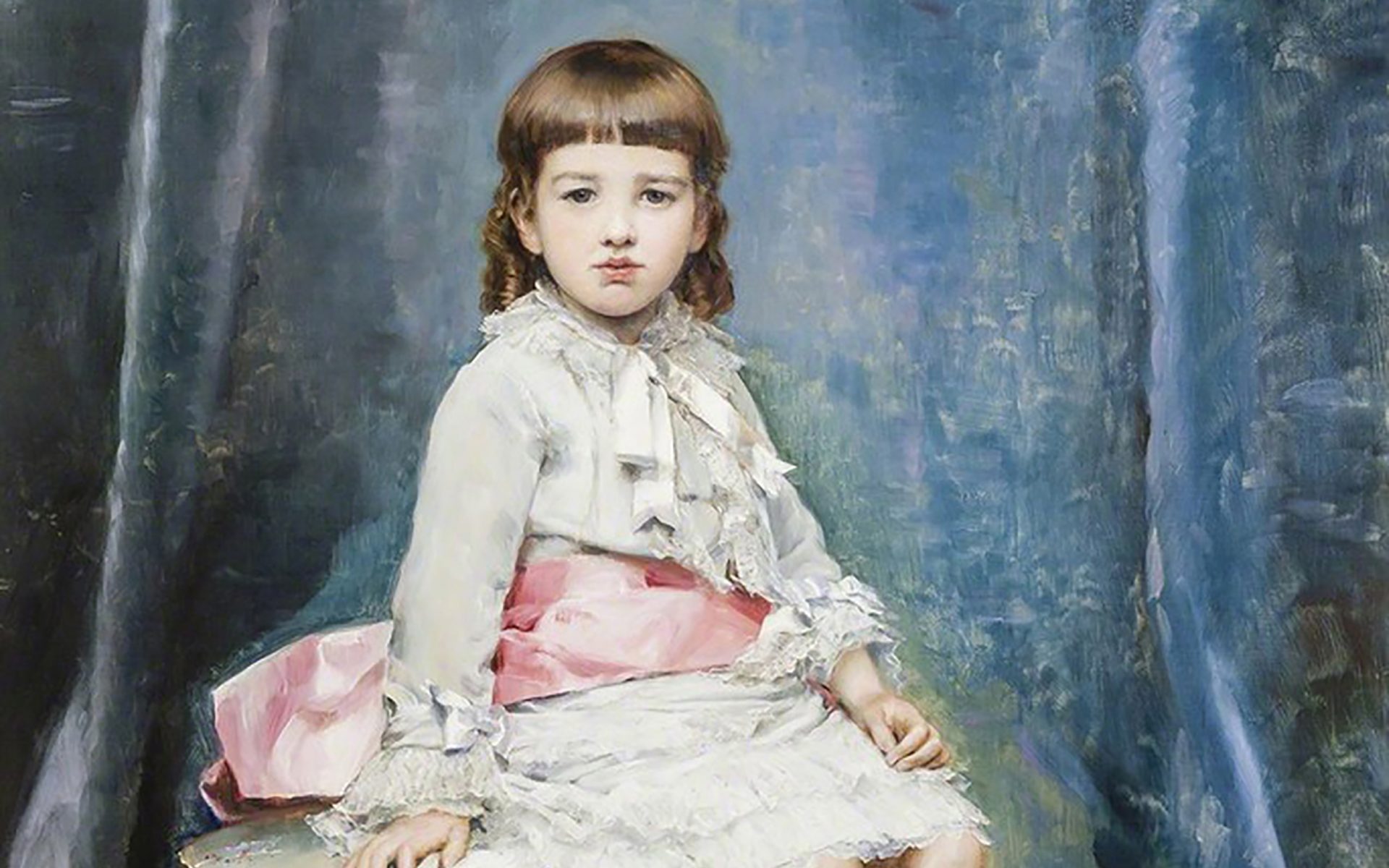 Discover the Highlights at TEFAF New York Fall 2018
The noteworthy offerings include a monumental Tintoretto ceiling painting, as well as a childhood portrait of art patron Gertrude Vanderbilt Whitney
This weekend, the fall iteration of TEFAF (The European Fine Art Fair) New York opened its doors to visitors for its third outing. Ninety-three exhibitors from around the world have transformed the storied drill hall of the Park Avenue Armory with their historical, museum-worthy wares ranging from antiquities and Old Master paintings to midcentury modern furniture—and almost everything in between.
Two years ago, the original TEFAF in Maastricht, the Netherlands, long considered the grandfather of all fairs, announced an exciting plan for global expansion, including the launch of two New York fairs: a spring edition in May, which showcases modern and contemporary art, and a fall edition, which presents works from antiquity through the 20th century.
The mood was buoyant, and while the fair tends to be a slower burn than others, there was a greater-than-usual rush of visitors during the first few hours, in which a number of big sales were reported. Not surprisingly, European Old Masters and historic paintings rule the roost.
Wandering the flower-adorned aisles, we spotted curators from the Museum of Modern Art, the MFA Boston, and the Rijksmuseum, as well as auction specialists and art historians, and a number of important tastemakers and collectors, including Peter Marino, fashion designer Carolina Herrera, the Olsen twins, and collectors Henry and Marie-Josée Kravis, whose collection spans Louis XIV furniture to paintings by Renoir.
Old Master specialist and dealer Robert Simon Fine Art, in New York, surprised fairgoers with an unusual trompe l'oeil ceiling painting by the Venetian master Tintoretto. Titled Allegory of Music, the work originally graced the ceiling of a 16th-century palazzo in Venice. But it requires a collector with the right kind of space to show it and—at an asking price of $2.5 million—the means to acquire it.
"The usual characters are all here—museum curators and specialists," Robert Simons tells Galerie. "But I'm also seeing new people who have taken an interest in historic work. The value of these pieces compared to contemporary art is incredible."
Hirschl & Adler boasted two portraits of notable Americans: One is of a handsome George Washington painted around 1800 by the esteemed British portraitist Gilbert Stuart (it's one of seven full-length portraits that Stuart did of Washington); the other is a painting of the heiress, artist, and Whitney Museum founder Gertrude Vanderbilt Whitney as a five-year-old by Spanish artist Raimundo de Madrazo y Garreta ($395,000) and is placed next to a sculpture that Whitney made in commemoration of the Titanic ($285,000).
The portrait of the young girl has never before been publicly on view outside the Vanderbilt family's homes. "It was first displayed in the family's home on West 57th Street, where Bergdorf Goodman is now," Eric W. Baumgartner, senior vice president and director of American paintings and sculpture, tells Galerie. "It then hung in the Breakers [the Vanderbilt home] in Newport until it came to us this year."
Recommended: Jeff Koons Retrospective Is Coming to the World's Oldest Public Museum
The portrait was interesting in another sense. Whitney is the grandmother of Anderson Cooper, a known fan of the art fair, who, in 2016, picked up a mysterious work by Anton Raphael Mengs, Portrait of Mariana de Silva y Sarmiento, Duquesa de Huescar, at Otto Naumann for $275,000. While Cooper was not seen at the fair this time around, this portrait of his relative would be the perfect find.
While the aisles of TEFAF tend to be dominated by male artists, there were a number of strong female painters whose works stood out. Wildenstein & Co. and Galerie Eric Coatalem both swiftly sold paintings by the controversial 17th-century French artist Élisabeth Louise Vigée Le Brun, who gained fame as the favored portraitist of Marie Antoinette and was also known for breaking the conventional rules of portraiture of the day. Artemisia Gentileschi is also having a major resurgence. The Italian artist made headlines when the National Gallery in London acquired her self-portrait earlier this year. At TEFAF, she was represented at Robilant and Voena's booth with her Allegory of Fame, on offer for a reasonable $200,000.
Marking their debut at the New York iteration of the fair, Italian dealers Galleria Antonacci Lapiccirella Fine Art brought a stunning painting by sculptor Antonio Canova. Titled The Self-Portrait of Giorgione (1792), it was bought by the gallery as an anonymous work before it was later confirmed by specialist Fernando Mazzocca to be by Canova. It is now believed to be the only Canova painting currently on the market. "It shows Canova's incredible skill in painting, and how he was inspired by the style of other Venetian painters at the time—particularly the high Renaissance master Giorgione," director Francesca Antonacci tells Galerie. Shown at Maastricht earlier this year, it is on offer for $690,000.
Elsewhere, there was the usual eclectic bounty of treasures to be discovered by connoisseurs and new collectors alike.
Among the antiquities, Foot of Mercury, which was crafted in white marble between the first and second centuries, was sold on the first day by the Tomasso Brothers Fine Art for approximately $350,000, while Charles Ede sold a pair of bronze Roman handles featuring a lion's head from the same period.
Recommended: Revamped Art Deco Gem Draws Unexpected Crowds to Industrial French Town
A rare and intriguing silver salt container by master silversmith Adam van Vianen was snapped up at A. Aardewerk. An exemplary piece made in the auricular style fashionable in the Netherlands in the early 17th century, the object was crafted from a single sheet of silver. Almost all of Van Vianen's work is tied up in institutional collections from the Metropolitan Museum in New York to the Rijksmuseum in Amsterdam.
Furniture, porcelain, and other decorative arts have a prominent place at this fair, and highlights this year include a pair of Thomas Chippendale Brocket Hill saloon chairs from 1773, which once graced the living room of Sir Elton John, at Ronald Phillips. The intricate splendor of a Flemish tapestry was on full view at London's Mullany Fine Art; the highlight is a 1520s Flemish wool-and-silk tapestry with the coat of arms and initials of Christine de Lechy. Having only been brought out for special occasions, the piece is in nearly perfect condition.
Wartski London is offering a strong offering of Fabergé, including a gold enamel cigarette case purchased by the czar of Russia, as well as a stunning Castellani parure of a simple geometric design that was bought by an ambassador in Rome for his wife, available for $180,000. With its large amethyst gemstones and bold gold pieces, the antique piece looks contemporary. Old Master specialist Colnaghi, spearheaded by the esteemed former curator at the Metropolitan Museum of Art Carlos Picòn, presents an unusually large Mayan urn decorated in sacred iconography (A.D. 650-850) for $525,000.
TEFAF New York Fall runs through October 31 at the Park Avenue Armory. 
Next Post