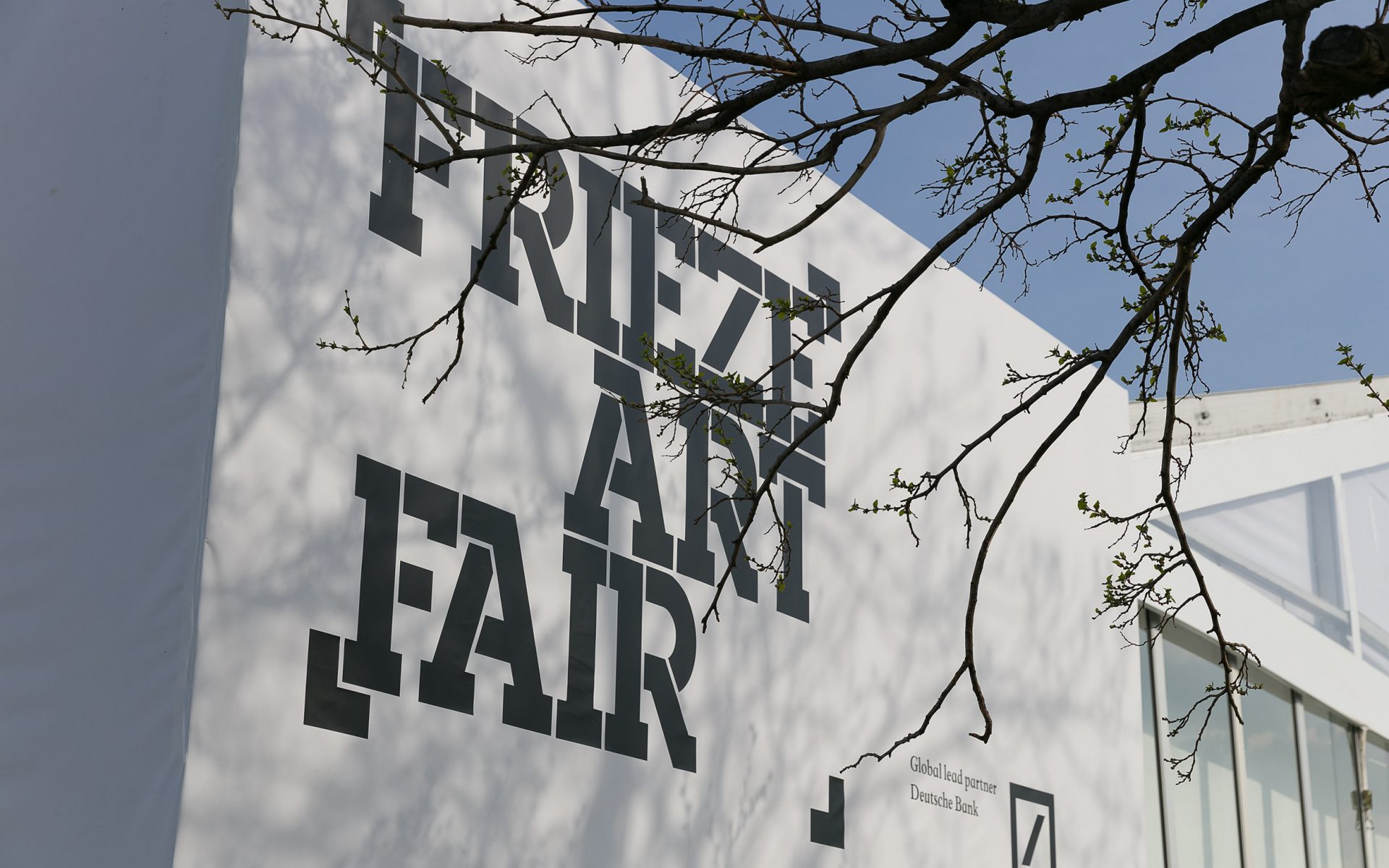 Frieze New York Announces 2019 Exhibitor List
The New York iteration of the art fair takes place May 1 to 5 on Randall's Island
Frieze has announced the list of exhibitors for its New York fair, which takes place the first week of May in Randall's Island Park.
Frieze will stage a gallery section curated by Patrick Charpenel and Susanna V. Temkin, of El Museo del Barrio, that focuses on contemporary Latino/Latinx and Latin American artists. Another exhibition at the fair will pay tribute to Linda Goode Bryant's Just Above Midtown gallery, which will be curated by Franklin Sirmans of Pérez Art Museum Miami.
Recommended: Frieze Launches Public Sculpture Installations at Rockefeller Center
Laura Hoptman will oversee the fair's Spotlight section, which will serve as an extension of a collaboration between the fair and the Drawing Center. The section will include 33 solo presentations by galleries and focus on "significant work by overlooked figures and rarely seen practices of modern masters," according to a statement.
The full list of galleries presenting at the fair is below.
Main Section
303 Gallery, New York
Miguel Abreu Gallery, New York
Acquavella Galleries, New York
Alfonso Artiaco, Naples
Balice Hertling, Paris
Peter Blum Gallery, New York
Boers-Li Gallery, New York, Beijing
Tanya Bonakdar Gallery, New York, Los Angeles
BorzoGallery, Amsterdam
The Box, Los Angeles
Rena Bransten Gallery, San Francisco
The Breeder, Athens
Canada, New York
Cardi, Milan, London
Chi-Wen Gallery, Taipei
James Cohan, New York
Alan Cristea Gallery, London
Stephan Daiter Gallery, Chicago
Massimo De Carlo, Milan, London, Hong Kong
Durham Press, Durham PA, New York
Andrew Edlin Gallery, New York
Derek Eller Gallery, New York
Donald Ellis Gallery, New York, Vancouver
Embajada, San Juan
Henrique Faria, New York
Fortes D'Aloia & Gabriel, São Paulo, Rio de Janeiro
Foxy Production, New York
Fredericks & Freiser, New York
Stephen Friedman Gallery, London
Frith Street Gallery, London
Gagosian, New York, Los Angeles, San Francisco, London, Paris, Rome, Athens, Geneva, Hong Kong
Goodman Gallery, Johannesburg, Cape Town
Alexander Gray Associates, New York
Richard Gray Gallery, Chicago, New York
Garth Greenan Gallery, New York
Grimm, Amsterdam, New York
Kavi Gupta, Chicago
Haines Gallery, San Francisco
Hales, London, New York
Hauser & Wirth, London, New York, Somerset, Los Angeles, Zurich, Gstaad, Saint Moritz, Hong Kong
Hutchinson Modern, New York
Xavier Hufkens, Brussels
Gallery Hyundai, Seoul
Ingleby, Edinburgh
Inman Gallery, Houston
Bernard Jacobson Gallery, London
Jenkins Johnson Gallery, San Francisco, New York
Luis de Jesus, Los Angeles
Kaikai Kiki Gallery, Tokyo
Casey Kaplan, New York
Karma, New York
Kasmin, New York
Kayne Griffin Corcoran, Los Angeles
Sean Kelly Gallery, New York, Taipei
Tina Keng Gallery, Taipei
Tina Kim Gallery, New York
David Kordansky Gallery, Los Angeles
Andrew Kreps Gallery, New York
Lehmann Maupin, New York, Hong Kong, Seoul
Galerie Lelong & Co., New York, Paris
Lisson Gallery, London, New York
Marlborough, New York, London
The Mayor Gallery, London
Mendes Wood DM, São Paulo, Brussels, New York
Victoria Miro, London, Venice
Mitchell-Innes & Nash, New York
The Modern Institute, Glasgow
Nature Morte, New Delhi
David Nolan Gallery, New York
Galleria Lorcan O'Neill, Rome
Overduin & Co., Los Angeles
P.P.O.W, New York
P420, Bologna
Maureen Paley, London, Hove
Franklin Parrasch Gallery, New York
Parrasch Heijnen Gallery, Los Angeles
Peres Projects, Berlin
Perrotin, Paris, New York, Hong Kong, Seoul, Tokyo, Shanghai
Pierogi, New York
Project 88, Mumbai
PROXYCO Gallery, New York
Galeria Marilia Razuk, São Paulo
Lyle O. Reitzel Gallery, New York
Galeria Nara Roesler, São Paulo, Rio de Janeiro, New York
Galerie Thaddaeus Ropac, London, Paris, Salzburg
Michael Rosenfeld Gallery, New York
Salon 94, New York
Royale Projects, Los Angeles
Jack Shainman Gallery, New York
Sikkema Jenkins & Co., New York
Tang Contemporary Art, Beijing, Bangkok, Hong Kong
The Third Line, Dubai
Cecilia de Torres, New York
Travesía Cuatro, Madrid, Mexico City, Guadalajara
Vadehra Art Gallery, New Delhi
Vermelho, São Paulo
Axel Vervoordt Gallery, Antwerp, Hong Kong
Susanne Vielmetter Los Angeles Projects, Los Angeles
Waddington Custot, London
Offer Waterman, London
White Cube, London, Hong Kong
David Zwirner, New York, London, Hong Kong
Focus
Nicelle Beauchene Gallery, New York
Bridget Donahue, New York
Anat Ebgi, Los Angeles
Experimenter, Kolkata
Ghebaly Gallery, Los Angeles
Hannah Hoffman, Los Angeles
Ivan Gallery, Bucharest
Jhaveri Contemporary, Mumbai
Koenig & Clinton, New York
LC Queisser, Tbilisi
David Lewis, New York
Josh Lilley, London
lokal_30, Warsaw
Lyles & King, New York
MadeIn Gallery, Shanghai
Magenta Plains, New York
Edouard Malingue Gallery, Hong Kong, Shanghai
Meessen De Clercq, Brussels
mor charpentier, Paris
Morán Morán, Los Angeles
Night Gallery, Los Angeles
Ryan Lee, New York
Seventeen, London
Société, Berlin
Simone Subal Gallery, New York
Rachel Uffner Gallery, New York
Vigo, London
Kate Werble Gallery, New York
Frame
And Now, Dallas
Bank, Shanghai
Capsule Shanghai, Shanghai
Company, New York
Downs & Ross, New York
Drei, Cologne, Cédric Eisenring
Galerie Antoine Ertaskiran, Montreal, Ambera Wellmann
Galería Nora Fisch, Buenos Aires, Claudia Fontes
Gordon Robichaux, New York, Sanou Oumar
Mariane Ibrahim Gallery, Seattle Thenjiwe, Niki Nkosi
Instituto de Visión, Bogotá, Alberto Baraya
Marinaro, New York, Anthony Iacono
Galeria Jaqueline Martins, São Paulo, Ricardo Basbaum
Microscope Gallery, New York, Takahiko Iimura
PM8, Vigo, Gintautas Trimakas
Proyectos Ultravioleta, Guatemala City, Naufus Ramírez-Figueroa
Unit 17, Vancouver, Leslie Thornton
Various Small Fires (VSF), Los Angeles, Diedrick Brackens
Veda, Florence, Amitai Romm
Walden, Buenos Aires, Rodolfo Marqués
Spotlight
Gallery 38, Tokyo, Kokuta Suda
George Adams Gallery, New York, Joan Brown
Aicon Gallery, New York, Rachid Koraïchi
Galeria de Arte Almeida e Dale, São Paulo, Eleonore Koch
Anglim Gilbert Gallery, San Francisco, Jim Melchert
Dastan's Basement, Tehran, Bijan Saffari
Davidson Gallery, New York, Mary Ann Unger
Frameless Gallery, London, Louise Fishman
Galerist, Istanbul, Yüksel Arslan
Leila Heller Gallery, New York, Dubai Leonor Fini
Galerie Kornfeld, Berlin, Elvira Bach
Loevenbruck, Paris, Roland Dorcély
Galería Javier López & Fer Francés, Madrid, Alex Katz
Marlborough, Red Grooms
MCMC, Buenos Aires, Eduardo Costa
Partners & Mucciaccia, London, Singapore, Gianni Piacentino
Galeri Nev, Ankara, Yüksel Arslan
Parafin, London, Tim Head
Pi Artworks, London, Istanbul, Susan Hefuna
Piano Nobile, London, Paul Nash
Galeria Marilia Razuk, São Paulo, Eleonore Koch
Ronchini Gallery, London, Katsumi Nakai
Rosenfeld Porcini, London, Riccardo Guarneri
Richard Saltoun Gallery, London, Greta Schödl
Galeria Casado Santapau, Madrid, Waldo Balart
Georgia Scherman Projects, Toronto, Suzy Lake
Craig F. Starr Gallery, New York, Eleanore Mikus
Marc Straus, New York, Charles Hinman
Hollis Taggart, New York, Knox Martin
Trapéz, Budapest, László Lakner
Walden, Buenos Aires, Luis Fernando Benedit
Weiss Berlin, Berlin, Anna Zemánková
Zürcher Gallery, New York, Paris, Kazuko Miyamoto
Nonprofits
Allied Editions, London
White Columns, New York
Next Post