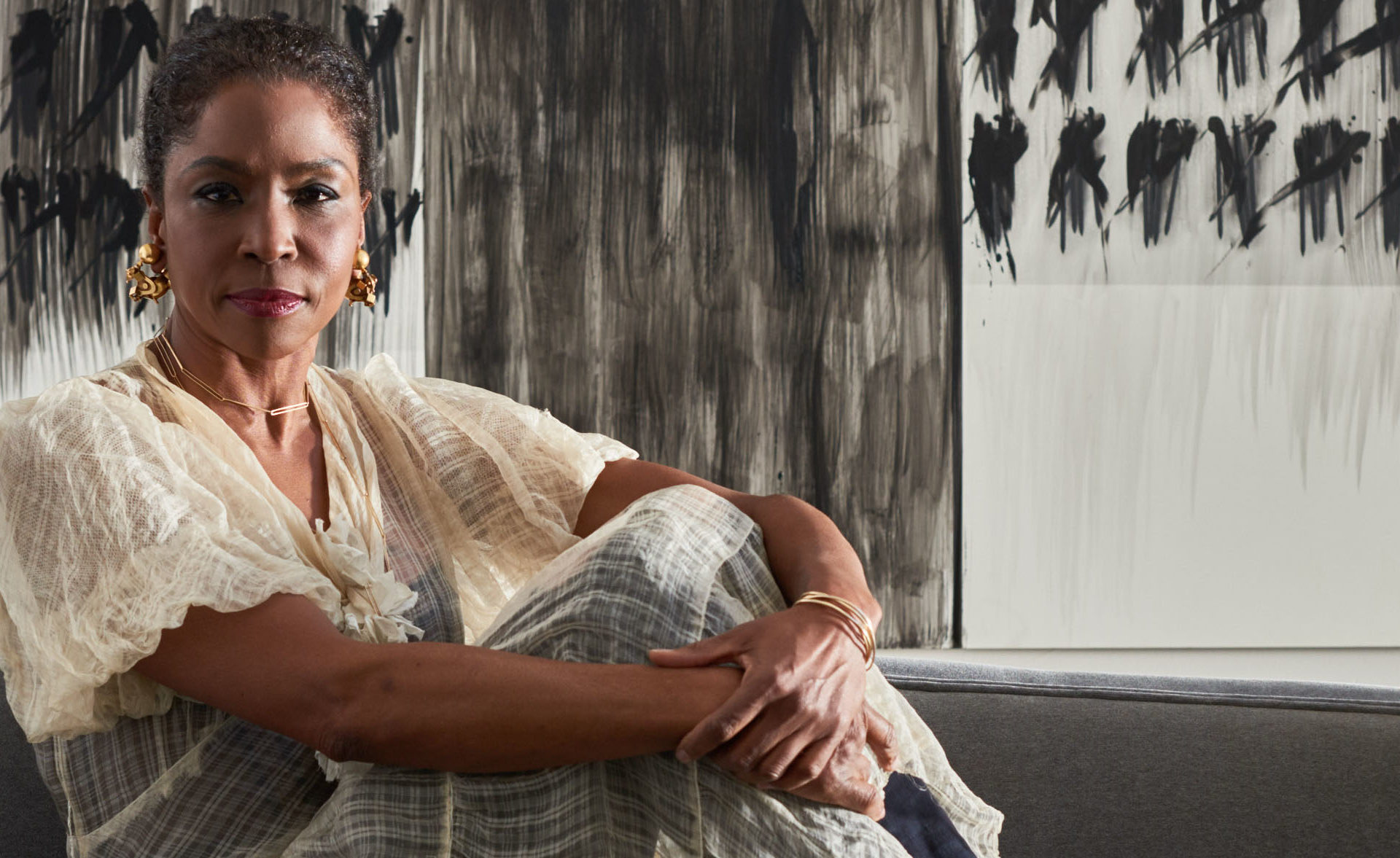 Lorna Simpson at Her David Adjaye–Designed Studio
The Brooklyn-based artist shares her latest forays into painting, which have taken a potent turn
Before newly knighted architect Sir David Adjaye became a globally renowned designer of civic and cultural buildings—most recently the National Museum of African American History and Culture that sits like an inverted ziggurat on the National Mall—he made his name designing residences and work spaces for artists. One of those projects, a studio for Lorna Simpson and James Casebere in Brooklyn, was the London architect's first completed building in America.
"When we were introduced to David, his practice was already shifting toward larger public commissions, and we weren't sure he would be interested in doing a small residential-type building," recounts Simpson (who is no longer married to Casebere). "Later we met him in the Giardini, at the Venice Biennale, and he kind of said, 'Okay, here's what it's going to look like,' and he drew it on a napkin. It evolved from there, and we had a budget but we gave him full rein."
The four-story studio, a crisp gray-concrete structure featuring a strikingly patterned dark-polymer front façade, was completed in 2006. A decade on, the building is now used exclusively by Simpson, and its purpose has evolved. "A lot of my work up until the last three years was created in this building," explains Simpson, seated in the studio's dining area across from a self-portrait by the legendary Cameroonian photographer Samuel Fosso. These days Simpson uses another location nearby as her primary artmaking space, freeing up the Adjaye building for offices and meeting areas, presentation galleries, and a place to reflect upon works in progress.
Simpson works in a variety of mediums, but she is best known for her photography-based conceptual pieces that use images of African-American women to deconstruct issues around race, gender, and identity—often with an undeniable lyricism. An influential figure in the art world for more than a quarter-century, she was the first African-American woman to show at the Venice Biennale, in 1990, and she was given an acclaimed solo exhibition at New York's Museum of Modern Art the same year. Shows around the world followed, the latest of which is "Lorna Simpson: Hypothetical?," on view through August 7 at the Fisher Landau Center for Art in Queens.
The artist made her first-ever foray into large-scale painting a couple of years ago with works that debuted at the 2015 Venice Biennale. Hanging on the double-height white walls of the studio's ground floor this past winter were two unfinished monumental black-and-white paintings informed by recent discussions about racial injustice in this country. Titled X5 (Group 1 of 5) and X5 (Group 2 of 5), the works feature screen-printed imagery overlaid with abstract brushwork and repeating tally marks, which evoke the way some prisoners keep track of time served on cell walls as well as the number of black lives lost to police violence. "These paintings were made at the other studio," the artist says, "but I can't hang them there because they're too tall. I like to be able to step back and look at them."
Simpson also uses the space to display select pieces from earlier in her career. Recently mounted across a large wall on the skylighted third floor, for example, was one of her more famous works, Wigs (Portfolio). From a 1994 series represented in MoMA's permanent collection, the multipart piece serves as a visually arresting sociology of hairstyles based on race and gender.
The soaring spaces on the ground floor and third floor were conceived by Adjaye as work areas, while the other, smaller floors contain offices and storage. Polished-wood staircases connect the different levels. "The ground-floor studio is a more traditional studio space, large enough to accommodate full-scale models, and focuses on symmetry and light," explains Adjaye. "The upper-floor studio was designed for work with film and photography and focuses much more on the notion of framing." Both spaces, now primarily used by Simpson for showing work, have expanses of glass offering views out to the minimalist Japanese-inspired garden that Adjaye created behind the building. "While the front façade, which is dark and almost impenetrable, works almost as a protective screen," Adjaye says, "the rear opens up generously to the neighborhood."
Simpson says that one of the things she admires most about the building is its contemplative atmosphere. "It's not always about going to the studio and producing work, although that has its own rhythm. It's the thinking about what the pieces are going to be or coming to that place of being able to see them in my head," says the artist, who continues to expand her explorations into painting.
"It is amazing," adds Simpson, "to be able to take that time, in a studio like this, to imagine what it is I want to do next."
A version of this article first appeared in print in our 2017 Spring issue. Subscribe to the magazine.
Next Post