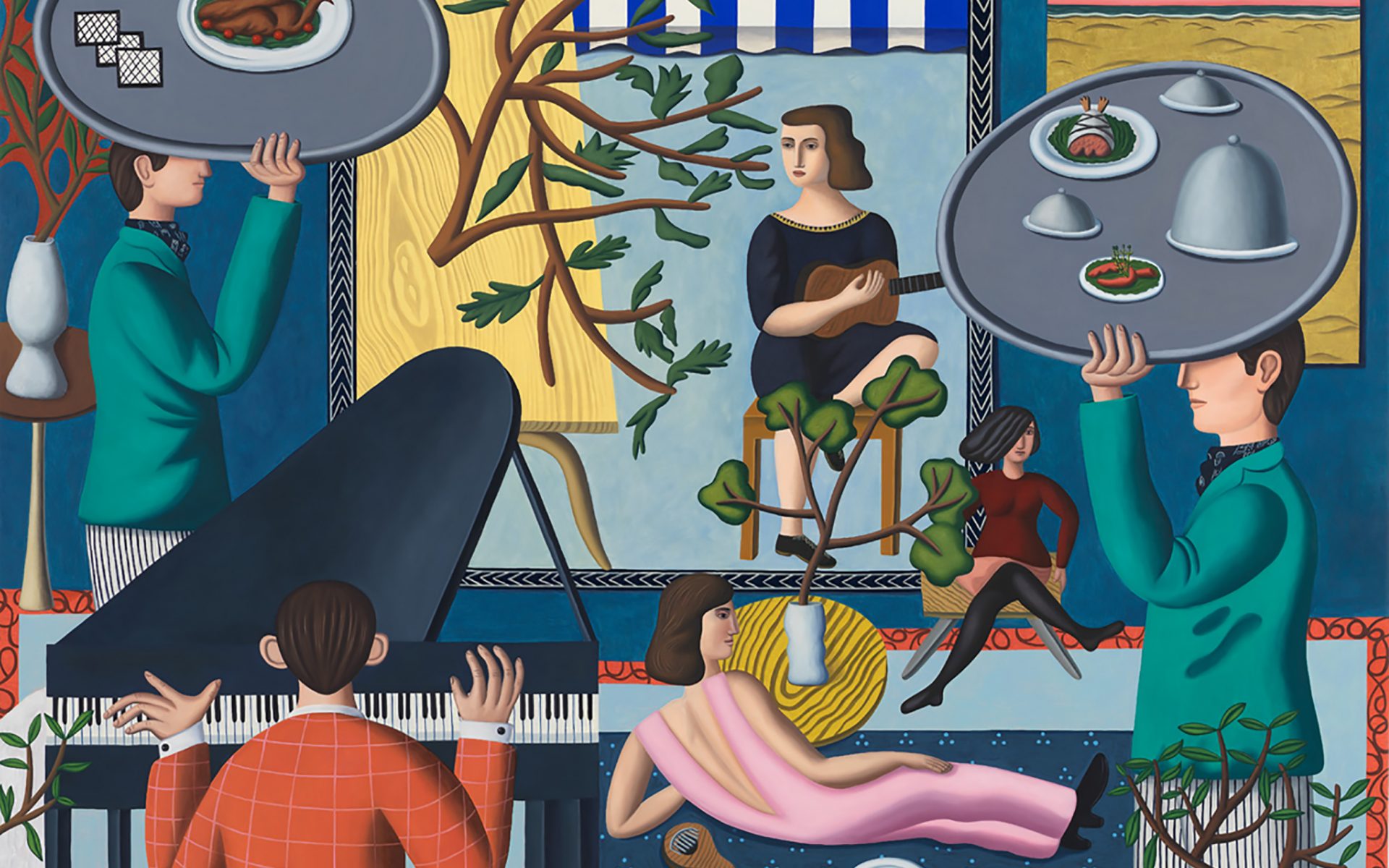 6 Must-See Figurative Painting Shows in New York
Highlights include soulful collages by Erik Parker and paintings of celebrated women by Carlos Vega
While figuration in painting is nothing new (the first instances appeared tens of thousands of years ago on cave walls), the way artists use it is constantly evolving. And at the moment, it's definitely in the air. Rounding up New York gallery shows by a group of living painters who prefer representation to abstraction, we take you around town—from midtown and Chelsea to the Flower District and the Lower East Side—to catch six of the best practitioners of figurative painting working today.
Erik Parker: New Soul
Mary Boone Gallery, 745 Fifth Avenue
Through March 2
Presenting a new series of trippy portraits and lush landscapes on circular canvases in the main gallery and several equally striking rectangular paintings in the side room, Erik Parker has made a quick return to the gallery after showing a selection of playful pyramid and plank-shaped paintings at its Chelsea location less than a year ago. Presumably in demand, these paintings exude both excess and excellence with complex compositions, psychedelic colors, and finely crafted imagery.
The portraits are an update of Italian Renaissance master Giuseppe Arcimboldo's imaginative portraits composed from fruits, vegetables, flowers, fish, and books. But rather than natural elements, Parker's portraits are a montage of surreal landscapes, text, architectural elements, and color gradients. Contrastingly, Parker's serene landscapes capture telescopic views of vibrant vegetation and blue lagoons—providing a happy escape from our own overloaded image worlds.
Theodora Allen: weald
Kasmin, 515 West 27th Street
Through March 9
Theodora Allen approaches plant life somewhat more slyly by softly weaving it into her symbolic still lifes. Blurring the boundary between landscapes and mindscapes, Allen untangles the medieval histories of Norse and English cultures to create sublime paintings of flora-filled shields and monuments. The shields envelop such psychoactive and medical plants as belladonna, marijuana, and opium poppies, while the monuments depict the symbology of medieval tarot cards—the cup, the coin, the branch, and the sword—in arched window-like forms surrounded by the same type of mentally destabilizing plants and weeds. Painted with a luminous, misty-blue, monochromatic palette, Allen's enchanting canvases share the aesthetic appeal of early cyanotype pictures made by the first photographers during the Romantic era—thankfully resurrecting that poetic style for these uncertain times.
Recommended: The Full Artist List for the 2019 Whitney Biennial Is Unveiled
Carlos Vega: Correspondences
Jack Shainman Gallery, 524 West 24th Street
Through March 30
Mining mythology in another manner, Carlos Vega portrays the lives of 24 women from both ancient and modern times in his magical realist–style paintings of saints, heroines, and goddesses. Taking the female saints of 17th-century Spanish painter Francisco de Zurbarán as his point of departure, Vega reimagines such historical figures as the Chinese goddess Nüwa, the mythical creator of mankind; French heroine Joan of Arc, who was burned at the stake for her role in the Hundred Years' War; and the youngest Nobel Peace Prize recipient, Malala Yousafzai, the Pakistani activist for female education who barely survived a brutal attack by the Taliban. Beautifully rendered in overlapping layers of transparent paint, Vega's compelling canvases are hung in a Spanish convent display style, where the women are brought into communion with one another in delightfully unexpected ways.
Deborah Brown: This Dream and Other Animals
Burning in Water, 505 West 27th Street
Through March 30
Focusing on a lone female figure traversing the landscape in the nude, Deborah Brown paints a fearless protagonist into a variety of natural settings. Wielding a sword, the character inhabits the spirit of the biblical figure Judith, who, having her enemy weakened by his desire for her, was able to behead him. Wandering through the woods, she takes on the persona of Artemis, the Olympian goddess of the hunt, the moon, and chastity. Dogs play a big part in accompanying the heroine as she scouts the woods and finds repose on wild beaches. The strangest scenes, however, show the naked character climbing rocks and scaling cliffs with an untethered determination to reach great heights. Composed in a quick, brushy manner, the canvases tell the tale of a hermetic figure that's not unlike an artist in the studio, where imagination sets the stage for an environment that must be walked alone or possibly with the comfort of a canine companion.
Paul Pretzer
Marc Straus, 299 Grand Street
Through March 31
Referencing well-known Renaissance paintings, Paul Pretzer's works depict classical characters in surreal situations. Fruits and vegetables levitate over the headless bodies of friars, and shirtless men caress porcupines and rabbits; a bearded man in a cape and white underpants transports a mouse by its tail. Using traditional painting techniques, Pretzer casts his characters in ritualistic poses but turns the outcome on its head with visionary riffs on historical genres. Primarily portraits, the hybrid scenes seem to be as much about still lifes as they are about people. Revealing the artist's black humor is a painting of an apple carved with a smiling face and balanced atop a human skull.
Jonathan Gardner: Desert Wind
Casey Kaplan, 121 West 27th Street
Through April 20
Smartly mining modernism in whimsical ways, Jonathan Gardner makes flatly painted, complexly composed canvases where people and objects share center stage. With an eye for nudes, waiters, and reclining figures, Gardner makes references to Balthus, Braque, Leger, Magritte, and Picasso while painting fascinating pictures that are very much his own. In the large, compressed expanse of The Ballroom, matching waiters balance trays of food above their heads as a man plays a piano, a woman holds a guitar, and two seated women enjoy the view. In Pleasure Point a nude couple copulate on a table in an ornate room with shifting geometric planes, while a topless female bather surreally reclines on a flattened beach towel in front of a painting of a nude man on the beach looking out to sea in Visions of the Emerald Beyond. Cleverly constructed and skillfully executed, Gardner's paintings leave you feeling like you've just had a lovely lunch with MoMA's founding director, Alfred Barr.
Next Post