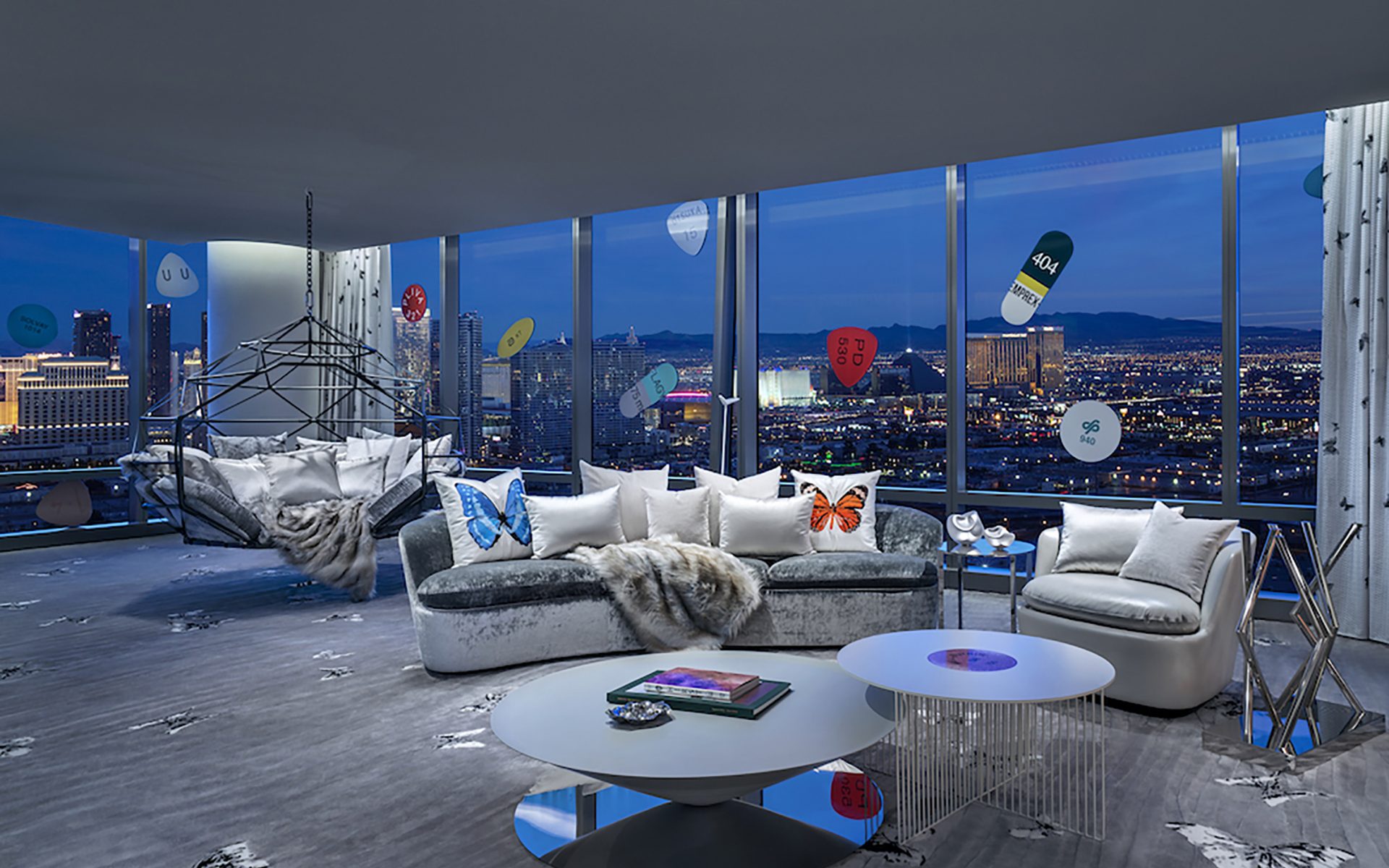 Damien Hirst Designs World's Most Expensive Hotel Suite
At the Palms Casino Resort in Las Vegas, the British artist created a 9,000-square-foot suite that goes for $100,000 per night
The first look at the Damien Hirst–designed suite at the Palms Casino Resort in Las Vegas has been revealed—and it's fittingly over-the-top.
In the midst of a $690 million refurbishment, the hotel tapped the famed British artist to conceive a 9,000-square-foot duplex, titled the Empathy Suite, which includes two master bedrooms, massage tables, a salt relaxation room, a cantilevered Jacuzzi that overlooks the famed Strip, and a behind-the-scenes art tour of the property, among other perks. The price of a two-night stay is $200,000, according to ARTnews, which was the first to publish images of the deluxe spread.
Since purchasing the property in 2016, art-collecting brothers Frank and Lorenzo Fertita have spearheaded an art-inspired revamp, hiring curator Tal Cooperman to procure impressive blue-chip works, including pieces by KAWS, Andy Warhol, Richard Prince, Christopher Wool, and Jean-Michel Basquiat.
"I love what Frank and Lorenzo Fertitta have done with the Palms," Hirst said in a statement. "It's amazing being able to work with them because they are great collectors and totally understand art. They have allowed me to create a suite in the hotel and design everything and completely fill it with my art."
Recommended: Thierry Mugler Is Back in the Spotlight with Provocative New Show
The duplex includes six new entries into some of Hirst's most well-known series, including sharks in formaldehyde, pillboxes, and a ten-panel collection of butterfly motifs on monochrome, gloss-painted canvases.
Hirst also conjured custom-made furnishings for the aerie, like a 13-seat curved bar filled with medical waste.
In addition to the Empathy Suite, Hirst's influence can be seen in both the hotel's renovated pool, which will feature the artist's 60-foot-tall sculpture Demon with Bowl, and the hotel bar Unknown, which has a number his pieces, including a shark in a formaldehyde-filled tank and 16 new "Spot" paintings.
More images of the Hirst-designed suite can be found below.
Next Post