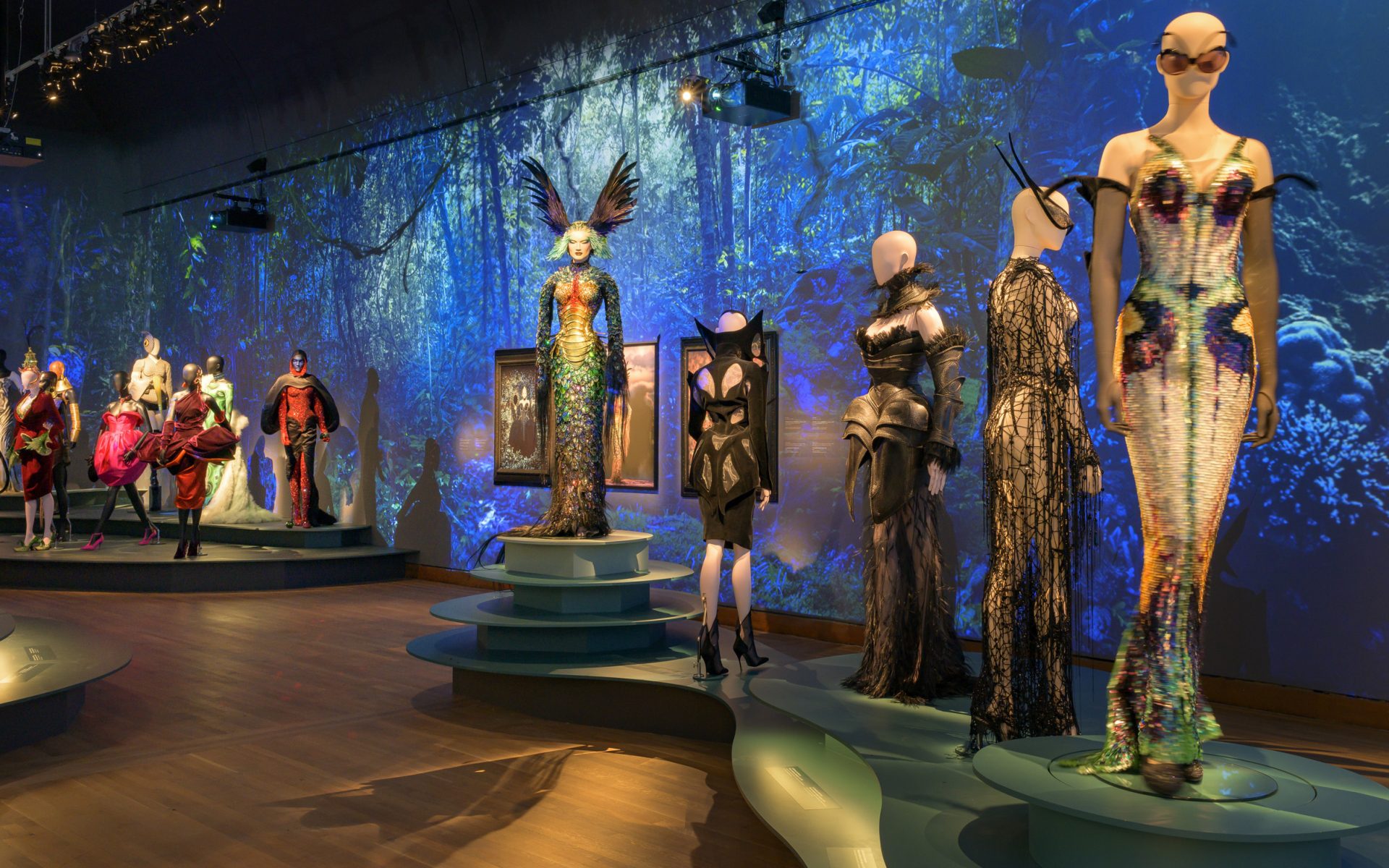 Thierry Mugler Is Back in the Spotlight with Provocative New Show
The fashion designer's dazzling retrospective in Montreal features more than 140 pieces worn by the likes of David Bowie and Celine Dion
On Tuesday, a few days prior to the public unveiling of "Thierry Mugler: Couturissime" at the Montreal Museum of Fine Arts, Mugler and exhibition curator Thierry-Maxime Loriot walked guests through mannequins donning outfits that radiated prowess with their sharp shoulders and architectural cuts. A few were about to gain masklike "visages" to complement their dramatic postures meant to elevate Mugler's unabashedly fierce sense of style.
"I started with a theatrical and cinematic mind-set, and I realized I could use fashion to give the same dramatic effect," says Mugler, who began designing haute couture in 1992 after making a name for himself by conjuring cutting-edge, ready-to-wear fashion. "I created spectacles through clothes; however, I had an urge to create something special for a specific person."
For the designer—a former ballet dancer—theatricality and individuality have always been key motivations, as evidenced by the exhibition's more than 140 pieces, which were created between 1973 and 2001. Each garment stands as a testament to female empowerment and to one's assumption of their sexual identity without turning into a subject of male gaze.
Recommended: 5 of Karl Lagerfeld's Most Spectacular Runway Shows
The most vivid example of the couturier's orchestration of freedom from the patriarchy is a room showcasing his collaboration with late German photographer Helmut Newton. The pair started working together in 1976, soon after Mugler made his breakthrough and secured a budget to knock on Newton's door.
"These images are as valuable as haute couture pieces," Loriot tells Galerie about his decision to include the photographs—some of which have never before been printed—to accentuate Mugler's representation of matriarchy. In the series, women ogling their own reflections in front of mirrors secluded from the public eye or standing gloriously amid industrial outdoors detached from their surroundings refuse to stare at the camera, or at viewers.
"A fashion exhibition only with beautiful dresses would be boring," adds Loriot, who secured a variety of media to represent his namesake's influence on popular culture, particularly in music. As such, outfits worn by David Bowie, Pet Shop Boys, Celine Dion, Madonna, and most recently rapper Cardi B. manifest Mugler's longstanding relationship to stage performers, who benefited from his boundary-pushing designs.
Recommended: Caravaggio Painting Discovered in Attic Could Fetch $171 Million
"The audience needs other layers to grasp the designer's vision, because I organize these exhibitions for a general public, not for the fashion industry," explained the curator, who previously organized the highly successful Jean Paul Gaultier exhibition "From Sidewalk to the Catwalk," which also traveled to the Brooklyn Museum, in 2013. Similar in both exhibitions is the curator's intention to contextualize the designer's role as an artistic visionary, who responds to the beauty and ugliness of their times with outfits that never fail to make a statement.
"Thierry Mugler: Couturissime" is open at the Montreal Museum of Fine Arts through September 8.
Next Post