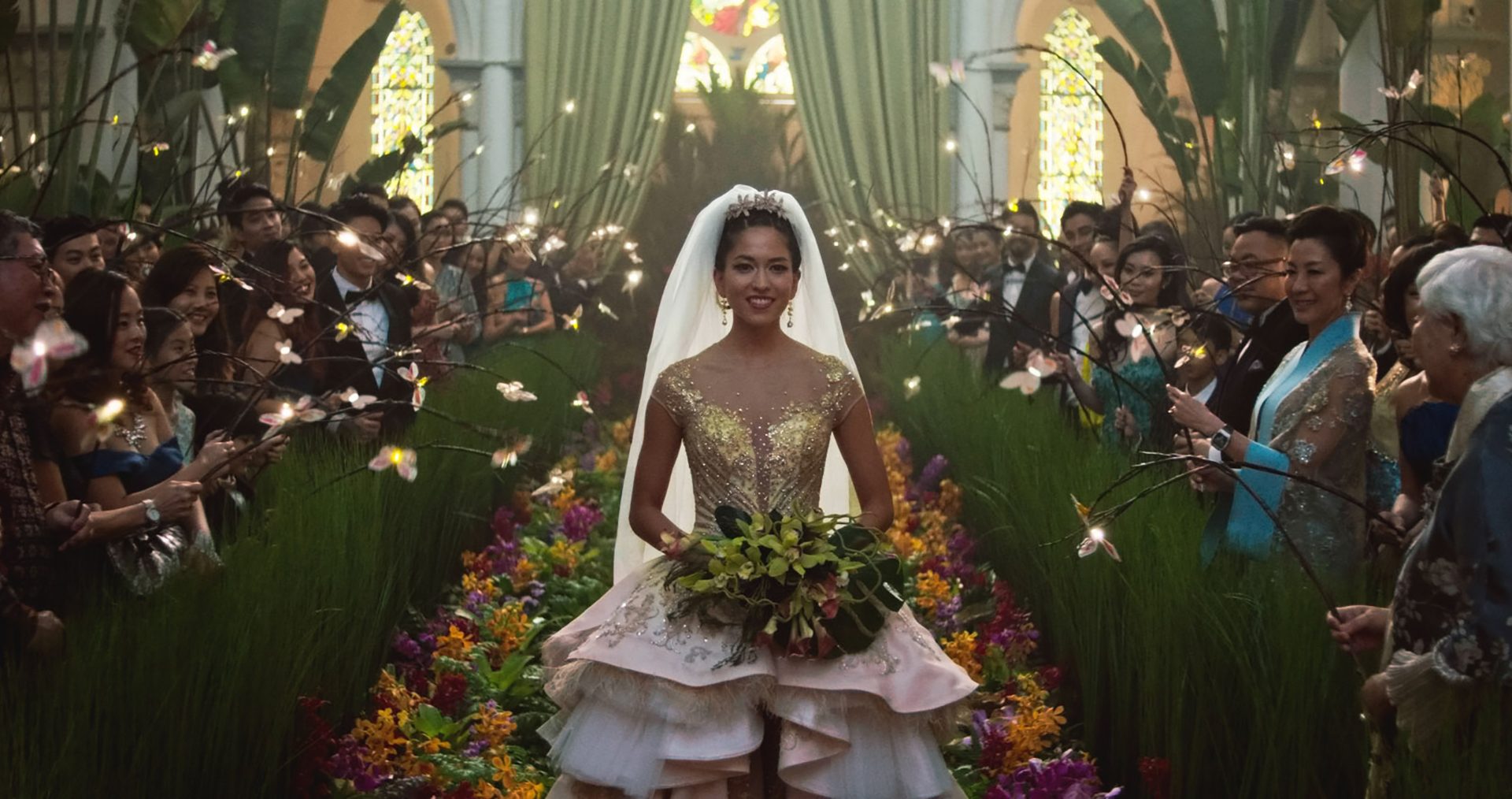 6 Secrets from the High-Flying Set of Crazy Rich Asians
Author Kevin Kwan and production designer Nelson Coates speak to Galerie about the creation of the gorgeous sets for the summer's hottest movie
One of the most alluring aspects of the historic and soon-to-be blockbuster that is Crazy Rich Asians, the just-opened film based on the best-selling 2013 novel by author (and executive producer of the film) Kevin Kwan, is the ultra-glamorous production design. From the luxe estate of Tyersall Park to lush tropical beaches and a bafflingly beautiful bespoke jewelry store, much of the film's plot takes place in outrageously lavish settings. Production designer Nelson Coates was responsible for creating the opulent sets that have a huge part in making the movie what it is, often creating locations, he says, "from scratch." Fresh off the Fifty Shades sequels, Coates worked with a team of art directors, floral designers, and decorative painters from 12 different countries to bring the novel to life.
"It's absolutely jaw-dropping," Kwan, whose own childhood memories inspired many of the sets, tells Galerie. "I love the solutions they came up with to wow everyone, to wow a very jaded audience, and wow even me. I thought I'd seen everything."
The romantic comedy centers on New Yorker Rachel Chu (Constance Wu) as she joins her boyfriend, Nick Young (Henry Golding), for the wedding of his best friend, discovering along the way that he belongs to one of Singapore's most important and wealthy families.
Recommended: Take a Look at the Opulent, and Real, High-End Jewelry of Crazy Rich Asians
Already hailed as a Hollywood game changer for being the first film to feature an all-Asian cast since 1993's Joy Luck Club, the film has had a bustling opening week. It's already got a 92 percent score on Rotten Tomatoes (at the time of this writing) and is expected to bring in $26 million in its five-day debut, according to the Hollywood Reporter. But just how much magic was entailed in its making is another story.
In the midst of the film's heady opening week, Coates and Kwan spoke with Galerie about what went into making one of the summer's biggest pictures. Here are six secrets shared with us about the film.
1. The magnificent Tyersall Park was really two different houses
"Tyersall Park is loosely inspired by many houses from my childhood that I remember visiting and going to, family houses," says Kwan. "It was also inspired by an actual house called Istana Woodneuk that is now a derelict old mansion. It's on this 50-acre plot of land that no one can touch. That was the first inspiration point. It's this complete folly that's part Victorian, part Chinese, and part Arabic architecture. The inspiration for the interiors came from houses I grew up in."
Recommended: The Obamas' Vacation Home on Martha's Vineyard Just Sold for $15 Million
Finding its filmic stand-in was not that easy. Coates and his crew scoured Southeast Asia, "but we did not have Tyersall Park," Coates says. Finally, they found two houses in Kuala Lumpur, one that serves as Tyersall Park's interior and the other as its exterior. "We felt that there was a way to take those two locations and make it spectacular. I built a vestibule and put it on both houses so that you walk in through one set of doors and you're in the same interior scene in each house. It helped create a seamless connection between the two, but both of houses had to be entirely redone."
Both homes were built in the 1880s as housing for British officials during colonial rule. Having changed hands several times since then and eventually left empty for years, the houses were in terrible condition. "The jungle had begun to take over," Coates says. "The floors had collapsed and there was a feral dog population living on the property. Every time I walked into one of those houses, bats would swoop down on me."
Unable to restore the structure completely, Coates built theatrical-style scenic pieces and then added faux architectural features and Singaporean design elements that would upscale the place. "We put in these carved plaques into the plasterwork, which is very typical of the actual Tyersall Road area in Singapore." The house also got a completely new landscape design.
Recommended: Here's Why Car Lovers from Around the World Are Flocking to Pebble Beach
"The complexity of getting Tyersall Park to look like it's this incredibly high-end mansion was in itself unbelievably challenging. Everything you're seeing is wallpapered, painted, gilded. If you were to go to the space today and look at it, it looks vastly different."
2. The conservatory was built from scratch
"I loved what [Coates] did with the house, of course, and especially with the pavilion with the party centered around the blooming flowers," says Kwan. "There was nothing there; it was an empty field. So that was just amazing to see the power of Hollywood and a great set designer."
"We needed to have an excuse to see the house in all its glory, so we wanted the party at Tyersall Park to spill out onto the lawn and so many of these kinds of estates do have a conservatory," Coates says. Wanting a grand effect, the crew built the conservatory in just 16 days, despite the near constant rain in Malaysia. "It's funny because so many of the movie reviews keep saying, 'They found such spectacular locations.' No, we made them."
Inspired by the grandeur of the real Tyersall Palace in Singapore, which was demolished in 1935, Coates had the entire landscape redone and even added a fountain. "There's not a surface seen on film that wasn't touched by us."
3. That first-class plane cabin isn't real
"No one has first class like that," Coates says. After being turned down by a major Asian airline, Coates and his team decided to take matters into their own hands. "We realized that we really couldn't get the shot that we needed in any airline's first class anyway. So in a way, it was kind of a gift to get to create our own set. Just so that we could make it more posh. It's more posh than any real airline."
4. The bachelor party was filmed in a parking lot
In the book, there's an insane bachelor party on a yacht. But having just filmed on a yacht for one of the Fifty Shades movies, Coates wasn't eager to do it again. "It's hard to show the enormity of a yacht after the establishing shot," Coates says. "Once you're on the boat, you're limited to these spaces and little, narrow hallways. Unless you're going to make it look like a cruise ship, it's hard. However, every time we scouted locations in Singapore, there were container ships waiting to come in or to go and the director was like, 'How about we make it a container ship party?'"
Recommended: 5 New Standout Design Hotels Around the World
Coates took the idea and ran with it, creating a wild party that features a climbing wall, pool tables, hot tubs, and even a DJ booth made out of a Rolls-Royce. And in the true fashion of movie magic, the whole scene was built not on a ship, but in a parking lot.
5. The wedding had to be filmed in five days
The plot centers around a lavish wedding (said in the film to cost $40 million dollars), so Coates, who was not working on nearly the same budget as the fictional characters, had to make the wedding and the reception look spectacular.
"Even more impressive," says Kwan, "I loved what [Coates] did at the wedding. How he transformed that chapel into this woodland paradise and then the water. That took my breath away. That was totally his idea. It's not in the book. They were really challenged: How do you showcase a wedding that's supposed to cost $40 million? In real weddings that cost $40 million, it's in these details that don't come across visually. It's in the cost of the food. It's in the flowers. It's in flying in talent to perform. So how do you register that in just a split second? You do that by creating these amazing imaginative sets you've never seen before. You do that by having water trickle down the aisle."
The chapel in which the wedding scene was filmed also held special significance for Kwan. "That chapel, Chijmes, is very meaningful to me," he says. "It's where all my aunts went to school. The chapel of Convent of the Holy Infant Jesus was like the first English-language school, for proper girls. It was like going to the Miss Porter's of Singapore. And so all my aunts growing up were called 'convent girls.' I remember that chapel so well. And to see this special scene unfold there—it's all come full circle."
6. The scene-stealing jewelry store was really a hotel bar
In scouting for the jewelry store that Astrid Leong (Gemma Chan) visits in a memorable scene that introduces her as one of the films most elegant characters, Coates and his crew were looking for something bespoke, but all of the big-name jewelers—Tiffany, De Beers, Van Cleef & Arpels—were in shopping malls. "There were no freestanding, special-looking stores," Coates says. "We needed it to feel exclusive and one-of-a-kind and like we'd never seen it before. It was actually one of the locations I was most concerned about because I couldn't find something that was luxe enough."
Recommended: 10 of the Most Magnificent Buildings That No Longer Exist
In scouting all the hotels in Kuala Lumpur looking for various other locations for the movie, Coates stumbled upon the elusive, perfect spot for the jewelry store at the St. Regis hotel. "We'd kind of looked through everything and as we were leaving, we passed the Astor Bar and I went, 'This is the jewelry store.' Everyone was like, 'What!?'"
Coates was able to transform the bar with jewelry cases and even got the hotel to empty out its wine vault to use as a private-client room, covering the formerly bottle-ladened shelves with lush velvet. "We built these enormous pieces of art using blue automotive paint with gold-leaf blossoms on them," Coates says. "The management at the hotel loved them, and they asked if they could keep them. Now people will go in to the St. Regis and think we just walked in and filmed, but we created them!"
Next Post