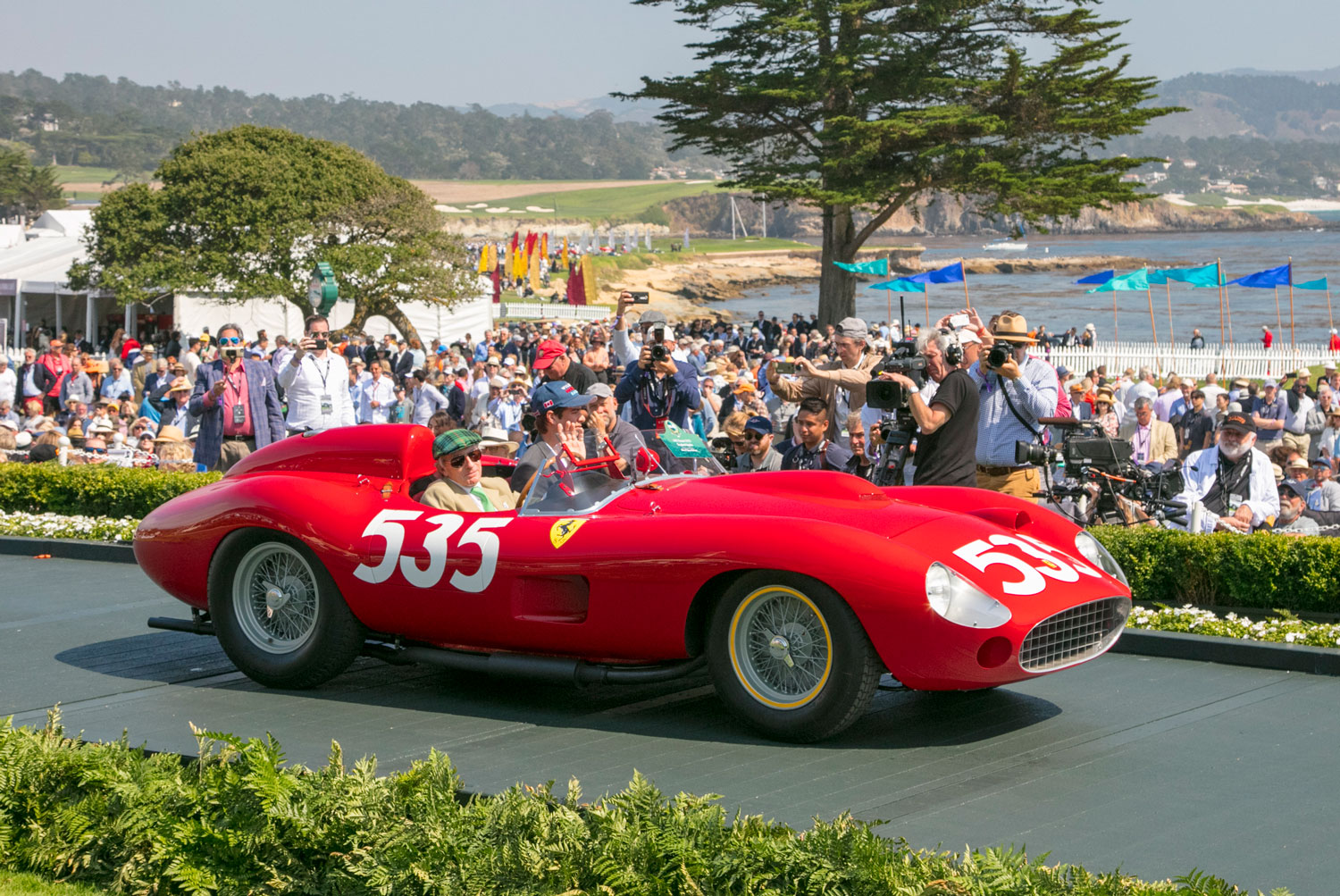 Here's Why Car Lovers from Around the World Are Flocking to Pebble Beach
If you need to ask
The 68th annual Pebble Beach Concours d'Elegance returns to the California coast on Sunday, August 26, and once again, the competition will include more than 200 of the world's finest collector cars, including a number of world debuts.
A panel of 15 industry experts vetted the more than 1,000 applications to select the top 200 vehicles that will compete for top honors, including Best of Show, as well as Elegance Awards, Class Awards, and other special categories. This year's Concours will also include such categories as Motor Cars of the Raj, a spotlight on automobiles tied to India, as well as a spotlight on the history of the Tucker sedan (of the 51 made, just 47 are known to exist today).
Recommended: This Ferrari Could Fetch $60 Million at Auction
In the days leading up to the event, collectors, celebrities, and other automotive enthusiasts will mix and mingle at a number of panel discussions that are limited to just 200 guests. In addition to discussions covering the ins and outs of collecting, racing, and restoration, there will be presentations by Comedians in Cars Getting Coffee star and noted collector Jerry Seinfeld; Jay Leno, host of Jay Leno's Garage; and Good Morning America anchor and car enthusiast Michael Strahan.
"The Pebble Beach Classic Car Forum allows our valued enthusiasts to meet the people behind the world's great cars," Concours chairman Sandra Button has said. "These individuals, who make, preserve, restore, and—most importantly—love cars, are the reason that events such as this exist. We are honored with their willingness to share their knowledge with true automotive enthusiasts, many of whom have been influenced by them."
The event also raises money for a number of charities and has awarded more than $23 million since the first Concours in 1950.
If you plan to attend—or catch the event during the three-hour live stream online—here are a few of the must-see highlights this year.
Recommended: 5 Cars That Will Be Tomorrow's Classics
World and North America Debuts
Cars regularly make their first global appearance at Pebble Beach, and 2018 is no different. This year, BMW will mark the highly anticipated return of the 8 Series by unveiling a production-ready auto at the event on Thursday, August 23. Additionally, the BMW M850i will be displayed Sunday on the Concept Lawn, while the BMW Concept M8 Gran Coupe will have its North American debut.
Other innovative rides that will be unveiled at this year's Concours with be a Polestar 1, 2019 SSC Tuatara hypercar, coachbuilt SALAFF C2, electric BYTON K-Byte Concept, Bentley Mulsanne W.O. Edition by Mulliner, Audi PB 18 e-tron, Lexus Yellow LC Inspiration Series Concept, and Porsche 911 reimagined by Singer. All in all, there will be ten cars making their world debut, as well as seven North American debuts during the event.
OSCA
Lightweight racing cars created by the Maserati brothers will have a place of prominence on Pebble Beach's 18th fairway. On display will be 15 of these distinguished cars, including the OSCA MT4 1500 Spider that put the marque on the map, as well as a 1949 OSCA MT4 Siluro—the second OSCA created—and the last surviving Mille Miglia-bodied MT4, a 1952 MT4 MM Spider.
"When I was 16 years old, I remember reading a mid-1980s Road & Track retrospective on a MT4," Elad Shraga, who owns the 1949 and 1952 OSCAs on display, has said. "I was captivated by the mystical combination of the authentic Maserati brothers pedigree, the artisanal design, the bespoke and individual nature of these race cars, and mostly, that rare combination of top-level racing success achieved by self-sufficient engineering and design."
The Evolution of Race Cars
The race cars zipping around the Indianapolis Motor Speedway in 2018 look vastly different from the race cars of yore. This year's Pebble Beach will celebrate the "Indianapolis Revolution" with a special class competition of front- and rear-engine racers from the 1960s. Check out these mighty minis, like a newly restored 1961 Quinn Epperly Indy Roadster and the last of the traditional roadsters to win at Brickyard, a 1963 Agajanian Willard Battery Watson Special (on loan from the Indianapolis Motor Speedway Museum).
Citroën Debut
For the first time ever, the bullet-shaped beauties will be a featured marque at Pebble Beach—and to mark the occasion, the two-tone blue 1966 Citroën DS 21 Chapron Le Léman Coupé is featured on the event's poster. Said Button, "Interest in Citroën among collectors has seen exponential growth in recent years, and the Concours is pleased to showcase custom coachwork Citroëns that offer the best of French technology and design."
Japanese Automotive Invitational
This new event will showcase Japanese cars on loan from private collectors, museums, and manufacturers' collections. Among the cars included are the Q45t, Prototype 9, which made its Pebble Beach debut in 2017, and Q Inspiration, the latest concept car from Infiniti, as well as the Toyota 2000GT James Bond Version, Datsun 240Z Safari Tribute, and Dan Gurney's Eagle MkIII IMSA GTP championship car.
"This celebration and stunning display of Japanese automotive heritage features vehicles that exemplify the innovation, design, and performance that originate from a rich and historically significant car culture," said Phil O'Connor in a statement. He's the director of marketing communications and media for Infiniti USA, which is partnering with Motor Trend Group for the exhibition.
Next Post