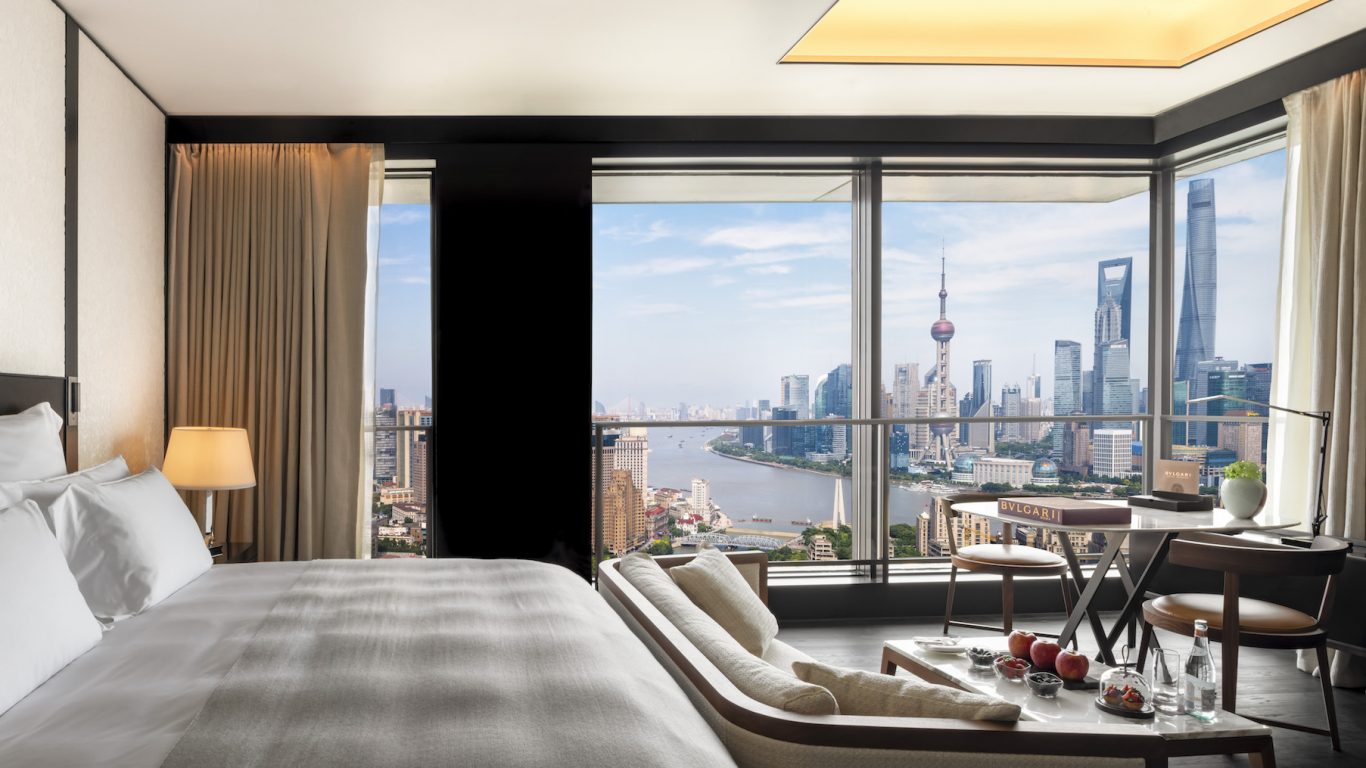 5 New Standout Design Hotels Around the World
From an architectural gem in the countryside of Uruguay to a restored Parisian landmark, these are the hotels you'll want to book now
As luxury hotels aim to distinguish themselves as destinations, design assumes a more important role than ever. Here, we round up the most stunning new properties around the world.
1. Lutetia, Paris
A favorite haunt of the bohemian literary set in the 19th century, this glorious Left Bank institution is once again welcoming guests. The grande dame of Parisian hotels, which first opened in 1901, was closed for four years to undergo an extensive renovation in which architect Jean-Michel Wilmotte scaled back the original 233 rooms of the hotel to 184, with 47 suites among them. The rooms now feature an elegant color palette of navy blue and slate gray with discreet Art Deco chandeliers, and the bathrooms include carved solid-marble baths. The renovation also led to some fascinating discoveries, including the original Romanesque frescoes, which had been buried underneath years of later plasterwork. Other highlights include a beautiful spa with a hammam, sauna, and softly sunlit swimming pool.
2. 21C Hotels, Kansas
The newest location of the 21c Museum Hotels , which feature a series of cutting-edge accommodations that breathe new life into historic structures with art-filled contemporary design, has now opened in the bustling downtown arts district of Kansas City, Missouri. Designed by New York architect Deborah Berke and local architect Hufft Projects, the transformation has given new life to the Savoy Hotel and Grill, which was first built in 1888, restoring its architectural features such as the mosaic tile floor and a stained-glass dome. The drawing card is the incredible site-specific installations of contemporary art that dot the property. "Refuge," an inaugural exhibition, showcases the likes of artists Yoan Capote, JR, and Stephanie Syjuco.
Recommended: Jacques Garcia's Most Lavish Hotel Designs
3. Bulgari Hotel, Shanghai 
The iconic jewelry house has opened a palatial new hotel in the futuristic city of Shanghai, a sleek 48-story monolith that overlooks the neoclassical 1916 Chamber of commerce. The design, like all the Bulgari properties, is by Italian firm Antonio Citterio Patricia Viel—a sumptuous mix of traditional and modern themes that reflect the surrounding metropolis. To unwind, guests can enjoy lounging in the lush landscape gardens or head to the spa, which features eight treatment rooms, a heated indoor pool, vitality pools, and a bespoke fitness studio.
4. L'Oscar, London 
Jacques Garcia's latest hotel, L'Oscar, takes over seven floors in the Grade II-listed ex-Baptist Church Headquarters in Holborn, London. Each of the 39 guest rooms is unique in design, with a luxurious turn-of-the-century feel and elements of the designer's overtly theatrical and flamboyant style such as plush velvet in red and gold, and boldly patterned carpets. (Garcia is behind some of our favorite hotels, including Hôtel Costes in Paris, La Mamounia in Marrakech and the NoMad in New York.) One of the standout spaces is the Baptist Grill restaurant, located in the original 1903 chapel that features a hand-painted ceiling surrounded by stucco low-relief sculptures.
5. Sacromonte Landscape Hotel, Uruguay
Nestled in the rolling landscape of the Maldonado, a 250-acre stretch of sierras between Punta del Este, José Ignacio and Pueblo Garzón, is a strikingly modern hotel designed by MAPA Architects. Conceived for wine lovers, the luxury retreat comprises a winery, a farm-to-table restaurant and 13 hotel cabins—each with a private deck and circular pool. Both the winery and the store are part of Sacromonte Crafted Wines, a venture by a group of small Uruguayan wineries that have recently received global attention. The smoked-glass mirrored facade reflects the surrounding grasslands and seems to disappear, making it the perfect place for a getaway.
Next Post