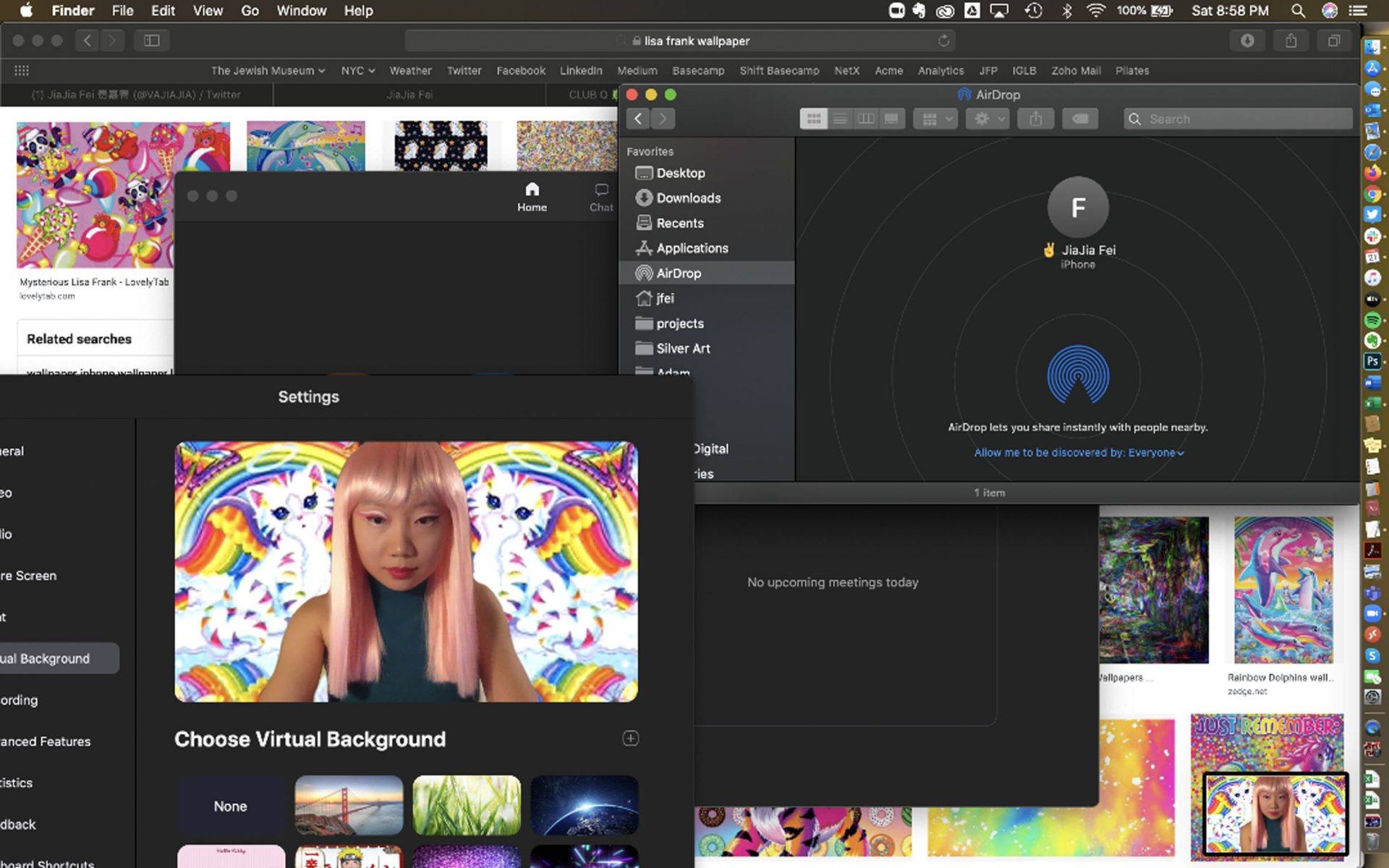 8 Art World Luminaries Share How They're Staying Creative at Home
Marianne Boesky, Ian Davenport, JiaJia Fei, and others on the Instagram accounts, TV shows, books, and recipes they're into right now
In a typical March, a slew of Chelsea gallery openings host large crowds of art lovers that spill out onto the streets. Or black-tie fundraiser galas welcome the well-heeled to rub shoulders, discussions about the next art fair or biennial destination filling the room. Now, with worldwide efforts to contain the spread of coronavirus (COVID-19) and social distancing the new normal, the art world's spring season is looking very different.
Even with the influx of new online viewing rooms, museum archives, Instagram studio tours, and podcasts, creative minds may at times grapple with isolation. We asked some of the leading museum directors, artists, gallerists, and digital experts for their tips—and to share a selfie from home. Here, a look at how these colorful characters fill a day.
IAN DAVENPORT
Since starting to work remotely with his studio team, London-based artist Ian Davenport has launched a series of Instagram posts called fantasy projects, sharing ambitious artworks on iconic buildings and architectural sites for his over 50,000 followers. "If we can't actually do them, at least we can dream!" Davenport tells Galerie. "As we try to recalibrate our lives, I want to keep my team motivated and engaged."
Favorite Instagram Account 
"I like the North American Guitar Shop's Instagram account. They sell guitars in the U.S. and U.K. and also have online guitar tutorials and sessions of players they invite to come and test out their guitars."
Bingeable Television Show 
"I've just started watching RuPaul in AJ and the Queen on Netflix. It's great escapist fun.
Most Treasured Possession 
"A few years ago, I was lucky enough to be able to buy an etching by Picasso from his famous 'Vollard Suite' series. It is in my bedroom, and I look at it every day."
PARI EHSAN
Pari Ehsan, the creative mastermind behind art and fashion platform paridust, is operating from her downtown Manhattan apartment on the Bowery, creating and publishing content that fosters a virtual dialogue when the need for outreach is most crucial. Known for her sensory visual aesthetics, Ehsan is using this time to construct sensitive and welcoming connections between visual art and audiences.
At-Home Exercise Routine 
"Practicing yoga from my Zen den with Krissy and Chloe on Sky Ting TV has been a godsend. They're also daily live-streaming a class, which helps me channel the synchronicity that I love so much about New York City as I envision all the other yogis in their apartments doing sun salutations with me."
Go-To Recipe 
"I grew up with Persian food and an Iranian father whose cooking is extraordinary. Food of Life: Ancient Persian and Modern Iranian Cooking and Ceremonies is the quintessential Persian cookbook, which I've been carrying with me since I left home. A lot of love goes into making these beautiful, aromatic recipes. I just celebrated Nowruz, the Persian New Year marking the first day of spring, and made my favorite, shirin polow, which is sweet rice with candied orange peel, pistachios, and almond slivers. It was delicious, and thankfully the care package of saffron, advieh, and barberries (along with toilet paper and disinfectant wipes) from my father arrived just in time!"
Recommended: Is Art Basel Hong Kong's Online Edition the Future of Fairs?
Most Treasured Object 
"As a true creature of my environment who feels the direct effects of each belonging in my space, I have been deeply appreciating my desk chair by Sergio Rodrigues. The Daav armchair is one of the Brazilian designer's quirkier pieces, with its slender members and playful proportions. It is my friend and my happiness."
PEGGY LEBOUEF 
With the temporary closure of Perrotin's solo exhibitions of Bharti Kher and Cinga Samson, the gallery's executive director, Peggy Lebouef, is spending her time at home, enjoying the personal art collection she has built over the years and catching up with the books she saved for a rainy day.
Artwork That Brings Happiness 
"In particular, I love Nathan Zeidman's nightlife painting and Charles Hascoet's very intimate scene, as well as fun and colorful sculptures by Genesis Belanger, Roger Herman, and Pia Camil. I also have such lovely works by Adam Henry, Emily Mae Smith, Sophie Calle, Renata Morales, Bernard Frize, Rhea Karam, and Adam Winner."
Current Reading List 
"I am excited about three amazing comics: In Waves by A. J. Dungo, which is a tribute to the author's trying journey with his girlfriend in her fight against illness and their love for surfing; Milo Manara's Le Caravage, dedicated to the extremely talented Caravaggio; and Pénélope Bagieu's Les Culottées, a collection of short biographical stories about women, featuring inspiring and unique narratives from various time periods."
Recipes to Try  
"My partner, who is self-isolating in Paris, and I have established a cooking game. Charles sends me pictures of his culinary creations, and I try my best to replicate them—his daily innovations as my own personal recipe book!"
TERRIE SULTAN
Located on Long Island's East End, Parrish Art Museum melds nature and architecture with its Herzog & de Meuron–designed building set upon a 14-acre meadow. The museum's current exhibition, "Bay, Pond & Harbor (Long Island Triptych)," which is fittingly dedicated to Maya Lin's environmentally conscious body of work about water, is closed to public, and its director, Terrie Sultan, is spending time at her home in the Hamptons.
Reading List 
"I am generally a fiction reader—I relish getting lost in a narrative. Right now, I'm reading The Mercies by Kiran Millwood Hargrave. But storytelling isn't always in fiction form, and after reading The Hare with the Amber Eyes I simply had to proceed with Edmund de Waal's recent book, The White Road."
Television Show 
"I am a big fan of police dramas and find Babylon Berlin absolutely riveting. Going from pre-WWII Germany to The Plot Against America seems like a natural transition."
Most Treasured Possession 
"I have a  beautiful painting by my husband, artist Christopher French, entitled The House of Sand and Fog, where I can get lost in my own reverie."
JIAJIA FEI
Social media guru and consulting director of digital at the Jewish Museum, JiaJia Fei has been busy building her art digital consultancy firm. Recently, the Brooklynite had a change of scenery, replacing the East River vista of her Dumbo coworking space with her Carroll Gardens apartment's street view. After recently launching the art world's first digital agency, Fei notes that presenting art as a digital-first experience seems more urgent now than ever.
Favorite Digital Platform 
"The best digital innovation to come out the age of corona is Club Quarantine, an online queer party that takes place on Zoom Meeting every night at 9 p.m. All the kids get dressed up, turn on a virtual background, and the music is fire. It's the closest technology translation of a social experience I've seen—and indeed feels like you are at the club again with 300 of your closest friends."
At-Home Exercise Routine 
"Now that all the gyms are closed, I've been working out with my trainer, Michael McGuire, through his sessions on Instagram Live every day at 1:30 p.m, while also watching BoHo Beautiful yoga and pilates videos for the beach aesthetics. Every once in a while I'll escape on a joy ride to the grocery store on my bike to get some fresh air."
Bingeable Television Series 
"To stay sane and also inspire me to start cooking more, I've been watching videos by Li Ziqi, a Chinese food blogger who makes all of her meals but also clothes and furniture from scratch! In the latest episode, she grew her own cotton to make a blanket for her grandmother and her puppy."
 MARIANNE BOESKY
Living with her 15-year-old daughter above her namesake Chelsea gallery, art dealer Marianne Boesky utilizes her unique live-work situation by giving tours of the gallery's Jessica Jackson Hutchins exhibition, "Restless Animal Kingdom," on Marianne Boesky Gallery's Instagram account. Donning a bathrobe, she last week walked her followers through Hutchins's amorphous ceramic sculptures, some of which rest on found furniture. The gallery walls, as she pointed out during her walk-through, contained traces from the performance by dancers from Trisha Brown Dance Company on March 5, before the city went on a hiatus. 
Television Lineup 
"I watched Get Out again recently, which is a surreal parallel universe that seems to resonate right now. I also have the eight-hour director's cut for Apocalypse Now lined up for this weekend."
Favorite Room at Home
"I have a favorite spot in my kitchen that my daughter and I vie for, and we can't seem to figure out why one end of the sofa is so much better than the other end. But it is!"
Most Treasured Possession 
"Believe it or not, I don't treasure objects themselves. I'm as moved by artwork I see out in the world as I might be by something I live with. It's the feeling a thing can inspire that triggers a happy response: Staring at the center of my Donald Moffett painting gives me a peaceful sensation, and petting my little Haas Brothers beast makes me smile without trying, like a reflex."
 VITTORIO CALABRESE
For Vittorio Calabrese, director of modern and contemporary Italian art museum Magazzino, in Cold Spring, New York, social distancing means connecting with his friends and family in Italy from his Fort Greene apartment, while working on the museum's virtual projects and taking care of his newly adopted cat, Zeppola. "Work has definitely helped a lot, but the immense tragedy taking place in Italy has been heartbreaking since the beginning," says Calabrese. His daily routine since he started self-quarantining 16 days ago includes a morning espresso, cooking class with his aunt, a virtual aperitivo with friends, and finally Corriere della Sera and the New York Times after dinner.
At-Home Exercise Routine 
"Ascend is a yoga studio based in Cold Spring, right on main street in one of the most iconic buildings in town. The studio is founded by Melia Marzollo, one of the leaders of our community, and it embodies a holistic approach to yoga and meditation. I met Melissa when we opened Magazzino, and we have already organized two workshops at Magazzino with Elena Brower in 2019 and Jillian Pransky last month!"
Recommended: Art Insiders Pick the Artwork They'd Take Home from the Armory Show
Recipe to Attempt 
"I am ready to attempt a pastiera, a Neapolitan cake filled with ricotta and candied fruit that you usually eat during Easter. I am very determined to follow the family recipe! According to legend, the mermaid Parthenope had chosen the Gulf of Naples as her home, from where her melodious and sweet voice spread. Locals showed their gratitude toward her by bringing seven gifts to the siren, which included flour, a symbol of wealth; ricotta, a symbol of abundance; eggs, which recall fertility; orange flowers from Campania; and sugar, to celebrate the sweetness of the siren song. Parthenope mixed them, creating this unique dessert."
Artwork That Brings Happiness 
"This time of forced quarantined made me think about an audio work by artist Danilo Correale, titled Reverie: On the Liberation from Work. It is a two-chapter guided hypnosis exercise aimed at deeply relaxing our body and mind, in preparation of a future without work.  Try to imagine the realm of a postwork society—very timely!"
FARAH AL QASIMI
Farah Al Qasimi's current Public Art Fund exhibition, "Back and Forth Disco," features photographs hung inside a hundred bus shelters across New York City, punctuating a placidness unlike the urban energy that inspired the Brooklyn-based artist when she created the series last fall. The streets Al Qasimi captured across five boroughs may be devoid of their usual bustle, but the artist's photographs still accompany those waiting for a bus or passing by while on errands. The artist has another solo exhibition of new photographs titled "Funhouse" at the Lower East Side's Helena Anrather, where her subject matter ranges from a delicately carved melon to Miss Muslimah of Iowa.
Current Reading List 
"The Dispossessed by Ursula Le Guin, Against Interpretation and Other Essays by Susan Sontag, Babel-17 by Samuel Delany, Collected Fictions by Borges. I am also listening to Tara Brach's meditation podcast before bed."
Movies That Recently Made an Impression
"I mostly watch sci-fi and horror. Recent favorites were The Thing, Invasion of the Bodysnatchers, The Changeling, and Rosemary's Baby."
Most Treasured Objects 
"I am very thankful for my houseplants, who bring me endless joy and company. It is a small luxury to wake up to a room full of happy leaves, especially when it's necessary to stay indoors."
Next Post