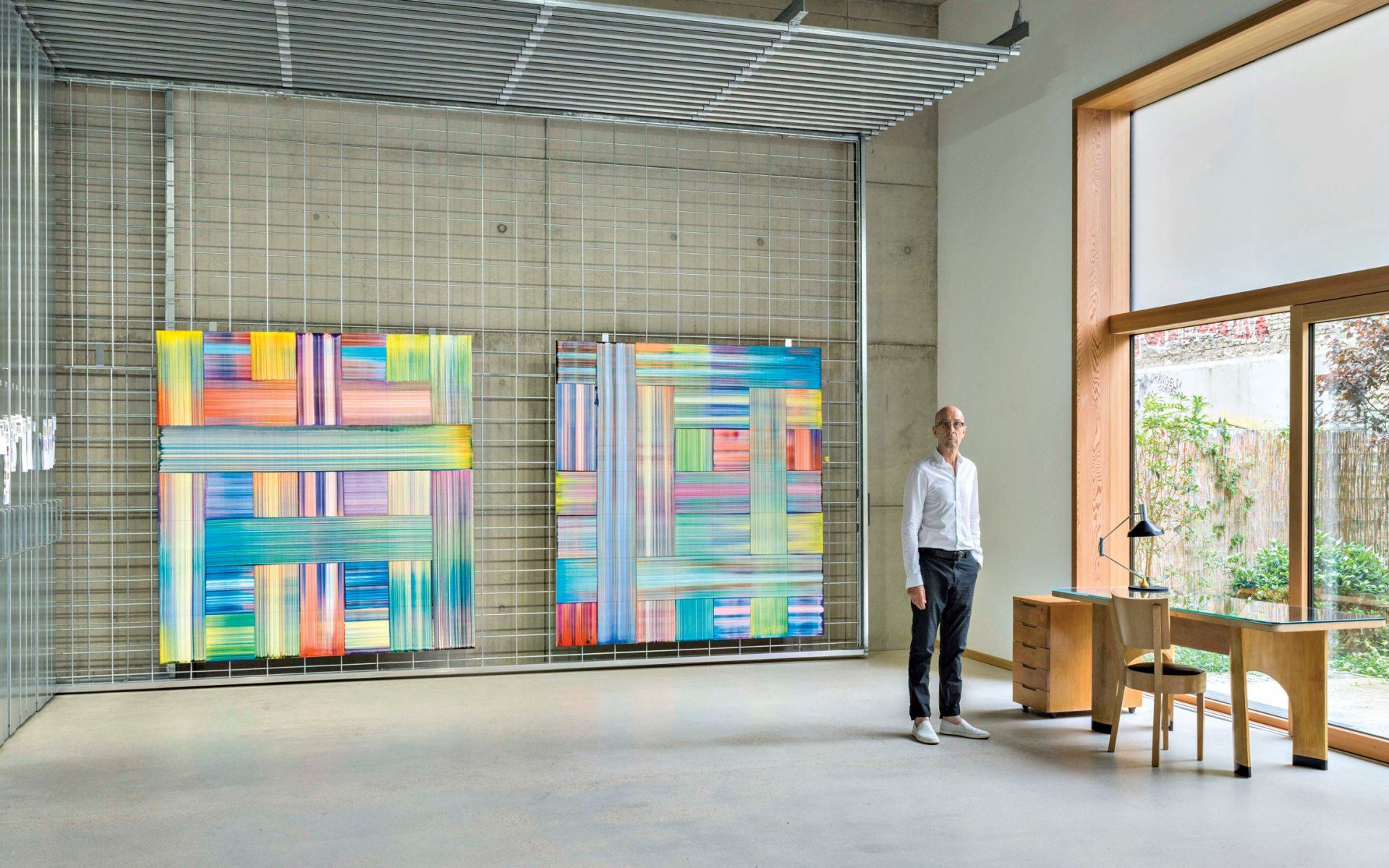 Inside Bernard Frize's Minimalist Studio in Berlin
Fresh off a major exhibition at the Centre Pompidou, the celebrated French artist is showing his latest pieces at Perrotin in New York
Four decades into his celebrated career, Bernard Frize is still emerging, continually exploring innovative modes of painting and connecting with new audiences. Since the 1970s, the French-born artist has been making eye-catchingly colorful and wildly diverse groups of abstract paintings based on different sets of predetermined rules—their outcomes left to chance and variation.
"I am always interested in the idea of generation and corruption," the artist says during a visit to his studio and home in a quiet corner of Berlin's central Mitte neighborhood. "I think the emergence of a painting is also the moment where the previous work is falling apart, and maybe a new work emerges from this."
Though Frize now spends most of his time in Berlin—where he has a masterful studio designed by architect Philipp von Matt, whose work has appeared in exhibitions alongside artist Leiko Ikemura at Galerie Karsten Greve and Japan's National Museum of Modern Art, among others—he maintains a studio in Paris, where the full scope of his practice was on view in the Centre Pompidou's recent exhibition "Without Remorse," his first museum show in his home country in more than 15 years. Some 60 works spanning Frize's entire oeuvre—the earliest dating to 1977—were organized not chronologically but rather by six enigmatic themes, such as "with unreason," "without effort," and "with system." In some cases, works from the same series appeared in different areas, blurring boundaries and encouraging open-ended readings of the pieces. Combined with the group of recent paintings concurrently on view at Perrotin gallery a few blocks away, the diverse array of canvases highlighted the striking breadth of Frize's experiments in abstraction.
For his latest paintings—a selection of which are on view at Perrotin's New York gallery through late October—Frize has been working with the concept of the grid. Standing in his light-flooded, top-floor studio, with paint-splattered brown paper covering the floor, he explains that during the past few years he has been exploring how to "make a painting with straight lines," with grids serving as both a conceptual and literal framework.
Recommended: Paola Pivi's Playful Baby Bears Take Over Perrotin
He first sketches a grid pattern on a sheet of ordinary paper and then uses that as a starting point for a painting. Sometimes the drawn grid is reflected in the final piece; other times the pattern shifts as he works. When it comes to color, he remains ambivalent: Paint is mixed with a white resin that dilutes the hue, then one stroke is made with one color, another stroke with a new color ("not layers, but strokes," he insists). The focus is always on process. His work is not about the expression of materials or the artist's hand, which is frequently not evident in his paintings—their smooth surfaces appearing almost mechanically rendered. The final result, which is never entirely certain, emerges only as the paint dries. Frize's work is both intensely deliberate and open to chance.
Though he shows with Perrotin and Simon Lee Gallery, Frize says he is "not very present in terms of the artistic scene and market community," describing himself as more of an "artist for artists." When he first came to Berlin a decade and a half ago, it was in large part due to this feeling. "People in Germany were really dealing with painting," he remembers. "There was an attention to painting here that I couldn't find in France, where they think my work is just ornamental—that it's just matching the curtains in collectors' houses."
Recommended: Go Inside Artist Bernar Venet's Stunning Estate in the South of France
As the crowds at Frize's Pompidou and Perrotin shows would seem to attest, however, his work is hardly suffering for recognition. Furthering his long-awaited institutional return, his current show in New York is also his first in three years, and he exhibited twice this year in Japan, where he was seldomly shown in the past.
Responding to the suggestion that he is a perpetually emerging artist, he laughs and nods in agreement. "I think I'm constantly emerging," he says with a soft smile. The idea extends even to his daily life. "There is constant movement which is dying and reborn in the work," he continues, "and I really feel it as well. I live it."
A version of this article first appeared in print in our 2019 Late Fall issue under the headline "Painting By His Own Rules." Subscribe to the magazine.
Next Post