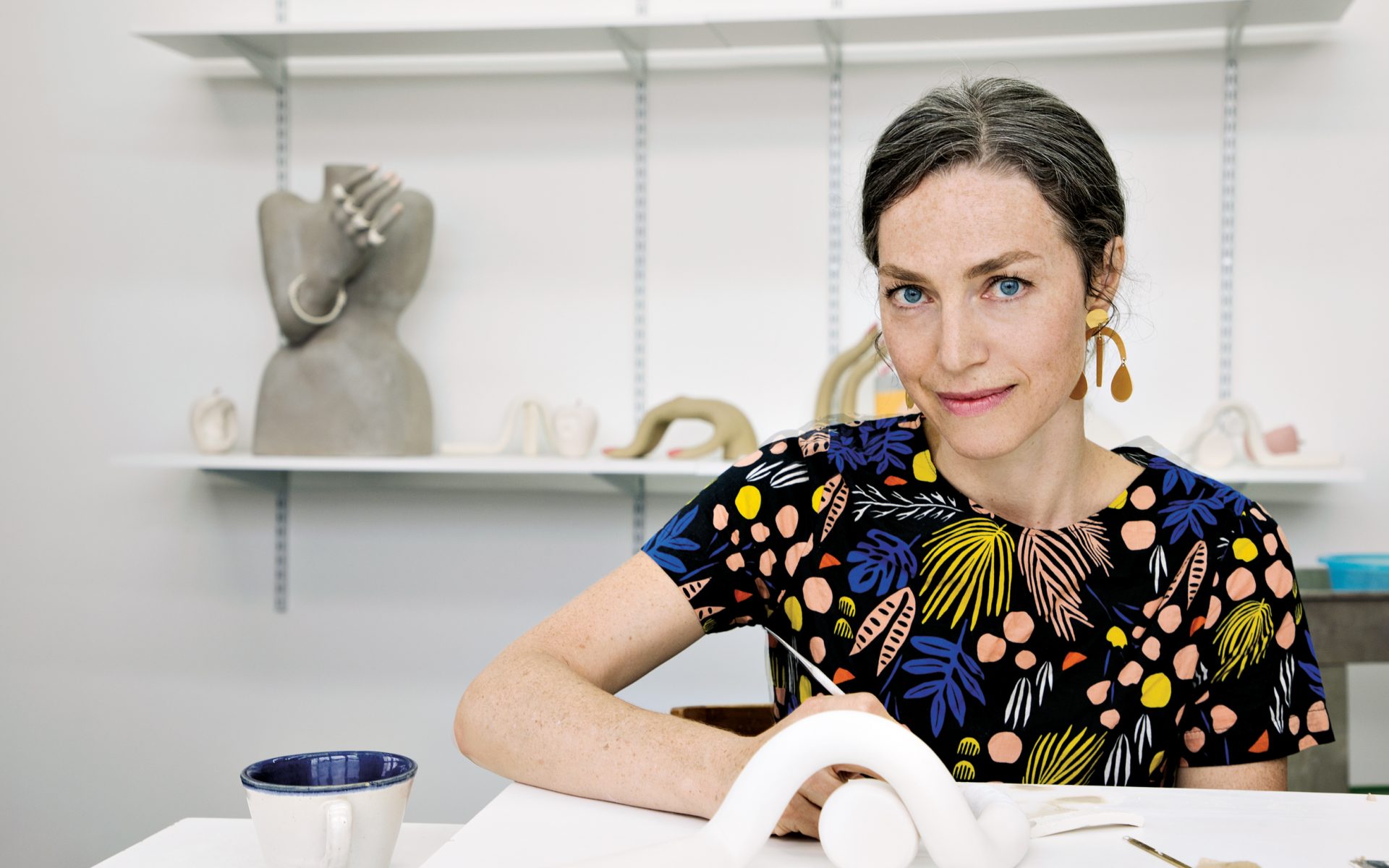 Don't Miss Genesis Belanger's Thought-Provoking Sculptures at Perrotin
Her whimsical works will next be seen at L.A.'s Ghebaly Gallery and Rodolphe Janssen gallery in Brussels
Surrealism may be a century old, but Brooklyn artist Genesis Belanger breathes new life into the conceptual movement with her droll, alluring sculptures. Hand-rolled in clay, porcelain, and concrete, the works often merge furniture shapes with classic still life objects, which are tinted in candy-color hues whose cheerful effect belies a pointed edge. A centerpiece features a woman's erotic lips and tongue sprouting from a bouquet of flowers.
A life-size vanity table is cluttered with the belongings of a "hot-mess character" of Belanger's imagination: perfume, booze, a melted chocolate bar. "It's funny and sad at the same time," she says. "I was thinking about how we marginalize women as they age—just when we become more dynamic and have more interesting things to say."
Recommended: Elizabeth Margulies Selects Her Top Five Emerging Artists of 2018
Based on her exhibition schedule, Belanger has a surfeit of interesting things to say. Her new sculptures are currently paired with paintings by fellow Brooklyn artist Emily Mae Smith at New York's Perrotin gallery (through December 22). Two solo shows follow: at Ghebaly Gallery in Los Angeles in May and Rodolphe Janssen gallery in Brussels in the fall. Yet despite a red-hot career, Belanger took a circuitous route.
She studied fashion design at the School of the Art Institute of Chicago and built props for advertising campaigns in Manhattan before earning her MFA from Hunter College, where she was accepted into the painting program only to be captivated by clay. "It's easy to find art in the abject, that touches some dark discord," she says, "but I think it's possible to make work that is relevant and beautiful." 
A version of this article first appeared in print in our 2018 Winter Issue under the headline Breaking the Mold. Subscribe to the magazine.
Next Post