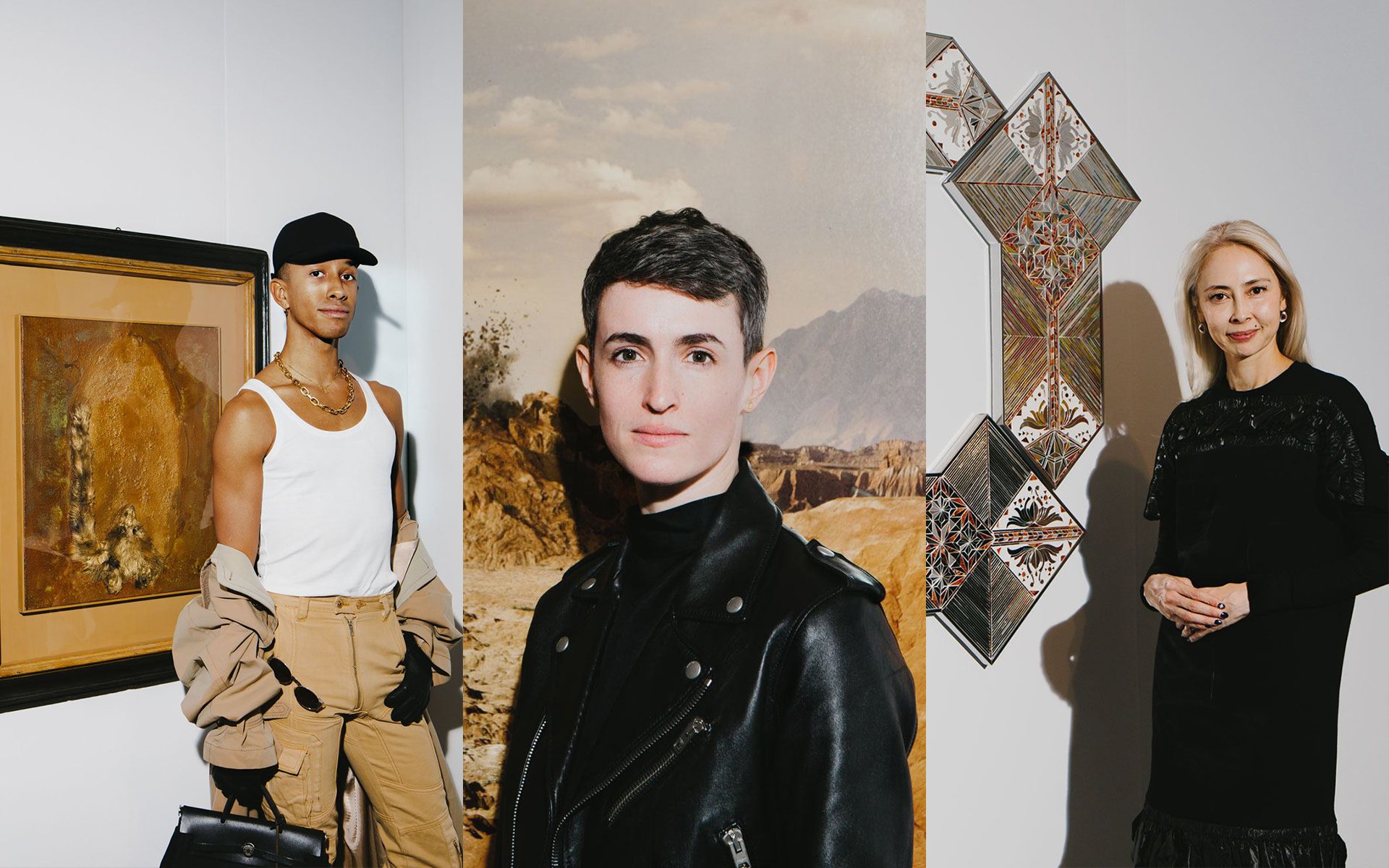 Art Insiders Pick the Artwork They'd Take Home from the Armory Show
We asked top art-world figures to share their favorite piece at the New York fair, on view through March 8
While plans for many of Europe's most prestigious art and design fairs are currently in flux, New York's own Armory Show opened its door at Pier 90 and 94 with 182 galleries from 32 countries present. Each section, including Perspectives, Focus, and Presents—thoughtfully organized by institutional curators such as Nora Burnett Abrams of the Museum of Contemporary Art Denver or Jamillah James from the Institute of Contemporary Art, Los Angeles—offers a unique platform for smaller galleries to present work in a market where heavy-hitters continue to dominate in space and roster.
"The Armory Show has always been a place for discovery, whether it's new, emerging talent; artists that have perhaps been overlooked in the past; or unique works from major blue-chip galleries," the fair's director, Nicole Berry, tells Galerie on the opening morning.
We caught up with eight art-world figures to learn about the one work they'd take home from the fair, which remains on view through March 8.
1. Miles Greenberg
Performance artist and actor 
Given the opportunity, Greenberg would take home late Italian artist Carol Rama's mixed-media collage Le tagliole (1966) from Berlin-based Galerie Isabella Bortolozzi. Known for her sexuality-infused subliminal paintings and drawings, Rama here used hide and enamel on canvas to juxtapose a haunting and mysterious visual statement. "I don't consider myself a collector, and as an artist who works with the immaterial, I always question the idea of collecting," says Greenberg, who recently performed iterations of his durational piece Pneumotherapy at Perrotin and Reena Spauling's Fine Art. But, if in the future Greenberg did become a collector, Rama would be in his top ten he admits.
Recommended: 3 Fascinating New York Exhibitions Focusing On Craft
2. Maria Brito
Art advisor and curator
Standing in front of Senegalese artist Omar Ba's mixed-media painting Untitled at Parisian Galerie Templon's booth, Maria Brito compares the New York– and Dakar-based artist's compelling gestures to Gustav Klimt and is impressed by his mastery over various figures in large scale. "I am amazed by Ba's technique of weaving scenes that could be considered violent and marginalized into intricate patterns," she says. Brito recalls last year's French film Les Misérables, set in Paris's impoverished suburbs, and sees a parallel between Ba's figures and the film's subjects in terms of posture and strength.
3. Cybele Maylone
Executive director,  Aldrich Contemporary Art Museum
Painter Hugo McCloud is known for his abstract paintings in bronze sheet or aluminum foil. At Sean Kelly's booth, McCloud's recent mixed-media works include a collage of plastic merchandise bags on wood panel. The work, which depicts a man hauling a cart full of boxes, is based on a photo the artist took in Dharavi, India, in 2012. "Hugo is busy creating a series of works for our show at his new Tulum studio, which I haven't had a chance to see yet," Cybele Maylone tells Galerie. (The Aldrich Contemporary Art Museum is mounting a survey of the New York painter's recent works in November.) "I am thrilled to catch up on what he has been working on during the Armory Show."
4. Jasmine Wahi
Holly Block Social Justice curator, The Bronx Museum
Wahi's pick from the fair is Jeffrey Gibson's beaded sculpture Power Full Because We Are Different (2020), on view at Los Angeles–based gallery Roberts Projects. "I love Gibson's incorporation of overlooked historical narratives in three dimension with whimsy and playfulness," says Jasmine Wahi of the piece, which she considers a powerful message on articulating the importance and beauty of differences. Also the founder and codirector of Project for Empty Space in New Jersey, Wahi states the figure's titular message personally resonates with her as a curator.
5. Nicholas Baume
Director and chief curator, Public Art Fund
Nicholas Baume finds a familiar "face" at 303 Gallery's booth: a copper sculpture by Berlin-based artist Alicja Kwade. "Public Art Fund showed Alicja's first public sculpture in New York in the group show Lightness of Being at City Hall Park in 2013," he remembers. "Two years later, we placed her backward-running clock sculpture, Against the Run, in Central Park. I am thrilled to see today another brilliantly inviting and provoking work at the fair." A 2017 sculpture from Kwade's "Hypothetisches Gebilde" series, the form of intertwined horns proves the artist's skill for transforming "the familiar into a mysterious pleasure for the eye," Baume says.
Recommended: 7 Rare Art-World Artifacts to Collect at the Antiquarian Book Fair
6. Melissa Chiu
Director, Hirshhorn Museum and Sculpture Garden
"As museum people, we don't take things home but bring them to the public," says Melissa Chiu as she took in Monir Farmanfarmaian's hallucinatory mirror and reversed painted glass works at Haines Gallery's booth. According to Chiu, the late artist was a real New York icon and a skillful user of Iranian architecture and interior aesthetics in abstraction. "After building a name for herself here and friending artists like Andy Warhol, she made a decision to move back to Iran and produce work about her heritage at home." Chiu was particularly fascinated by Farmanfarmaian's 2011 piece Four Seasons, which combines geometric precision with a meticulous and patient use of hand gesture, captured behind the mirror's mesmerizing impression.
7. Justine Ludwig
Executive director, Creative Time
Justine Ludwig finds a parallel between the alarming calmness in Julius von Bismarck and Julian Charrière's archival pigment print Capitol Reef, We Must Ask You to Leave (2018), at Berlin gallery Dittrich & Schlechtriem's booth and the political discourse around environmental decline. "We are in a moment when protection for nature is rolling back in the U.S., and this work is about how false news about something that has not happened may be disseminated," she says, looking at the duo's captivating image of the Utah landscape, where serenity is disrupted by an explosion. Photoshopping an image of an eruption that occurred in Mexico into the landscape, the work raises questions about speculative terrorism, land ownership, and natural collapse. Ludwig is attracted by the placement of the rupture as a subtle accent for the careful eye: "You may pass by the work and not realize the collapse."
8. Cole Akers
Curator and special projects manager, Philip Johnson Glass House
The curator, who worked with Brooklyn-based Jennie C. Jones on a commission for the Glass House in 2018, is interested in the minimalist artist's White Washed, Clipped Progression (2017), an abstract painting of acoustic absorber panels and acrylic, at Chicago's Patron Gallery. "Her poetic engagement with abstraction repositions familiar narratives about American art and avant-garde music," says Cole Akers, who is also looking forward to seeing Jones's upcoming projects at the Arts Club of Chicago and Prospect New Orleans.
The Armory Show is open through March 8 at Piers 90 and 94 in New York. 
Next Post