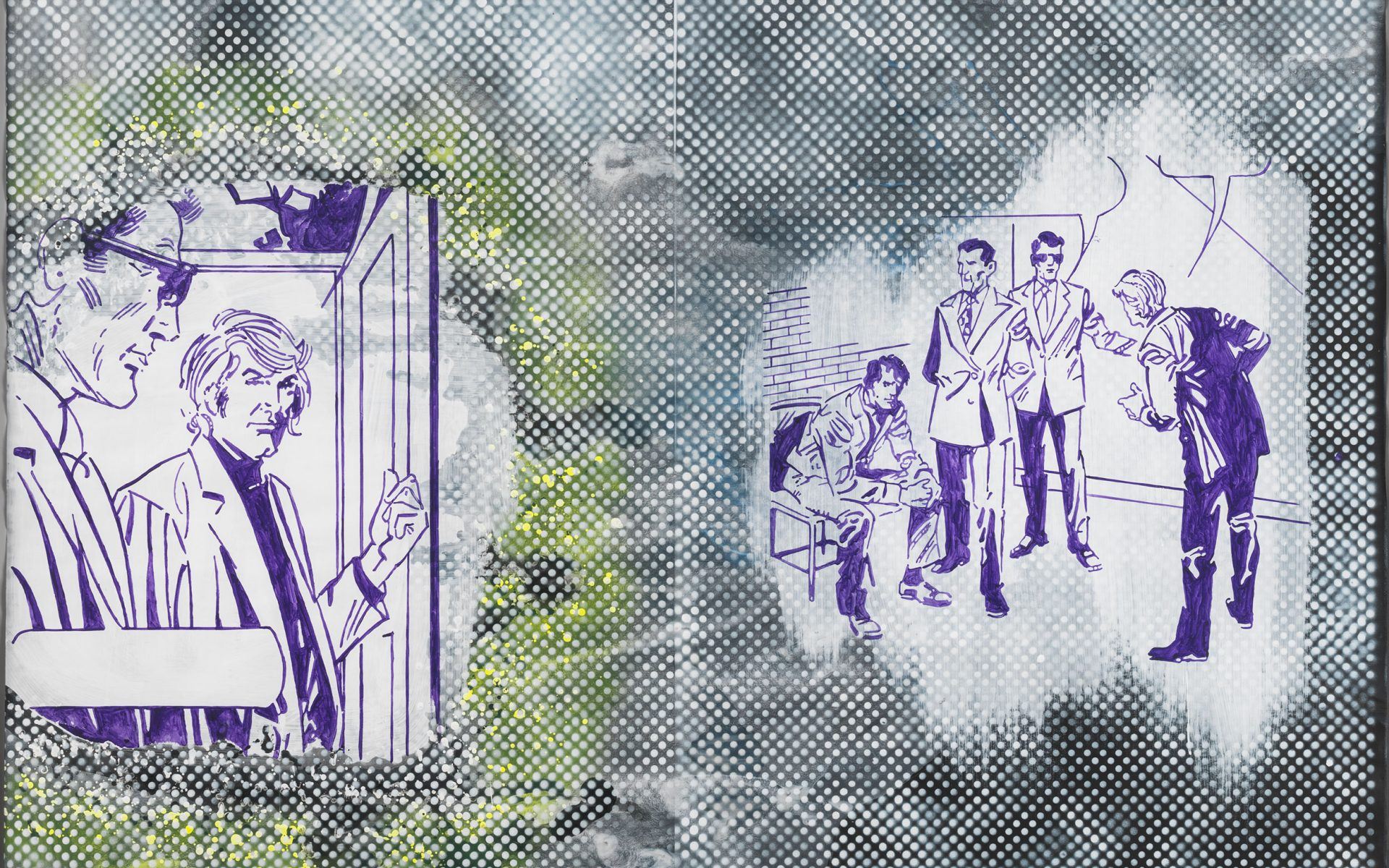 Is Art Basel Hong Kong's Online Edition the Future of Fairs?
Visitors can browse 2,000 artworks spread across "booths" by 235 international galleries, with an estimated value of $270 million
Back in early February, before the global art calendar all but shut down due to the rapid spread of coronavirus (COVID-19), the cancelation of Art Basel Hong Kong was the pandemic's first major hit on the art market.
The fate of the fair's eighth Hong Kong edition was already unclear, thanks to the citywide political uprisings of 2019, but the virus made the decision inevitable. Amid the steady stream of news about art fairs and biennials being called off or postponed around the world, Art Basel Hong Kong officially launched its inaugural Online Viewing Rooms to VIP guests on Wednesday, March 18, with some 2,000 artworks spread across "booths" by 235 international galleries, totaling $270 million in value. Ninety percent of galleries originally confirmed for the fair are taking part.
"We hope to inspire new and thoughtful conversations around how digital tools can be used to foster a healthy art-world ecosystem," Art Basel's global director, Marc Spiegler tells Galerie.
Each gallery exhibits ten artworks "hung" in a slideshow format, Photoshopped onto a white cube wall, faced by a minimalist bench. The fair is usually a dynamic social occasion, and its networking and handshakes are replaced by keyboard taps and email correspondence. A "more info" button, for example, provides visual details and background about each piece, helping collectors to further contextualize the work before they hit "sales inquiry," which substitutes for typical VIP-day exchanges overheard at every booth.
Recommended: Art Insiders Pick the Artwork They'd Take Home from the Armory Show
Despite an unfortunate 25-minute crash in the system, the inaugural day saw heavy traffic and notable sales, such as Galleria Continua's placement of British sculptor Antony Gormley's Slump IV for $482,000 and Marlene Dumas's oil-on-canvas painting Like Don Quixote (2002) for $2.9 million at David Zwirner.
As Spiegler acknowledges, while "nothing can replace personal interactions with art or the dialogue those experiences stimulate," there are a number of new opportunities the initiative offers. The fee-free booth format, for example, alleviates a common issue a fairs, allowing  mid- and smaller-size galleries to exhibit work alongside the big fish, presenting young talent from across the globe on the same platform with the international powerhouses.
It also shakes up the traditional hierarchical arrangement, where emerging galleries are clustered together under special segments (and usually in the back). Here, Jeff Koons's $3 million Gazing Ball (BotticelliPrimavera) (2017–20) is a click away from 37-year-old Indonesian painter Uji Hahan Handoko's Black Prince on 4.0 (2020), available for a modest $10,000.
"As the art market continues to evolve, the digital sphere continues to play an increasingly important role in connecting international audiences with exceptional works of art," Spiegler says.
Without the fun-filled spectacle, bold fashion statements, and free-flowing champagne, the virtual alternative could also be seen as a timely wake-up call for the art market, which has long been under fire for its large carbon footprint.
We attended the VIP day of Art Basel Hong Kong's Online Viewing Rooms and talked to a number of participating dealers over the phone to hear their views. See the highlights below.
David Zwirner
Well versed in virtual viewing experiences, the gallery debuts "On Painting," a curated section of 16 figurative paintings that borrows its title from Leon Battista Alberti's namesake 1453 text on painting. The parade of who's who from the powerhouse gallery's star-studded roster pairs recent works by the likes of Jeff Koons, Lisa Yuskavage, and Neo Rauch with rarely seen gems painted by Alice Neel and Noah Davis.
"The caliber is on par with the works that we would bring to a major fair," says Elena Soboleva, the gallery's director of online sales. "We are thrilled to show the platform's potential to reach a broad global audience at a moment when international travel and mobility have been disrupted." Don't miss the show on the gallery's website from March 20.
Pace Gallery
Another veteran of online exhibitions, Pace Gallery joins the virtual extravaganza with a host of 36 artists, intertwining visual and historic cues from Asia, the Middle East, Europe, and the U.S. Although Chinese Surrealist painter Zhang Xiaogang's modest-size work on paper Small Bathtub (2018) predates the domestic alienation caused by current state of emergency, the work's juxtaposition of two individuals separated by emotional walls inside a bathtub taps into the prevalent sensitivity.
The gallery also uses the fair to emphasize two New York icons, Arlene Shechet and Julian Schnabel, whose solo exhibitions at the gallery's Chelsea headquarters faced closure last week due to the virus. Schechet's corporal life-size sculpture, Yearn (2019) does justice to its title with an erected form embodied in a mix of earthy unglazed ceramic- and radiant ceramic-glazed brick.
Lehmann Maupin
Another Chelsea staple with a Hong Kong outpost, Lehmann Maupin curates its pixelated walls with a group show dedicated to a range of geographies and statements. Highlights include Flare-up (2018), a scorching red-pigment painting by Iranian artist Shirazeh Houshiary, and veteran New York painter Lari Pittman's 2020 cel-vinyl and lacquer spray painting, Found Buried #1, which captures a Guernica-esque chaos of the human condition, and Korean artist Do Ho Suh's large-scale blue polyester fabric sculpture, which replicates a street door in a ghostly transparency.
"The art world has been lagging behind for too long, and what this moment really presents is the opportunity and necessity to test digital strategies in a way that we never have before," cofounder David Maupin tells Galerie, sharing plans for the relaunch of the gallery's online viewing room on March 25, which will feature works by Robin Rhode & Nari Ward. "There's tremendous focus on content these days and the strength of storytelling, behind-the-scenes access, and imagery."
Perrotin
Celebrating its diverse roster during this trying time, Perrotin orchestrates a showcase of global stars. New York artist Daniel Arsham, whose hydrostone replicas of Greco-Roman sculptures currently occupy the gallery's now-closed Paris location, looks to a more recent icon, Bugs Bunny, for inspiration in his quartz and hydrostone wall sculpture Patch 3 (2018). Eighty-three-year-old Korean figurative master Kim Chong-Hak's joyful pastoral rendition Untitled (2018) is a bouquet of flowers that defy nature with their impossible formations and color spectrum, conveying a timeless painterly energy that bursts out of the computer screen.
Sean Kelly
Bypassing in-person viewing allows galleries to exhibit the newest artworks from across the globe, unburdened by usual logistical sanctions and spatial limits. At Sean Kelly's booth is Untitled (Spray), Guadalajara-based artist Jose Dávila's 2020 archival pigment photograph of a woman's hand spraying an unknown substance, responding to the current anxiety around hygiene and sanitation through Pop Art's commercial aesthetic. Alarm and risk-taking also prevail in Marina Abramović's photograph Artist Portrait with a Candle (2013), in which the performance artist calmly positions her index finger on a burning candle, donning a deadpan expression. Gallery partner Thomas Kelly shared his approach for the fair, saying, "We responded to the digital medium of the viewing rooms and selected works that we felt would be graphically engaging when viewed on a screen."
Gladstone Gallery
Both hope and despair span Gladstone Gallery's group exhibition, in which humanity and nature are juxtaposed in colorful and contemplative fashions. Fünfterjanuarzweitausendundzwanzig (2020), Ugo Rondinone's energizing watercolor rendition of the sun sandwiched between aquatic and bold shades of blue—sea and sky—is proceeded by Sarah Lucas's bodily pantyhose sculpture of two intertwined bodies, titled China NUD 6 (2019). Keith Haring's radiant painting Pisa, which he created a year before his AIDS-related passing in 1990, rejuvenates the era's free-spirited joy; Anne Collier's equally arresting C-print, Woman Crying (Comic) #11 (2019), pays homage to 1960s comic book aesthetic, showing a tear seconds away from dropping from a woman's eye, beautified by lush makeup. Using bias divisions of gender roles from romance comics, Collier flips the intended representation of vulnerability and gaze with an image that we, as audience, have been familiarized with by the media.
David Kordansky Gallery
While most opted for group presentations, Los Angeles's David Kordansky Gallery dedicates its booth to the California-based Norwegian photographer Torbjørn Rødland, whose sharp lens captures uncanny social dynamics between people and objects, driven by desire and angst. Highlighting works from the past decade, the selection manifests Rødland's ability to filter the eerie and alluring behind everyday interactions, some of which defy logic or reason, urging viewers to fill in the gaps between puzzling narratives. In Heart Like a Spine (2012–18), a young woman contorts her spine to an extreme curve, transforming into an amorphous figure; Corpus Gnosticum (2013–15) is a detailed shot of serpentine veins popping out of a graphically muscular man's shoulder, drawing a thin line between desire and disgust. This fall, Rødland will be the subject of a solo exhibition at the Contemporary Austin.
Greene Naftali
The gallery transforms its booth on the fair's first public day to a survey dedicated to Paul Chan's oeuvre in print, photography, sculpture, and film. The Hong Kong–born artist's handling of political and personal turmoil through a poetic language resonates with ongoing turmoil in the city and beyond. Greene Naftali will also premiere an online exhibition on its website, focusing on screenings of Chan's rarely seen videos and documentation of his moving sculptures, such as Bathers and Breathers.
Online Viewing Rooms of Art Basel Hong Kong are accessible March 20–25 at artbasel.com.
Next Post