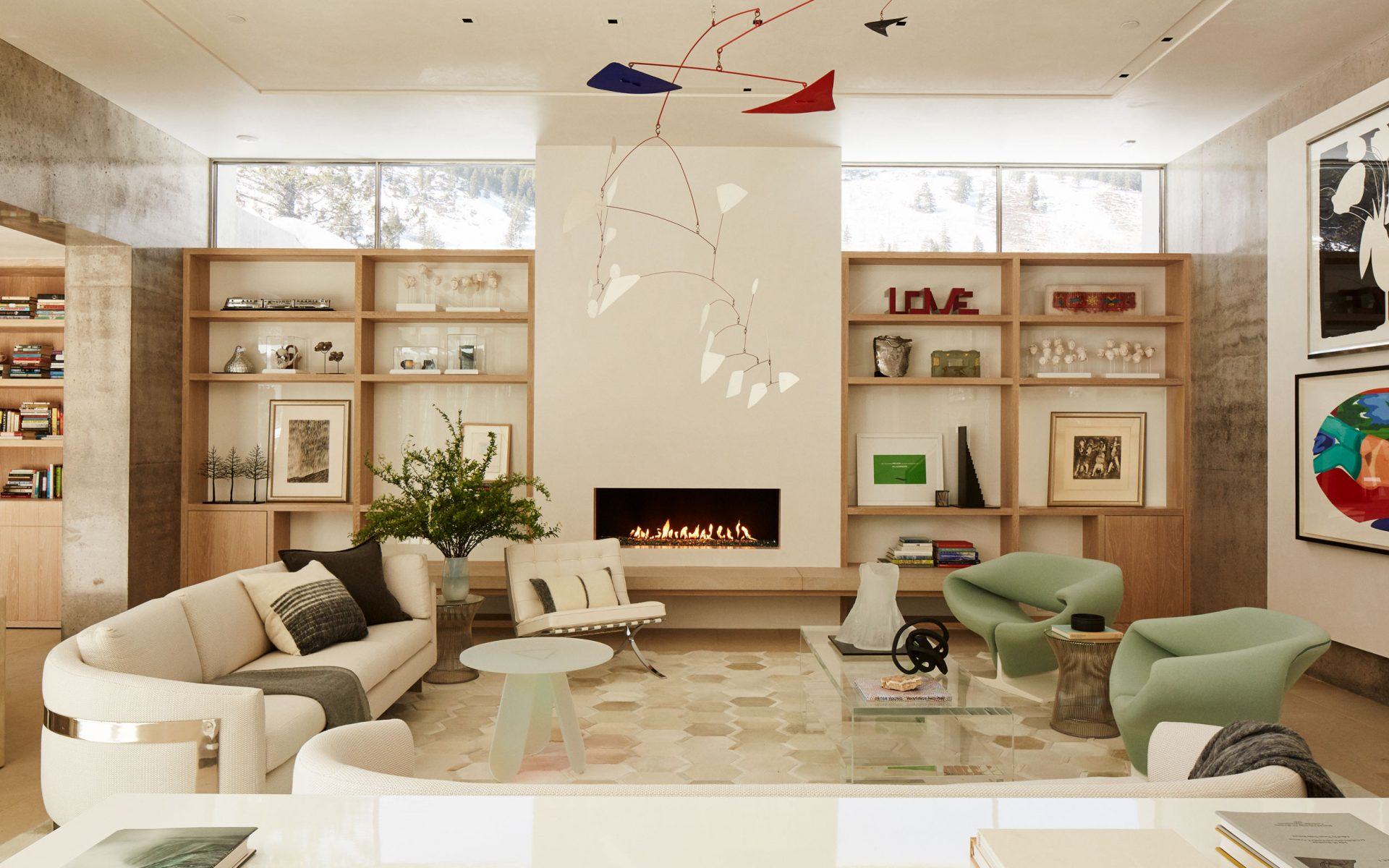 Captivating Alexander Calder Artworks Enliven These Interiors
The American artist's kinetic sculptures and two-dimensional abstractions bring a sense of joy to any room
Color, line, light, and movement are central to the work of Alexander Calder, the eminent, ever-inventive American artist best known for his wire "mobile" and "stabile" sculptures. Given the way his art—no matter the scale—uniquely interacts with the environment, it's no wonder designers keenly integrate Calder's kinetic pieces into discerning collectors' homes. Though he experimented with other media, from printmaking to jewelry, Calder designed domestic and tabletop sculptures that are as dynamic in residences as his monumental art is in public arenas. Culled from Galerie's archives, the sophisticated interiors below feature a variety of Calder artworks that imbue each space with a sense of joy and wonder.
1. In Sue Hostetler's Aspen residence, designed by Sara Story, art gives way to natural surroundings. This living room corner features small works by Andy Warhol and Takashi Murakami, as well as a Calder sculpture. Not only does the work echo the circular leaves of a nearby plant, but it also introduces a bold pop of color to the space.
2. It comes as no surprise that collector and patron Eugenio López—the mastermind behind the Museo Jumex—has filled his Mexico City home with blue-chip art. For the 1970s property's renovations, López enlisted Madrid-based designer Luis Bustamante, who helped create a space that would do López's 3,000-plus-piece art collection justice. The living area features works large and small, making this Calder mobile a perfect tabletop addition.
3. In 2018, Alberto Pinto Interior Design (currently run by Paris designer Linda Pinto) outfitted its first-ever private Boeing 747-8, owned by a Middle Eastern businessman. No airborne mansion would be complete without a prominent art collection. In the aircraft's master bedroom, a Calder etching hangs above an embossed leather bed designed by Pinto.
Recommended: Mesmerizing Interiors Featuring Frank Stella Masterpieces
4. Architect Michael Imber so perfectly designed an art collector's Aspen guesthouse that the homeowner decided to make it her main residence. The poured-concrete home's furnishings set the stage for dramatic mountain views and art-filled walls. In the living room, a massive Calder mobile draws the eye upward, ensuring a 360-degree artful experience.
5. It was designer Madeline Stuart's love of art that won over the couple behind this Los Angeles home. To further make their residence feel like a gallery, architect Marc Appleton composed an uncommonly airy and light-filled layout, marked by expansive walls, and pared-down architectural details. Suspended works, like this Calder mobile, emphasize the 12-foot ceilings.
Next Post